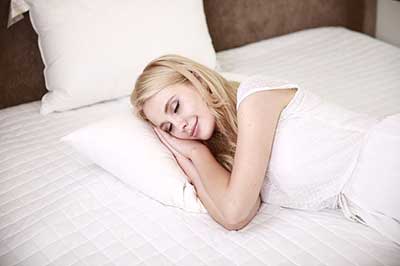 The time has come… you've decided you're ready for the bed of your dreams…
Where do I start, you ask?
How about your perfect mattress?
This is a guide that will give you all the information you need for buying your dream mattress. I'll give you some short reviews of some of the best and links to where you can buy them online.
So let's begin!
What type of mattress can I buy?
There are three main types of mattress, each with their own benefits and drawbacks:
1. Memory Foam
Memory foam is squishy, supportive and luxurious – it's my personal favourite!
It's designed to mould to your body while you sleep, which means your spine gets maximum support. This makes memory foam the best option if you suffer from back pain.
To get the best out of a memory foam mattress, check whether or not it has been designed with layers or any cooling features. Sometimes memory foam gets quite warm, so if you're a hot sleeper you might not enjoy it.
If this is what you're interested in, I've written a whole guide specifically about memory foam mattresses here.
2. Springs
This is your 'classic' mattress – made up of lots of springs.
Older spring mattresses can be quite uncomfortable, which is related to their open coil structure. This means they can be quite rigid, since the springs all move as one.
If you're looking to get a spring mattress, go for a pocket sprung mattress. Every individual spring is sewn into its own pocket, which means they all move independently, giving you a super comfortable sleep.
Again, I have a guide specifically about pocket sprung mattresses if that's what you're after. You can find that here.
3. Hybrid
This is pretty much exactly as it sounds: this one's a mix of memory foam and springs.
What makes this good is you get the benefits of both mattress fillings: the support of the memory foam and the bounce of the springs.
The Eight Best Mattresses Reviews
So here are your mattress reviews! These are the eight best mattresses and with each one you'll find a short review and link to where you can buy it online.
Buying a mattress is a big decision, so if you have any questions, feel free to leave them in the comment box at the bottom of this post and I'll be able to answer them.
Hyde & Sleep Hybrid Plus Mattress Review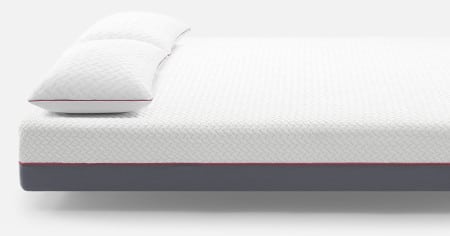 2000 Spring Count
Free Delivery
Delivered Rolled Up In A Box
10 Year Guarantee
100 Night Comfort Test
Firmness: Medium-Firm
This mattress is a perfect combination of 2000 pocket springs and a layer of memory foam – everything you could need for a good night's sleep.
Even better, it comes with a ten-year guarantee. Who could say no to a decade of peace of mind?
There are three different thicknesses to choose from with this mattress: soft, medium and firm.
The soft mattress is ideal if you like to melt into your mattress! Maybe avoid this one if you get aches and pains though.
The medium mattress is the perfect middle ground – 25cm of pure comfort.
The firm mattress is still incredibly comfortable but will give you the extra support you're after.
As if all this wasn't enough, you'll get a 100-night comfort test which means you have more than enough time to make sure your mattress if perfect for you. You can even swap your mattress for a different one at no extra cost.
The Hyde and Sleep mattress comes with a breathable cover, which means it'll keep you cool in hotter weather.
This mattress was voted Product of the Year in the mattress category in a consumer survey of almost 12,000 people. This is quality you can trust!
Click here to check out the Hyde & Sleep mattress
2. John Lewis Ortho Pocket Spring 1000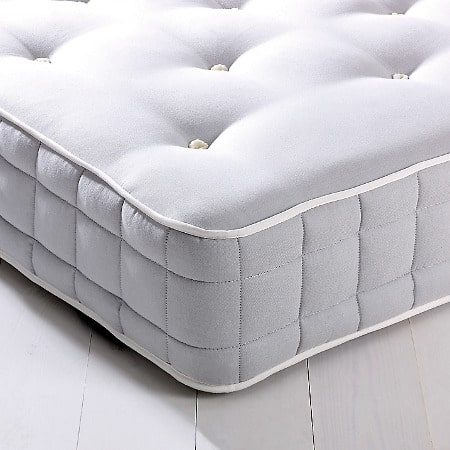 Made by Hypno
Firm Feel
Breathable
7 Year Guarantee
Firmness: Firm
This one is actually made by Hypno for John Lewis. They're a heavyweight in the mattress game and have been in the sleeping business for over 100 years.
This mattress has a firm feel which is brilliant for supporting your back. Although some mattresses have more than the 1000 springs that this one has, this stops the mattress from feeling too soft. However, it still has a hand-tufted top which keeps the filling in place and feeling smooth on top.
The John Lewis mattress also has airstream technology, which stops air getting trapped and overheating while you sleep. This is also great because it keeps the wool and polyester filling fresh for longer.
All this good stuff comes with a seven-year guarantee, so you know that you're investing in a great mattress.
3. Silentnight 7-Zone Memory Foam

3 Layers
5 Year Guarantee
Good Budget Mattress
Varied Firmness
This mattress is split into seven zones, making it firmer in the middle and softer at the ends – all the support you need, exactly where you need it.
For people around 100kg, the 20cm thickness may be an issue since you might feel your bed through the mattress. However, most people should be fine with it.
However, this is a great budget mattress and the memory foam makes it very comfortable. It won't last as long as some of the others on this list but it'll be good if you suffer from aches and pains.
4. Eve Memory Foam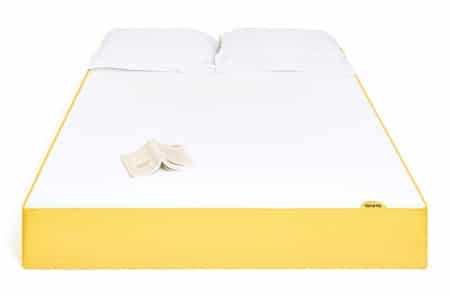 3 layers including a cooling layer
100-night trial
10-year guarantee
Medium-Firm Feel
A very popular mattress! It has over 2000 five-star reviews, so you know it's been thoroughly tested.
It has three layers. The first: state of the art, responsive memory foam. It bounces back much fast than traditional memory foam, so you don't get 'stuck'.
The second: a 3cm cooling core that is 30% more breathable than other memory foam.
The third: a firm base, to give you the support that you need.
Eve are an online mattress retailer who ship their mattress to you in a neat little box. There's free shipping and the return policy also includes shipping so if you're not happy you don't pay a penny.
You can order it on 0% finance and get a 100-night trial to fully try it out and get to know it. As well as all that, you also have a ten-year guarantee!
5. Relyon 1500 Spring Hybrid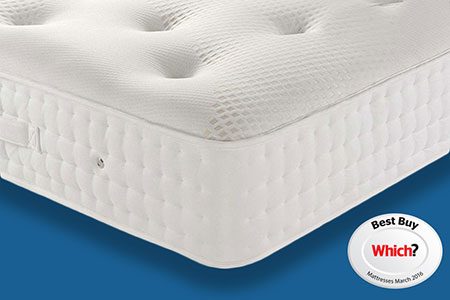 Brand: Relyon
Filling: Pocket Spring and Memory Foam
Firmness: Firm
8 -Year Guarantee
1500 Spring Count
27 Cm Deep
Which Recommended
Firm Feel
For this mattress, you can use the discount code SAVE10 for 10% of at Mattress Next Day.
The Relyon Hybrid has been Which? Recommended and is an excellent choice if you're looking for a firm mattress.
The memory foam layer is only 5cm thick, so it's more like a mattress topper rather than a memory foam mattress.
Because of this memory foam layer, you shouldn't flip this mattress. Just turn it about once a year and that will stop it sagging.
Lastly, this mattress comes with an eight-year guarantee. That's a long time to have a guaranteed good night's sleep!
6. Silentnight 1000 Pocket Spring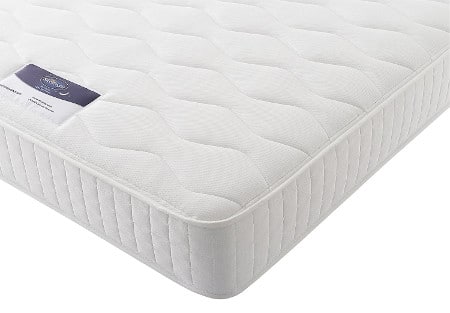 1000 Pocket Sprung Count
No Need to Flip
Medium Firm
Quilted Cover
For the 1000 spring count that this mattress has, it's fantastic value. To get a pocket spring mattress at all for this cheap is something special!
This has a medium-firm feel, so it's really comfortable. The pocket springs also
keep movement to a minimum,
so if you have a restless partner this could be ideal!
However, there isn't any ventilation in this mattress, which might make you feel hot compared to other spring mattresses.
On the whole, though, a really great mattress.
7. Coolflex Bamboo Covered Soft Mattress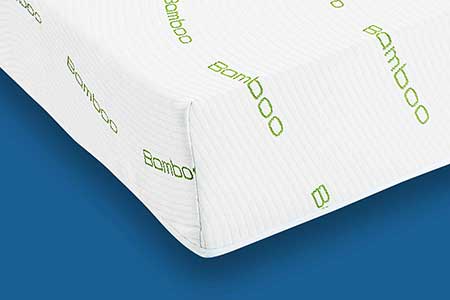 Brand: Coolflex
Material: Memory Foam
Bamboo Cover
1-year Guarantee
Washable Cover
Soft Feel
For this mattress, you can use the discount code SAVE10 for 10% of at Mattress Next Day.
The bamboo cover on this one makes it one of my favourites. It's a great material because it's hypoallergenic and temperature controlled, which keeps you comfortable all night long.
Coolflex have combined a soft memory foam with their own reflex foam, which provides extra support – ideal if you're worried about a bad back.
There's only a one-year guarantee with this mattress though which, when you consider that a mattress is supposed to last around ten years, isn't great but the price is great.
8. Simba Sleep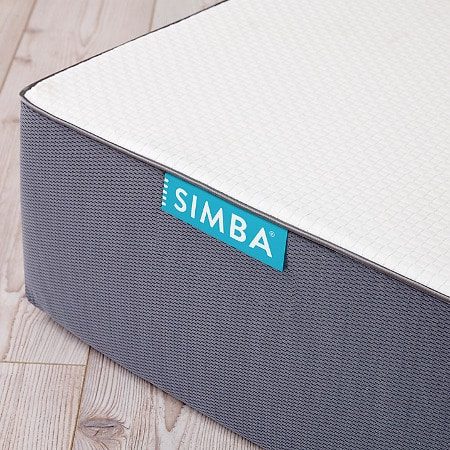 2500 Spring Count
Hybrid Mattress
Extensively Tested at The Sleep To Live Foundation
10 Year Guarantee
100 Night Sleep Trial
Firmness: Medium-Firm
Simba started out supplying thread to mattress companies the world over, before delving into making their own superb mattresses.
Their research has led to great developments in spring systems, memory foam and 'sympatex' – a kind of latex. Simba combine all of these to create an incredibly comfy mattress.
They've even gone so far as to partner with the Sleep to Live Institution. They've looked at the sleeping profiles of over ten million people, to find out exactly what people need from their mattress.
This is Simba's only mattress, since they're confident this is the only mattress anyone would ever need and it's available in a range of sizes.
When this mattress arrives it might have an odd smell because of the memory foam. That's totally normal, it'll dissipate after a day or so, just air it out before sleeping on it.
You'll get a 100-night trial with this one and it also comes with a ten-year guarantee – exactly what you want.
The 2500 spring count is really impressive which'll give you a blissful night's sleep.
I still don't know what mattress to get. What should I do?
Buying a mattress is a big decision, so don't rush it. If you still have questions, then ask away in the comment box below. I'll get back to you and help you find your perfect mattress!
Happy Sleeping!