The time has come. You've decided you're ready for the bed of your dreams.
Where do I start, you ask?
How about your perfect mattress?
This is a guide that will give you all the information you need for buying your dream mattress. I'll give you some short reviews of some of the best and links to where you can buy them online.
I've also got all my favourite picks in the list below, organised by type of mattress, sleeping position and other needs you might have. If you're generally looking for the best mattress then start with my top 5 mattress recommendations in the table below. Just click on the name to go to the relevant website, see more details and order yours.
My top choice is the Nectar sleep because it's 365-day trial and 7-zone comfort ensure a restful night's sleep.
Top 5 Best Mattresses UK
Where better to start than with the best mattress you can buy online. These are all available in a range of sizes so if you're looking for the best king size mattress, best double, or best single mattresses these will all see you right.
If you're looking for a new mattress then this will be it. The Nectar memory foam mattress appears again and again across my mattress reviews. It's my top choice for side sleepers, back sleepers, memory foam mattresses and for back pain because of the excellent value for money and the support it gives you allowing you to get a great night's sleep.
The memory foam provides pressure relief up and down your back while helping keep you settled so you move around less and sleep deeper through the night waking up more rested in the morning.
It's hypoallergenic and the top layer is a smart foam that works to dissipate body heat and stops you overheating so you are comfortable all year round even if you're a hot sleeper. Underneath that, you have a layer of the all-important memory foam and the base which is a clever 7-zone support system.
The 7-zone base layer offers different support across the mattress where you need it most, medium support under your shoulders so they can sink down making it ideal for side sleepers, then you've got firmer support under your hips to help keep your spine aligned and back happy.
It's a bed-in-a-box so arrives rolled up, you just get it on to your bed and it unfolds, which if you have stairs is a godsend. It then unrolls and you get a strange smell at first which is normal, it's just what happens with memory foam and goes away after a few days.
A superb mattress that will give you the best night's sleep possible, the only person it won't be great for is stomach sleepers, you'll have to read on.
Click here to visit Nectar sleeps website
Simba started out supplying thread to mattress companies the world over, before delving into making their own superb mattresses.
Their research has led to great developments in spring systems, memory foam and 'sympatex' – a kind of latex. Simba combine all of these to create an incredibly comfy mattress.
They've even gone so far as to partner with the Sleep to Live Institution. They've looked at the sleeping profiles of over ten million people, to find out exactly what people need from their mattress.
The Simba Hybrid Mattress is their only mattress, since they're confident this is the only mattress anyone would ever need and it's available in a range of sizes from single to super king and you can even get it as an emperor mattress.
When this mattress arrives it might have an odd smell because of the memory foam. That's totally normal, it'll dissapear after a day or so, just air it out before sleeping on it.
BLACK FRIDAY (2020) SALE: 35% OFF on orders over £300
You'll get a 100-night trial with this one and it also comes with a ten-year guarantee – exactly what you want.
The 2500 spring count is really impressive which'll give you a blissful night's sleep.
For the 1000 spring count that this mattress has, it's fantastic value. To get a pocket spring mattress at all for this cheap is something special!
This has a medium-firm feel, so it's really comfortable. The pocket springs also keep movement to a minimum, so if you have a restless partner this could be ideal!
However, there isn't any ventilation in this mattress, which might make you feel hot compared to other spring mattresses.
On the whole, though, a really great mattress for the price, and if you're on a budget this will see you right, and you can consider upgrading it with a mattress topper at a later date if you feel the need.
The medium-firm feel and combo of supportive memory foam and bouncy pocket springs give you an ideal mattress for sleeping on your side.
But, it's great for back sleepers and front sleepers too! So even if you share a bed and your partner sleeps in a different position you can both be comfortable. Plus this has minimal motion transfer so your partner can move and your sleep won't be disturbed.
The supportive memory foam layers are designed to be extra breathable to keep you cool and comfortable all night long. Meanwhile the springs are of the highest quality to keep you supported right up to the edge of the mattress so you can make use of the whole bed.
The cover is quilted for an extra soft feel on top like getting a free built-in mattress topper.
I tried it on the floor and a slat bed frame and it worked great in both so you don't need to upgrade your bed frame. Plus it's got a 365 night trial, free returns and a forever warranty so you can fully test it out before keeping it and then rest assured you've bought a quality product.
£300 Off Mattress,
Up to £708 Off Bundles,
Up to 30% off Bedding.
Click the above "get discount" link to enjoy TheDozyOwl reader deal.
The Emma original mattress has a nice medium-firm feel to it with layers of supportive memory foam, cooling aerogel foam for hot sleepers and supportive cool foam.
The result?
A highly supportive mattress that bounces back quickly and doesn't trap you in place.
It has free delivery and if you don't like it you have a free return as well within the 100-nights you get to test it for.
The cover is soft and breathable so you're kept comfortable all night long, I'm personally a very hot sleeper so need the cooling features, and they've been great! I tried it through the hot weather of summer and didn't overheat once.
I also tried it on the floor and a slatted bedframe and it worked perfectly on both.
An excellent investment in your sleep.
Read the full review of the Emma mattress here.
Best Mattress For Pain
Waking up in pain is not a fun way to start the day regardless of where it is, but most common has got to be back pain, but people also often suffer from hip pain and even shoulder pain in the morning.
So, you want to get a mattress that provides enough pressure relief and helps ease pressure points so your joints can get a rest and you wake up relaxed, not in pain.
To me, the best mattress type for this has to be memory foam. Plenty of support up and down your back for side sleepers and back sleepers.
If you want more mattress recommendations for back pain then I recommend you check out my article on them here.
Wait… Haven't we looked at this mattress before? We have! But it's the top choice on my article about back pain mattresses so I thought I'd include it again, then once more when we get to the best memory foam mattress!
The reason I like the Nectar Sleep mattress for a bad back is the cushioning memory foam that provides pressure relief to your aching back combined with the varied support across that mattress that works to keep your spine aligned and back happy.
That same varied support form the 7-zones also helps to ease hip pain and shoulder pain too.
Plus the medium-firm feel is still very comfortable and provides a "just right" feel for everybody who sleeps on it. It's also good for back and side sleepers which is again suitable for pretty much everyone who's dealing with a bad back.
And finally, the Nectar is a bed-in-a-box so it's easy to deliver and you get a whole year to test it out and see if you like it. If you don't like it you can just send it back for a full refund!
Switching to a memory foam mattress was one of the best decisions I ever made, I'm sleeping deeper and for longer.
An excellent choice of mattress and easily one of the best mattress for hip pain and shoulder pain.
Read the full Nectar Sleep mattress review. Or Read about more Mattresses-in-a-box here.
Best Mattress By Type – Pocket Spring, Memory Foam, Hybrid & Latex
Again I've got more in-depth articles if you know there's something you want to get and you want some more information, just click one of the links below.
Best Pocket Spring Mattress – Silentnight Sofia Classic 1200
Silentnight have been in the mattress industry for a long time, serving the UK for more than 70 years in fact. And in that time they've definitely learned a thing or two.
The 1200 pocket springs are more than enough to give you a comfortable night's sleep while still keeping the price down.
It comes with a soft knit cover that is designed to be breathable helping to keep you cool at night and to keep the inside of the mattress fresh. The inside has also been treated with Purotex which helps keep the inside free from dust mites and germs and makes the whole thing hypoallergenic.
There's a comfort layer on the top and the whole feel is a very agreeable medium firm feel.
The Simba from further up the article is also a great pocket spring mattress but it's technically a hybrid mattress because of its layers of foam.
A great budget-friendly choice of pocket spring mattress.
Best For Back And Side Sleepers
Medium-Firm Feel
Cooling Layers for Hot Sleepers
365-night trial period
Price & Reviews At Nectar's Website
Well, here we are again with the Nectar Sleep mattress, again one of my favourite mattresses which is why it keeps coming up. It's prowess as a memory foam mattress is phenomeneal made up of 3 layers of foam with a cooling cover holding it all together.
The first layer is smart memory foam which regulates body temperature and stops you overheating which is a common problem with foam mattresses. A big tick there.
The second layer is pressure relieving memory foam that contours to your body and gives you the support you need to keep your back and joints happy. Another tick!
Finally, the base layer is made of high-density foam that offers some resistance giving it the medium firm feel and has 7 different support zones that work across your body to give you the maximum comfort from head to two.
This then has a cooling breathable cover on top and a grippy base material to hold it in place on any bed fram.
A very high quality mattress that will see you right.
The Simba Mattress combines responsive memory foam with a luxury 2500 pocket springs and a type of latex that all come together to make an incredibly comfortable hybrid mattress.
The Simba hybrid also features a zoned base for maximum support but it's the springs that set this apart, 2500 is a huge number of springs for a cloud-like feel that cradles your body from head to toe but with a more responsive feel than an all foam mattress.
It's the right mattress if you want the support of memory foam but like having the little bit of bounce offered by springs.
Suitable for any sleeping style and comfortable all year round with the various cooling elements and extra breathability that have gone in for all us hot sleepers in the world.
The layer of memory foam is near the bottom which is why it's more responsive but that works alongside the springs for great support up and down.
As a nice extra fetaure, it has a zip off washable cover for added freshness when you change the bed although I'd still recommend using a mattress protector rather than relying on washing the mattress cover.
Best Latex Mattress – Sealy Posturepedic Jubilee Latex Mattress
Trusted Brand
30 cm deep
Hybrid spring and latex
Edge-to-edge support
Firmness: Medium
Sealy have been making wonderful beds for a very long time, an absolute staple in the industry and I don't know where we'd be without them.
But what about the mattress? It's medium firmness so softer than most of the ones we've looked at so far but still has plenty of support. It's just the latex that's softer than memory foam but it's got more bounce back so you sink in but can feel it against you which I know some people really like.
It's 30 cm deep which is on the deeper side but most bed sheets should still fit on it no problem and there's no need to turn so it can sit happily on your bed. And it's got edge-to-edge support so ifs comfortable right up to the side of the bed.
Apart from that, it's hypoallergenic, made in the UK, and includes a 5-year warranty.
Best Mattress By Sleeping Position
If you're unsure what type of sleeper you are, then just think about what position you fall asleep in and what position you normally wake up. If it's not constant that's fine, you get beds that are suitable for all sleeping positions. I personally like to fall asleep on my side then normally wake up either on my side or my back, so I'd say I was a side sleeper. And back and side sleeper mattresses are normally similar so that's fine.
If in doubt, side sleepers are the most common so you can play the odds and go with that.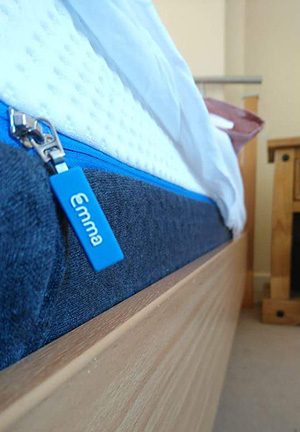 100-night Trial
10-Year Guarantee
Great Back Support
Breathable Cooling Layers
CLICK TO VISIT EMMA AND ORDER YOURS
Memory foam is an ideal choice for side sleepers because it allows your shoulders to sink in while still supporting your hips keeping your spine aligned and all your joints happy.
You can use it on any bed base whether it's a slatted bed frame or a divan the Emma can sit happily on it.
The medium firmness is really comfortable if you sleep on your side and is good if you sometimes sleep on your back too. It's not as good for stomach sleepers because you sink in and can strain your neck, but you can counteract this with a thinner pillow if you're a combination sleeper.
You also get the standard bed-in-a-box treatment so it's got a 10-year warranty so you can be happy it's built to last and you get a 100-night trial so you can "sleep on it" before you buy it, get it?
Oh and don't do what I did which is to say "I want Emma to sleep with us" when you bring it up with your wife… She's happy now but wasn't to begin with I can tell you!
A fine mattress for side sleepers to leave you sleeping soundly.
Best Mattress For Stomach Sleepers – Sleepeeze Naturelle 1400 Pocket Spring Mattress
As a Front sleeper you need a balance of firmness so you don't sink too deep and comfort so you don't wake up with a sore rib cage.
The Sleepeeze Naturelle 1400 offers just that, the 1400 springs give it a more luxury feel while still offering good resistance to stop you sinking too deep.
The pocket springs also make it a good choice for couples because they stop roll together and allow you to sleep independently(more of the best mattresses for couples can be found here). And if your partner sleeps on their back or side they'll still be comfortable and in for a good night's sleep.
The cover is a woven damask fiber for extra comfort and durability giving you a top quality long lasting mattress. plus, the air vents in the side allow for better airflow stopping you from getting too hot through the night.
A fine choice of mattress for stomach sleepers.
Best Mattress For Back Sleepers – Leesa Memory Foam Mattress
The Leesa is another memory foam mattress that's great for back sleepers. 3 layers of foam keep it simple and comfortable.
You've got 1 layer designed for cooling, 1 layer for support and another for the bulk of the mattress keeping it comfortable and resistant back to you so you don't sink too deep.
The Leesa mattress has had over 19,000 reviews which is astounding and if you read through them there are endless reports of every type of sleeper being able to sleep comfortably through the night. So I recommend it for back sleepers but again if you're a combination sleeper you'll get on absolutely fine.
The final thing I love about Leesa is their commitment to giving back. They've planted one tree for every mattress sold, which is a whopping 275,000 trees planted, and 1 mattress donated to someone in need for every ten sold.
I love a company who cares and Leesa are just that, plus they've got a cracking mattress so it's a win-win!
Best Mattress By Firmness
Soft, medium and firm mattresses are the spectrum with all the in-between stages, so medium-soft, medium firm, and extra firm.
I've got my top choices below or again I've got links to the more detailed articles if there's a Particular firmness you want more recommendations for.
Best Soft mattress – Studio memory Foam Softer Mattress By Silentnight
Comes Rolled In A Box
Soft Memory Foam
5-Year Guarantee
26 cm Deep
Firmness: Medium-Soft
This is Stilentnight bed-in-a-box and it is made with a combination of memory foam and gel foam to give you a soft comfortable cloud like night's sleep.
The gel layer is designed to be cooling letting you comfortably sleep through the night and means there's no need to turn it.
The firmness is medium-soft but the memory foam makes it feel softer than it is so if you're looking for a soft mattress then this is the one for you.
Aside from that you've got a soft knitted cover and an allergy seal of approval for the UK meaning it is completely hypoallergenic and resistant to dust mites. Plus a 5-year guarantee though it should last longer than that.
Best Firm Mattress – Reylon 1500 Spring Hybrid
The Relyon Hybrid has been Which? Recommended and is an excellent choice if you're looking for a firm mattress.
The memory foam layer is only 5cm thick, so it's more like a mattress topper rather than a memory foam mattress.
Because of this memory foam layer, you shouldn't flip this mattress. Just turn it about once a year and that will stop it sagging.
Lastly, this mattress comes with an eight-year guarantee. That's a long time to have a guaranteed good night's sleep!
Best Medium-Firm Mattress – EVE MEMORY FOAM
A very popular choice! It has over 2000 five-star reviews, so you know it's been thoroughly tested.
It has three layers. The first: state of the art, responsive memory foam. It bounces back much fast than traditional memory foam, so you don't get 'stuck'.
The second: a 3cm cooling core that is 30% more breathable than other memory foam.
The third: a firm base, to give you the support that you need.
Eve are an online mattress retailer who ship their mattress to you in a neat little box. There's free shipping and the return policy also includes shipping so if you're not happy you don't pay a penny.
You can order it on 0% finance and get a 100-night trial to fully try it out and get to know it. As well as all that, you also have a ten-year guarantee!
Other Mattresses Reviewed – Budget, Hot Sleepers, and Heavy People
Best Cheap Mattress – Silentnighty 7-Zone Memory Foam Mattress
This mattress is split into seven zones, making it firmer in the middle and softer at the ends – all the support you need, exactly where you need it.
For people around 100kg, the 20cm thickness may be an issue since you might feel your bed through the mattress. However, most people should be fine with it.
However, this is a great budget mattress and the memory foam makes it very comfortable. It won't last as long as some of the others on this list but it'll be good if you suffer from aches and pains.
Best Mattress For Heavy People – Ghost Bed Memory Foam
The Ghost bed has an industry leading weight limit of 750 lbs (which is about 53 stone) when it's placed on a firm base. That should be more than enough for any heavy person or overweight couple to sleep comfortably through the night.
It's a bed-in-a-box so is easy to deliver and get set up in your house, you just get it out the box unwarp the plastic and let it fold out on to your bed.
You'll want a sturdy bed frame for this mattress, so avoid slats and instead go for some sort of durable solid pice like a divan. This will give you extra support and help keep the mattress lasting longer.
As well I'd go for a king size so you have the maximum amount of support and resistance across the bed. More on king size mattresses here.
With the ghost bed, they've got a cooling layer of latex memory foam to support and cool you through the night keeping air flowing and your sleep comfortable.
A superb mattress is you're overweight.
Best Mattress For Hot Sleepers – Sleepeezee Cooler Supreme 1800 Pocket Sprung Mattress
If yuo're feeling too hot throught he night then you're going to want to stay away from memory foam. It traps in heat and will leave you sweating the night away, it';s come along way and isn't nearly as bad as it used to be but if yuo're an especially hot sleeper then you're going to want to stick to pocket springs.
The Sleepeeze cooler supreme is ideal becauyse it's got built in airvents in it's side to help with air flow and the foam layer is a cooling gel that manages moisture levels in the mattress and regulates temperature.
Plus it's got a pillow top which is more breathabile and has the double bonus of being very comfortable!
the pocket spring count of 1800 is on the high side meaning you'll get a really luxurious feel and can once again start waking up feeling refreshed.
Finally, it's made in the UK and has a 5-year guarantee.
Best Kids And Baby Mattresses
Most single mattresses will work well for kids but you might want to go a little more specific to get a kids mattress, especially if bunk beds are involved! So, as usual, I've got the two specific articles linked below and then the top picks underneath that.
This mattress is by Silentnight and uses their miracoil spring system. The springs don't move independently like in a pocket spring mattress but it's still a step-up from old-fashioned open coil mattresses.
It provides lots of firm support but has a quilted top layer so it's very comfortable.
Another plus is that it's completely hypoallergenic, chemical-free and dust mite resistant– the bed bugs won't be biting tonight!
It's also a fine choice of twin mattress if your kids share a room because it's affordable, help save on any arguments that could start!
My top pick of kids mattress and an easy choice for young kids right the way through to teenagers.
Best Mattress For Baby – Panda Bamboo Cot and Cot bed Mattress
There are loads of great things about the Panda cot bed mattresses, for one thing, they are very eco-friendly being made from bamboo and when your child has outgrown you can send it back to Panda and they'll clean it up and donate it to charity if it's still in good condition.
The memory foam inside is actually Panda's own Hydro FOam which is specially designed to regulate temperature this means your little one will sleep sounder through the night because overheating is a classic cause of disturb sleep and waking up through the night.
The bamboo cover is lovely and soft and completely hypoallergenic plus it's removable and washable, and underneath that is a nice waterproof layer which keeps the mattress safe day in and day out. This is a great compromise because waterproof layers are never as soft so your baby (or toddler) get a nice soft layer to sleep on and the mattress is still fully protected.
Overall a great baby mattress, eco-friendly, reasonably priced, waterproof, and comfortable. A great choice for your little one.
F.A.Q
I'm Looking for the best King Size Mattress Can You Help?
Whether you're looking for the best double mattress, the best single mattress or anything in between, don't worry, I've got you covered. All the mattresses I've talked about in this list come in standard sizes so just click through on the one you like the look of best and you'll be able to find it in your size.
What size of mattress do I need?
A good rule of thumb is to get the biggest size of bed that will comfortably fit in your bedroom. So if you have a huge bedroom then you want a king but if you have quite a small then a double or even a large single. But putting a king in a small room will just make it feel cramped and hard to move around in.
Or if you have a bed and don't know what size of mattress you need here are the dimensions[1], just give yours a measure and match them up!
| Name | Size cm |
| --- | --- |
| Small Single | 75 cm × 190 cm |
| Single | 90 cm × 190 cm |
| European Single | 90 cm × 200 cm |
| Small Double | 120 cm × 190 cm |
| Double | 135 cm × 190 cm |
| European Double | 140 cm × 200 cm |
| King | 150 cm × 200 cm |
| European King | 160 cm × 200 cm |
| Superking | 180 cm × 200 cm |
| Emperor | 200 cm × 202 cm |
| Large Emperor | 215 cm × 217 cm |
I STILL DON'T KNOW WHAT MATTRESS TO GET. WHAT SHOULD I DO?
If you still have questions, then ask away in the comment box below. I'll get back to you and help you find your perfect mattress!
Other mattress reviews
HAPPY SLEEPING!
[1] https://en.wikipedia.org/wiki/Bed_size