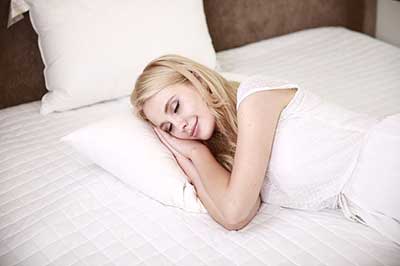 Looking for the best mattress?
Look no further!
I've given a brief introduction into the types of things you'll need to consider if you're looking for the best mattress to buy here in the UK and then reviewed some of my favourites.
There are loads of great mattresses out there and I hope this guide will help you find yours!
Everyones different so I've been sure to include a few different types and a load of different prices. If you want to know the price just click through one of the links to the website and have a look.
If your looking to get straight into it just have a look at this table below to see what we've looked at and who it's best for.
Best Filling
There isn't really one best filling of mattress, it's more about your personal preference so I'm just going to talk you through the main types.
Memory Foam
Memory foam is squishy, supportive and luxuriously comfortable.
It moulds to your body as you lie on it giving you maximum support to your spine and making it a great choice for those who get any sort of lower back pain.
It's also very comfortable and gives you the sensation of lying on a cloud because it sinks in deeper where you need it (hips and shoulders) and less where you don't (head and feet).
The only problem is that it can get a bit hot. A lot of memory foam is designed with a cooling layer which solves this problem but if you're a hot sleeper it won't be as much use.
For more on memory foam check out our guide to the best memory foam mattresses
Spring
Spring mattresses are the classic type, probably what you grew up on and definitely what your parents will have used. But classic spring mattresses tend to be open coil which is uncomfortable and very rigid. The real luxury is in Pocket Sprung Mattresses.
These are individual springs each sewn into its own pocket so they can all move independently giving you loads of comfort and support right where you need it.
Very comfortable and you can pick up a pocket sprung mattress for a great price.
You can also check out our guide to the best pocket sprung Mattress
Hybrid
Now a lot of people looking to buy the best mattress will want something in between, and luckily such a thing exists! This is the hybrid mattress.
Hybrid mattresses are a combination of spring and memory foam which makes for a really comfy bed with great support but enough bounce that it still feels familiar. A great choice for people looking for the best of both world.
There are other types of mattress such as Latex but I'm not going to go into them here as they can be more specialist.
Best Mattress UK Reviewed
Now it's time to take a look and find the best mattress for you lovely reader! These are in no particular order and there are loads of other great mattresses available so without further ado I give you some of the best mattresses available in the UK.
Hyde & Sleep Hybrid Plus Mattress Review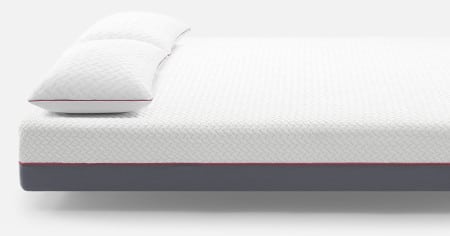 2000 Spring Count
Free Delivery
Delivered Rolled Up In A Box
10 Year Guarantee
100 Night Comfort Test
Firmness: Medium-Firm
Hyde and sleep have been doing things right with their pocket sprung mattress here in the UK.
It's got 2000 pocket springs combined with memory foam to bring you a superbly comfortable bed to rest your head on at night and a 10-year guarantee so you can sleep with peace of mind for a decade before you have to think about replacing it.
But what is really great about it is the fact that it comes in 3 different firmnesses. So you can order a soft a medium or a firm mattress to suit your needs.For a little more detail on how each one feels:
Hybrid Plus Soft – For those who like to melt into their mattress. A unique combination of pocket springs and next gen memory foam.
Hybrid Plus Medium – Their best selling mattress for those who like a true balance of soft and firm. This is 25cm of pure comfort.
Hybrid Plus Firm – A mattress that truly has your back. All the comfort you would expect, with just a little extra support.
And they have a 100-night comfort test so you can swap your mattresses for a different one at no extra cost! So say you bought the medium but realised you need something with a little more support, just phone up and you can get it swapped for their firm mattress! Easy!
The cover is nice and breathable to stop making you to hot and it was winner of Product of The Year (in the mattress category) from a consumer survey of almost 12,000 people. And surely they can't all be wrong!
Overall Hyde & Sleep are doing it right offering one of the best mattresses in the UK and following up with a superb 10-year guarantee and 100-night trial.
Click here to check out the Hyde & Sleep mattress
John Lewis Ortho Pocket Spring 1000 Mattress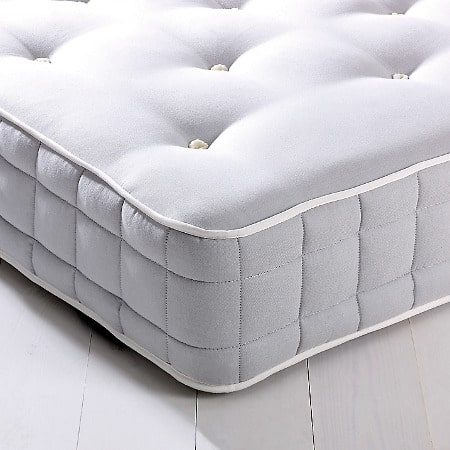 Made by Hypno
Firm Feel
Breathable
7 Year Guarantee
Firmness: Firm
This John Lewis mattress is actually made by Hypno who are bed making heavy weights and have been in business in the UK for over 100 years. Nothing less should be expected from John Lewis of course!
It's got a great firm feel and will provide loads of support to your back whatever type of sleeper you happen to be. The 1000 pocket spring is very respectable, any more springs and it would become a softer feel so 1000 is the perfect balance of support and comfort. The top has been hand tufted to help keep the filling in place and smooth out the top for a firmer feel.
It also has airstream technology which stops air getting trapped inside and overheating you while you sleep. This also helps keep the wool and polyester filling fresh for longer. Top that off with a 7-year guarantee and you're definitely onto a winner with a mattress you can enjoy for years to come.
Overall a great choice of mattress ideal if you have any problems with a sore back in the morning.
Silentnight 7-Zone Memory Foam Review

3 Layers
5 Year Guarantee
Good Budget Mattress
Varied Firmness
This Silentnight memory foam mattress has 7 zone support which splits the mattress into 7 zones of support, firmer in the middle and softer at the ends. An absolute bargain price compared to some of the others listed here but it definitely won't be suitable for everyone.
For people on the larger side (about 100kg+ maybe less), the 20 cm thickness could be a problem as you might be able to feel the bottom of the bed underneath you which is entirely the opposite of what you want.
That said most people of average size will find this a delightful mattress to sleep on. Soft plush cover and the memory foam layer make it super squishy and comfortable and great if you have minor aches and pains.
It is a great budget mattress but it is just the a budget mattress. So don't expect it to last you for many years to come but it is certainly one of the best mattresses you can buy on a budget.
Overall, best mattress on a budget or if you need a mattress for the spare room.
Eve Memory Foam Mattress Review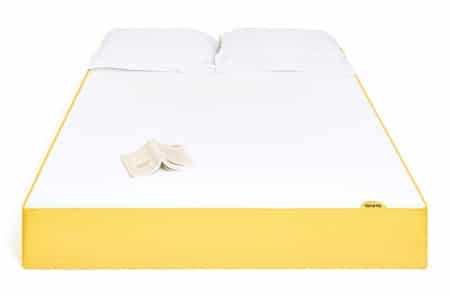 3 layers including a cooling layer
100-night trial
10-year guarantee
Medium-Firm Feel
The Eve memory foam mattress is loved across the UK, with over 2000 5-star reviews the public speak the truth! A thoroughly tested mattress and comfortable for every type of sleeper.
It's designed with 3 Layers which give it maximum comfort. The first layer is the all-important state of the art responsive memory foam. Designed to spring back much faster than traditional memory foam it stops you sinking into deep and getting stuck in your own grooves.
Its second layer checks another box by being 3cm of a delightful cooling core which is 30% more breathable than other memory foams. All this on top of a firm base to ensure you get the support you need.
Eve are an online mattress retailer who ships their mattress to you in a neat little box. There's free shipping and the return policy also includes shipping so if you're not happy you don't pay a penny.
You can order it on 0% finance and get a 100-night trial to fully try it out and get to know it. Then you have the 10-year guarantee to have you sleeping soundly for over a decade.
Overall, state of the art memory foam for maximum response and comfort. A great choice for those who haven't tried a memory foam mattress before.
1500 Spring Hybrid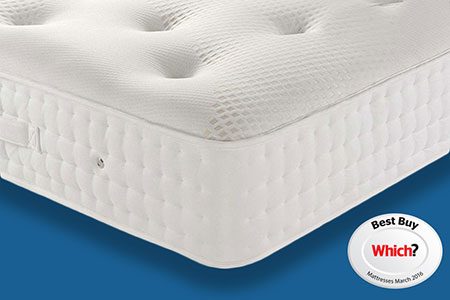 Brand: Relyon
Filling: Pocket Spring and Memory Foam
Firmness: Firm
8 -Year Guarantee
1500 Spring Count
27 Cm Deep
Which Recommended
Firm Feel
Use the Code SAVE10 For 10% off at Mattress Next Day
The Relyon Hybrid is an obvious choice for this best mattress list, Which recommended and an excellent choice of firm mattress. The memory foam layer is only 5cm thick so it is more like a mattress topper keeping the whole thing firm and comfortable.
This memory foam layer also means you don't have to flip the mattress instead you just have to turn it maybe once a year to stop it sagging.
The 27 cm depth is quite deep but it's what's necessary to keep the mattress firm. It's not the deepest mattress I've seen so your bed sheets should still fit!
Lastly, it comes with a whopping 8-year guarantee! That is a long time to have your sleep guaranteed, and it takes you close to the 10-year mattress life expectancy.
Overall, of all the best mattresses featured on this list this one is the firmest.
h3>Silentnight 1000 pocket Spring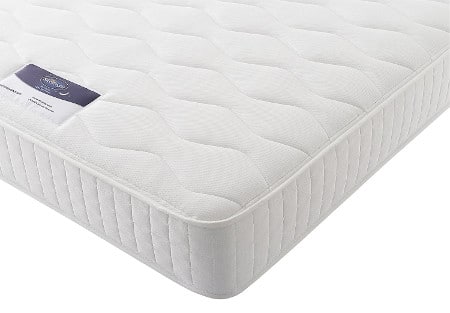 1000 Pocket Sprung Count
No Need to Flip
Medium Firm
Quilted Cover
Let's start with the cons, there is no sort of ventilation in the Silentnight pocket spring mattress, so you might find it gets hot compared to other spring mattresses. This is still a lot less than a memory foam mattress and pocket springs allow for some heat dissipation.
That said a 1000 spring count for this price is fantastic value, having pocket springs at all is pretty crazy for a mattress this cheap but here we are! It's got a medium-firm feel and lets you get a comfortable night's sleep. The pocket springs help keep movement to a minimum and stops you disturbing your partner if you move around. You also don't need to flip this mattress which makes life a lot easier you just have to turn it 180 degrees, which can still be a challenge still but is a lot easier than flipping the damn thing.
The pocket springs help support you more as well by pressing in more where you're heavier and less where you're lighter. This helps take the pressure off your joints and keep your spine aligned similar to memory foam.
Overall, Silentnight were another obvious choice for this best mattresses list. A superb value pocket sprung mattress.
Bamboo Covered Soft Mattress Review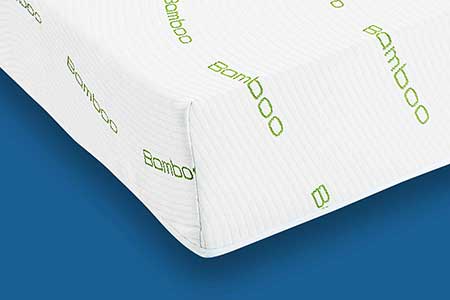 Brand: Coolflex
Material: Memory Foam
Bamboo Cover
1-year Guarantee
Washable Cover
Soft Feel
Use the Code SAVE10 For 10% off at Mattress Next Day
The Coolflex memory foam mattress is one of my favourites because of the bamboo cover. Bamboo is a wonderful material that is hypoallergenic and temperature controlled so it keeps you at just the right temperature all night long.
Coolflex combined a soft memory foam with their own reflex foam which helps give it extra support, ideal if you're worried about a bad back developing.
You only get a 1-year guarantee which isn't the best when you consider a mattress should last you for 10-years but it does have a really good price so it balances out.
Overall, a great soft mattress with memory foam support for extra comfort.
Simba Sleep Review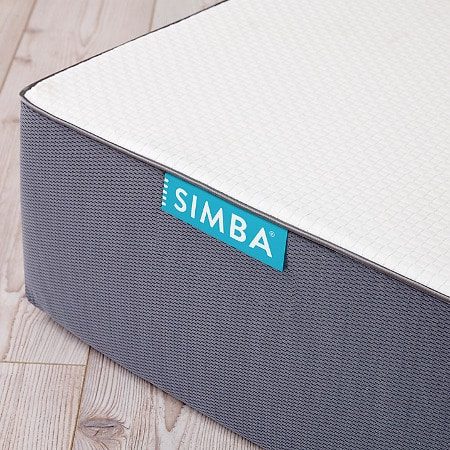 2500 Spring Count
Hybrid Mattress
Extensively Tested at The Sleep To Live Foundation
10 Year Guarantee
100 Night Sleep Trial
Firmness: Medium-Firm
Simba have quite a cool story, they were originally supplied mattress makers the world over with the thread needed to hold the mattress together before deciding to delve into the world of mattress making themselves.
From there they spent a great deal of time researching and developing the best spring system, memory foam and "sympatex" a sort of latex which all combine to give a damn comfy mattress. They teamed up with the Sleep to Live institution who have looked at the sleeping profiles of over 10 million people to find out exactly what the perfect mattress needs.
This is also the only mattress offered by Simba because they believe it is "perfect" suitable for every type of sleeper and available in a huge range of sizes. No games or up selling just one awesome mattress. And it is awesome! Hugely comfortable and supportive allowing for a great night's sleep.
The only problem some people have is the smell. When it first arrives it might have a bit of a chemically smell which is from the memory foam. All memory foam mattresses have this, but as long as you leave it uncovered with the windows open the smell will go away in no time.
They are also an online mattress retailer so offer you a 100-night trial and again the massive 10-year guarantee so you can enjoy your mattress for over a decade.
Overall, you won't be disappointed with the superb comfort offered by the Simba, the 2500 spring count is massive and the combination of foams used with it offer up a blissful night's sleep.
And there we have it! How to find the best mattress UK, I hope you found something useful and can take your sleep to the next level very soon.