What's not to like about a hybrid mattress? Soft supportive memory foam combined with pocket springs to give you more bounce than an all-foam mattress with all the support of memory foam.
Sound good? You bet it does, but finding the best one can be hard, so I've put together this list of the top 10 best hybrid mattresses to make your choice a little easier.
I've tried to break it down to different needs but if in doubt stick to the top choice of the Dreamcloud Luxury hybrid mattress, it's great for any sleeping position, good on any bed frame and if you click the link below you'll get £300 off, what's not to like?
Top 5 Hybrid Mattresses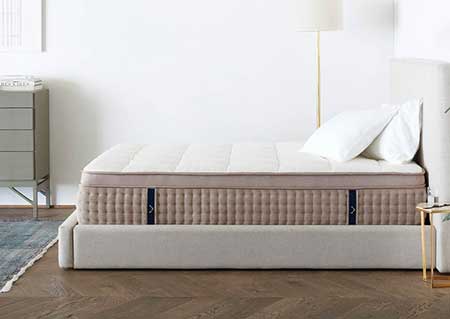 Firmness: Medium-firm
Sizes: Single, double, king and super king size
Forever Warranty
365-night trial
Sleeps back, side, and front sleepers
Eases back pain
Breathable and cooling
Discount: £300 off when you click below link
This has fast become my favourite mattress, it's my top recommendation of hybrid mattress, and of pocket spring mattress because of the superb comfort that you get from the supportive springs and cooling memory foam.
Let's start at the top with the quilted top layer that combines softness with breathability to keep your comfortable through the night all year round. Next is the two layers of foam, first os the specially designed breathable memory foam which is great because that's where heat can get trapped, and the support foam which can ease an aching back.
After that we've got the all-important springs which use "ActiveEdge" technology to minimise movement allowing for a deeper sleep but it stops you feeling your partners movements if you share your bed. And then you've got the supportive foam base which keeps the whole thing as a lovely medium-firm feel that's ideal for any sleep position and works on any bed frame.
But my favourite part might be the value for money, not only do you get £300 off but this mattress has a year-long trial period and free returns if you don't like it. So you can take it home, decide it's not for you and send it back 12 MONTHS LATER.
£300 Off Mattress,
Up to £708 Off Bundles,
Up to 30% off Bedding.
Click the above "get discount" link to enjoy TheDozyOwl reader deal.
And it's got a forever warranty, now I maintain you should change your mattress every 8-12 years but a forever warranty means this is built to last, you're definitely getting those 12 comfortable years at least.
My favourite hybrid mattress, you're not going to be disappointed.
DREAMCLOUD LUXURY HYBRID MATTRESS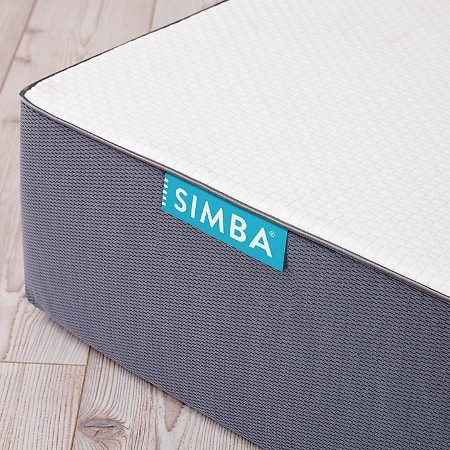 2500 Spring Count
10-year guarantee
100-night trial
Breathable for hot sleepers
Great for back and side sleepers
Firmness: Medium-Firm
Let's start at the top with the Cooling top layer of Simbatex which is a combo of memory foam and latex which gives a layer of comfort and cooling by increasing airflow.
Next, you have the pocket springs, all 2500 for a truly luxury feel that cradles your body from head to toe giving you full-body, edge to edge support. The added bonus is it minimises disturbance between couples by allowing you to move without bouncing your partner around and waking both of you up.
Under that, we have the memory foam! Under the springs it gives you the support without the sinking feeling that memory foam can have and I know some people don't like.
Finally, you've got a zoned base that has been engineered to give you all the support where you need it.
BLACK FRIDAY (2020) SALE: 35% OFF on orders over £300
This is all wrapped up in a cover that's breathable on the top and grippy on the bottom so it doesn't slide around.
Simba have done a thorough job of designing their mattress, they looked at the sleep profiles of 10 million people to engineer the perfect mattress, for everyone, a superb choice of hybrid mattress.
3. Best Cheap Hybrid Mattress – Happy Beds Cashmere 3000 Pocket Sprung Memory Foam Mattress
Good for any sleep position
Air vents in side for breathability
High number of springs for comfort
5-year guarantee
Free UK delivery
Firmness: Medium
Happy Beds are the perfect balance of quality and cheapness. This mattress is the perfect example, you get the luxurious feel of 3000 pocket springs as well as natural fillings of cashmere to provide comfort and cosiness but also air vents in the side for breathability to stop you overheating.
Combine that with memory foam for support and a layer of reflex foam which doesn't trap the heat the same way so stop you overheating.
It's 25 cm deep and a medium firmness which means it's good for any sleeping position, and it will work on any bed frame, divan, slat, you name it.
Finally the mattress is tufted which works to improve durability which is why you get the 5-year guarantee. Enjoy quality sleep night after night without coming close to breaking the bank. If you're on a budget this is the perfect choice.
4. Best For Back Pain – Relyon Memory Superior Ortho Support 1500 Pocket Mattress
Which? Best buy of 2015
Edge to edge support
Pressure-relieving
Hypoallergenic
8-year guarantee
Firmness: Firm
Now we've gone the other way for a mattress that's a little firmer and ideal for dealing with back pain.
The hybrid of foam and pocket springs is ideal for back pain because of the pressure relief memory foam gives you on your pressure points and the responsive feel of springs to keep you mobile and comfortable through out the night.
The Relyon is a great firm mattress that will work to keep your back happy and your sleep sound.
1500 pocket springs are comfortable yet a low enough number to make it firmer and supportive.
It's 27 cm deep which is deeper but not so deep that your sheets will stop fitting. It does need turned but there are handles sewn into the side to make it an easier process.
Great value for money and an ideal choice of hybrid mattress if you're dealing with back pain.
Read more about back pain mattresses here.
Special cooling memory foam
Cooling cover
100-night trial
10-year guarantee
Firmness: Medium
Tend to sleep a little hot? I feel you, more often than not I'll wake up on the sweaty side and rather uncomfortable so I know the need for a proper cooling mattress.
Luckily, the Emma Hybrid was designed with us in mind, t's made of four layers starting with the Airgocell foam that is the most breathable layer to let hot air escape and remove moisture so you don't wake up sweaty.
That's follow up with the pocket spring layer that is both to provide comfort, support and bounce while also letting air properly circulate underneath you. And then you've got the pain-relieving memory foam that eases sore joints and allows you to fall into a deep sleep.
All that is on a high-density foam that gives it a good medium feel that's comfortable for pretty much everyone but especially back and side sleepers.
What Is a Hybrid Mattress
I'm sure most of you are aware of what a hybrid mattress is if you've made it this far in the article but just in case I'll go over it here.
A hybrid mattress is a combination of memory foam layers and pocket springs in the same mattress, compare to an all-foam mattress or a pocket spring and natural fillings mattress.
The combination of both gives you the advantages of memory foam, which are pressure relief, spine alignment, minimal motion transfer to name a few, with the bounce and "normal" feel of a spring mattress.
The disadvantage? Well, they tend to be more expensive because they're harder to make and you've got less choice for the same reason, but the few that are available are exquisite which is why I've put together this article.
And, the really good hybrid mattresses should have a cooling layer of some kind which can help give you the support of memory foam without trapping all the heat. Some memory foam mattresses have this but you can't beat the breathability of springs if you're worried about overheating.
A superb mattress type for those who want a supportive feel with the traditional feel of a spring mattress.
My last recommendation is to always look for pocket springs. These are individually wrapped springs that work by moving individually giving you the support where you need it without just generally moving down underneath you.
Old spring systems moved as a single piece, so if you jumped into bed, you'd jump your partner out the other side. and if your hips pushed the springs down it'd be pushed down under your lower back which can lead to pain, instead of pushing down at your hips and pushing down a lot less at your back for a full-body support system.
And the number of pocket springs is based on a king-size mattress, so a single or a double mattress will have less but the general idea you get from the number stays the same, which is that the more springs the better, 2000-3000 is a really luxurious feel while 1500-2000 is very comfortable and 1000-1500 tends to be on the more budget end but as long as they're pocket springs it will still feel fantastic.
What Sleeping Positions Sleep Best On a Hybrid Mattress
It mostly depends on the firmness level of the mattress in question, although stomach sleepers don't get on very well with a memory foam layer because you can sag down into your face, it's not the worst as long as it's a firmer mattress, preferably a medium-firm feel.
Back and side sleepers however will get on absolutely fine, with any firmness and on any top layer, the ideal candidates for a hybrid mattress or any type of mattress really. And a new mattress could be just what you need to improve your sleep.
What Is The Best Bed Base For A Hybrid Mattress
The base layer of a hybrid mattress is pretty much always foam, normally a high-density foam that provides the firmness and resistance across the mattress.
So what base is best?
Honestly any, you can use a hybrid mattress on a slatted bed frame as long as it's a medium-firm feel or harder, but if you want to be on the safe side a solid flat surface will stop the mattress sagging down at all. So a divan base would be a fine choice but if you're splashing out on a new mattress and don't want to spend on a new frame that's totally fine, I'm sure the frame you've got will be fine as long as it isn't broken!
Mattress Firmness Explained
Want something on the soft side? Or a nice extra firm mattress? It can be hard to choose with so many options, and unfortunately, it's just a rough guide because one person might say medium-firm while someone else says firm.
Luckily, if you're current mattress feels too soft it might actually be because it's old and sagging not the firmness it is, so a new mattress will feel markedly better regardless of the firmness.
But what I say is, if in doubt, go for medium-firm. Almost everyone loves a medium-firm mattress regardless of sleep position. Now, if you know you like a softer or a firmer feel then, by all means, go for it but if you don't know then play it safe and stick with a medium-firm.
In every mattress review above I've included the firmness to help you along with your decision.
Other Hybrid Mattresses
There are so many great Hybrid mattresses to choose from that 5 wasn't quite enough. But I know that too much choice can be confusing so I went with a top 5 above and if you didn't like the look of any of them you can check out another 5 great choices below.
Leesa Sapira Mattress
10-year warranty
1 mattress donated for every 10 sold
State of the art spring system
Edge-to-edge support
Firmness: Medium-Firm
Leesa are better known for their memory foam mattress but it can't be denied that their hybrid mattress is also superb.
It's made up of 3 sections of combined layers of foam with the pocket springs we all love, starting with a comfort layer that is 4 cm of breathable foam that allows airflow for a cooler night's sleep and enough bounce that you don't just sink in too deep.
After that, you've got the recovery layer which is the memory foam that provides body contouring pressure relief to ease your joints and leave you sleeping comfortably from dusk till dawn.
And finally, with have the 15cm of pocket springs which are held between two foam layers to provide excellent support and feel of a memory foam mattress with much more bounce.
And it's a bed-in-a-box that comes with a 100-night free trial and a 10-year warranty so you can sleep with peace of mind that you haven't wasted your money.
One thing I really like about Leesa is that they give one mattress to charity for every 10 they sell, so homeless shelters all over the country have comfortable mattresses for the people they're trying to help, because everyone deserves a good night's sleep.
Bed Butler Opulence Memory Mattress
25 cm Deep
Soft cover
Edge-to-edge support
5-year gurantee
Firmness: Medium
First things first, is that you should know this mattress is only available as a double or larger, no small double or single available but you can get a king-size, super king-size and a European double, and European king-size.
The mattress itself is medium firmness with great support and that weightless feeling that memory foam promises. A Lot of work has gone into making the Opulence mattress to give it ideal pressure relieving properties that can help aching pains and joints that can be a nuisance to wake up with making it one of the best mattresses available.
Under the memory foam, you have the pocketed coils that give you a little bounce and the feeling we all love in a hybrid mattress.
When you first lie on this mattress you'll find it has a much firmer feel than it ends up with because of the memory foam. It's initially firm but softens as the memory foam moulds to your contours from your body heat leaving you weightless and the final medium feel.
A fine mattress made in the UK, good quality with a 5-year guarantee that shows it's built to last.
Kayflex Pocket Ruby 3000 Pillow Top Mattress
Plush pillow top
Durable polyester filling
Hypoallergenic
5-year warranty
Firmness: Medium
The Kayflex 3000 arrives rolled up in plastic so you have to give it 24 hours to fully go back to normal once the plastic has been removed. Because at first it looks deflated and entirely broken, but don't worry it will spring back to life in not much time.
The plush pillow top is ideal for those who don't like the direct memory foam feel on top of their mattress. It's like a mattress topper built into the mattress to give it a soft comfortable familiar feel.
The 3000 pocket springs is really high and really luxurious, the more the better (usually) and 3000 is the highest end and ideal for a comfortable bed. And it's all bundled together to give a medium support mattress that will keep you sleeping soundly.
You do need to turn this mattress periodically but it's got handles stitched into the side to make this a little easier. And it's got a polyester filling so isn't unbearably heavy but is still built to last and completely hypoallergenic.
Available in all sizes from single to super king and made in the UK, a fine choice of mattress.
Sublime Pocket Gel 3000 Mattress
Gel Filling
Cool Foam topper built-in
5-year warranty
Made in the UK
Firmness: Medium
This is a mattress from the Hydro Gel collection, it's high-quality build is reflected in the 5-year warranty and luxury quilted cover not to mention the comfort of the fillings inside.
This is another high end 3000 pocket springs which works to give you a luxurious feel while the memory foam, of course, helps support your sore joints. It's also a medium firmness and it features no roll together so you can move happily without disturbing your partner in the bed beside you.
The soft knitted cover works to give you a bit of relief from the feeling of memory foam while the cooling cover will work to keep you cool and comfortable all night long.
A great choice of hybrid mattress.
Tuft & Springs Solitaire 2000 Pocket Memory Pillow Top Mattress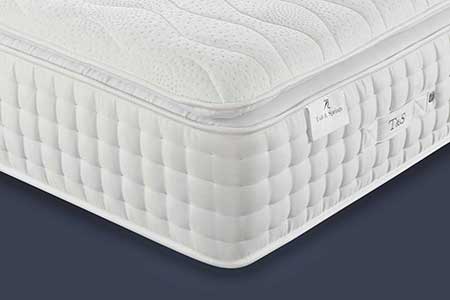 35 cm deep
Demask cover
Air vents for cooling
No flip necessary
Firmness: Medium-Firm
This is a very deep mattress at 35 cm, so you might need to get deep fitting sheets if you don't have them already. The reason it's so deep is because of the comfort layer on top which is the pillow top, it's a built-in mattress topper that makes it really comfortable and just nice to lie on.
And the top cover of this is a Demask Cover which looks nice and classy but is also very breathable and when combined with the air vents on the side leaves a cool and comfortable mattress.
And it must be good quality because it's made in the UK, right? Well not always but this is well made, natural fillings such as wool to make it more breathable and a well stitched and put together mattress.
It's no flip which avoids a pain in the bum but you should occasionally turn it and you've got handles stitched into the side to make the process a little easier.
Best For Side Sleepers – Contour 2000 Memory Pocket Mattress
5-Year Warranty
Soft breathable Cover
Hypoallergenic
Firmness: Medium-Firm
Side sleepers need the firmness under the shoulder to stop it sagging in too deep and leaving your spine unaligned.
The Contour gives you plenty of pressure relief along your back and helps out your hips and shoulders leaving you relaxed and comfortable for a great night's sleep.
While side sleepers can get on great on a memory foam mattress this hybrid choice gives you the support you need and bounce of a spring mattress.
2000 spring count is nice and high for a luxury feel and while you don't get a trial period you do get a 5-year warranty and the price point on this mattress is very reasonable.
The soft knitted cover is a nice extra comfort layer and there's no need to turn or flip the mattress so you can get it on the bed and enjoy it for years to come.
Kayflex Pocket Plush Ultra 3000 Series Mattress
Vacuum Pack Delivered
Durable
5-year warranty
Made in the UK
Firmness: Medium
This mattress is a little softer than some of the other ones I've talked about coming in at a medium firmness, but it's still good for back sleepers and side sleepers.
It's also a bed-in-a-box that comes vacuums sealed and rolled up, although it's a lot cheaper than the other box mattresses!
It's got a 5-year warranty which is excellent value for how cheap it is and the 3000 spring count is very luxurious and why you have the medium firmness.
Minimal motion transfer and excellent pressure relief is always a good thing, the only thing missing is some sort of cooling element to stop overheating.
But for a cheap mattress this is high-quality and a fine choice, though if you can afford more you will get a better mattress out of the ones I've reviewed here.
Conclusion
Still here? I'm impressed, it's a long article! But if you are I hope you found it useful and found the mattress you were looking for, if you're in doubt go for the Simba, it's high quality, comfortable, long-lasting with the 10-year guarantee, and you get a trial period so if you don't like it you can return it.
But if you don't want that, or any of these mattresses that's cool too! Just keep an eye out for the spring count to make sure it's between 1500-3000, any more or less and something could be wrong.
And if you're interested in a full memory foam mattress then check out this article. Or if you want a pocket spring mattress and want to screw the foam and leave it out altogether then that's fine too, you want to have a look at this article.
Happy Sleeping.