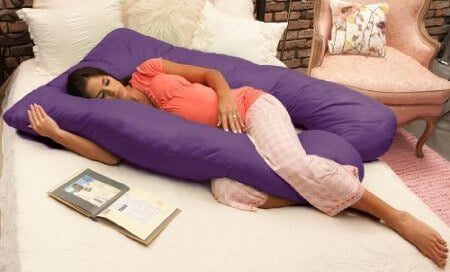 Editors Note: It's not my area of expertise being male so I got a friend of mine who knows much more on the subject to write this but she wanted to remain anonymous. But big thanks to her!
One of the most difficult parts of the day when you are pregnant is bedtime. Your back aches, your belly feels like it will burst, your bladder is being pushed and you just want a hug, but your partner is sleeping.
When you are moving around during the day, as uncomfortable as you may feel, the worst is at night when you are desperate for sleep and just can't find a good position. The best thing you can do for yourself, and your partner for that matter, is to get a great pregnancy pillow.
Without a pregnancy pillow, most pregnant women wake up with an aching back, aching hips, neck and even knees. With their belly resting against the bed and their body weight pushing down on it, many women end up having to get up to use the loo many times during the night because of the pressure on their bladder.
Instead, sleeping with a pregnancy pillow will have you waking up refreshed and rested. Important since soon, even the most comfortable pregnancy pillow in the world won't help you! You will be waking up multiple times a night for the next few months. Maybe even years!
Continue reading "Best Pregnancy Pillow UK – The 2018 Expert Buyer's Guide" →