Full disclosure: I am not a medical professional, and if your back pain is serious you should talk to your doctor first.
I know you'll agree that back pain is one of the worst things in the entire world.
It affects just about everything you want or need to do. Even sleeping becomes taxing. If you're reading this and thinking that it applies to you, then I want to help.
I'm not a miracle worker but I do know a thing or two about beds!
I've put together a guide for what you need in a mattress if you suffer from back problems, as well as a list of the best mattresses on offer that can help ease your back and get you some much-needed pain relief. There are also links for each one so that you can buy them online and start getting a great night's sleep.
Check out the table below for a quick summary of the top choices. Click Nectar Sleep for up to £450 off and two free pillows
Best Mattress for Bad Back (UK)
Get Discount
FIRMNESS: Medium-Firm
365-Night Trial
7-zone support
Ideal for back and side sleepers
Cooling Layers for hot sleepers
Can Help Sciatica
Eases lower back pain
Sizes: Single, small double, double, king size and super king size
NECTAR'S READER OFFER
£125 off Mattresses
Two Free Pillows.
Up to £450 off Bundles and
Up to 30% off Bedding
If you're a back pain sufferer you're going to love the Nectar Sleep Mattress.
The base layer offers 7-Zone support which is a nice medium support under your shoulders and knees where you need it then softer around your knees and middle, and firm at your head. This zoned support gives you all the support you need up and down to stop you getting any aches or pains through the night.
Plus, the top layer is a cooling smart foam that helps move heat from the body keeping you cool and comfortable all night long. Combine that with the soothing comfort of memory foam that stops you tossing and turning and you're left with a night of great sleep.
And it's that memory foam which is going to ease the pressure on your back and let it fully relax so you don't wake up in pain any more.
It's perfect for back sleepers and side sleepers but unfortunately no good for stomach sleepers who will sink in too deep and strain their necks.
The trial period is a huge 365 days so you can actually test this out for a whole year and still be able to return it for a full refund which is amazingly cool and great value.
An easy choice for my top pick of back pain mattress.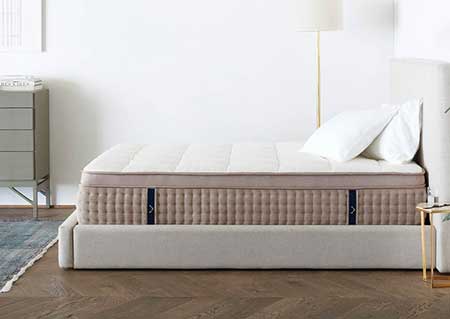 365 night trial
Forever warranty
Free delivery and returns
Great for couples
Ideal for back and side sleepers
Supportive to relieve back pain
Works on any bed frame
Firmness: Medium-Firm
Sizes: Single, double, king and super king size
Discount: £300 off any mattress when you click below
The DreamCloud is a superb choice if you sleep on your stomach and suffer back pain (a much more common problem than you'd think!)
Dream cloud combine top-quality pocket springs with supportive memory foam that allows you to sleep comfortably on your front while your back pain eases and your pressure points get the chance to relax they need.
It's a bed-in-a-box that has a 365 night trial and free returns so you can fully test it out before you commit to it. And it's got a forever warratnty so you know it's built to last, I'd still consider changing it after 10-12 years but there's nothing like a reassurance your buying a top quality mattress.
It's also good for other sleeping positions and couples so everybody can sleep happily on it!
£300 Off Mattress,
Up to £708 Off Bundles,
Up to 30% off Bedding.
Click the above "get discount" link to enjoy TheDozyOwl reader deal.
Overall a fantastically comfortable mattress that's excellent value for money, great for easing back pain if you sleep on your stomach and you can get £300 off if you click the link above!
A Which Best Buy
Hybrid Memory Foam and Spring
Pocket Sprung Mattress
High 1500 Spring Count
Sizes: Single, double, king, super king
Firmness: Medium-Firm
Relyon have developed a really good orthopaedic mattress, with a staggering 1500 springs inside it!
They're pocket springs too, which means each one has been sewn into an individual pocket. You get more freedom to move and support exactly where you need it.
This is also a hybrid mattress since on top of the springs is a 5.5cm layer of memory foam. This is more than enough to support your spine, hips and shoulders no matter if you sleep on your side, your back or even upside down.
This mattress is really high quality – it was even a 'Which? Best Buy' in 2015. However, it doesn't come with a guarantee.
60-night sleep trial
Firmest mattress
Natural Fillings
Good for hot sleepers
5-year guarantee
Firmness: Extra-Firm
Sizes: Single, double, king, super king
You can't argue with using a firm mattress to help with a bad back. The Sleepeezee backcare does just that, it takes excellent care of your lower and upper back to help ease pressure points and allow you to get some good rest without waking up in pain.
Wool fillings work to keep your body temperature under control while cashmere fillings give you a soft cushioning that complements the extra firm feel the mattress has.
Finally, you've got a Damask cover that's breathable stopping you overheating and your sleep getting disturbed. Plus this is an Orthopaedic mattress made in the UK and it's got a 5-year guarantee. there aren't many extra-firm mattresses and this one is easily one of the best for a bad back.
Great Price
Suitable For All Sleeper Types
Available in A Large Range of Sizes
Orthopaedic
Firmness: Medium-Firm
This is a slightly different mattress, since it's classed as 'medium-firm' rather than 'firm', which isn't necessarily a bad thing. It's a good compromise if you're looking for an orthopaedic mattress that is a little softer.
It has a Bonnel spring system too, which actually makes it firmer than other pocket spring mattresses.
This mattress also has handles built into the side, which make it so much easier to flip. This is really useful since you need to flip your mattress semi-regularly – with help if your back is still sore!
But if you've got a slat bed frame make sure you turn it every few months so you don't end up with big permanent ridges on one side that you'll have to sleep on when you flip it.
The air vents are an added bonus since they'll ensure you have a cool, refreshing sleep.
Read more reviews of Happy beds Mattresses here
How Does A Mattress Affect Back Pain?
Let's start the buying guide.
While the right mattress can do a lot to relieve back pain, the wrong mattress is completely the opposite.
If your mattress is the wrong tension – too soft, too firm – then it distorts your spine as you lie on it.
A mattress that is too soft will make tension build up along your spine, likewise with an old mattress.
This is what makes mornings particularly difficult for people with back pain, since you have to go from spending the night with bad posture to getting up and about. Lots of moaning and groaning… and rightly so!
A good mattress will give you the right support no matter how you sleep – on your front, on your back or on your side.
Sleeping Positions and Back Pain
The type of sleeper you are won't necessarily affect your back pain but it will change what type of mattress you need, side sleepers and back sleepers will have different needs to stomach sleepers for instance. But whatever your sleeping style, I've got you covered.
Back Sleepers and Side Sleepers
You are the lucky ones who have the pick of the litter when it comes to mattresses because you can sleep comfortably no matter what the mattress type is. Memory foam, spring, a hybrid of the two, and on all the different firmnesses levels.
So choose happily and look forward to a better night's sleep.
Stomach Sleepers
Stomach sleepers won't be able to sleep soundly on memory foam because it sinks in too much and can crane your neck leaving it stiff and even feeling smothered. So if you want to wake up free from soreness you're going to need a firmer mattress and preferably a spring or hybrid combo of spring and memory foam.
Best Type Of Mattress For Back Pain
Buying a mattress can be a bit of minefield anyway but buying a mattress with a bad back in mind is even more difficult. There are three types of mattress that I'd recommend for you:
1. MEMORY FOAM MATTRESS
Memory foam is excellent for coping with back pain, since the heat of your body makes it mould around you as you sleep. You only sink as deep as you need helping with pressure points and spinal alignment, which gives your back and joints maximum support.
You might be worried about overheating if you're thinking about a memory foam mattress. And while that was a problem with old memory foam, new memory foam usually has a gel memory foam layer of some kind that is designed to be breathable and dissipate heat meaning a good night's sleep for you.
To me, unless you've been recommended a different kind be a doctor or a chiropractor this is the type of mattress I'd go for a bad back or any kind of lower back pain.
More on memory foam mattresses.
2. LATEX MATTRESS
This is similar to memory foam as latex moulds around your body but it's actually a little firmer. It bounces back more, which means good support for your back and you can move around easily.
Getting a mattress that is 100% natural latex is rare since it's usually part of a hybrid, either with memory foam or springs. Given the choice, a latex-spring hybrid would be your best choice. It has a lot of bounce and the springs really help to firm up the mattress, which is what you need. I've reviewed other UK latex mattresses here.
3. POCKET SPRING
Unlike an open coil innerspring mattress pocket springs are made up of lots of individual springs each sewn into their own pocket so they can move independently of each other.
This means they can move around your body better giving you extra support where you need it. This helps with pressure relief along your back and easing even the most chronic back pain.
And a good choice if you're a front sleeper and not able to use memory foam, but I talk more about the different sleep positions further up.
More on Pocket Spring Mattresses
4. HYBRID MATTRESS
When you're looking for the perfect mattress you might come across a hybrid mattress, what this is, is a mattress that's a combination of some type of foam as the top layer and springs as in the inner layer, usually pocket spring with the foam acting as a comfort layer on top.
These are great because you get all the support of memory foam with the familiar bounce of a spring mattress. So if you're looking to replace your old mattress and aren't quite ready for memory foam this can be a good compromise. More UK hybrid mattress reviews here.
5. ORTHOPAEDIC MATTRESS
Sometimes called 'ortho mattresses', these are designed specifically for people who suffer from back pain.
They are usually extra firm and are good because they distribute your weight slightly differently, giving extra support to your spine while taking the weight off your hips, shoulders and neck. I've got some neck pain pillows reviewed here if you need any help with that.
On an orthopaedic mattress, your spine can sit comfortably and fully relax – which is what you'll be needing!
Most of the time, these are spring mattresses but hybrid mattresses – a mixture of springs and memory foam – are also available. These hybrids are great because you get the moulding effect of the foam, without sacrificing firmness.
These firmer mattresses usually work better for people who are fairly heavy – above or around 18 stone.
Mattress for Bad Back (FAQS)
WILL MY PILLOW AFFECT MY BACK?
Not usually.
Your pillows are more likely to cause/aggravate neck pain, which is something to be aware of. But sometimes a knee pillow can actually help with back pain.
SHOULD I GO TO SEE A DOCTOR FIRST?
Definitely.
I said I know a thing or two about new beds but your back pain will be unique to you. I can't offer you medical advice, I can only recommend mattresses. The NHS has some great information on their website but go and see your GP.
HOW OFTEN DO I NEED TO TURN OR FLIP MY MATTRESS?
You need to flip your new mattress every three to six months. If you have a cheaper mattress, chances are you'll need to flip it more often.
If you have a memory foam/latex topped mattress, then you should turn it. Don't flip it! Otherwise, your lovely soft top will end up on the bottom and it'll be ruined. The same thing goes for turning, you should do this every three to six months.
However, please don't do this if you have a sore back! See if there's anyone that can help you out. People are usually generous if tea or cake is involved.
WOULD A MATTRESS TOPPER HELP?
It could do, if you can't afford a new mattress then a memory foam mattress topper might be a good idea to try and help (I've got a sperate article on them here).
They can work well to freshen up an old mattress and improve support along your spine making mornings that little bit easier and putting you in a better mood for the day.
How Else Can I Ease Back Pain?
There are a ton of Yoga videos and stretching exercises you can find on YouTube that help with Back Pain, but if you're feeling adventurous you can actually buy a back stretcher to help… Well to help stretch your back. Not for everyone but something worth considering if you're running out of options.
Other Mattresses For Back Pain Reviewed
Orthopaedic mattresses
Silentnight Stratus Miracoil Firm Orthopaedic Mattress
Good Price
Firm Support
5-year Guarantee
Hypoallergenic
Firmness: Firm
Sizes: Single, small double, double, king, super king
Silentnight are a trusted name in the mattress game. This one uses their own open-coil spring system which means it's firm but maybe not as comfortable as a pocket spring option. This is because, in this mattress, the springs can't move independently.
However, the open-coils mean that the price of this mattress makes it friendlier if you're on a budget.
While this does have a 5-year guarantee, the terms and conditions are a little tricky. With each year that passes, your refund gets smaller and smaller. For example, if you want to return it in the second year of the guarantee, you will get 80% of your money back.
Kayflex Pocket Ruby 3000 Pillow Top Mattress
Hybrid foam and spring combo
Bed-in-a-box
Pressure-relieving
5-year warranty
Firmness: Medium
The Kayflex Ruby offers a hybrid combination of reflex foam and pocket springs which combine with a plush pillow top to give you a great orthopaedic mattress and a pain-free night of sleep.
The other fillings are polyester which keeps the price down making it very reasonable and aren't as necessary since you've got the pillow top acting as a built-in mattress topper keeping you supported and comfortable.
A Fine choice of Orthopaedic Mattress for the price point.
Pros
Made by Hypno
Firm Feel
Breathable
7 Year Guarantee
Cons
Quite Heavy To Rotate Alone
Firmness: Firm
This mattress is actually made by Hypno, who have been around for over 100 years, so you know that they're going to have it just right.
It's nice and firm, which is exactly what you're looking for. This is down to the 1000 springs, which give you a great balance of support and comfort. The top has also been hand-tufted and this keeps the filling in place. It also means that it's lovely and smooth, which makes the mattress firmer still!
Even better, it has airstream technology which stops air getting trapped inside the mattress. No more overheating! Keeping the mattress cool also means that the wool and polyester in the filling stays fresh for longer, so it's a win-win.
A great choice of orthopaedic bed for a bad back.
Click here for more on Firm Mattresses
Sleepeezee Ortho 800 Pocket Mattress
Orthopaedic support
Breathable Damask cover
air vents in the side
free 24-hour delivery
5-year guarantee
Firmness: Firm
Take care of your back and your budget with this budget-friendly orthopaedic mattress from Sleepeezee. Only 800 pocket springs but pocket springs beat the hell out of a traditional spring system so it's still good value.
A firm feel to give you plenty of support up and down your back plus the orthopaedic support allows for pressure relief of your pressure points. Everything you could want from a bed for a bad back.
Coolflex Backcare Firm Mattress
Cooling Cover
Under £300 for a king size
25 cm deep
1-year guarantee
Firmness: Firm
The name says it all on this one, you've got a firm mattress, that takes care of your back and has a cooling cover. Simple right?
The Coolflex covers are a great choice for hot sleepers allowing for greater breathability while also being soft to the touch for a nice comfortable sleeping surface.
Only a 1-year guarantee but that's to be expected because of the low price. But for a hard mattress and orthopaedic bed, you can't argue with the quality at this price range.
Mattresses for hip pain
Medium Feel
Latex Provied Excellent Support
7 Support Zones
8-Year Guarantee
18 cm Deep
Firmness: Medium
The Dunlopillo Diamond mattress is an excellent choice of mattress for hip pain, it's a softer mattress at a medium feel but still great for support.
It's only 18 cm deep but that's all you need. Natural latex has much more bounce than memory foam so gives you the support you need where you need it. And the mattress is split into 7 support zones so you have softer areas where your shoulders hips and feet are then firmer support under your back and behind your legs allowing the hip joint to relax.
There is a weird smell with latex when you first get the mattress but that's completely normal and goes away by itself after a few days, if you air it out on its side for 24 hours completely uncovered it will go away. But if you make the bed normally after you get it it will go away it just takes a bit longer.
What's also cool is that you get an 8-year guarantee, but all this comes at the cost of this being the most expensive mattress on the list. It's still worth it if you're trying to deal with hip pain.
Pros
Hybrid latex-spring System
Hypoallergenic
Cooling cover
Cons
Firmness: Medium
This mattress is everything you'd want for your sore hips and lower back: a latex top and Sealy's own Posturetech 660 Spring System underneath.
The latex gives a nice bounce, so you don't sink into the mattress too much but still moulds to your body for ultimate comfort and relaxation and pain relief for the hip area.
The spring system means you'll get perfect weight distribution. This means that less pressure will be placed on your 'pain points' – back, hips and shoulders.
What I found really interesting was this mattress' 'Edge Guard' feature. Mattresses are prone to sagging at the ends, which is something I've found in my own experience but this mattress won't have that problem.
You also don't need to flip this mattress (yay!), since it has latex on one side. What I would recommend is turning it around every now and again, which is easy with the handles built into the sides.
The latex does mean that this is technically a medium-firm mattress but it doesn't compromise on support.
Coolflex i-Pedic Memory Cool Mattress
Removable cover
Cooling cover
Bed-in-a-box
20 cm deep
5-year warranty
Firmness: Medium-Firm
The 20 cm depth doesn't lend itself to being good for heavy people but if you're normal (ish) body weight and you've got hip pain to deal with then this could be the one for you.
A great price tag for a memory foam bed that provides contouring giving you the exact support you need where you need it all-around your lower back and hips and it'll even help to prevent and relieve shoulder pain.
And as a final bonus, the cover is removable and washable to keep your bed even cleaner and fresher.
Mattresses for lower back pain
Millbrook Royal Backcare Ortho 1400 Pocket Mattress
Natural wool and cotton fillings
60-night sleep trial
22 cm deep
10-year warranty
Firmness: Firm
This has a lot of the same benefits as some of the bed-in-a-box brands with the difference that this one doesn't come in a box!
Pocket springs and orthopaedic support lend themselves to everything you could need for easing lower back pain. Plus the natural fillings work to let your body heat escape so you can sleep soundly from the moment your head hits the pillow.
Bed Butler Emperor Supreme 3000 Pocket Mattress
Natural fillings
Luxury spring count
28 cm deep
5-year guarantee
Firmness: Firm
This has everything you could want from a luxury mattress, natural fillings of wool, silk, cashmere and horsehair plus a spring count of 3000.
Horsehair is a great one for lower back pain because it works to spring back quickly and long retains its shape so you get great support night after night. Plus the other materials work to keep you cool in summer and warm in winter so you don't toss and turn through the night potentially hurting your back more.
Contour 2000 Memory Pocket Mattress
Soft quilted Cover
Good for slat bed
Hybrid mattress
25 cm deep
5-year warranty
Firmness: Medium-Firm
This mattress has come up quite a lot across the site because of its high spring count and non-flip properties that make it perfect for a slat bed.
Plus hybrid mattresses are great for any sort of back pain, your lower back will be kept supported, as will your hips and your pressure points can relax so you can start to recover. No doubt one of the best mattresses for lower back pain
Bed Butler Inspire Memory Mattress
Edge-to-edge support
Soft Cover
Hypoallergenic
5-year guarantee
Firmness: Medium-Firm
A firmer feel and a memory foam mattress do wonders for back pain. Plenty of support to keep you in place while you experience a weightless sensation as the memory foam moulds to your body.
It's also hypoallergenic and you can lie right up to the very edge of the mattress giving you more sleeping space, great if your a couple sharing a bed.
Mattresses for back pain and Side Sleepers
Studio by Silentnight Firmer Mattress
Bed-in-a-box
Allergy Seal of approval
26 cm deep
5-year guarantee
Firmness: Medium- Firm
Side sleepers will really benefit from memory foam, a firmer feel still but your shoulder is able to sink down keep your spine aligned and your back happy.
Silentnight have been making great sleep products for almost 70 years and doing a great job of it. So, of course, their mattress-in-a-box is a superb choice.
Tuft & Springs Solitaire 2000 Pocket Memory Pillow Top Mattress
35 cm deep
Hybrid mattress
Good for hot sleepers
5-year guarantee
Firmness: Medium-Firm
35 cm might leave you needing to get new sheets, but if you're a side sleeper it will also leave you in heavenly comfort. A pillow top for added comfort and a nice and high spring count for a luxury feel and tailored support where you need it.
Memory foam also works for great preventing spine misalignment to keep your lower and upper back supported just as you need it from the contouring it provides. A fine choice of bad back mattress for side sleeping.
Sleepeezee Cool Sensations 2000 Pocket Mattress
60-night sleep trial
Lowest price promise
28 cm deep
5-year guarantee
Firmness: Medium-firm
Another great hybrid mattress for side sleeping, but this one is especially good for hot sleepers thanks to the air vents built into the side.
Also great for couples because motion isolation means your partner can move without disturbing you. And it's also good for all sleeping positions so even if your partner isn't a side sleeper you can both be comfortable.
Dormeo Octaspring Hybrid Mattress
Removable cover
Octasprings
Pocket springs
15-year warranty
Firmness: Medium-Firm
This is a really cool mattress because it combines memory foam, with Octasprings which are foam springs that are way more breathable than normal foam, and a layer of pocket springs.
What do those give? A superbly luxurious and comfortable mattress that relieves back pain and produces a durable and long-lasting mattress as shown in the 15-year warranty.
Another fabulous side sleeping mattress for a bad back.
Check out my Dormeo Octaspring mattress review
I'm Really Confused By All This. What Should I Do?
Back pain can cause a lot of stress and you'll want to make the right choice for your perfect mattress.
If you're unsure or need a bit of advice, leave a comment down below and I'll get in touch as soon as possible. Or have a read of the comments and see if anyone has had the same problem you have.
HAPPY SLEEPING!
Related Reading
Best Mattress UK
Best Mattresses For Slat Beds UK
Best mattresses for Side Sleepers
10 Best Latex Mattresses UK (2019 Buyer's Guide)
Best mattress For Heavy People
Best mattress with a free trial
Best Weighted Blankets