I know you'll agree that back pain is one of the worst things in the entire world.
It affects just about everything you want or need to do. Even sleeping becomes taxing. If you're reading this and thinking that it applies to you, then I want to help.
I'm not a miracle worker but I do know a thing or two about beds!
I've put together a guide for what you need in a mattress if you suffer from back pain, as well as a list of the best mattresses on offer that are specifically designed for bad backs. There are also links for each one so that you can buy them online.
Best Mattress For Back Pain
How does A Mattress affect Back Pain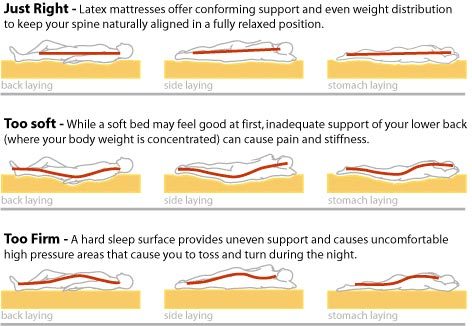 How does a mattress affect back pain?
While the right mattress can do a lot to relieve back pain, the wrong mattress is completely the opposite.
If your mattress is the wrong tension – too soft, too firm – then it distorts your spine as you lie on it.
A mattress that is too soft or old enough that it's started to sag in the middle, this will make tension build up along your spine.
This is what makes mornings particularly difficult for people with back pain, since you have to go from spending the night with bad posture to getting up and about. Lots of moaning and groaning… and rightly so!
A good mattress will give you the right support no matter how you sleep – on your front, on your back or on your side.
What type of mattress do I need, then?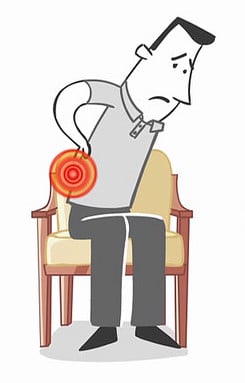 Buying a mattress can be a bit of minefield anyway but buying a mattress with a bad back in mind is even more difficult. There are three types of mattress that I'd recommend for you:
1. Orthopaedic mattress
Sometimes called 'ortho mattresses', these are designed specifically for people who suffer from back pain.
They are extra firm and are good because they distribute your weight slightly differently, giving extra support to your spine while taking the weight off your hips, shoulders and neck.
On an orthopaedic mattress, your spine can sit comfortably and fully relax – which is what you'll be needing!
Most of the time, these are spring mattresses but hybrid mattresses – a mixture of springs and memory foam – are also available. These hybrids are great because you get the moulding effect of the foam, without sacrificing firmness.
These mattresses usually work better for people who are fairly heavy – above or around 18 stone.
2. Memory Foam mattress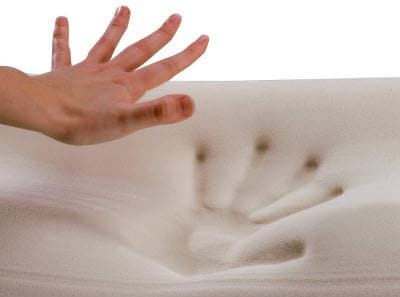 Memory foam is excellent for coping with back pain, since the heat of your body makes it mould around you as you sleep. You only sink as deep as you need to keep your spine aligned, which gives your back and joints maximum support.
The downside to memory foam is also the fact that it moulds around you as you sleep. This generally means that you'll sleep in one position all night long, since you've made a groove in the bed. And this will mean… a sore back.
This problem can usually be solved by getting a hybrid mattress, since the combination of foam and springs will prevent this groove from appearing and you'll be able to move freely. You'll be able to roll around to your heart's content!
More on memory foam mattresses.
3. Latex Mattress
This is similar to memory foam as latex moulds around your body but it's actually a little firmer. It bounces back more, which means great support for your back and you can move around easily.
Getting a mattress that is 100% latex is rare since it's usually part of a hybrid, either with memory foam or springs. Given the choice, a latex-spring hybrid would be your best choice. It has a lot of bounce and the springs really help to firm up the mattress, which is what you need.
Five Best Mattresses for Bad Backs
Taking what I've said into account, here are the five best mattresses for helping with your back pain. With each one you'll find a short review, the price and a link to where you can buy them online.
Obviously this is an important decision, especially since back pain can be debilitating. If you have any questions or don't know what's right for you, please leave me a comment at the bottom of this post and I'll get back to you.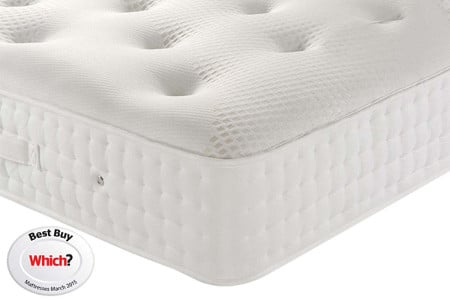 Pros
A Which Best Buy
Hybrid Memory Foam and Spring
Pocket Sprung Mattress
High 1500 Spring Count
Cons
Firmness: Medium-Firm
Use the Code SAVE10 For 10% off at mattress Next Day
Remember to use the voucher code SAVE10 for 10% off at Mattress Next Day.
Relyon have developed a really good orthopaedic mattress, with a staggering 1500 springs inside it!
They're pocket springs too, which means each one has been sewn into an individual pocket. You get more freedom to move and support exactly where you need it.
This is also a hybrid mattress, since on top of the springs is 5cm layer of memory foam. This is more than enough to support your spine, hips and shoulders no matter if you sleep on your side, your back or even upside down.
This mattress is really high quality – it was even a 'Which? Best Buy' in 2015. However, it doesn't come with a guarantee.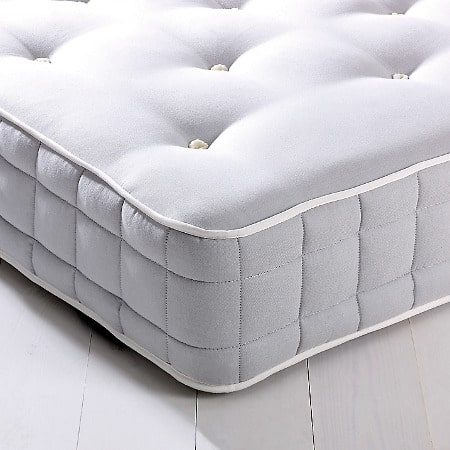 Pros
Made by Hypno
Firm Feel
Breathable
7 Year Guarantee
Cons
Quite Heavy To Rotate Alone
Firmness: Firm
This mattress is actually made by Hypno, who have been around for over 100 years, so you know that they're going to have it just right.
It's nice and firm, which is exactly what you're looking for. This is down to the 1000 springs, which give you a great balance of support and comfort. The top has also been hand-tufted and this keeps the filling in place. It also means that it's lovely and smooth, which makes the mattress firmer still!
Even better, it has airstream technology which stops air getting trapped inside the mattress. No more overheating! Keeping the mattress cool also means that the wool and polyester in the filling stays fresh for longer, so it's a win-win.
In comparison to the Relyon mattress, this one comes with a 7-year guarantee, so you know that you can trust it.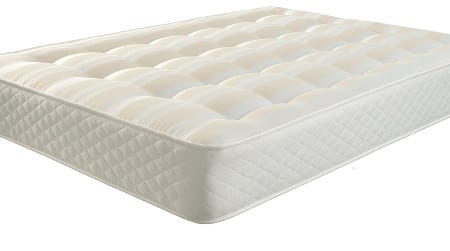 Pros
Good Price
Firm Support
5 year Guarantee
Hypoallergenic
Cons
Open Spring System not Pocket
Firmness: Firm
Remember to use the voucher code SAVE10 for 10% off at Mattress Next Day.
Silentnight are a trusted name in the mattress game. This one uses their own open-coil spring system which means it's firm but maybe not as comfortable as a pocket spring option. This is because in this mattress, the springs can't move independently.
However, the open-coils mean that the price of this mattress makes it friendlier if you're on a budget.
While this does have a 5-year guarantee, the terms and conditions are a little tricky. With each year that passes, your refund gets smaller and smaller. For example, if you want to return it in the second year of the guarantee, you will get 80% of your money back.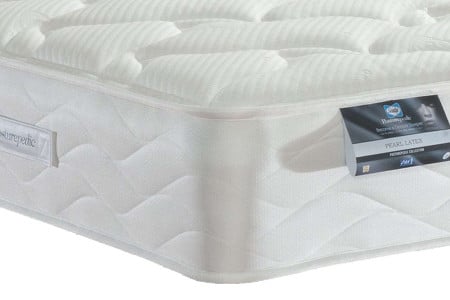 Pros
Hybrid latex-spring System
Hypoallergenic
Cooling cover
Cons
Firmness: Medium
Use the Code SAVE10 For 10% off at mattress Next Day
Remember to use the voucher code SAVE10 for 10% off at Mattress Next Day.
This mattress is everything you'd want for your sore back: a latex top and Sealy's own Posturetech 660 Spring System underneath.
The latex gives a nice bounce, so you don't sink into the mattress too much but still moulds to your body for ultimate comfort.
The spring system means you'll get perfect weight distribution. This means that less pressure will be placed on your 'pain points' – back, hips and shoulders.
What I found really interesting was this mattress' 'Edge Guard' feature. Mattresses are prone to sagging at the ends, which is something I've found in my own experience but this mattress won't have that problem.
You also don't need to flip this mattress (yay!), since it has latex on one side. What I would recommend is turning it around every now and again, which is easy with the handles built into the sides.
The latex does mean that this is technically a medium firm mattress but it doesn't compromise on support.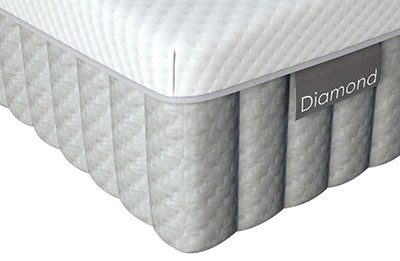 Medium Feel
Latex Provied Excellent Support
7 SUpport Zones
8-Year Guarantee
18 cm Deep
THe Dunlopillo Diamond mattress is an excellent choice of .
It's only 18 cm deep but that's all you need. Latex has much more bounce than memory foam so gives you the support you need where you need it. And the mattress is split into 7 support zones so you have softrer areas where your shoulders hips and feet are then firmer support under your back and behind your legs.
There is a weird smell with latex when you first get the mattress but that's completely normal and goes away by itself after a few days, if you air it out on it's side for 24 hour completely uncovered it will go away. But if you make the bed normally after you get it it will go away it just takes a bit longer.
What's also cool is that youget an 8-year guarantee, but all this comes at the cost of this being the most expensive mattress on the list. It's still worth it if you don't want a firm mattress and have back problems though because it will help ease back pain.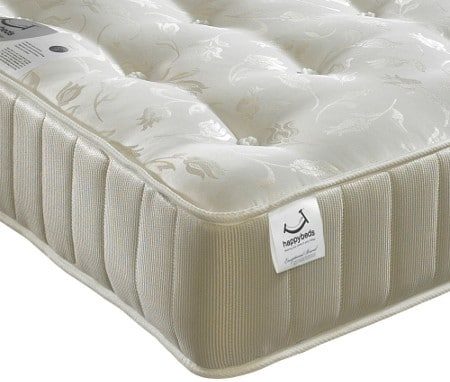 Pros
Great Price
Suitable For All Sleeper Types
Available in A Large Range of Sizes
Orthopaedic
Cons
Not as Firm as it could be
Firmness: Medium-Firm
This is a slightly different mattress, since it's classed as 'medium firm' rather than 'firm', which isn't necessarily a bad thing. It's a good compromise if you're looking for an orthopaedic mattress that is a little softer.
It has a Bonnel spring system too, which actually makes it firmer than other pocket spring mattresses.
This mattress also has handles built into the side, which make it so much easier to flip. This is really useful, since you need to flip your mattress semi-regularly – with help if your back is still sore!
The air vents are an added bonus, since they'll ensure you have a cool, refreshing sleep.
FAQs
Will my pillow affect my back?
Not usually.
Your pillows are more likely to cause/aggravate neck pain, which is something to be aware of. But sometimes a knee pillow can actually help with back pain.
Should I go to see a doctor first?
Definitely.
I said I know a thing or two about beds but your back pain will be unique to you. I can't offer you medical advice, I can only recommend mattresses. The NHS has some great information on their website but go see your GP.
How often do I need to turn or flip my mattress?
You need to flip your mattress every three to six months. If you have a cheaper mattress, chances are you'll need to flip it more often.
If you have a memory foam/latex topped mattress, then you should turn it. Don't flip it! Otherwise your lovely soft top will end up on the bottom and it'll be ruined. The same thing goes for turning, you should do this every three to six months.
However, please don't do this if you have a sore back! See if there's anyone that can help you out. People are usually generous if tea or cake is involved.
I'm really confused by all this. What should I do?
Back pain can cause a lot of stress and you'll want to make the right choice for your mattress.
If you're unsure or need a bit of advice, leave a comment down below and I'll get in touch as soon as possible.
Happy Sleeping!
Related Reading