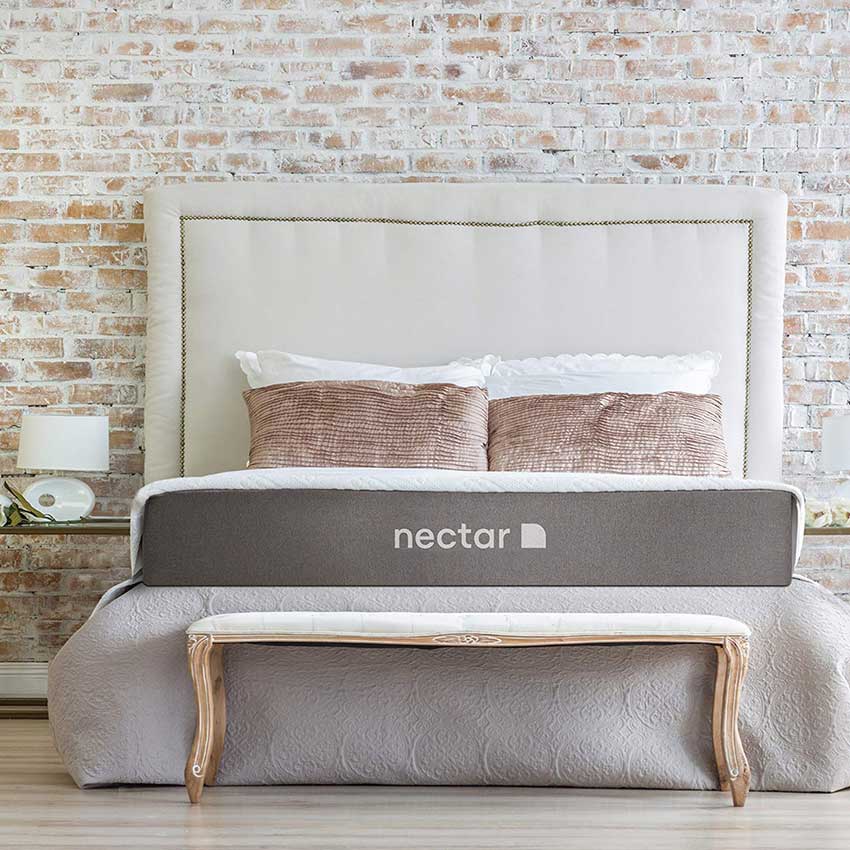 Wow…
Nectar sleep have upped the game for everyone involved with the online mattress industry.
First companies started offering a 100-night trial of their mattresses well Nectar have gone one step further.
They are offering a 365-night trial!
A YEAR!!
You can test it for a whole year!
That's a massive promise from any company that they have a great mattress and Nectar live up to that.
What's Inside
Let's get the hood open and see what's inside!
Layer 1 – Cooling Cover
Every great mattress starts with a proper cover.
And the Nectar Mattress cover is really clever, it actually has a special material in it that can adapt to your body temperature, so it cools you when your hot and warms you when you're cold!
Plus it works only where it's in contact with your body so you're partner will have their own comfortable little eco system to sleep in.
Layer 2 – Cooling Foam
Again the cooling comes into play.
One of the big problems of memory foam is that it traps in a lot of heat and can be really uncomfortable to sleep on.
Not with the Nectar mattress.
This layer of cooling foam is 30x more breathable than other premium memory foams keeping you cool and comfortable all night long.
Layer 3 – Memory Foam
The all important memory foam layer which keeps you supported through the night. Your back gets cradled and you gently sink in getting the gentle hug of your bed while you lie on it.
Layer 4 – 7 Zone Support
Now this is really cool, you get 7 zones of support across the mattress.
This means firmer support where you need it, at your hips and shoulder, softer support at your head and feet and nice medium support in your knees and middle.
Ideal across your whole body to ease tension in your back and have you sleeping comfortably.
What I Like About It
Loads of things! But I'll keep it limited to my favourite few.
Climate neutral
Nectar are the first and only mattress company to offset all their carbon emissions which is really awesome. As something that can lean away from being environmentally friendly it's nice to see a company who care about the environment.
Easy delivery
You get free delivery, 48 hour delivery time and it comes in the cool box that lets you just roll it out and unpack it.
1000 Sold A Day In The US!
Not normally something I'd look at…. But, if that many people are happily sleeping on it, it must be pretty good right?
What I Didn't Like
Not too much to say hear just want to address the classic complaint of any memory foam mattress which is…
The Smell
Yup, like all memory foam mattresses this one comes with a bit of a weird smell when you first unpackage it.
BUT DON'T WORRY!
It is totally normal and goes away after a few days.
If you can leave it to air uncovered for a few days great but if you need to use it straight away (I know I would) then the smell still goes away it just takes a couple of extra days. But after a week you'll hardly notice and after a few weeks it will be fully gone.
Who's It Good For
Medium-Firm Feel – People looking for a Medium-Firm feel will absolutely love this mattress.
Couples – The memory foam cushions movement so you don't feel your partner move around and the cooling cover works perfectly for couples.
Hot Sleepers – The cooling layer and breathable cover make this an ideal choice if you're prone to overheating in bed (like I am).
Lastly
If you think the nectar sleep mattress is for you then you need to click the button below and head to their website so you can order yours.