Stomach sleeping? No thanks, Back sleeping? It's OK I guess, but side sleeping is where it's at!
I'm a side sleeper and know the wrong mattress can absolutely ruin your sleep.
You need a mattress that can let your shoulder and hips sink enough to keep your spine aligned while still being firm enough that you don't sink too deep.
It's a tricky business.
Or it would be if I hadn't done all the work for you in this article!
I've found the best mattresses for side sleepers here in the UK and reviewed each of them. Plus I've linked through to where you can buy them online so you can order yours today.
The 10 Best Mattresses For Side Sleepers
FIRMNESS: Medium-Firm
Good on any bed frame
Good for back sleepers and side sleepers
Cooling layers for comfort
7-zone support across your body
NECTAR'S READER OFFER
£125 off Mattresses
Two Free Pillows.
Up to £450 off Bundles and
Up to 30% off Bedding
The Nectar Sleep Mattress is Ideal for Side sleepers the 7-zones work to give you special support where you need it across your body, Medium under your shoulders and hips and knees and softer under your stomach, thighs, head and feet keeping your spine aligned and your back happy.
It's memory foam which works great to help you sleep because it helps you settle through the night so you move around less and sleep deeper.
It's also got minimal motion transfer so you don't feel your partner moving making it great for couples.
Now, the layers are excellent, the top layer is the adaptive cooling cover which draws away heat and keeps air circulating underneath you so you keep a steady comfortable temperature.
Layer 2 is the smart memory foam that gives you all the support and spinal alignment.
Layer 3 is Pressure relieving Memory Foam which provides pressure relief and support where you need it most.
The base layer is the 7-zones that I talked about above, it's dense foam so you which gives it the medium firm feel.
And underneath that, you have the base material which stops the mattress sliding around. Which while I'm talking about it, I'll say that it's good on any bed frame so if you keep the same size you won't need a new bed frame as well as a new mattress.
A great choice for side sleepers.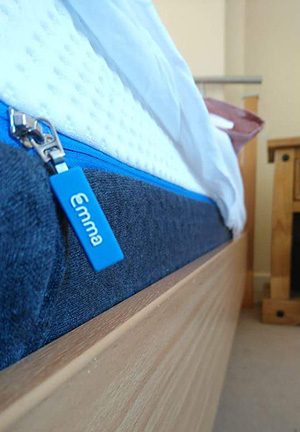 Firmness: Medium-Firm
100-night trial period
10-year guarantee
Free Delivery and Returns
Made in the UK
The Emma Original is a fantastic mattress for back sleeper and for side sleepers, it's got a 3 zone support which is ideal if you sleep on your side or your back.
This is a 3 layer memory foam mattress, the top layer is a breathable 3 cm of point-elastic Airgocell-foam that keeps motion transfer to a minimum while allowing breathability to stop you getting too hot.
Next is the memory foam layer that distributes pressure and eases your joints while you're asleep on your side.
Finally, you have the firmer base that provides the counter pressure and keeps you happy in any sleeping position.
All that is wrapped in a polyester cover that's breathable and the top half is zip-off and washable which can be useful though I always recommend a mattress protector.
It's a bed in a box that arrives rolled up in a box, you just place it where it's to go and cut through the plastic and it unrolls itself on to your bed making it nice and easy to get into your bedroom wherever it is in the house.
A great mattress for back and side sleepers. I've got more back sleeper mattresses reviewed here.
3. Best for Back & Shoulder Pain – Simba Sleep Hybrid Mattress
Firmness: medium-Firm
30,000 reviews
100-night trial period
Cooling
Edge to edge support
BLACK FRIDAY (2020) SALE: 35% OFF on orders over £300
The Simba is made up of 5 different sleep layers, starting with a top cover of breathable, hypoallergenic polyester that can be zipped off and washed.
Under that, you have a layer of Simatex which is a combo of latex and memory foam that's more responsive and increases airflow keeping hot sleepers cool and cool sleeper warm.
Then you have the all-important pocket spring layer that any good hybrid mattress needs, it's spring count is 2,500 which is really nice and high and it's quite clever because it still comes delivered in a box!
Under that, you've got regular memory foam for support and comfort and all that on a durable base that gives you pressure relieving support in all the right places.
Great for side sleepers with its firmness level and good for couples because it's got minimal motion transfer across the whole thing.
4. Best Cheap Side Sleeper – Happy Beds Signature Gold 1800 Pocket Sprung Orthopaedic Natural Fillings Mattress
Natural fillings to keep your temperature balanced
Hand tufted for durability
Handles for easy turning
Free UK Delivery
5-year guarantee
Firmness: Medium-firm
Price & Reviews
If you're looking for a solid budget mattress then you can't do better than a Happy Beds mattress, all their mattresses come with a 5-year guarantee so you know you're getting a sturdy product and you get free delivery in the UK.
And the Signature Gold is perfect for side sleepers, deep enough at 25 cm and it's the ideal firmness at a medium-firm feel to give you plenty of support along your spine and in your shoulder.
You get pocket springs which are the luxury choice, individual springs each in their own pocket of fabric that move independently so you get support where you need it. Plus minimal motion transfer so if you share a bed you won't bounce the other person out when you get into bed.
Plump, comfortable, and hand-tufted for durability so you know that even though you're getting a cheaper mattress you're not buying rubbish. Ideal.
5. Best Mattress for Side and Stomach Sleepers – Rest Assured Boxgrove 1400 Pocket Natural
Firmness: Firm
Natural fillings
1400 spring count
Breathable
A combination of front and side sleeping is the hardest to manage with a mattress, because side sleepers need a little softer and stomach sleepers a little firmer.
Take a look at other stomach sleeper mattresses in this article
Luckily the Rest assured is a great choice and offer firm support with a pocket spring and wool filling. The top layer is a comfortable silk giving you a soft feel and letting your shoulders sink a little on your side while the overall firm feel is ideal for stomach sleepers.
A really traditional feel to this mattress with the spring and wool that's 27 cm deep and nice and breathable for a comfortable night's sleep.
A couple of other extra bonuses are the no need to turn and no roll together if you're a couple sharing a bed. There's some motion transfer but the pocket springs help to minimise that.
More wool mattresses if you're interested.
6. Best For Heavy or Overweight Sleepers – Leesa Sapira Mattress
Firmness: Medium to Medium-Firm
21 stone weight limit (per person)
10-year warranty
1 mattress donated for every 10 sold
100-night trial
The Sapira mattress is designed to support individual weights up to 21 stone, more than enough to give most people a great night's sleep.
It's on the expensive side but is a top quality mattress that can help save you money in the long run by being a top-quality mattress that will see you through the next 10 years.
Leesa themselves are a fantastic mattress brand but also a good company because they work to donate 1 mattress to charity for every 10 that get sold. So far they've donated 30,000 mattresses! Which is 300,000 mattresses sold, if they were doing something wrong I don't think they'd have that many happy customers.
The top layer is the breathable comfort layer that allows airflow and stops overheating. Then you've got the memory foam layer that offers pressure relief and support across the body.
Finally, you've got the support layers which are individually wrapped pocket springs nestled between smaller foam springs to give you a unique core that will keep you comfortable whatever your weight when you're sleeping on your side.
More mattresses for heavy people in the UK here.
7. Best Hybrid Mattress For Side Sleepers – Contour 2000 Memory Pocket Mattress
Firmness: Medium-Firm
Hybrid pocket spring and memory foam
5-year Warranty
Soft breathable cover
25 cm deep
Hypoallergenic
This mattress from Hyder Beds is made with 200 individually wrapped pocket springs that work independently of each other giving you tailored comfort across your body.
Then you've got a layer of memory foam for the support that side sleepers love keeping the lower back happy and easing in a great night's sleep.
The top is a soft knit cover which complements the medium-firm feel and the whole mattress is non-flip and non-turn so you just set it on your bed and don't have to worry about it.
The hybrid combo makes it a great choice for people with back pain or shoulder pain because of the pressure relieving memory foam that eases pressure points and helps support you where you need it.
And the medium-firm feel gives you plenty of push back keeping your back aligned and stopping your spine bending slightly giving you back pain in the morning.
8. Best Latex Choice – Prestige Cushion Top Latex 2000 Mattress
Firmness: Medium
33 cm deep
Pillowtop
2000 pocket Springs
1-year guarantee
This is a very deep mattress, 33 cm is huge so if you've got regular sheets or want to use a mattress topper your regular sheets might not fit and you'll need to get some deep fit ones instead.
Apart from that this is a top-quality mattress offering responsive latex combined with a high 2000 pocket springs to keep you supported and comfortable while you sleep on your side. or any other sleep position for that matter!
The pillow top offers some nice cushioning making it feel a little softer and the whole thing is a medium feel, so a softer than some of the other mattresses but not too soft.
Thankfully it's a non-flip and non-turn mattress so you won't have to wrestle with it because only one side is the soft side, the underside of the mattress doesn't have the right filling to be properly comfortable.
It's got a 1-year guarantee and a 5-year warranty making it great value and a fine choice of mattress.
9. Best Soft Mattress For Side Sleepers – Bed Butler Pocket Royal Comfort 3000
Firmness: Soft
Silk Comfort Layer
Wool and Cashmere Filling
24 cm deep
5-year guarantee
This mattress is actually available as a selection of firmness levels, soft, medium or firm. For the best soft mattress for side sleepers, I've obviously gone for the soft one!
This is a luxury 3000 pocket spring mattress with a selection of natural wool, cashmere for a cushioned feel and polyester which makes it much more durable and a long-lasting mattress which is why it has the 5-year guarantee.
The top layer is made with silk which gives it the cushioned soft top that you want from a softer mattress. And don't worry that soft mattress could be bad for your back because it's more important to get proper support from a high-quality mattress, firmness does play a part in it but if you want a soft mattress then go right ahead.
It's made in the UK and does need periodically turned to keep the firmness as is across the mattress but it has handles to make this process easier.
Nothing but luxury and a great soft mattress for side sleepers.
10. Dormeo Octaspring 6500 Mattress
Firmness: Medium-Firm
Made with foam spring
Very well ventilated
15-year warranty
5-year guarantee
The Octaspring mattress is quite unique, it's made using a honeycomb structure of foam springs, yes you read that right foam springs.
These work like normal springs but a bit slower so it feels like foam only it's much more breathable because the springs work to suck air in and out of the mattress.
They're different firmness levels and are spread across the whole mattress to give you 8 zones of support across your body that can leave you snoozing deeply and waking up happily.
The medium firm support is good for side sleepers although I'm sure you know that by now!
It's also a great option for those who want value in their mattress because a 15-year warranty show this is a mattress that's built to last and it's a mattress built in the UK.
Read more Dormeo Octaspring mattress reviews
11. Millbrook Royal Deluxe 1000 Pocket Mattress
Firmness: Medium-Firm
Natural Cotton Filling
22 cm deep
Air vents for cooling
Made in the UK
60-night sleep trial
Wanting a high-quality mattress but needing something affordable? Look no further, the Millbrook ryal deluxe offers edge to edge support, natural cotton filling for a mattress that doesn't get too hot and 1000 pocket springs for a luxury feel.
It's on the lower end but pocket springs are still far better than open spring which is a big sheet of springs where one person sits on one side and the person on the other side gets bounced out. That's much more common on cheap mattresses so having pocket springs at this price point is a big plus.
This mattress works on any bed frame through the 22 cm depth will be better on a flatter bed surface, but, it'll still be fine on a slatted bed frame.
You've got air vents running along the side to let hot air out and cool air in keeping everything circulated and you comfortable throughout the night.
Finally, this is great for side sleepers but it's actually a good choice for back sleepers too and even occasional front sleepers will get on just fine.
Best Mattress Type for Side Sleepers
If you're still unsure or you're looking for some more information I've put together a bit of a buyer's guide to cover everything you need to know about buying a side sleeper mattress.
And what better place to start than looking at the different types of mattress available.
Memory Foam Mattresses
I love memory foam mattresses, I tried a memory foam topper many years ago and hated it because it sank me into position and made my back hurt but luckily memory foam has come a long way and is leagues beyond what it used to be.
Memory foam is a great choice for side sleepers because it allows your shoulders to sink nicely into the side so your head gets properly support by your pillow and your shoulder doesn't start hurting. THey're usually medium-firm mattresses though it does vary and you get plenty of support if your prone to back pain at all.
The memory foam actually works by reacting to your body heat, so your body heat softens it allowing you to sink in and get cradled, but most memory foam mattresses are made up of different foam layers that allow you to sink in the memory foam, get supported by denser foam and often cooled by another layer.
The cooling layer is very important because foam can get quite hot, and as a hot sleeper I know breathability is important, otherwise, you wake up all sweaty and uncomfortable and don't get a good night's sleep.
I've got more memory foam mattresses reviewed here.
Pocket Spring Mattresses
Unlike normal innerspring mattresses, pocket springs are individual spring each sews into their own casing which lets them move independently of each other. Old spring mattresses were a big spring grid and if you pushed down a single spring there'd be a ripple effect as the others attached to it all got compressed too.
These individual springs give you everything you need for sleeping on your side. Plenty of support around your shoulder and hips while keeping your midriff and legs up and your spine aligned.
This is a great alternative to memory foam if you're still not convinced, what to look for is a higher spring count, 1000 is the baseline you want with 2000-2500 being luxurious and beyond that is well into the realm of luxury.
These are often combined with natural fillings which are breathable and durable making them long-lasting and breathable, more so than a cooling layer of foam, so if you're an extremely hot sleeper this is the way to go.
More on the Best Pocket Spring Mattress
Hybrid Mattresses
These are the electric version that plugin in your garage combining petrol and electricity, wait… Wrong hybrid!
No, Hybrid mattresses are a combo of memory foam and spring (usually pocket spring) that come together to give you the support of memory foam with the bounce and traditional feel of a spring bed. And since they are both good for side sleeping I'm sure you can figure out that the two of them together will be too! More hybrid mattresses.
Latex Mattresses
These bring some bounce to an otherwise all-foam mattress, or it's a common component in a hybrid mattress, either way, it's a sustainable, natural material that has good bounce and support.
Latex mattresses tend to be more expensive but they offer a lot of support and are a comfortable way to sleep on your side, I don't talk about them often purely because they're more uncommon but they are in fact a great choice. More latex mattresses.
What Mattress Firmness Is Best For Side Sleepers
Firmness level can vary a lot from soft mattresses through to extra firm mattresses you've got a lot of scope and how each person feels it can differ. But, you can still take some guidelines so you can know the right ballpark.
Generally, medium-firm is a good place to look, almost everyone can sleep comfortably on it and unless you know you like a soft or a firmer mattress then you can go with it. But if you do like a soft or even a medium-soft mattress and sleeping on your side then that is absolutely fine! Medium-firm is just a guide for those who don't know.
Side Sleeping and Pain
You should always talk to your doctor before if you're experiencing pain and don't know what the cause is, so that should be your first port of call. But I know waiting times can be long so here are a couple of things to try while you wait for an appointment
Hip Pain
Hip pain can be incredibly bothersome and fairly common for those who sleep on their sides. One unusual solution is to try and sleep with a knee pillow (here are my recommendations).
These work to keep the knees apart by holding an hourglass-shaped pillow between the knees, this stops the pressure building up on your hip from your legs being squished together or overstretched if you sleep with your knees side by side.
Back Pain
For back pain, you might need to do some stretches before bed and first thing in the morning to help improve blood flow and loosen up the sore muscles. But this depends on how severe the pain is, if you can't bend over then doing stretches is unlikely to help, what might help is a new supportive mattress that can handle you sleeping on your side and keep your spine in check.
Shoulder Pain
Shoulder pain has a few different solutions (at least until you see a doctor) first is the most obvious and it's sleeping on the other side to the side that's sore. Apart from that, it might actually be caused by your pillow being too thin, old pillows, in particular, don't have the stability to properly support your neck and shoulders so you need to make sure you've got the best pillows available (my recommendations here)
Side And Back Sleepers
What if you're a combination sleeper and like sleeping in all sleeping positions? I'm a bit like that, I'm definitely primarily a side sleeper but I sometimes sleep on my back, although never my front.
Luckily, pretty much every side sleeper mattress is also great for back sleepers! They've got the same firmness requirements and te same support so if you swap between the two you still get left comfortable.
If you're also a stomach sleeper however you're going to want to get a firmer mattress, at least medium-firm, so you can lie on your front without sinking too deep and hurting your neck. apart from that, you're good with any type of mattress although spring will be a better choice than foam so you don't sink in on your face.
Conclusion
And there you have it! I hope you found these mattress reviews useful and can find the mattress that you were looking for. If in doubt the