If you're considering buying the Emma mattress make sure you don't suggest it to your wife by saying "How about we start sleeping with Emma?" while sitting at the kitchen table in the morning enjoying your cereal.
I can tell you from experience it doesn't go down well.
But it is, of course, possible to enjoy this excellent mattress without upsetting your partner at the same time.
I've been enjoying the Emma mattress for just over a week now and have to say I'm impressed!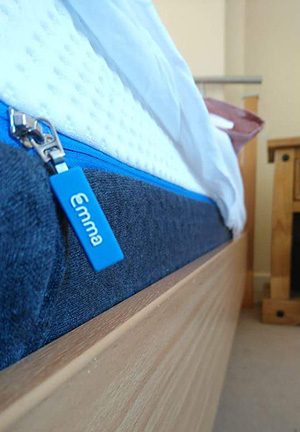 I used it on the floor for 5 days and on a slatted bed frame since then and was completely comfortable on both, I'd say it's god for any bed base you've got.
Everything from delivery through to the feel of the mattress has been excellent and I've been sleeping soundly every night since I got it.
So let's go into some more details in this Emma mattress review starting with the good, the bad, and the ugly…
The Good Of The Emma Mattress
There are a lot of great things about the Emma mattress but the main thing is that you'll sleep better on it. The memory foam provides great support across your whole body, cuddling you in like a warm hug while being bouncy enough that it moves when you move.
A couple of other things I liked were:
MOVEMENT ABSORPTION
I don't feel my wife moving around at all while we're in bed. I'm quite a light sleeper and would feel every time she rolled over but now I can hardly tell she's there (until my duvet starts to disappear of course).
GREAT SUPPORT
I said it above but it's worth saying again, you get great support on your back and joints from the memory foam without sinking too deep and getting trapped.
I SLEPT GREAT
That's what it boils down too. I'm sleeping longer without waking up in between so getting a deeper sleep, and ultimately feeling more rested.
It's the result of hundreds of little details that have gone into making this fantastic mattress.
Free Delivery and 100-Night Trial
It's free delivery (unless you want Saturday delivery which costs an extra £35) and you get to try it out for 100 nights before the purchase is locked in.
So you can try it for a month and if you don't like it you can send it back for a full refund. You just organize a date to collect it and it gets taken away making it a really low-risk choice because if you don't like it you don't pay for it or keep it, how good is that?
Click here to visit Emma and order yours today.
THE BAD PARTS OF THE EMMA MATTRESS
With the good always comes the bad, and no mattress is perfect so let's see what's wrong.
MEMORY FOAM SMELL
Ah the familiar smell of memory foam.
Not a good time and if you've had memory foam pillows before you know what I mean.
It's unavoidable when you first unpack it you get that chemical waft of memory foam which will likely stay through your first and probably second nights of use.
But after that it goes away, It has no smell at all now and if you can persevere through those first couples of days it isn't a problem.
A GRIPPY BOTTOM
Now the bottom of the mattress has an anti-slip material which is a bit of a double edge sword, it's great because once the mattress is in place it stays there, fine. But if you don't unpack it exactly where you need it it is a pain to shift.
This is a bit of a unique situation to me because I was using it on the floor (I've just moved and didn't have a bed frame yet) but wanted to mention if for the sake of a complete review.
THE UGLY
The box…
*lightning strikes, horses neigh*
It's hideous! AAAARrrrrgh….
OK, OK, I'm exaggerating a little, and maybe this is here because I thought of a good title for the article and wanted to run with it…
But the box was pretty banged up when it arrived. However, the mattress inside?
Pristine.
Which is absolutely the way round I want it to be and is pretty standard from most bed-in-a-box companies.
Click here to visit the Emma Mattress website and order yours.
What's Inside the Emma Original Mattress
The Emma Original is a memory foam mattress made up of 3 layers of foam with a climate regulating cover on the outside.
Top Layer – Breathable Airgocell-Foam
This a 3 cm layer of cold foam that helps air flow underneath you so you don't overheat through the night. It's also got something called point-elasticity which is what reduces motion transfer.
This is the layer, alongside the other memory foam layer, that works to stop your partner bouncing out of bed every time you sit on its edge which leads to a more rested nights sleep.
Middle Layer – Pressure Relieving Visco Elastic Memory Foam
This is the layer that provides some much-needed relief to your pressure points along your spine and in your joints. It's the memory foam that keeps you comfortable in any sleeping position and works to stop back pain.
It also hugs you in slightly cradling the body and stops you moving around so much, or more it stops you needing to move around, which can disturb your sleep and leave you feeling more tired than is necessary.
Base Layer – Dense Support Foam
This is what makes up the bulk of the mattress and provides the counter pressure needed to stop you sinking into it completely. It provides excellent pressure relief of your lower back and gives it the nice medium-firm feel.
Top Cover – Climate regulating Elastic
The cover is split into two sections, the first is the white top cover which is made of a special climate fiber that regulates your body temperature to stop you overheating.
The second is the grey side cover that is made with a 3D mesh that looks stylish, is anti-slip and provides some much-needed air circulation through the body of the mattress.
All very high quality materials that make this a luxury mattress.
What Type Of Sleeper Is The Emma Mattress Best For?
Wondering what type of sleeper you are? Everyone moves about through the night but generally, you want to pay attention to what position you tend to wake up in. If you wake up on your side you've probably spent most of the night as a side sleeper.
There you go, come for the Emma mattress review and stay to learn what type of sleeper you are! Anyway…
Back Sleepers and Side Sleepers
That's who the Emma mattress is best for (back sleepers and side sleepers) because the sink from the memory foam lets your shoulders sink in deeper keeping your spine aligned and you sleeping comfortably.
And it's got enough resistance that you don't sink in too deep on your back and get well supported all night long.
Front sleepers will get on OK because it's on the firmer side but generally, stomach sleepers don't want to go for memory foam because your stomach sink down and puts pressure on your neck which can cause you to wake up with neck pain. It's not too bad with Emma but you've been warned!
Usually, stomach sleepers want either a pocket sprung mattress or a hybrid mattress (like the Simba Mattress) that has more support, you can see my pocket spring mattress reviews here.
BLACK FRIDAY (2020) SALE: 35% OFF on orders over £300
HOW YOUR MATTRESS AFFECTS YOUR SLEEP
Your mattress is everything when it comes to getting a good night's sleep.
An old one can have you tossing and turning all night which just ruins your sleep leaving you tired in the morning.
And don't get me started on back support! Old sagging mattresses are what nightmares are made of when it comes to morning back pain, been there done that not fun.
So it's well worth investing in a new mattress and even more worth it investing in one of the best mattresses — which this is since it appears in my list of the best memory foam mattresses.
IS THE EMMA MATTRESS RIGHT FOR YOU
If you're looking for a comfortable mattress that will have you sleeping better, then, yes.
But more specifically if you are any of these people below.
A light sleeper who shares their bed.
Someone with back or joint pain
Someone who rolls around a lot
Someone who likes comfort
It's great for any sleeper type and I can't think of anyone it isn't right for.
It's a relatively firm mattress at first feel but that's because the memory foam takes a second to activate so it starts firm but gets softer ending as a nice medium-firm feel.
ANYTHING ELSE?
Yes! I'm glad you asked.
You get a 100-night trial period to test it out.
10-Year guarantee.
Free delivery and returns.
I love free delivery so that's a big plus for me. And delivery is with UPS, quick and reliable.
With the 100-night trial, if you don't like it you just reschedule a pick up with DPD or UPS depending who delivered it and they take it away and give you a full refund of the price making it very low risk in terms of trying it out to see if you like it.
If you think the Emma Mattress right for you just click the button below, read some more of the information available at Emma's website and continue to order yours today.
F.A.Q On the Emma Original Mattress
there are a few questions that come up again and again when people are shopping for a new mattress so I thought I'd address them here.
Do You Need To Use A Mattress Protector?
I'd recommend it, they help your mattress last longer and are a good last resort in case you spill anything on your mattress, that morning cup of coffee leaving a big stain on the nice white cover is not what you want.
Besides, you can pick up an affordable mattress protector either from Emma themselves or I've got a separate article on them here.
Will They Take Away Your Old Mattress?
Disposing of your old mattress can be a pain depending on what your local council are like, I know some of them here in the UK can be a nightmare with pickups of large items.
So, while it's not idea, Emma can pick up your old mattress when they deliver for an additional fee of £35, which in the scheme of things is very reasonable and makes the whole transaction that little bit easier.
Can You Use A Mattress Topper With The Emma?
You can use one but I don't think you'll need to. You definitely don't want to use a memory foam mattress topper as the foam in the topper is probably lower quality than the foam in the mattress. But if you want to make it softer you can use a feather or microfibre topper to soften up the firmness.
What Sizes Are Available?
In the UK sizes, you have all the standard sizes, single, small double, double, king size and super king size. Plus you've got the EU sizes of single double and king size which is useful if your bed base came from Ikea.
Loads of people get a double frame from IKEA and then there own mattress leaves a gap at the bottom of the bed frame. It's just because an EU double is 10 cm bigger than the UK double, just to be a little awkward!
Can You Be Too Heavy For It?
Unfortunately yes you can, the upper weight limit is around 20.;5 stone per person or 130kg. If you're heavier than that you'll sink in too deep and not get the proper and full benefits of the mattress.
Conclusion
I really love the Emma Original Mattress, it's a superb choice of memory foam mattress that'll work hard to keep you sleeping all night long.
Emma themselves are a staple mattress company in the industry and they've made an excellent bed-in-a-box mattress which I know you won't be disappointed with. And if you are? Just send it back for a full refund.
I hope you found this Emma mattress Review Useful!
Happy Sleeping!
Click here to visit the Emma Website and order yours today.
Related reading
Nectar mattress review
Best memory foam mattresses
Best mattresses for slat beds