If you're considering buying the Emma mattress make sure you don't suggest it to your wife by saying "How about we start sleeping with Emma?" while sitting at the kitchen table in the morning enjoying your cereal.
I can tell you from experience it doesn't go down well…
But it is, of course, possible to enjoy this excellent mattress without upsetting your partner at the same time.
I've been enjoying the Emma mattress for just over a week now and have to say I'm impressed!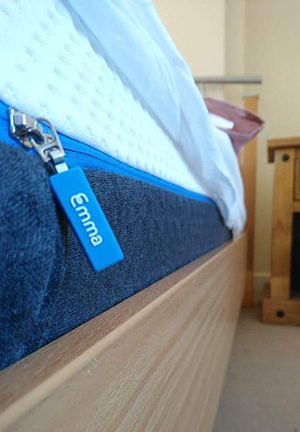 I used it on the floor for 5 days and on a slatted bed frame since then and was completely comfortable on both.
Everything from delivery through to the feel of the mattress has been excellent and I've been sleeping soundly every night since I got it.
How Your Mattress Affects Your Sleep
Your mattress is everything when it comes to getting a good sleep.
An old one can have you tossing and turning all night which just ruins your sleep leaving you tired in the morning.
And don't get me started on back support! Old sagging mattresses are what nightmares are made of when it comes to morning back pain, been there done that not fun.
So it's well worth investing in a new mattress
The Good Of The Emma Mattress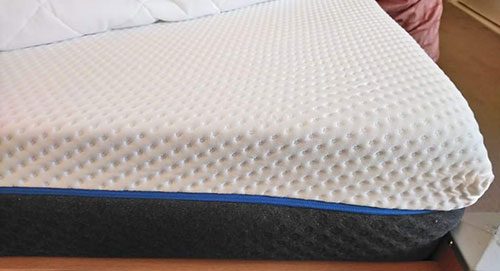 There are a lot of great things about the Emma mattress but the main thing is that you'll sleep better on it. The memory foam provides great support across your whole body, cuddling you in like a warm hug while being bouncy enough that it moves when you move.
A couple of other things I liked were:
Movement Absorption
I don't feel my wife moving around at all while we're in bed. I'm quite a light sleeper and would feel every time she rolled over but now I can hardly tell she's there (until my duvet starts to disappear of course).
Great Support
I said it above but it's worth saying again, you get great support on your back and joints from the memory foam without sinking too deep and getting trapped.
I Slept Great
That's what it boils down too. I'm sleeping longer without waking up in between so getting a deeper sleep and ultimately feeling more rested.
It's the result of hundreds of little details that have gone into making this fantastic mattress.
Click here to visit Emma and order yours today.
The Bad Parts Of The Emma Mattress
With the good always comes the bad, and no mattress is perfect so let's see what's wrong.
Memory Foam Smell
Ah the familiar smell of memory foam.
Not a good time and if you've had memory foam pillows before you know what I mean.
It's unavoidable when you first unpack it you get that chemical waft of memory foam which will likely stay through your first and probably second nights of use.
But after that it goes away, It has no smell at all now and if you can persevere through those first couple of days it isn't a problem.
A Grippy Bottom
Now the bottom of the mattress has an anti-slip material which is a bit of a double edge sword, it's great because once the mattress is in place it stays there, fine. But if you don't unpack it exactly where you need it it is a pain to shift.
This is a bit of a unique situation to me because I was using it on the floor (I've just moved and didn't have a bed frame yet) but wanted to mention if for the sake of a complete review.
The Ugly
The box…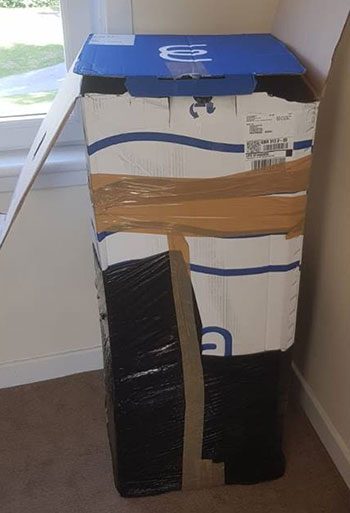 *lightning strikes, horses neigh*
It's hideous! AAAARrrrrgh….
OK, OK, I'm exaggerating a little, and maybe this is here because I thought of a good title for the article and wanted to run with it…
But the box was pretty banged up when it arrived but the mattress inside?
Pristine.
Which is absolutely the way round I want it to be.
Is The Emma Mattress Right For You
If you're looking for a comfortable mattress that will have you sleeping better than yes.
But more specifically if you are any of these people below.
A light sleeper who shares their bed.
Someone with back or joint pain
Someone who rolls around a lot
Someone who likes comfort
It's great for any sleeper type and I can't think of anyone it isn't right for.
It's a relatively firm mattress at first feel but that's because the memory foam takes a second to activate so it starts firm but gets softer ending as a nice medium-firm feel.
Anything else?
Yes! I'm glad you asked.
You get a 100 night trial to test it out.
10-Year guarantee.
Free delivery and returns.
I love free delivery so that's a big plus from me. And delivery is with UPS, quick and reliable.
If you think the Emma Mattress right for you just click the button below, read some more of the information available at Emma's website and continue to order yours today.