You stand there looking at your slat bed frame wondering, "what type of mattress can I get?"
Well I've got good news, you can use any type of mattress!
Memory foam matresses are fine, as are pocket spring mattresses and even latex mattresses. But what you need is a mattress that doesn't need flipped, because the underside can get a bit misshapen from the slats. Which is fine on the bottom but you don't want to flip the mattress and sleep on it while it settles back down.
With that said let's dive in, I've got the top 5 choices reviewed below starting with a summary box, then a buyer's guide and 5 more mattresses.
If you get a bit lost trust in the top choice of the Nectar sleep mattress, it will see you right. Click the name in the summary box or the Price & Reviews button next to each mattress to go to the website where you can order yours.
5 Best Mattresses For Slat Beds
1. Top Choice – Nectar Sleep Memory Foam Mattress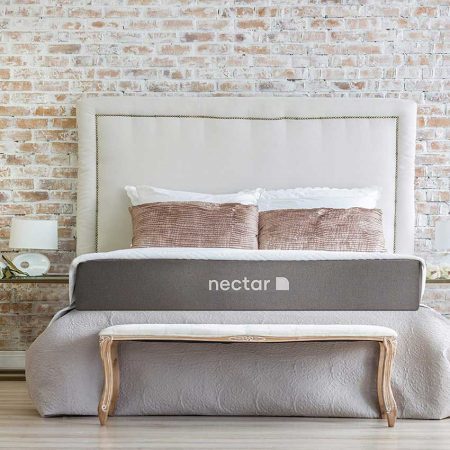 365 night trial period
10-year guarantee
Perfect for slatted bed base
Great for any sleeping position
Firmness: Medium-Firm
Sizes: Single, small double, double, king and super king size
Discount:£100 off and 2 free pillows
This memory foam mattress works perfectly on slats, you don't need to flip it just turn it occasionally to keep it fresh and supporting.
The medium-firm feel suits most people and makes it comfortable for back sleepers, side sleepers and even stomach sleepers. Plus the memory foam works to support your back giving you relief from back pain.
The memory foam also works to keep you still instead of tossing and turning so you actually get a more restful night's sleep.
But what's really cool is that it comes with a whole year of trial period so you could try it out for 11 months 29 days and if you don't like it, you can send it back! Plus a 10-year guarantee to ensure you've got peace of mind that you've bought quality.
It's a bed-in-a-box so it comes rolled up, you just lay it at the bottom of the bed frame, cut through the plastic and it unrolls and inflates. It does have a strange smell at first but that's totally normal and goes away with time. The worst goes in the first 48 hours and then you stop getting occasional smells of it fully in about 1-2 weeks.
If you need a new mattress this will see you right, made to the highest quality, great value for money.= and perfect for a slat bed.
2. Top Budget Choice – Sealy Posturepedic Aspen Mattress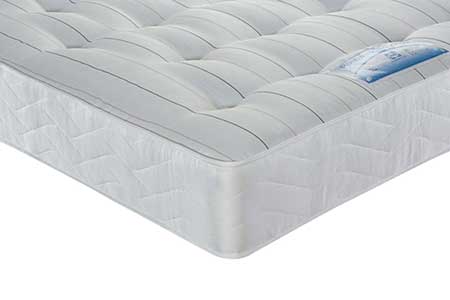 Orthopaedic support
Breathable Cover
24 cm deep
5-year warranty
Firmness: Firm
Sizes: Single, small double, double, king and super king size
With mattresses, there's an element of getting what you pay for, so by going cheaper it's not quite as good. But the Sealy Asen isn't half bad, it's got orthopaedic support and the springs are twice tempered to make them stronger which is perfect for a slat bed.
The cover is Damask which makes it breathable keeping your temperature more regulated Plus it's had tufted for durability.
It's got firm support which feels firm when it's on slats comapred to a divan so you might need to look into a mattress topper alongside to soften it at a later date if you're on a budget.
But a firm mattress still has some sink in it and still feels comfortable, it's not like you're just lying on a door frame!
An affordable way to start getting a good night's sleep.
3. Top Luxury Choice – Sleepeezee Pure Emperor 4000 Pocket Natural Mattress

Natural Fillings
High Spring Count for comfort
Pillow top
10-year guarantee
Firmness: Medium
Sizes: Single, small double, double, king and super king size
Another single-sided mattress that does well on slats, even though it's pictured on a divan base.
It's got natural fillings inside, the horsehair is very durable and springs back quick to give you a really nice feel. A filling reserved for high-end mattress.
Aside from that, you've got wool which is great for regulating body temperature and keeping you sleeping soundly.
The spring count is stupidly high at 4000 which allows for two layers of springs that work together to give you a could like experience with a traditional feel. Plus a pillow to act as a mattress topper that adds some cushioning to the sleep surface.
Ease your pressure points and move freely without disturbing your partner on this mattress for a luxurious and restful sleep night after night.
4. Best Pocket Spring Choice – Silentnight Classic 1200 Pocket Deluxe Mattress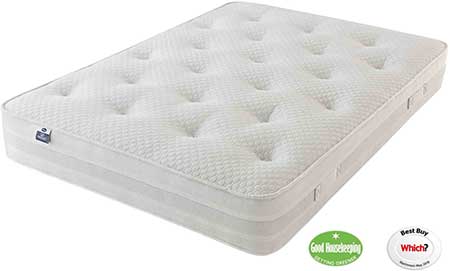 Zoned support
Cover made from recycled plastic
Hypoallergenic
26 cm deep
5-year guarantee
Firmness: Medium-Firm
Sizes: Single, double, king and super king size
Silentnight always do great things and this mattress is no different, eco-friendly fibres are in the cover which is soft. breathable and great for hot sleepers.
1200 pocket springs are zoned for support where you need it, more support in your shoulders and lower back keeping your back happy. Like all pocket sprung mattresses motion transfer is limited so your partner doesn't disturb your sleep.
You can flip this mattress but rotating it should be fine to keep it feeling fresh and springy. Plus it's got edge-to-edge support so you have plenty of sleeping space to move around in.
The mattress has been treated with Purotex to make it fresh and hypoallergenic, and you've got a 5-year guarantee to keep you sleeping happily night after night.
5. Best For Bad Back – Relyon Memory Superior Ortho Support 1500 Pocket Mattress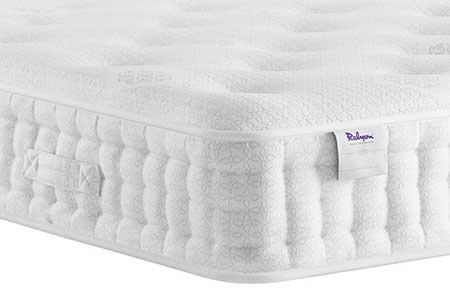 Pressure Relieving
Hypoallergenic
Hybrid foam and spring
8-year guarantee
Firmness: Firm
Sizes: Single, double, king and super king size
This hybrid mattress combines 1500 pocket springs with memory foam to give your back everything it needs to stop hurting.
The firm feel gives you plenty of support and is great for all sleeping positions, especially stomach and back sleepers but side sleepers can be comfortable too.
These types of mattress are excellent because they offer the support of memory foam while still having the traditional bounce feel that springs have. So it's more like a spring mattress with a memory foam mattress topper than it is a memory foam mattress.
It's one-sided so perfect for a slatted bed base and was awarded a 'Which? Best Buy' so you know it's a good quality mattress.
Best Type Of Mattress For Slatted Base
Can You Use Memory Foam Mattress On A Slatted Bed? Short answer yes you can! As long as it's not an old frame with lots of missing slats you'll be fine.
Can you use a pocket spring mattress on a slatted bed? Again yes! Pocket sprung mattresses are absolutely fine on a slatted bed frame.
Any material of mattress does fine on a slatted bed, whether you want pocket springs, memory foam, or even latex they'll all sit fine on slats.
What you want, is a mattress that's one-sided. This is a mattress that doesn't need flipped because it's layered to make one side the sleep side and the other side the base.
The Nectar, for instance, has a high-density foam base with the supportive memory foam on top so you don't want to flip it and sleep on the base.
You want this because the bottom of the mattress can get ridges on it from the slats that you don't want to lie on while they settle. And the longer you wait before you flip the more permanent these grooves will be. But with a single-sided mattress, these don't matter.
How A Slatted Bed Base Affects Firmness
Did you know the type of bed you have affects the firmness level? Well it does! A slatted bed frame makes the mattress feel firmer while a divan base will make it feel softer.
Obviously, a soft mattress won't magically become firm on a slat bed frame but it will feel firmer so that's worth knowing if maybe you've moved and have a new type of bed frame.
Solid Slats Vs Sprung Slats
Not sure the difference? That's OK! I had to do a little research myself, and springs slats have a slightly upward curve that gets pressed down when you get into bed making it slightly springy and actually better for the mattress.
If you've got one or the other no need to changed, but if you haven't got a frame yet then I'd look for sprung slats because they're stronger and much easier to replace if you should happen to break a slat.
They also firm up the mattress less compared to solid slats, so if you like a really firm feel then you'll want solid slats but if you prefer a slightly softer feel then spring slats will be the way to go.
Other Mattresses For Slatted bed Base
Emma Sleep Memory Foam Mattress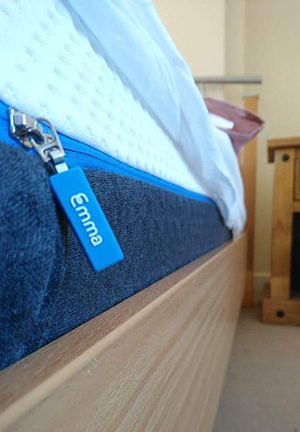 100-night trial period
10-year guarantee
Free returns
UK and EU sizes
Firmness: Medium
Sizes: Single, small double, double, king and super king size, EU single, EU double, EU king size
The Emma mattress is a single-sided mattress so already a winner for a slat bed but let's break it down layer by layer.
The cover is climate regulating and elastic so it remains taught and soft. The top layer is a breathable point-elastic Airogcell foam that works to keep you cool and your partner's motion separate to yours.
After that, you've got the memory foam layer that works to provide pressure relief and superior comfort levels. Finally, you've got the supportive base that gives you more resistance so your kept supported all night.
All in all a great mattress, plus its great value from the 100 night trial period so you can really give it a go and it's got a 10-year guarantee so you know it's going to last you properly.
Read the full emma mattress review here.
Mammoth Shine Essential Firmer Mattress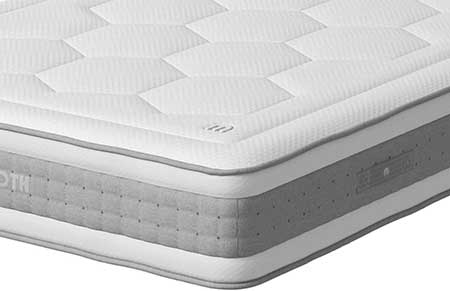 Orthopaedic support
Medical grade foam
24 cm deep
10-year warranty
Firmness: Medium-Firm
Sizes: Single, small double, double, king and super king size
This is a superb choice if you suffer from back pain at all. It's not the firmest, you'll want the Relyon for that, but it's got medical grade memory foam inside and provides pressure-relieving orthopaedic support making it great for hip pain, back pain or shoulder pain.
It's as good if not better than the Relyon but the problem is the price, it's a premium mattress so not everyone can afford it which is why the other mattress is higher, but if you can afford it this will make an excellent choice of new bed that will keep you sleeping deeply and soundly.
But of course, it's personal preference so check them both out and decide for yourself.
Contour 2000 Memory Pocket Mattress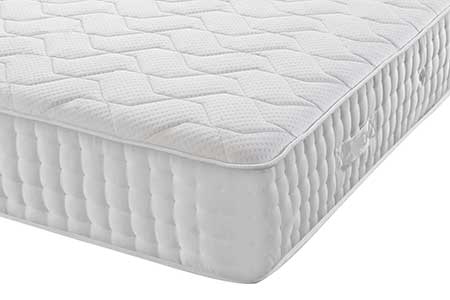 Affordable Price
Dood for all sleeping positions
25 cm deep
5-year warranty
Firmness: Medium-Firm
Sizes: Single, small double, double, king and super king size
This is a great all-rounder mattress for a slat bed, it's one sided with a memory foam comfort layer to support you and is great for stomach, back and side sleepers.
Hypoallergenic for freshness and it's got a soft knitted cover that feels good under the sheets. 200 pocket springs is also nice and high to give it that little bit of luxury feel and a 5-year warranty gives you some peace of mind that it's going to last you properly.
It's also a great price at under £400 for a king-size so you've got some all-round great value to go on. a really nice mattress for a slatted bed frame.
Silentnight Classic Ortho Miracoil Mattress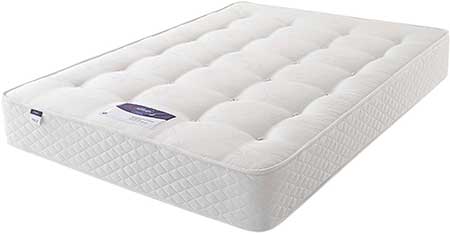 Orthopaedic Support
Zonal pressure relief
Eco fibre cover
22 cm deep
5-year guarantee
Firmness: Medium-Firm
Sizes: Single, small double, double, king and super king size
The main downside to this mattress is that it doesn't use pocket springs, rather the old style of a single piece of metal with all the springs joined together, so not great for couples but great for a single bed.
The springs, however, are designed o give you zoned support so that you get pressure relief where you need it and your back can be happy and you can sleep soundly.
It's a great price and features had tufting for durability and edge-to-edge support to keep it comfortable right up to the sides.
The cover is Silentnight's Eco Comfort Fibres which are breathable, increasing air circulation, and eco-friendly because they're made from recycled plastics. but don't worry, they're still very soft.
A fine choice of single bed for a slatted frame.
Silentnight Memory 7 Zone Mattress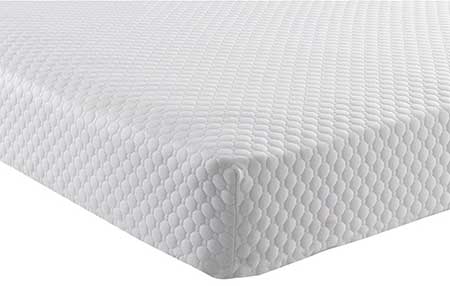 20 cm deep
Allergy Seal of Approval
Washable Cover
Bed-in-a-box
5-year guarantee
Firmness: Medium-Firm
Sizes: Single, double, king size, super king size, European single, European double, European King
this mattress is only 20 cm deep so it's not good for heavy people but it's good for everyone else.
It's one-sided with the memory foam on one side that is zoned into 7 areas to give you the exact support where you need it. with extra support on your hips shoulders and lower back with less support on your feet, legs, stomach and head.
The cover is removable and washable which makes it a good choice of kids mattress, which I've got more of here, who tend to be messier than most in bed. But also for adults, it's a good way to keep your mattress fresh if you don't use a mattress protector.
This mattress type of bed-in-a-box is handy because they deliver easy and you can get them into the bedroom you need them with ease. Just cut through the plastic and let the off-gassing happen while it inflates in front of you.
It will smell a bit at first but that's totally normal and goes away over the first 48 hours and becomes unnoticeable after about 2 weeks.
Conclusion
The most important thing to look for in a mattress for a slat bed is that you want to have a one-sided mattress. You don't want to be having to turn it and ending up with lots of ridges underneath you from where the slats were.
As for what mattress, if you're still not sure then read my Nectar sleep review through this link and see what you think. It's everything you could need in a high-quality mattress for slatted bed frames.