You love your kids. I know you do.
But I also know something else…
They are at their best when they're asleep!
Joking aside, ensuring that kids get enough good, quality sleep is really important. Their development is so fast and getting a great sleep can reduce stress, anxiety and can even increase their attention span. Their teachers will thank you for that one!
Your time is precious and if you have kids running round, you'll need all the peace and quiet you can get. That's why I've put together this guide on what to look for in a good kids mattress. I've also included a list of the four best mattresses for kids on the market, with links to John Lewis where you can buy them online. It couldn't be easier!
Best Kids Mattress UK Summary
What Size Of Mattress Does My Child need?
This is a question that gets asked a lot, but it's actually quite simple.
A single mattress is just fine.
A good mattress will generally last about 10 years which would take your child from when they grow out of their cot/toddler bed into their teens. This would definitely mean you get great value for money.
If you're considering other mattress sizes then a double mattress would also work well, but this depends purely on the space you have in their room. A single mattress is more than enough to fit them through their formative years, despite what they may tell you!
You don't really want any smaller than a single mattress becuase, if they haven't already, they're due a growth spurt and you don't want to find yourself replacing a whole kids bed 2 or 3 years from now. Best to stick to a full size single mattress.
What Firmness of Child's Mattress is Best?
On the whole, there's a surprising lack of research in to what firmness level your child should sleep on. I couldn't find any definitive studies that have been done.
My own recommendations for your kid's bed would be these:
If your child sleeps on their front, don't get a mattress that's too soft. Their breathing could be obstructed since they'll sink into the mattress.
A mattress that's too firm might be hard on their growing bones and make your child uncomfortable.
To avoid these problems, stick to a medium or medium-firm mattress.
What Type Of Mattress Is Best For Kids?
There are three main mattress types that you can choose between:
1. MEMORY FOAM
The foam moulds perfectly around your body while you sleep, which means it's great for support and comfort. Since you create a little groove as you sleep, a memory foam mattress means that you don't toss and turn. You'll know what your child's sleeping habits are like, so if this is a problem for them, memory foam might be a good option.
One problem you might find is that new memory foam mattresses have a strange smell. It's perfectly normal and just due to the off gassing of the foam and will disappear after 24-48 hours but you might get some moaning in the meantime!
These mattresses do tend to be more expensive but are very durable, which is something you'd want from a kids mattress.
2. POCKET SPRING
These mattresses are closer to your traditional mattress but they are much more comfortable. A typical mattress – open coil – has springs in it that are joined together, so when you move around all the springs move at the same time.
In a pocket sprung mattress, each individual spring is sewn into a fabric pocket. The reason this is more comfortable is because each spring can move independently. You get support and freedom of movement and this mattress has more bounce than memory foam.
This is a good option if your child can be a bit fussy with new things, since a memory foam mattress can feel strange at first. This mattress is more of a safe choice. You can always opt for a memory foam topper if you want the benefit of both.
3. HYBRID
As the name suggests, this is a combination of memory foam and pocket spring.
With one of these mattresses, you'll get the best of both worlds: all the support and comfort from memory foam, along with the firmness and bounce that you get from a pocket spring.
Or sometimes you get hybrid mattresses that are made with innerspring and Latex. Latex mattresses are very high quality and are built to last but they do tend to be more expensive, and if you can't afford it don't worry. There are lots of affordable kids mattresses and I share my top budget pick below.
THE 5 BEST KIDS MATTRESSES UK
Now that you have an idea of what you want to go for, here are the four best children's mattresses. With each one, I've provided a short review, the price and a link to John Lewis where you can buy it online.
1. Top Pick – Silentnight Healthy Grow Single Kids Mattress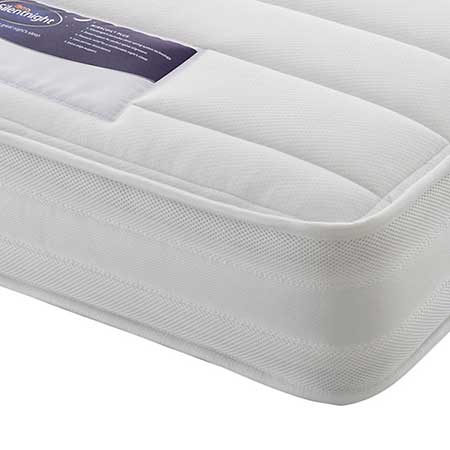 Brand: Silentnight
Filling: Miracoil Spring
Firmness: Firm
Specially Designed For Children
Hypoallergenic
Great Price
Breathable
5-Year Guarantee
This mattress is by Silentnight and uses their miracoil spring system. The springs don't move independently like in a pocket spring mattress but it's still a step-up from old-fashioned open coil mattresses.
It provides lots of firm support but has a quilted top layer so it's very comfortable.
Another plus is that it's completely hypoallergenic, chemical-free and dust mite resistant– the bed bugs won't be biting tonight!
It's also a fine choice of twin mattress if your kids share a room because it's affordable, help save on any arguments that could start!
My top pick of kids mattress and an easy choice for young kids right the way through to teenagers.
2. Best Bunk Bed Mattress – Silentnight Rolled Foam Junior Bunk Bed Mattress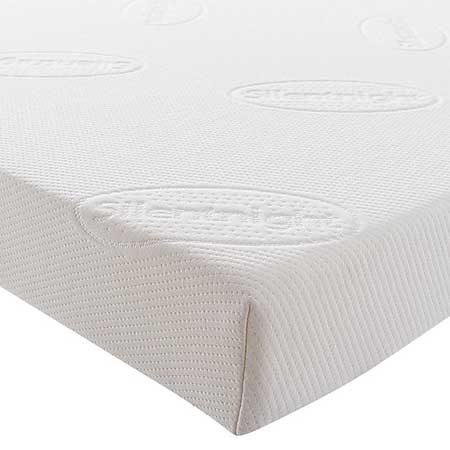 Brand: Silentnight
Filling: Foam
Firmness: Medium
Specially Designed For Bunk Beds
5-year Guarantee
Hypoallergenic
This mattress is designed specifically for bunk beds. It's only 14cm thick, which makes it ideal. If the mattress on a bunk bed is too thick, then the safety rail on the top bunk becomes pointless, since your child is raised so high. We don't want any diving routines!
Once again, this mattress is completely hypoallergenic and is made of memory foam. Because foam mattresses absorb movement, it's a great choice for a bunk bed since it'll minimize how much the bedframe shakes and creaks.
This is a great mattress which ensures a safe and sound sleep.
3. Best Luxury Children's Mattress – Sealy Luxury Mattress For Kids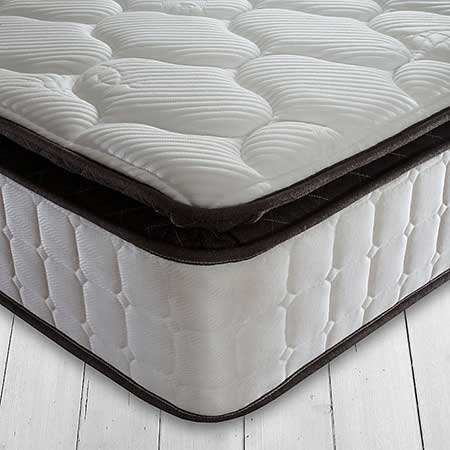 Brand: Sealy
Filling: Latex & Pocket Spring
Firmness: Medium
Luxury Comfort
10- Year Guarantee
Hypoallergenic
This is a pocket spring mattress, so is very comfortable but what makes it different is that the springs are combined with a comfort layer of supportive latex. This means that your child's back, shoulders, and hips will have extra support and it's made from eco friendly materials.
This is a pretty deep mattress – 29cm. You might find that normal sheets don't fit, so you may find yourself shopping for deep-fit sheets. Not a huge issue but if your linen cupboard is already overflowing, you might want to think about it!
This would be an investment but it does come with a 10-year guarantee, so you can definitely trust this mattress.
4.Best Natural Filling – John Lewis Wool Pocket Spring Mattress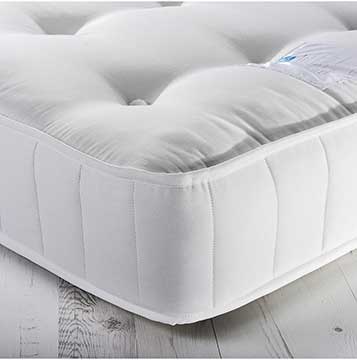 Brand: John Lewis
Filling: Pocket Spring & Wool
Firmness: Medium
Breathable Natural Wool and Cashmere Filling
Temperature Regulating
Cotton Cover
The little at home natural wool kids mattress from John lewis is a great addition for any kids bed. It's got excellent breathability and temperature regualating properties from the wool filling that can help dissapte heat and stopping your little one from over heating.
The mattres is no turn so you don't need to flip it over or even turn it, it's ready to go on delivery and stays happily in use everyday from then.
The cover is cotton which is soft and plush and actually made from cotten felt tufts.
A fine choice of mattress that I'm sure your child will love, all without breaking the budget.
5. Best Foam Mattress- Stompa S Flex Airflow Single Foam Mattress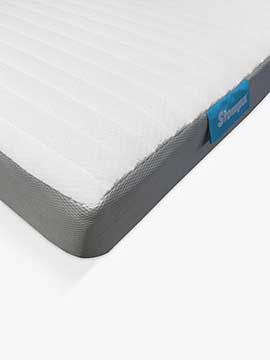 Brand: Stompa
Filling: Foam
Firmness: Medium
Removable dry cleanable cover
Suitable for bunk beds
hypoallergenic
The Stompa airflow single mattress is a foam supportive mattress with a pillow-top that is ideal for children.
The base layer is a highly durable long lasting dense foam which provides the supportive base of the mattress. Ontop of that is the airflow comfort layer that allows air to circulate, regulate temperature and provides some spring to keep the comfort levels up.
The outer cover is a luxury knitted fabric quiletd with hypoallergenic fibres, it's also breathable stopping your little one from over heating.
the cover isn't quite washable per se but it is removeable and you can take it to a laundry to get dry cleaned should enything happen to it. I'd recommend going for a mattress protector however because these are a lot easier to clean.
Sleeping Positions
I don't want to focus too heavily on what type of mattress is best for what sleeping position because young children tend to go through every sleeping position. So ewven if it seems likethey're side sleepers, stomach sleepers, or even back sleepers they probably move around too much threough the night for it to be a factor in choosing them a mattress. Best to focus on getting a high-quality new mattress that provides pressure relief and support to give them a good night's sleep..
FAQS
MY CHILD STILL WETS THE BED. WHAT SHOULD I DO?
First of all, this is completely normal.
You can still get any of the mattresses on this list, I would just recommend getting a waterproof mattress protector. This means that you'll get the most out of your mattress since none of them are strictly washable. I've written a guide to buying a waterproof mattress protector, so have a read of that for more information.
IS MY CHILD TOO YOUNG FOR A 'GROWN UP' BED?
You are definitely the best judge of that, since you'll know that kids can be the same age but grow at completely different rates!
If they've outgrown their cot, then I would say it's time for the 'grown up' bed. But you know your child best.
ARE ALL OF THESE MATTRESSES SUITABLE FOR BUNK BEDS?
No, only number two on the list (the Rolled Foam Junior Bunk Bed Mattress) is safe to use on a bunk bed.
The others are too thick and might lead to your child tumbling out of the top bunk or be too heavy.
WHAT ELSE DO I NEED?
I've written all the guides you'll need to kit out the bedroom. Here's my guide for duvets. This is the one on Pillows and here's the one on bed sheets.
I'm CONFUSED, THERE'S A LOT OF OPTIONS. WHAT SHOULD I DO?
This might seem like a daunting task, so if you have questions or aren't sure what to go for, feel free to leave any questions below. I'll be able to get back to you.
Conclusion
And there you have it, everything you could ever want to know about buying a kids mattress.
The most important take away has to be if you've got a bunk bed, don't get a mattress that's too thick, 16-20cm is more than enough to support your child and gives plenty of room so the safety bar of the bunk bed still works.
Apart from that it's remebering that a single size mattress is all you need. As much as your child might complain that they need a double!
Finally, choosing the right mattress doen't have to be hard, whether you want an innerspring mattress, pocket spring, memory foam, or even natural latex mattress for your child.
HAPPY SLEEPING!