Imagine your perfect bed. Go on, I'll wait. I don't know about you, but mine is stacked high with perfect, plush pillows.
Your pillow can make or break your sleep. We've all had that night in a hotel when we've sunk straight through the pillow, as if it wasn't there at all. It's so dissatisfying!
This guide will ensure you never have to deal with that feeling again.
I've collected everything you could ever want to know about pillows: what type you should get, what type of pillow will solve your particular sleep problems, even how to look after your pillows.
As well as answering your every need, I've also reviewed the 7 best pillows (UK) along with links to where you can get them online. I've got a quick rundown of a few from the list below.
So, get comfortable and let's make your perfect bed!
Top 5 Best Pillows UK Reviewed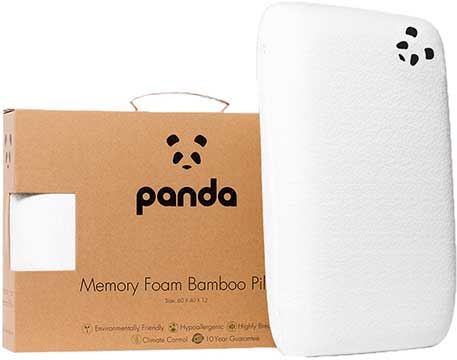 Brand: Panda Life
Filling: Memory Foam
Firmness: Medium-Firm
30-Day Trial
10-Year Guarantee
Breathable Bamboo Cover
Great For Back And Side Sleepers
Great For Neck Pain
Environmentally Friendly Packaging
This is my absolute favourite pillow out of the bunch. The Panda pillow. Panda have completely changed the pillow game, designing a memory foam masterpiece that will last 10 years! The average pillow will last a maximum of two, which makes this pillow pretty amazing.
The cover on this pillow is made from bamboo. This means it's soft. Breathable. Temperature-controlled. Able to wick away moisture. Bamboo is also one of the most sustainable materials on the planet.
Did I mention how much I love this pillow?
It's about 12cm tall, which means it's ideal for people who sleep on their back or their side, but it might be a little too high for front-sleepers.
This pillow is fairly firm but extremely comfortable, especially since the memory foam cradles your head while you sleep.
The final amazing thing about this pillow is that Panda donate a portion of their profits to WWF, to help them maintain wild panda habitats.
All in all, this is the best pillow on the list. I would highly recommend it! Read the full panda pillow review here.
Brand: Dunlopillo
Filling: Latex
Firmness: Firm
100% Natural Latex
Washable Polyester Cover
Hypoallergenic
Suitable for back and side sleepers
5-year guarantee
Picking the best pillow to review that will help with neck pain was really important to me. I know how debilitating it can be to deal with neck, shoulder and back pain.
If you're getting neck pain when you wake up, it's usually because the balance you get while you sleep is unbalanced. A pillow that fully supports your neck and head can help prevent it.
Obviously, I would always recommend you see your doctor about persistent pain – I can't advise you. Also, if you suffer from back pain, it's more likely that you have a problem with your mattress than your pillow. I've written a few posts about this, which you can check out here.
With that out of the way, Dunlopillo have created a stellar pillow for dealing with neck pain.
It's made from latex, which means it's really responsive to the way your head moves while you sleep, providing maximum support. Latex is slightly bouncier than memory foam, which will also help.
This pillow comes with a removable machine-washable cover and a whopping five-year guarantee, so you know that this is going to last.
It's also 100% latex, so no hidden chemicals being used here.
Definitely the best latex pillow you can buy, read more on my article on neck pain pillows.
Firmness: Medium-Soft
Filling: Hollowfibre
Medium Firmness
Hollowfibre filling
14-day Trial
Designed for Side Sleepers
The Kally Side sleeper pillow is my favourite non-memory foam pillow to sleep on. Its box shape gives you plenty of support along shoulder and head making it an ideal choice for side sleepers.
The plump filling gives it a really luxurious feel which will have you sleeping soundly all night long. I know it did for me, I closed my eyes and woke up peacefully the next morning after a great night sleep.
The cover is made from a machine washable poly-cotton which is nice and breathable making it a great choice of cooling pillow. Plus it's a standard size and fits snugly into a regular pillowcase.
A wonderful choice and easy addition for the best side sleeper pillow.
Firmness: Firm
Filling: Latex
Great for stomach sleepers
Hypoallergenic
breathable
Durable
Latex is a great choice for allergy sufferers because it's naturally hypoallergenic. And it's a great eco-friendly choice because latex is sustainably harvested from rubber trees that get replanted.
Comfortable for all sleeping positions but the low profile makes it especially useful for front sleepers and stomach sleepers as you can lie on it without craning yuor neck.
But if you're a side sleeper you can just put one of your old pillows underneath to raise it up while still getting the supportive benefits of latex.
A long-lasting and top quality pillow ideal for helping ease neck pain and ensuring a good night's sleep.
Firmness: Medium-firm
Filling: Memory foam
30-Day Trial
3-yar Guarantee
Medium-Firm
Washable Cover
Superb Comfort
Eve are the masters of memory foam and this plump pillow perfectly supports your shoulders, head and neck.
It has the height that you need from a pillow if you sleep on your side and is also hypoallergenic. No more snuffy noses!
When you order through the Eve website, you get a 30-day trial period to put this pillow through its paces and if you decide it isn't for you, you get a full refund.
However, the chances of you needing to return it are slim. It even comes with a three-year guarantee, so Eve are happy to put their money where their mouth is for this pillow.
WHAT TYPE OF PILLOWS CAN I BUY?
There's a huge variety in pillows that you can buy, which can seem a bit overwhelming. The six main ones are: memory foam, synthetic, down, feather, latex and buckwheat.
1. MEMORY FOAM
Fun fact: memory foam was created by NASA in the 1960s. It was originally for aircraft seats but has turned out to be a brilliant material for pillows.
When it's exposed to heat, memory foam becomes soft, which is what makes it mould perfectly to your body. These kinds of pillows cradle your head as you sleep, which will give you maximum support.
If you find that you suffer from neck or shoulder pain, then this is probably the pillow for you. Memory foam has been developed a great deal, so instead of holding you in one position all night long, it's a lot more responsive to your movement.
Memory foam pillows are ideal for back and side sleepers and they're my personal favourite. Check out my article on them here.
2. SYNTHETIC
This is the most common type of pillow.
These pillows are great if you're on a budget but they aren't all that durable. They'll last between six months and two years – depending on how much you spend – before they become flat or lumpy.
The filling of synthetic pillows tend to be either hollow fibre or microfibre: these are both polyester but microfibre is usually more comfortable. Hollow fibre is the cheaper of the two and holds heat extremely well. This is great in the wintertime but can be uncomfortable in summer!
I'd recommend a different synthetic filling – cluster fibre. These pillows are made of lots of tiny balls of soft material, which makes these super soft and comfortable.
3. DOWN
Down is much softer than feather providing a fluffy filling that often doesn't give enough support but makes for a fluffy pillow. Normally an addon to feather pillows to make them fluffier and more snuggly.
Just make sure they are ethically sourced down feathers.
4. FEATHER
I'm not a huge fan of feather pillows as they don't offer a lot of support. They work well for front sleepers as you don't need a lot of lift but I'm a broad-shouldered side sleeper so need a nice thick pillow to support me. Again if you're interested in a feather pillow please make sure there is some sort of statement from the brad saying they use ethically sourced feathers.
I also have a lot of memories of being stabbed in the face by feathers sticking out of the cover which I'm sure doesn't help anything!
5. LATEX
These pillows are similar to memory foam, they feel quite spongy. However, they tend to be a bit more springy and firm.
Latex comes from the sap of rubber trees, so it's a good natural alternative to memory foam if that's what you're interested in. However, be aware that cheaper latex pillows tend to be mixed with chemicals since it keeps costs down. Always check it's 100% latex!
6. BUCKWHEAT
You probably haven't heard of buckwheat pillows but they've become hugely popular in Asia.
Buckwheat is a type of fruit and the husks are used in the pillows. Don't worry, they're thoroughly washed!
These tiny husks naturally mould around your head and neck, making them ideal if you suffer from neck pain, much like memory foam pillows.
They feel a lot like the neck pillows you can get at the airport which are filled with microbeads.
The downside is that these pillows are quite noisy as you move around on them. Like memory foam, new buckwheat pillows also tend to have a strange smell but this will fade if you air them out.
WHAT SHOULD I LOOK FOR WHEN I'M COMPARING THE BEST PILLOWS?
1. FIRMNESS
There are three categories of firmness: soft, medium and firm.
Soft pillows don't provide much support, but can be very comfortable. I'd stay away from these if you suffer from any neck stiffness or pain, since you need something a bit more substantial.
In my own experience, soft pillows make my head droop as I sleep on my side and I usually wake up with a sore neck.
Medium pillows are great, since you get the best of everything. You get the comfort of a soft pillow and the support of a firmer pillow all in one. These are great for just about everyone.
Firm pillows are a lot more comfortable than they sound. They provide the most support out of all the pillows you can buy, so are great for neck and shoulder pain. These are also good if you have wide shoulders, since you don't sink into these pillows as much
2. HYPOALLERGENIC
I appreciate that this won't be a big concern for everyone but if you're an asthma sufferer like me, this is something you need to pay attention to.
Whether it's asthma or allergies, hypoallergenic pillows are the way forward.
Non-hypoallergenic pillows tend to carry a lot of dust – way more than you think – and in my own experience, I'm wheezing and coughing all night. Hypoallergenic pillows don't gather dust, so are generally cleaner and healthier.
Plus, they're dust mite resistant. And that's good for everyone!
3. WHAT TYPE OF SLEEPER IS IT FOR?
This is one of the most important things to consider before you buy a pillow but it's something that not many people know much about.
You can be a front sleeper, side sleeper, back sleeper, or a mixture of them all.
Think about the position you usually wake up in. On your face? Lying on one side? This will give you a big clue about what type of sleeper you are.
Lots of pillows are designed specifically for the position you sleep in, so take some time and get the perfect one for you.
Other Pillow Reviews
Best pillows for front sleepers
Firmness: Adjustable
Filling: Hollowfibre
Adjustable Height
3 pillow inserts
2-year guarantee
Machine washable
This is a fun pillow because it's made up of 3 different inserts which each have a different firmness so you can mix and match to get your perfect firmness and your perfect height.
Finding a thin pillow that's comfortable can be hard so this is ideal because you can use it with either one or two inserts and it's thin yet the high-quality filling allows it to stay plush.
It'll take a few nights of trying out the various combinations but once you're found the right one you'll never be able to go back to a standard pillow.
Dust mite protected and machine washable, plus a 2-year guarantee for peace of mind and many comfortable nights of sleep to come.
Best pillows for back sleepers
Brand: SnuggleDown
Filling: Cluster Fibre
Firmness: Medium
Machine Washable Cover
Support designed for back sleepers
Medium Feel
If you sleep on your back, you don't want a pillow that's too high, or you're going to end up with neck pain. This pillow by Snuggledown is smaller than the others on this list, so is perfect for all you back sleepers out there.
The support that you get from this pillow is brilliant. It prevents tension from building up in your neck which means you're able to sleep deeper for longer.
This pillow has also been designed so that it is completely filled right up to the edges, so it's not going to sag or become lumpy.
However, it's worth bearing in mind that sleeping on your back can cause snoring! You may need to ask the others who live in the house if this is a problem for you…
This is actually my second favourite, I'd say the best back sleep pillow has to be Panda Pillow from the top of the article.
Best cooling pillows
Firmness: Medium-Firm
Filling: Hollowfibre and Foam
Combo fillings of foam and hollowfibre
Breathable Cotton Cover
Mesh walled sides great for side and back sleepers
Hypoallergenic
I tested this pillow out at the perfect time, right as I was dealing with a fever. And while it didn't perform miracles (I was sick after all) it did provide some much needed cooling relief to my head through those hot sweaty nights.
The filling is a combo of foam and hollow fibre which give you the support of a memory foam pillow without feeling like you're actually sleeping on one. It feels just like a regular pillow except a little firmer for much needed extra support to your head.
I have quite broad shoulders and sleep on my side so I need a second pillow underneath for the height but I really like the feel of it. You sink in without being trapped and there is a lot of room through the pillow to breathe.
Easily my new favourite cooling pillow, definitely the most effective I've tried.
Best orthopaedic pillows
Firmness: Medium-firm
Filling: Memory foam
Contour for maximum neck support
Dustproof yet breathable
Suits all sleeping positions
If you're experiencing any neck pain or shoulder pain, then a new orthopaedic pillow could be the answer (although you should see your doctor first).
This contour allows for maximum support of the spines natural shape so the pressure gets relieved and you can get a deep sleep you've been wanting and wake up with minimal stiffness or pain.
A support pillow is a bit strange to get used to at first but stick with it it's well worth it.
Also, I should point out that this pillow comes with a bit of a strange smell at first, that is totally normal to memory foam and it dissipates over the first few days to being completely gone within a couple of weeks, it's the same with memory foam mattresses bu is totally harmless.
Best memory foam pillows
Firmness: Firm
Filling: Memory foam
Made in the UK
Hypoallergenic
Machine washable
Softer version available
This is the second best memory foam pillow on the list and is a good all-rounder. I've said it a hundred times that memory foam is my favourite thing to sleep on and I'll probably say it a hundred times more.
Silentnight are a big name in the world of sleep and their products can be trusted. This pillow comes with a two-year guarantee, which puts it at the upper end of how long the average pillow will last.
It also comes with a poly/cotton cover, which is lovely and soft but it can only be wiped clean. I'd recommend getting another pillowcase to keep your pillow fresh.
Like all memory foam pillows, it's also worth knowing that it will smell strange for the first 24 hours or so while you air it out. This is normal, though, so don't panic!
But again I think the best memory foam pillow has to be the Panda pillow with this as a close second, the panda is also a great alternative to the igel pillow.
Best Luxury Pillow
Firmness: Adjustable
Filling: Small foam cubes
King size pillow available
Adjustable Height
Down, memory foam and microfibre
Extremely softcover
BLACK FRIDAY (2020) SALE: 35% OFF on orders over £300
The Simba outlast can be adjusted for height by adding or taking out the memory foam nanotubes inside it so you can get the exact feel you want. Plus it's double-sided, one side is a luxurious and cooling down with the memory foam underneath and the other is plump and cloud-like microfibre for a maximum snuggle.
Now I'm not going to miss-lead you here, this pillow is not cheap, it's double the price of the other premium pillows here but it is something special and the absolute height of luxury so I had to include it.
Oh, and the middle of the pillow is ventilated making it a really great cooling pillow for if you suffer hot flushes through the night.
Best pillows for shoulder pain
Firmness: Medium
Filling: Memory foam
Great for back and side sleepers
Hypoallergenic Cover
Shaped for maximum shoulder support
This pillow looks strange, very strange, but its clever design is exactly what you need to deal with shoulder pain.
The cutouts at the side give your shoulder joints a place to rest so they can relax and the slope of the pillow keeps your head aligned so your neck gets the support it needs.
Plus it's memory foam so you get the support from that as it softens and perfectly cradles your head.
Though it does mean when you first receive the pillow it does have a funny smell, that's totally normal, it's just off-gassing and goes away in a few days.
You should also know that it takes about 5 days for this pillow to start shaping properly to your body to give you the support, so there will be an adjustment period but stick with it, it can definitely help you work towards relieving shoulder pain.
Best anti-snoring pillow
Filling: Latex like foam
Firmness: Medium
Latex like foam
90-day guarantee
Queen size pillow available
The contour of this can really help with snoring, your head gets cradled and your neck gets supported which keeps airways open and clear and stops your head drooping on your back which can stop snoring.
And when I say your snoring I mean your partners snoring.
It's not memory foam so has good bounce back and doesn't trap as much heat pus it keeps the price down.
It's got two heights of contour which gives you a bit more choice to find a comfortable position, because a contour pillow feels strange at first but it's well worth it if you're dealing with snoring.
Best down pillow
Filling: Goose down and feathers
Firmness: Soft
85% feather and 15% down
HYpoallergenic
Machine washable
100% Natural
Made in the UK
Goose down feather is that little bit more luxurious than duck feathers or duck down because it's softer, warmer and plumper so well worth looking out for.
You get the pair which is great for the price and they are hotel quality so lovely and plump while also being hypoallergenic and machine washable.
the casing is 100% cotton which allows for greater breathability allowing for a restful sleep not a sweaty sleep.
There's nothing quite like letting your head hit a feather pillow so it's an easy call to have this as the best feather pillow on the list.
Best hypoallergenic pillow
Filling: Hollowfibre
Firmness: Soft-medium
2-year guarantee
Allergy UK seal of approval
Machine washable
Silentnight have been making cheap and cheerful bedding for a long time now, so of course they're antiallergenic pillows are a great budget choice and a nice clean fresh choice.
treated to be completely hypoallergenic and they're machine washable so if you want to freshen them up you can wash them and the anti-allergy treatment stays in effect.
A nice soft feel so you'll need the two of them to sleep on and because of the filling they will need gentle fluffing to get them back to shape before you go to sleep each night.
But you can't argue with the freshness.
Best firm pillow
Filling: Microfibre
Firmness: Firm
Cheap price
Box-wall support for side sleepers
100% cotton casing
Machine washable
Made in the UK
This is an excellent firm pillow and a fine choice for side sleepers, it's stitched into a box shape so it's got high walls for maximum support along your shoulder and neck.
I personally still need another pillow underneath but it depends on your size and how broad your shoulders are whether or not you'll need a second pillow underneath.
It's also got all the other good stuff in it too, hypoallergenic, machine washable and it's made in the UK.
A few of the memory foam pillows I've talked about are a firmer feel but if you want a firm non-memory foam pillow then this will be a great choice.
Best soft pillow
Firmness: Soft
Filling: Polyester
Soft filling and casing
Anti-allergy
Extra plump
Hypoallergenic
These pillows are really nice and fluffy, plenty of plumpness and softness for a really luxurious sleep experience.
The bamboo and polyester and cover provides an extra layer of softness that's also naturally hypoallergenic and wicks away moisture for maximum breathability and moisture-wicking.
It's only the queen size available so they're a little bit bigger but they still fit on most beds. Antibacterial and extra soft, what more could you want?
Best Organic Buckwheat pillow
Brand: Brow Farm
Filling: Buckwheat husks
Firmness: Firm
Lifetime guarantee
A natural alternative to memory foam
Natural Temperature control
I know it seems a little strange to fill your pillow with buckwheat. Stay with me!
The buckwheat husks in the Brow Farm pillow are triple washed in a rigorous cleaning process before being put in the pillow casing, so you know you're getting a high-quality product.
This pillow also offers some of the best neck support available, since the buckwheat is comfortable but firm. Exactly what you want!
There are a couple of downsides to this pillow though. The buckwheat husks can make a little bit of noise as you move around in the night and this pillow is definitely one of the heaviest on the list – about three kilos!
However, this is still a fantastic pillow and I can see these getting only more and more popular.
Best toddler pillow
Brand: Panda Life
Filling: Memory Foam
Dimensions: 45 x 25 x 3 cm
Comes With Bamboo Cover
Odourless Memory Foam
Contoured to Fight Flat Head Syndrome
The Panda Toddler pillow is a great choice, it's made from odourless memory foam so you can use it right out the box and has a soft bamboo cover.
Bamboo is a really special material because it's naturally climate-controlled keeping your little one cool but comfortable and it's naturally hypoallergenic and a completely sustainable material.
It's got a contoured shape which helps fight against flat head syndrome and the memory foam allows proper alignment of the neck and spine. This gives that little extra support ideal for growing toddlers.
Overall, it's an absolutely outstanding toddler pillow and one you won't go wrong with.
FAQS
WHY SHOULD I CHANGE MY PILLOW?
Like anything, pillows get tired over time.
They lose their firmness and eventually stop providing any support, which can cause neck pain and disturbed sleep. Hate it when you can't get comfy in bed and just toss and turn? Then regularly change your pillows!
Old pillows also become filled with dust, bacteria and even dust mites (which come from the same family as spiders…).
I SUFFER FROM ACNE. WILL CHANGING MY PILLOW HELP?
Yes, quite likely.
Like I said before, old pillows just collect dirt and grime. If that's what you're resting your face and head on every night, then it's going to have a negative impact on your skin and hair. Regularly changing them, along with other cleaning routines for both your skin and your pillows will help.
HOW OFTEN SHOULD I CHANGE MY PILLOW?
First of all, if your pillow is a yellow colour – bin it immediately.
Aside from that, I'd recommend every one or two years. A cheap pillow will only really last three to six months, so would need to be replaced sooner.
If you want to check if your pillow is still firm, there are some tests that you can do:
For the feather pillows, fold it in half and squeeze the air out of it. If the pillow plumps itself back up and unfolds itself, then you don't need to change it yet. If it stays folded, then you need a new one.
For synthetic pillows, fold it in half and squeeze the air out of it. Put a medium-sized book on top of it and if it unfolds, then it's still firm. If it stays folded, replace it.
For memory foam pillows, put it on a firm surface and press down firmly with your hand. If it doesn't spring back into shape in two minutes, then it's lost its firmness and needs replaced.
HOW SHOULD I CLEAN MY PILLOW?
This will depend on the type you've got and you should always follow the instructions on the label.
Most synthetic pillows are machine washable, so just chuck it in the machine on a low-spin cycle and then either tumble dry it or hang it up outside. You could always consider taking it to a laundry place if you aren't sure.
Memory foam is a little tougher to clean but has the benefit of not collecting germs. Check out my other article about how to wash a pillow for more.
HOW MANY PILLOWS SHOULD I SLEEP ON?
This kind of depends on the position you sleep in.
If you like memory foam, then one should be enough, regardless of the way you sleep.
If you have broad shoulders then you might need more than one, to give you the height you need.
Generally, you want enough pillows that your head lies flat while you sleep and not at an angle, so test out a few combinations and see what works. I've got a separate article with more on that here.
I DON'T KNOW WHAT PILLOW I NEED. WHAT SHOULD I DO?
There's a lot of information here, so if you're stuck don't panic!
You can leave any questions you have in the comment box below to get in touch with me, and I'll be able to give you some more personal advice about what to look for in your perfect pillow.
DO I EVEN NEED A PILLOW?
Some people argue that you don't and if you can get it right it's the best way to sleep. But I just can't get on board, I like having my head hit the pillow when I go to bed. But for those interested, I did write a full article on sleeping without a pillow.
RELATED READING
Best pregnancy pillows in the UK reviewed
All the best knee pillows in the UK reviewed
Emma Pillow Review
Simba Pillow Review
HAPPY SLEEPING!