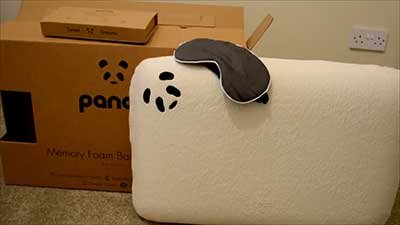 We start and end the day with our head on a pillow, but it is so often over looked when it comes to sleeping. it can make or break your sleep at night so it's important to get the best one.
Whether you're looking to solve your neck pain, you're a side sleeper, back sleeper or any other type of sleeper looking for a new pillow you've come to the right place. Read on to find out everything you need to know about buying the best pillow.
Not everyone has the same needs from their pillow so it's important to get the right one for you so if you have no idea then consider reading through the whole guide.
Be warned, this guide took a long time to put together and as a result is quite a big read!
But if you read it start to finish you too will be an expert on pillows. Pretty cool right?
If you know what you need then you can jump to a specific section using the contents table below. Enjoy!
P.S. if you don't have much time consider bookmarking it for later!
Here are a few favourites from the list before we get started. Just click on the name to check it out and get more info. My personal Favourite is the Panda Pillow which is pictured at the start of the article.
Contents
1. Types of Pillow Explained
2. What To Look For When Comparing
3. Review of The Best Pillows
4. FAQ
The Different Types & Fillings Explained
There are loads of different types of pillow and it's important to know what they all are before you go and buy something! Some of the types are very common but others are a little more out there.
I've talked about the differences between each to help you understand what type is right for you.
Memory Foam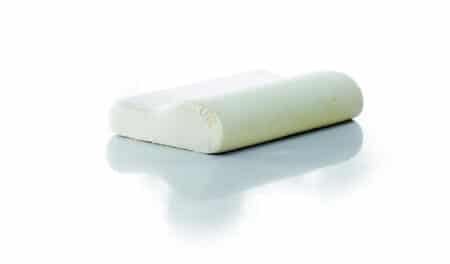 Memory foam itself was actually developed by NASA in the 60s for use in aircraft seats. Since then it has made it's way to the mainstream and become one of the best materials for pillows. B
Memory foam gets softer when exposed to heat, so your body heat causes it soften allowing it to perfectly cradle your head while you sleep. This then provides maximum support to your neck and shoulders stopping any neck pain and giving you maximum comfort at the same time.
There used to be a lot of problems with memory foam, for instance, it used to be that once you'd sunk in you'd be stuck in that position the whole night. Fortunately, memory foam has continued to be developed and they've managed to make it much more responsive than it used to be so it bounces back quicker keeping you comfortable all night long.
Thousands of people swear by them and they are absolutely perfect for back and side sleepers. It also happens to be my personal favourite type of pillow and what I sleep with.
Synthetic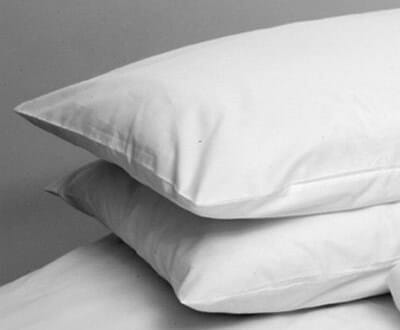 Synthetic pillows are the most common. They are tried tested and very budget friendly but they are not the most durable. They tend to only last for about 6 months to 2 years before they get flat and bent out of shape.
But, they are cheap and cheerful and will get you by for a few years. Not the best value long time but you'll still get a few comfortable years out of them.
In synthetic pillows, the filling tends to be either hollow fibre or microfibre. These are both types of polyester with the difference being that microfibre has been further developed to be finer making it more comfortable. Hollowfibre, on the other hand, holds the heat very well making it good in winter but can't make it uncomfortable in the summer. It's is also the cheaper alternative.
But sometimes you get a pillow filled with cluster fibre. This is a filling made of tiny balls of soft material resulting in super softness and a comfy night's sleep! This is the filling of most of the pillows I recommend below due to its superior comfort and softness.
Down
Down is the light fluffy feathers that occur on young birds. A great deal of the time these feathers are plucked from live baby birds and for that reason, you won't find any recommended here.
Feather
Feather filling still isn't humane and feather pillows are simply not very good! They offer next to no support and aside from being soft the feathers have a tendency to poke through the cover and stab you in the face. Not what you want when you're trying to sleep!
Latex
They are similar to memory foam in their spongy nature but they have a lot more bounce back in them making you sink in less and a firmer overall pillow.
They are widely considered a more natural alternative because the latex is made from the sap of a rubber tree. Unfortunately, to keep costs down many manufacturers mix the latex with cheaper chemicals. So if you're shopping for a latex pillow be sure to look out for 100% latex otherwise you could be buying a cheap knockoff!
Buckwheat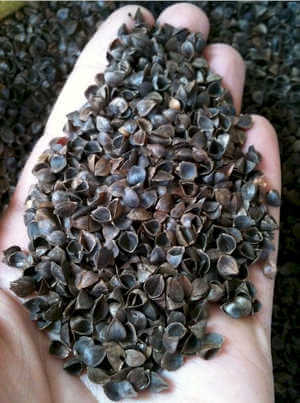 Buckwheat pillows are hugely popular in Asia but far less so in the UK though some do get manufactured here! Buckwheat is a type of fruit but it's the tiny husks that get used in pillows. They get thoroughly washed and then filled into the pillowcase where they naturally mould into your head and neck offering unparalleled support.
Great for neck pain sufferers but you have to put up with them being quite noisy when you move around and new ones sometimes come with somewhat of a smell. This does go away you just need to air them a while first
They are really similar to the feel of microbead pillows you get for traveling.
What to look out for when comparing Pillows Firmness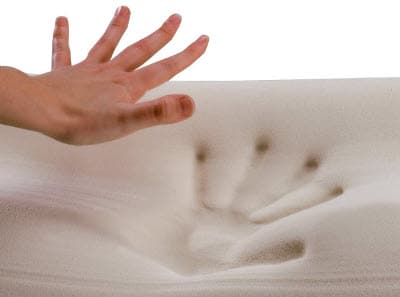 Pillows generally fall into three categories of firmness: soft, medium, and Firm.
Soft doesn't have much support so if you have any sort of neck stiffness or pain you definitely want to stay away from them. I personally don't get a good sleep on a soft pillow because I'm a side sleeper mostly and it tends to make my head droop at an angle and I wake up with a stiff neck.
Medium is(unsurprisingly) a good middle ground between softness and support. If you have a couple of plump medium pillows that's all you need for back and side sleepers.
Firm doesn't mean you're lying on a brick it just means you get great support on your shoulders and neck. You don't sink in nearly as much so if you have wider shoulders then a hard pillow could be the answer to your sleep problems.
Is it hypoallergenic
Hypoallergenic pillows are much more necessary or people with Asthma (like myself) or people who have allergies.
I've found, that non-hypoallergenic pillows tend to carry a lot more dust which always makes me wake up wheezing and short of breath.
I was also doing some research into dust mites and found that they actually belong to the same family of species as spiders! Yuck! So even if you don't have allergies or asthma getting a hypoallergenic pillow is not the worst idea.
Fortunately, memory foam is naturally dustmite resistant and their dense nature means they don't trap dust inside of them.
What type of sleeper it's for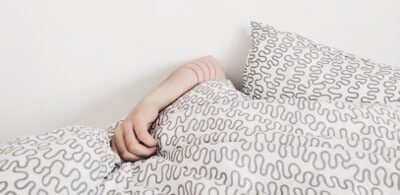 This is perhaps the most important factor of all. Because if you're a front sleeper and get a pillow designed for side sleepers you're going not going to sleep comfortably.
How do you know what type of sleeper you are?
You obviously don't know what position you're in while you're asleep but what you do know is the position you most commonly fall asleep and wake up in.
For instance, I can't really fall asleep unless I'm lying on my side, and then when my alarm goes off in the morning I wake up and I'm still on my side.
Occasionally I wake up and I am on my front or my back but more often than not I'm on my side which makes me a side sleeper.
So make sure you know what type of sleeper you are, and if you tend to sleep in all positions (not at once) don't worry, there are pillows for that too!
Complete Review of the Best Pillows in the UK
To be perfectly clear right at the start, cheap pillows are rubbish. If you're paying less than £10 it's not going to last more than a few months and will offer virtually no support to your neck and head leading to neck pain and headaches.
Remember, you're worth more than that!
I link to all the pillows I recommend to where you can but them so you can check the price and read some other reviews yourself
To make things easier I've divided them into separate categories so have a read and see what you think! I've started off with my personal favourite, the Panda Pillow.
Best UK Memory Foam Pillow
Although memory foam pillows aren't for everyone it is widely agreed that they are great for dealing with any sorts of aches pains that occur through the night.
They offer superior support of the neck as well as being naturally hypoallergenic, definitely the cream of the crop.
Memory foam is also a little more versatile being great for pretty much every type of sleeper, neck pain sufferers and even snorers so I often refer back to here in the other sections.
Panda Bamboo Memory Foam Pillow Review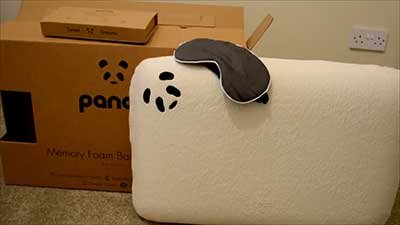 Brand: Panda Life
Filling: Memory Foam
Firmness: Firm
30-Day Trial
10-Year Guarantee
Breathable Bamboo Cover
Great For Back And Side Sleepers
Great For Neck Pain
Environmentally Friendly Packaging
Panda Life changed the game for the world of pillows. They have produced one of the comfiest pillows around and have managed to design it so that it lasts 10-years! Most pillows last around 2 so that is just insane value for money, doubly so because it's not even the most expensive product on the list.
And in case you worried a memory foam pillow isn't for you, they've provided a 30-day trial so that you can try it out at home and then return it for a full refund if you don't like it.
The cover is made from bamboo which is a wonderfully soft material that is naturally hypoallergenic, breathable and temperature controlled, it wicks away moisture which is ideal if you suffer night sweats at all, and it is one of the most environmentally friendly materials on the planet.
Now the pillow is about 12cm tall making it perfect for Back and side sleepers but it might be a little too tall for front sleepers. It's got a firm feel but this certainly doesn't make it uncomfortable and the memory foam perfectly cradles your head helping with any neck pain you might suffer from.
The final bonus is that Panda Life give a portion of the money they make to the WWF to help maintain wild panda habitats.
Overall this hands down wins and gets The Dozy Owl Seal of approval, a pillow that can last 10 years is immense and a deal that can't be missed out on.
Impress Deluxe Review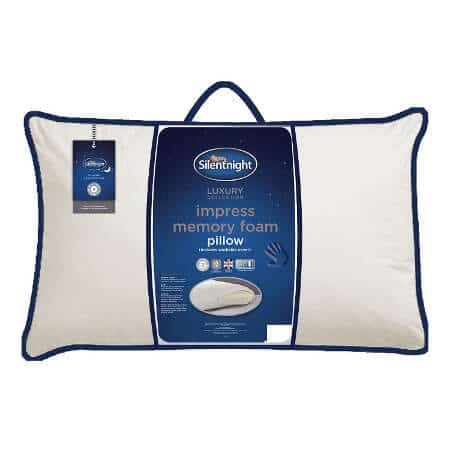 Brand: Silentnight
Filling: Memory Foam
Firmness: Firm
Washable Cover
Suitable for back and side sleepers
Neck and head Support
Silentnight have been experts in all things beds for a long time, this expertise has certainly carried into their memory foam pillow. The poly/cotton cover is nice and soft but It can only be wiped clean so I'd get it into another pillowcase to keep it fresh.
It comes in plastic packaging which always makes the memory foam smell worse so you definitely need to air it out before you get it on the bed. Finally, the 2-year guarantee is a nice touch, the upper end of how long a normal pillow should last.
Tempur Cloud Pillow Review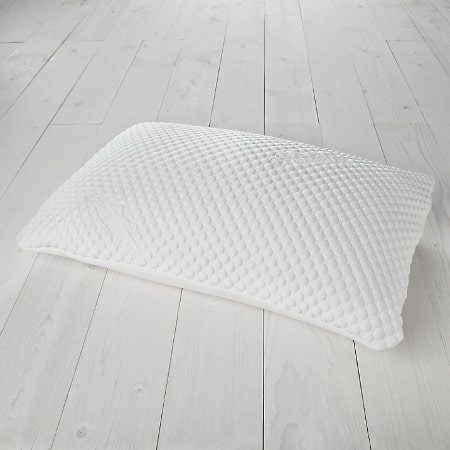 Brand: Tempur
Filling: Memory Foam
Firmness: Medium-Firm
Great For Front Sleepers
Cotton Cover
Removeable and Washable Cover
Very Reputable Brand
3-year guarantee
Tempur were the first company to bring memory foam to the masses with their innovative mattress. Now they still dominate the market with high-quality products and have produced the only memory foam pillow great for front sleepers.
It's got a soft cotton cover that you can take off and put in the washing machine. The downside? It's the most expensive pillow on the list, It's supreme quality definitely qualifies it for the list but a 3-year guarantee falls short of Panda's 10 so value for money isn't quite there.
Sealy Posturepedic Spinal Alignment Pillow Review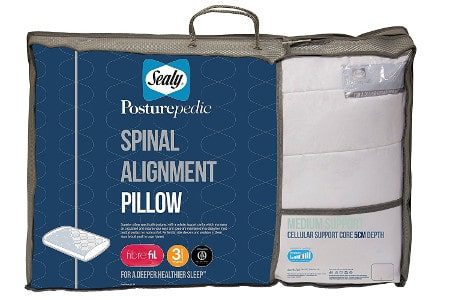 Brand: Sealy
Filling: Memory Foam
Firmness: Medium-Firm
Combination of Memory Foam and Hollow Fibre
Available in three depths
3 Year Guarantee
The Sealy isn't technically a memory foam pillow but a hollow fibre one with a memory foam core. This is great for people who need extra support but can't get used to memory foam. Not being 100% memory foam helps keep it cooler and more breathable too so it's a great compromise for those who experience night sweats.
What's really cool is they sell three different sizes of core, 3 cm, 5 cm, and 7 cm, so you can buy the right one for you. If you're a smaller person go for 3 cm and the bigger you are the taller you'll need.
Best UK pillow for Side Sleepers
As a side sleeper myself I was more than familiar with waking up to a sore shoulder and an achy neck. But no more!
Now I have a pillow specially designed for side sleeping and I haven't looked back since.
Side sleepers generally need a thicker pillow to account for the shoulder while a firmer pillow is still needed to support the neck and stop it from drooping.
I actually recommend the Panda pillow from the memory foam section so head up there to read that or click the button below.
It's a nice height for side sleepers and the 10-year guarantee will have you sleeping soundly for a long time to come.
Eve Memory Foam Pillow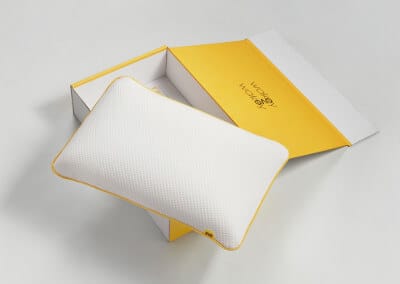 30-Day Trial
3-yar Guarantee
Medium-Firm
Washable Cover
Superb Comfort
Eve are masters of memory foam and their pillow is the perfect pillow for side sleepers. It's plump and firm enough that it perfectly supports the shoulder while the memory foam contours your head keeping your neck supported and eliminating morning neck ache.
You also get to order it through the eve website where you get a 30-day trial to try it out and if you don't like it you get a full refund. Then it has a 3-year guarantee so if it doesn't stand the test of time you can swap it for a new one!
The memory foam is hypoallergenic and the support it offers makes it the best pillow for side sleepers.
Side Sleeper Pillow Review
<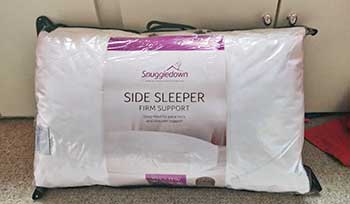 Brand: Snuggledown
Filling: Cluster Fibre
Firmness: Firm
Box wall support
Machine Washable
Firm Feel
It may lack an original name, but the side sleeper pillow does what it says on the tin.
The box wall support offers superior support of the head and neck when sleeping on your side as it helps retain the extra height lying on your shoulder provides. Have a look at it yourself in the picture below: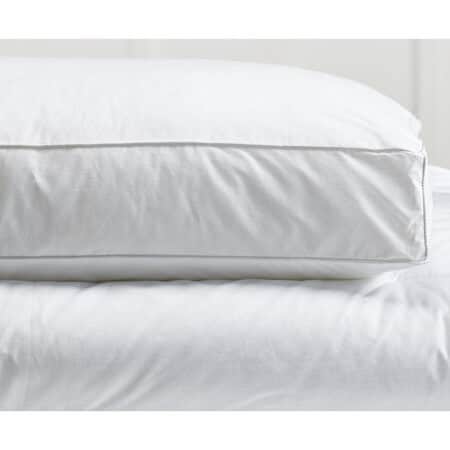 A great side sleeper pillow on a budget only problem is it won't last much longer than a year.
Best UK pillow For Back Sleepers
Back sleepers are people that tend to lie on their back throughout the night. Your head is not kept as high as it would be when you sleep on your side so the pillows tend to be a little smaller.
You should also be aware that sleeping on your back can cause snoring so if you're a snorer you might want to look further down the list at the best pillows for snoring.
Back Sleeper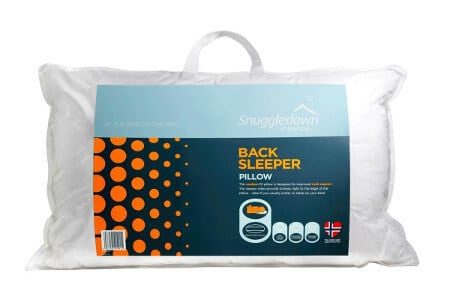 Brand: SnuggleDown
Filling: Cluster Fibre
Firmness: Medium
Machine Washable Cover
Support designed for back sleepers
Medium Feel
Another pillow lacking an original name and the counterpart to the above pillow for side sleeping. Snuggledown has hit two out of the park now with their Back Sleeper Pillow. Designed to be well filled right up to the edges this is exactly what you want for a back sleeper.
Good well-rounded support around the head helps keep tension off the neck and lets you sleep deeper for longer.
For a memory foam alternative check out the Panda Pillow further up the article.
Best pillow for Front sleepers
Whenever I wake up on my front it tends to be in a puddle of my own drool… So I always try and avoid sleeping on my front when possible.
But often when I'm in hotels I notice they have pillows more suited to front sleepers and tend to fall into the position myself while I sleep.
The key for sleeping on your front is to get a thinner pillow. You don't want to have your head lifted too high or it will cause your neck to twist unnaturally and your back starts to arch the wrong way.
So here are the best pillows for front sleepers
Brand: Hyde & Sleep
Filling: MicroFibre & Memory Foam
Firmness: Medium
Machine Washable Cover
Support designed for Front sleepers
Medium Feel
Dual Filling
The Hyde and Sleep pillow is ideal for front sleepers, it is thin squishy and super comfortable.
The combo of memory foam and microfibre help soften it up a lot more than memory foam but the memory foam still gives you enough support to help keep your back in line.
Everything you could want in the best pillow for front sleepers.
Best UK Pillow for Neck Pain
Now this is a hugely important category.
Waking up with neck pain every day is not a fun way to live but help is at hand! There are several pillows specially designed to deal with neck pain.
Neck pain is caused by unbalanced support. If your head is drooping at all while you sleep it is going to cause you neck pain. So you need to get a pillow that fully supports your head and neck while you sleep.
The pillows I recommend below are ideally suited for sorting out your neck pain but any of the memory foam pillows from further up will do great too.
If you've tried several pillows and still wake up with a sore neck then please contact your doctor for advice. Or if it's back pain you suffer from check out our article on the best memory foam mattress toppers.
For more info on Neck Pain Pillows Check out My Guide To The Best Pillows For Neck Pain.
Super Comfort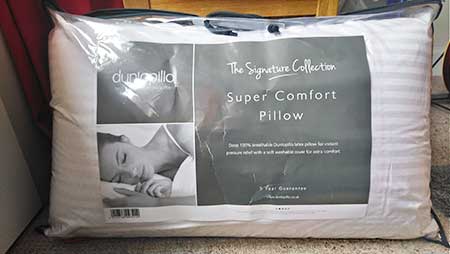 Brand: Dunlopillo
Filler: Latex
Firmness: Firm
100% Natural Latex
Washable Polyester Cover
Hypoallergenic
Suitable for back and side sleepers
5 year guarantee
Although it may be a little high for shorter back sleepers, the super comfort is certainly ideal for side sleepers. This Dunlopillo comes with a removable machine washable cover.
Dunlopillo also stick a whopping 5-year guarantee on their latex pillows which is a nice touch
The latex is super responsive to your head but has a bouncier feel than memory foam does making it absolutely ideal for neck pain sufferers.
For those looking for a latex pillow this really is the one stop shop offering the best value for money with a 5-year guarantee. And the knowledge that it is in fact 100% natural latex, no hidden chemicals, is a bonus.
100% Organic Buckwheat
Brand: Brow Farm
Filling: Buckwheat husks
Firmness: Firm
Lifetime guarantee
Natural alternative to memory foam
Natural Temperature control
Now stick with me here. I know it sounds a little odd having a pillow filled with buckwheat husks but trust me, buckwheat pillows are going to soar in popularity.
They offer some of the best neck support possible in every sleeping position thanks to the firm yet comfortable filling. They are also naturally ventilated and keep cool through the night. If you don't like how it feels you can just bash the filling around until you get it right!
The downsides are they do make a little noise when you move around on them and the pillow itself weighs around three kilos.
The husks are also triple washed ensuring a complete and thorough clean before they are put into the pillow casing.
Single Contour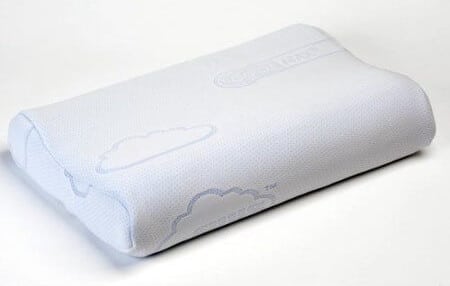 Brand:Snug
Filling:Memory Foam
Firmness: Firm
Contoured to follow your neck
Coolmax washable cover
Suitable for back and side sleepers
Cheaper alternative to Tempur
This is basically a cheaper version of the Tempur Original Memory Foam Pillow Featured earlier. It is a lot cheaper but you also lose some of the quality because of that.
So depending on the severity of your neck pain please consider getting the Tempur, it is a better quality pillow.
But some of us have a budget to stick to and the Snug offers a Coolmax washable cover designed to regulate temperature while you sleep. A countered neck to provide better support to the head and neck eliminating neck pain.
As with any memory foam pillow be sure to air it out for at least 24 hours without the cover before you use it.
This is a great budget alternative for helping stop neck pain while you sleep. It is also a less holistic method if you're not quite ready for buckwheat.
Best UK Pillow For Snoring
Ah snoring, the ender of marriages and the ruiner of friendships. Fortunately, something can be done!
The reasons for snoring are quite varied, but the two that can be solved by changing your pillow are snoring caused by a blocked nose and snoring caused by lying on your back.
If you snore because you have a blocked nose then this can be solved by getting yourself a hypoallergenic pillow. The dust and dirt that get caught causing you to get a blocked nose.
So the best choice is to get yourself a memory foam pillow, any of the lists from further up will be perfect.
Now for back snorers here's the solution:
L-shaped Maternity Pillow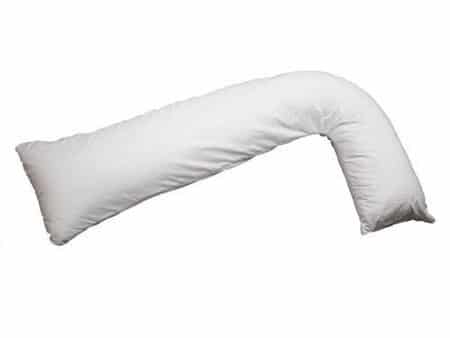 Brand: Snuggle Up
Filling: Polyester
Firmness: Medium
Hypoallergenic
L-shaped for body and head pillow
Wait! Now before you scoff and carry on scrolling here me out. No this isn't some kind of joke or a misplaced section, a full body pillow can stop you snoring.
Using a body pillow encourages you to sleep on your side and once you're on your side you're much less likely to snore. Easy!
I saw one alternative which was taping a tennis ball to the back of your shirt so you wake up when you roll on your back to stop it happening, but I think this is a much more pleasant solution to stop you snoring.
If you're reading this on behalf of a male partner who snores you can always buy it for him without telling him it's a maternity pillow.
It is the best tip to stop snoring you'll ever get.
F.A.Q
Why should I change my pillow?
Old pillows lose their firmness which means they start lacking the support of new ones. This can lead to neck pain in the morning as well as a more disturbed sleep because you can't get comfy and keep tossing and turning.
Old pillows are also much more likely to be filled with dust and bacteria and have dust mites living in them, which as I said earlier are from the same family as spiders!
Will a new pillow help with acne?
Yes it likely will! Old pillows trap all the dirt and grime that comes from your face and hair while your sweat in your sleep. This then gets trapped and next time you come to bed all that grime goes straight back onto your face which can lead to acne and greasy hair.
How often should I change my pillow?
The obvious times are if your pillow is yellow. If it's that colour it needs to be binned immediately because it's filthy!
Otherwise it varies but is usually around every 1-2 years. A cheap one might only last you 3-6 months while a well kept higher quality pillow will last you for years.
You can also check to see if your pillow has lost its firmness with a simple test depending on its type:
Feathers
Feather pillows offer some of the worst neck support. So if you have a feather pillow and tend to wake up in pain, consider changing to either a synthetic one or a memory foam.
To test them, you want to fold it in half and squish the air out of it. If it plumps itself back up and unfolds then it is still fine, but if it stays in half it's ready for the bin.
Synthetic
Synthetic pillows are naturally very springy so we need a slightly different test. Again fold the pillow in half and squish the air out of it, but this time, you want to place a medium-sized book on top and see if it unfolds.
If it does you're fine, if not turf it.
Memory Foam
For memory foam pillows you want to place it on a firm surface and press down on it firmly with your hand. If it doesn't completely spring back in 2 minutes then you need to get yourself a new one.
How do I clean my pillow?
It all depends on what type you have and you should always follow the instructions on the label.
Most synthetics are machine washable so all you have to do is stick it in the washing machine on a lower spin cycle and then either dry it in a tumble dryer or line dry it in the sunlight. IF you can't do either of those consider going to a laundry where you can use a tumble dryer.
Memory foam is a little more tricky, the bonus is they don't harbour germs so don't need fully washed. If you spill something on it or anything like that there are ways you can clean it, have a look at this video for a full how-to.
How Many should I sleep with.
It depends on the type and the type of sleeper. Generally, one memory foam is enough for all types of sleeper. But if you are broad shouldered then you should consider more. You want enough so that your head lies flat and is not at an angle so best to test out yourself to see what works!
References
Some of the pictures were from John Lewis
Related Reading