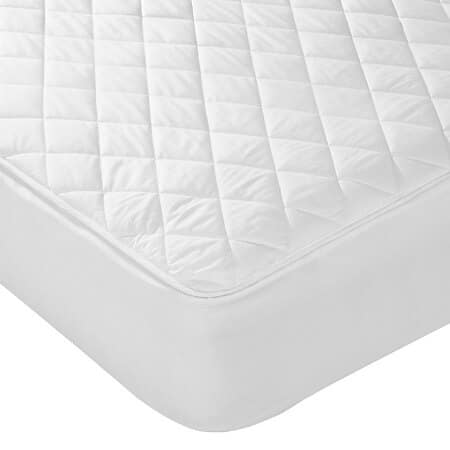 Mattress protectors are an absolute bedding essential.
They help increase the life of your mattress and keep it fresh, after all, it's a lot easier to get yourself a new mattress protector than replace the whole mattress!
I know I for one am a very sweaty sleeper, and I know a lot of other people are too. That's why a waterproof mattress protector is an essential. And if you have a tendency to drink in bed you don't have to worry about spills or anything else soaking through to the mattress and ruining it. Be that a child who has a tendency to wet the bed or an adult suffering incontinence problems.
You can get quilted non-waterproof protectors which protect from dust mites and add some extra comfort to a bed but if you're going to do that you might as well get a mattress topper. That said they do provide additional breathability which helps prevent night sweats but so do some waterproof protectors. The main difference is the material they are made from and if that might cause you some sort of allergy problem.
How They Protect Your Mattress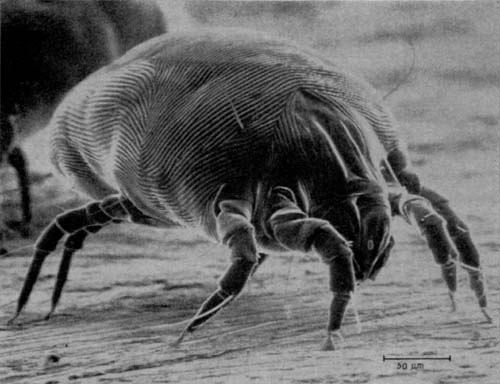 Let's start with the obvious. A waterproof protector keeps moisture away from the mattress. This stops those big yellow stains from appearing and stops the growth of bacteria. A wet mattress is also quite likely to become a very mouldy and a very smelly mattress.
They also stop dust mites from entering the mattress, once the dust mites get in there isn't a lot that will get them out again. A lot of people have allergies to dust mites causing them to have blocked runny noses and scratchy throats in the morning. This isn't to mention that dust mites actually belong to the same family of bugs as spiders which is just a gross thought!
You might then be worried about all the dirt and bugs that live in your mattress protector, well luckily all the mattress protectors recommended here are machine washable. And it is a lot easier to fold up a mattress protector and put it in a washing machine than a mattress!
Most Important Features To Think About
Ultimately there are just a few different boxes your mattress protector needs to check for you to be certain you've got a good one. I've given a little run down on these features below:
Machine Washable
Your mattress protector is effectively catching all the bacteria and dirt before it can enter your duvet so being able to wash it is a must. Now something that is hand washable is fine but who can really be bothered to hand wash anything these days? When it's so much easier to throw it in your washing machine and let it do all the hard work for an hour.
That's why all the mattress protectors recommended here are machine washable.
Waterproof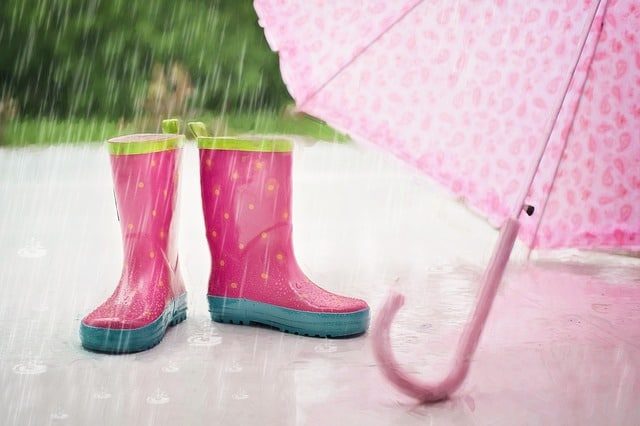 One of the most important factors if you are a sweaty sleeper. Nobody wants a mouldy mattress to sleep on. The flip side is that no one wants a protector that russells and makes you feel like you're in hospital so you need to get a good quality blended fabric protector.
If a lot of liquid gets into a mattress it is going to take a long time to get out again. Considering it's wrapped up in bedding no air flow around it there's no way it's going to dry itself out quickly. That's when you start to get a damp smell coming out your bed and bacteria begin to thrive.
And if you're buying for a young child who perhaps still wets the bed then you definitely need it to be waterproof. The same is, of course, true if your an adult suffering from incontinence, a waterproof mattress topper is a must.
Breathable
As I said you want one that can let air flow in and around your back and between you and the mattress, this stops you from overheating but still keeps you warm. It also stops it from starting to smell at any point.
Comfortable Material
Finally you want one that's comfortable. The main feature of a protector is not comfort, you want a mattress topper for that, but you still want something comfortable to lie on! After all, your bed sheets are only so thick so you don't want something jabbing through them and tickling your back all night.
With that said let's get to the main event!
The Best Mattress Protectors Reviewed
John Lewis Micro-Fresh Waterproof Quilted Mattress Protector Review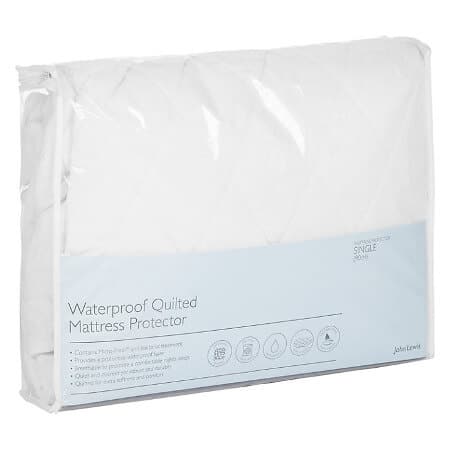 5 Year Guarantee
Waterproof
Breathable
Machine Washable
Hypoallergenic
This is by far the best waterproof mattress protector you can buy. Without a trace of a plastic feeling you can hardly tell it is waterproof but I can assure you that it is. The quilted top gives it a luxurious feeling with added discreetness to the waterproofing.
The Micro-Fresh technology is award winning and refers to the hypoallergenic material built into it adding an extra layer of protection to the mattress safely concealed underneath. Not a chance are any germs, bacteria, dust mites or anything else going to make it through this!
The only downside is that you can't put it in the tumble dryer which makes drying it out a little harder. But clotheslines are made for a reason.
It can fit any mattress up to 35 cm deep with ease and provides superb comfort. Just because something's practical doesn't mean it can't be luxurious as well.
Tempur Waterproof Mattress Protector Review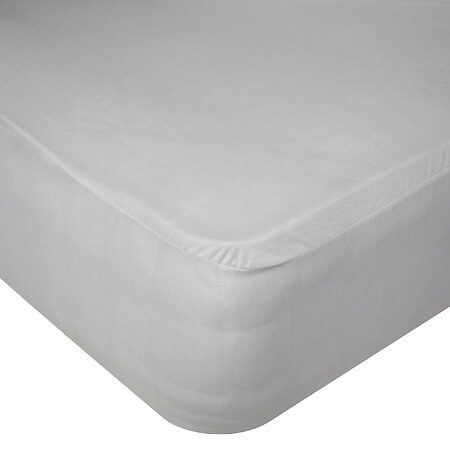 Machine Washable
Tumble Dryer Friendly
10 Year Guarantee
Waterproof
Can Sleep Directly on the Protector no sheet Required
Although this is primarily designed for tempur mattresses I had to include it on the list for one simple reason. It is made at such a high quality that you can sleep directly on it no other sheets required. And that's awesome!
It makes it absolutely ideal for those who have to deal with "accidents" in the bed by halfing the amount of washing you have to do after. You don't have to wash the bed sheet and the protector just take this off and put it in the washing machine. Then you can put it in the tumble dryer and have it straight back on the bed.
Given that's the case what makes it unbelievable is that Tempur have put a 10 year manufacturers guarantee on the product itself. For something you can sleep directly on that says a lot about the quality this is made with.
The only reason I put it second to the one above is the extra cost makes it slightly less accessible and the 27cm max depth makes it unsuitable for a lot of mattresses. But if this will fit on your bed then you wont be dissapointed with the soft comfort, breathable material and full waterproofing.
Best Non-Waterproof Mattress Protectors
I've talked a lot about all the great reasons to getting a waterproof mattress protector but the fact is if you don't really need one you might be better off with a non waterproof. They aren't necessarily any better or higher quality but they do come in a little cheaper than their waterproof counterparts so it's something to think about.
John Lewis Micro-Fresh Cotton Quilted Mattress Protector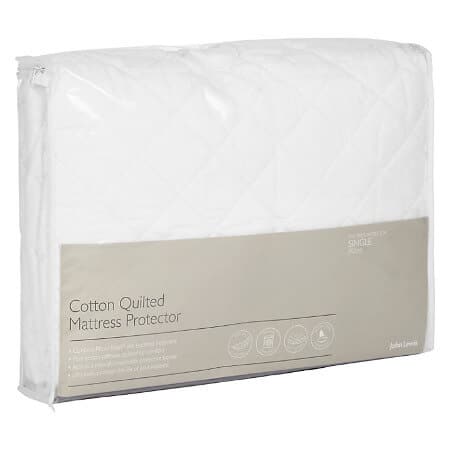 Machine washable
5 Year Guarantee
Great Price
100% Cotton
Hypoallergenic
Very similar to the first John Lewis protector the main difference being that this one is 100% cotton instead of a cotton-polyester blend. There is some padding provided from the quilting which is a nice touch adding an extra comfort layer.
The quilting also provides additional breathability by letting more air move around underneath which stops overheating in the night. The micro-fresh material then stops the spread of any bacteria that you might have taken into bed and completely blocks the chance of any dust mites finding their way into your bed.
All in all it's a well priced good quality mattress protector which is everything you could possibly want.
Conclusion
I think the John Lewis Waterproof mattress protector has to be the best one available right now. It's quilted top provide a little extra comfort while the waterproofing goes entirely unnoticed. So even if you don't necessarily need the waterproofing you might aswell get it for those just in case scenarios! A hot chocolate in bed going flying or any worse eventualities you can think of.
Related Reading
Best Mattress Topper – The Expert Buyer's Guide
Tempur Mattress Review – The Best Mattresses For Back Pain