Long, long ago, there was the search for the greatest mattress. We searched high and low for the perfect night's sleep, bouncing on bed after bed. Eventually, we found that mattress. But now… there is a new quest.
Finding the perfect mattress topper.
As dramatic as I made that sound (you don't have to tell me I should have been a playwright, I already know), finding your perfect mattress topper is well worth the time.
It can really improve your sleep, without the expense of shelling out for a new mattress. Even though it's recommended we change our mattress every five to ten years, that just isn't a reality for most of us.
In this article, I'm going to explain why mattress toppers are so great and I've put together a list of the best mattress toppers on the market, as well as links to where you can buy them online.
Grab your armour and let's go questing for your perfect mattress topper!
Oh! And to find out more and order yours just click on the name in the list below.
What are the benefits of a mattress topper?
1. They're more hygienic.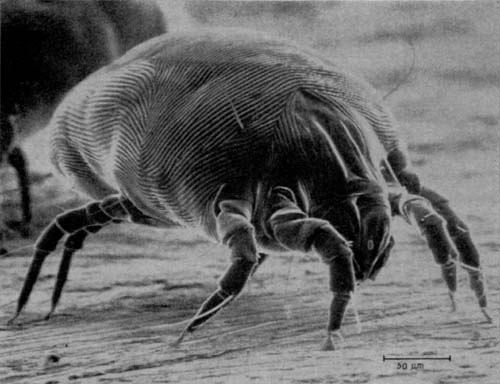 Firstly, a mattress topper can help prevent dust mites from making a home in your mattress. There are specific types of mattress topper you can buy that are made of dust mite-resistant material. Even if you don't have an allergy, this is a great benefit.
Nobody wants dust mites!
Secondly, mattress toppers prevent damp from settling into your mattress. If you are prone to night sweats or your home gets quite damp generally, then this can create mould or mildew inside your mattress. Once this happens, it's extremely difficult to get rid of.
A mattress topper stops this process before it starts, preventing moisture from reaching your mattress at all. Much cleaner!
2. They help keep you cool.
We've all been there – tossing and turning, pyjamas clinging to your sweaty back as you desperately try to get off to sleep.
Overheating can make it impossible to sleep deeply and if it continues for a long time, can lead to bigger health issues related to a lack of sleep.
There are lots of mattress toppers available that have been designed to control your temperature and can even retain heat when you need them to, without making you sweat.
3. They can reduce back pain.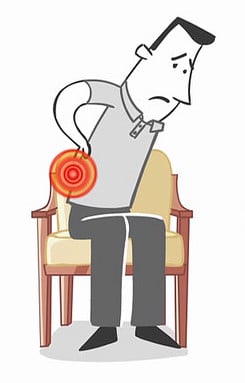 I've said it countless times that back pain is one of the worst things in the world. It makes it impossible to get comfortable and drift off.
A mattress topper – specifically a memory foam or latex one, which I'll get into later – is perfect for helping reduce back pain.
These types of topper allow you to settle into a natural position but keep the pressure off your back at the same time. They vary in thickness too, so you can get the perfect one for you.
I've written a few other posts about getting the right bed set-up for dealing with back pain if you want to read more:
If back pain is the big thing stopping you from sleeping, then I would always recommend going to see your doctor about it. I can't advise you on what might be causing it and the best option is always to see an expert.
4. They stop your mattress from sagging.
Have you ever stayed in a hotel or at someone else's house, rolled over, and felt as if you were falling down a hill?
This is what happens when your mattress sags.
Some will sag faster than others depending on the quality and material of the mattress. Being overweight or tossing a lot at night can sometimes hasten it.
As with most things, it is better to prevent a problem before it gets too bad to fix!
It's best to get yourself a mattress topper to prevent your mattress from resembling a hammock before it is too late.
5. They're easy to clean.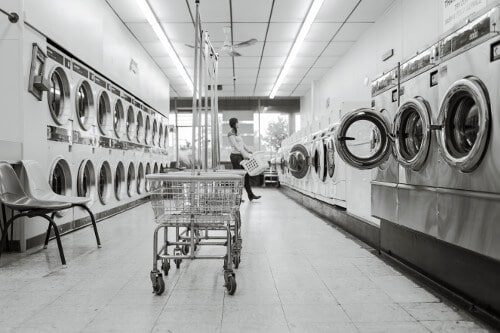 A mattress that's in need of a wash is a nightmare. An absolute nightmare.
Most mattress-cleaning recipes need a lot of scrubbing, vacuuming, crossed fingers, elbow grease and good luck.
Now look at a mattress topper: spinning round in the washing machine while you sit with a cuppa.
This is kind of a no-brainer.
A mattress topper is much easier to clean than a mattress and can keep your mattress fresh for longer, depending on the type of topper you go for.
6. They reduce noise and movement.
Having your own side of the bed is pointless if the person you're sharing with shakes the whole thing when they roll over.
This can be a real pain and can lead to a lot of sleepless nights!
There are lots of toppers available, particularly those made of memory foam, that can reduce the noise and movements you make as you sleep – great for when you're at the end of your tether!
7. They are incredibly comfy!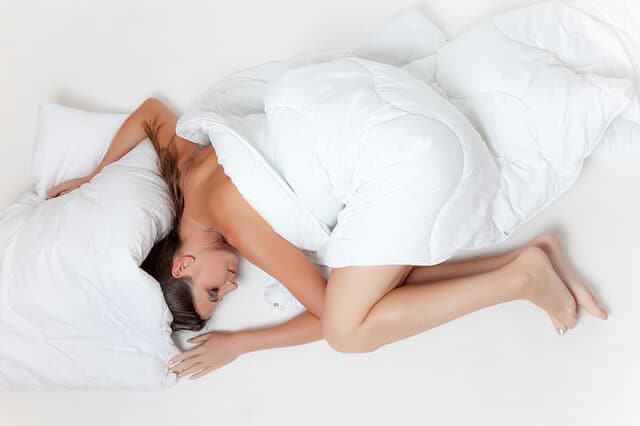 This is the most obvious benefit and the nicest one!
Regardless of whether the other benefits on this list apply to you, a mattress topper will always make your bed more comfortable.
You can get yourself the perfect material and thickness and you'll never want to leave your bed again…
The Eight Best Mattress Toppers
Now that you know how great mattress toppers are, here are the seven best mattress toppers. With each one you'll find a short review and a link to where you can buy it online.
If you have any questions, feel free to leave them in the comment box at the bottom of this post and I'll be able to get back to you.
1. Panda – Memory Foam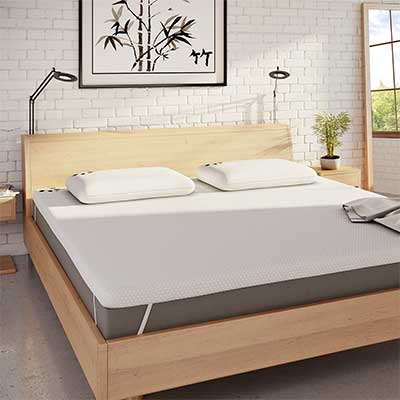 10-Year Guarantee
Cooling Memory Foam
Washable Bamboo Cover
5 cm Thickness
This is my favourite mattress topper on the list.
It's what I have on my own bed!
This topper is made with memory foam, which makes it really comfortable and provides a lot of support.
One of the downsides about memory foam is that it can cause overheating but this mattress topper is different.
Panda have created a Hydro Foam layer – memory foam mixed with a cooling gel – which will ensure you get a sweat-free sleep.
This topper also has a bamboo cover. It's breathable and soft, with the added plus of being made from a sustainable source.
On top of all of that, this topper comes with a 10-year guarantee. 10 years! What could be bad about a decade of excellent sleep?
2. Eve – Memory Foam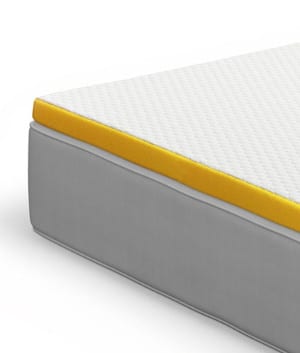 5cm Thick
Cooling Layer
Superb Comfort
Hypoallergenic
Great For A Bad Back
30-Day Free Trial
Similarly to the Panda topper, this is a memory foam mattress topper that's designed to stop you from overheating. It's also very comfy and provides support for your back and joints.
While it doesn't have straps to hold it in place on the mattress, it does have a layer of anti-slip material on it to stop the topper from slipping off the bed. Once you have your sheet on you should be alright but making your bed around this mattress topper can be a bit of a pain.
The Eve topper also comes with a 30-day trial, so you can properly test it out before committing to it. If you don't like it, you can return it for a full refund. It also comes with a three-year guarantee but with the quality of it, this topper should last you much longer than that.
3. John Lewis Soft Touch- Synthetic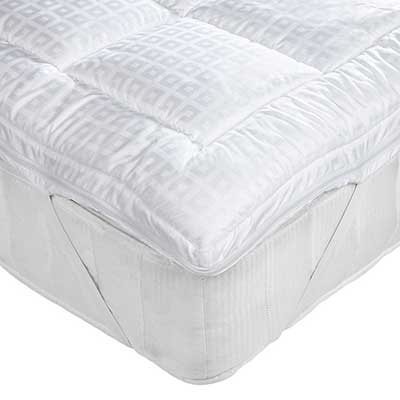 Polyester Filling
6cm Deep
Machine Washable
2 Year Guarantee
Superb Comfort
This topper feels very luxurious – 6cm deep and covered in a 100% cotton cover. The box stitch lining keeps all the filling in place, ensuring an excellent sleep.
It's really comfortable but it is on the softer side, which means there isn't a lot of support. If you suffer from back or joint pain, this might not be the one for you.
Another good thing about this topper is that it's machine washable – easy.
It can be unzipped to create two pieces, which means you can have one in the wash and one on your bed. You never have to be without it! It can also be tumble dried on a low heat, so you can get it back on the bed ASAP.
The only bad thing is that John Lewis tend to sell out of this topper quite regularly, so it can be difficult to get. This says a lot for the quality of it but does mean you might need to be patient!
Best Latex Mattress Topper
4. Yanis – Latex Mattress Topper

Made of Latex
Hypoallergenic
8cm Thick
Great for Dealing wit a moving partner
Temperature Controlled
Natural latex is a brilliant material for sleeping on, since it has so many benefits. It helps relieve back and joint pain; it's naturally microbial; and it's dust-mite resistant.
This topper is 8cm thick, which is perfect for disguising any imperfections in your mattress. It will have a bit of resistance until you settle into a comfy position but then it will get softer. Once you wake up, the topper will bounce back into shape.
Yanis' topper is also a great option if you share a bed with someone who tosses around a lot while they sleep. With this on your bed, you won't even know they're there!
The only downside to this one, really, is that it doesn't fix to the mattress. Although it's quite heavy, so it shouldn't move around too much.
Best Wool Mattress Topper
5. Devon Wool Mattress Topper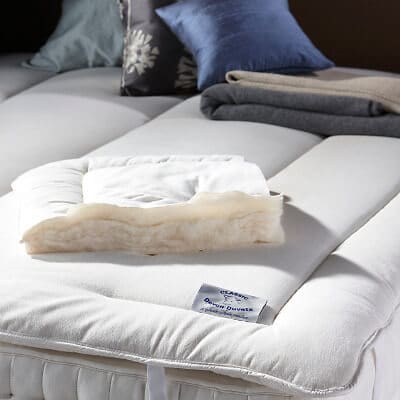 Wool Filling
5 Year Guarantee
Made in Britain
Sustainable
Doesn't require washing
Naturally Hypoallergenic
Firm Feel
This natural mattress topper is quite a bit thinner than the others on this list – 1.5 inches. However, this can firm up whatever mattress you pop it on, which would be brilliant for aching joints. And firm doesn't mean uncomfortable!
What I love in particular about this one, though, is that it's completely sustainable and humane. These toppers are made in Devon (as the name suggests) and when the sheep are sheared for the wool, they're sent straight back out into the fields.
Wool is a great material for a mattress topper, since it's naturally hypoallergenic. It's also breathable but will keep you nice and cosy.
Another great plus: this topper doesn't need to go in the washing machine. Just air it out once or twice a year and it'll be grand.
You'll get a five-year guarantee when you go for this topper too, so you know that you're getting a great product.
6. Merino – Wool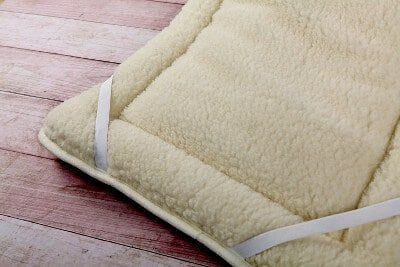 Made of Merino Wool
Temperature controlled
Reversible for different seasons
Hypoallergenic
Merino know that pure wool makes for a great mattress topper: it helps to keep you dry at night as it wicks away moisture and is dust mite-resistant. Two in one!
It's also a great material because it will keep you warm during the colder months as it retains heat but helps to keep you cool in summer, so there's no need to change your bed around.
This wool topper is also reversible. One side is corded, which makes it better for drawing away body heat and is very soft. The other side is fluffy, which feels more luxurious and also keeps you a lot cosier at night.
The disadvantage to a topper like this is that it's big and heavy. It also doesn't wash very easily, which is something to consider.
However, if you're prone to conditions like arthritis, the moisture-wicking capabilities of this topper would make it a great choice for you.
7. eLuxurySupply – Revoloft Fiberfill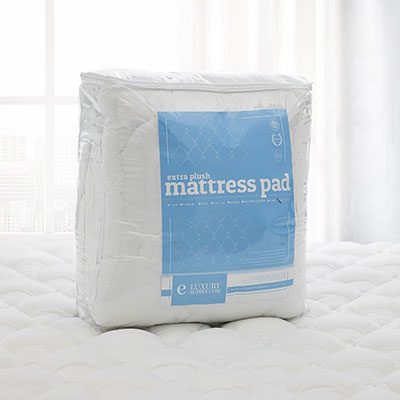 Extra Plush
Fitted Skirt
Hypoallergenic
The Revoloft is in this is pretty cool, it's a synthetic feeling that's made to have the same plump feeling you get from feather and down. And it's individually sewn pockets of filling so you get a really plump feel.
And it has a fitted skirt around it so it fits on to the bed like a fitted sheet would. It's a pain when your mattress topper slides down and you're having to heave it up again everytime you change the sheets, but not with this topper!
The only downside is the filling is very soft so if you have a very firm mattress you're trying to soften you won't have much luck with this topper but if you're looking for a nice soft topper that adds a more subtle layer of comfort then this is the one for you.
Best Cooling Mattress Topper
8. Silentnight Airmax – Hollowfibre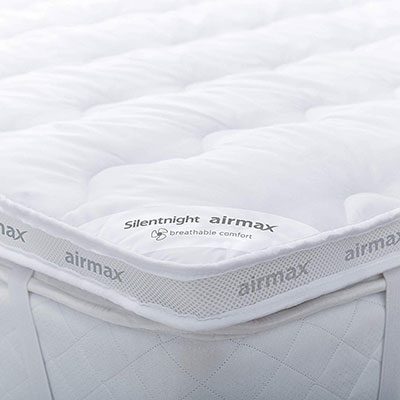 Cooling And Breathable
3 cm Deep
elasticated Corner Straps
Machine Washable
The Silentnight Airmax cooling mattress pad is absolutely tried and tested. It's a great price, easy care, no fuss topper.
Nice and breathable thanks to the air mesh sides so you get kept at a comfortable temperature all year round.
And it has corner straps to keep it in place so it won't just disappear from under you while you sleep. Nothing worse than having your topper walk down the mattress then your pillows sliding off the top.
It's machine washable so you can keep it clean and is available in single, double and king size. A nice alternative to a memory foam topper.
Click here to read my full review of the Silentnight Airmax Mattress Topper
Related Reading
Best Mattress Protector – The Expert Buyer's Guide
Best Memory Foam Mattress Topper – How to Stop Morning Back Pain
Best Mattress UK
Eve memory foam mattress topper review
Panda Memory Foam Mattress Topper Review
Mattress topper FAQ FAQs Can I use an electric blanket with my mattress topper?
Generally no, especially if you've got a memory foam mattress topper. But what you can do is get an electric throw which goes ontop of the bed to keep you warm.
How thick should my mattress topper be?
Three to six inches is usually enough.
With materials other than memory foam, you may need a thicker topper than that but it just comes down to your preference.
Will a cooling mattress topper make me feel cold at night?
Nope.
These toppers redistribute your body heat to stop you overheating. If you're cold, you'll still warm up when you get into bed.
Can a mattress topper make a soft bed firmer?
Sometimes, yes.
It depends on the material they're made from.
Some of these toppers are made from horse hair and stay firm when you lie on them, which'll fix a bed that's too soft.
I'm a bit stuck, I don't know which mattress topper I should get. What should I do?
Never fear! The Dozy Owl is here!
If you still have some questions or want some more advice that's specific to you, leave a comment in the box below. I'll be able to get back to you about what mattress topper would be your perfect fit.
Happy Sleeping!