Looking to lie on a cloud of softness while you drift off to sleep?
Look no further!
I've found the best soft mattresses and given a short review of each. And I've linked through to where you can buy them so you can check out the price and see some more information.
Here's a quick rundown of all the best soft mattresses on this list. Click the name to go to Mattress Next Day and order yours and use the code SAVE10 for 10% off!
5 BEST SOFT MATTRESS UK REVIEWED
Now it's time for the main event! I've gathered together some of the best soft mattresses and given you a short review of each so you can find exactly what you're looking for.
1. Top Pick & Best For Side Sleepers- STUDIO Memory Foam SOFTER Mattress BY SILENTNIGHT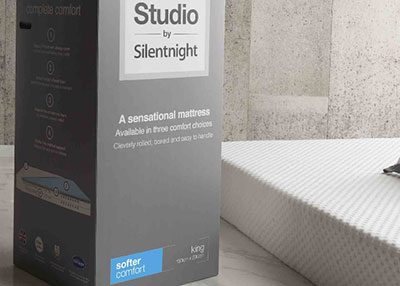 Comes Rolled In A Box
Soft Memory Foam
5-Year Guarantee
26 cm Deep
Use the Code SAVE10 For 10% off at Mattress Next Day through the Price & Reviews link above
The Studio By Silentnight Softer Mattress is an ideal choice for a soft mattress, it's fully memory foam and comes rolled up in a box so is nice and easy to get into the room you need it to. Only the Super king size comes delivered flat, the single, double, and king size all come in a box.
This is straying towards being a medium-soft mattress so is slightly firmer than some of the other ones on the list but still a soft feel overall and like all soft mattress it's good for side sleepers.
There is also Geltex inside which provides the much-needed breathability which is often missing from memory foam mattresses. It also gives it a little more bounce than a regular memory foam mattress. And the 26 cm is nice and deep so you can comfortably sink into it.
Overall the best soft mattress for side sleepers and just best soft mattress overall!
2. Softest Mattress – TEMPTATION 2000 SOFT MATTRESS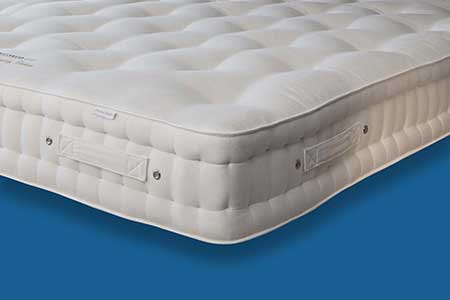 Brand: Millbrook
Material: Pocket Sprung
Damask Cover
2000 Spring Count
Hypoallergenic
Use the Code SAVE10 For 10% off at Mattress Next Day
The Millbrook pocket sprung mattress provides a soft feel without the need for memory foam, and the 2000 spring count is great value for the price.
There are convenient handles sewn on to the side which makes turning the mattress all the easier, and the traditional damask cover is lovely and soft.
This is a great one for couples because the edge support the mattress provides and the pocket springs mean you can move without disturbing your partner.
Overall, a great soft mattress for couples who don't want memory foam.
3. Best Budget Soft Mattress – Bed Butler COMFORT Pocket Spring MATTRESS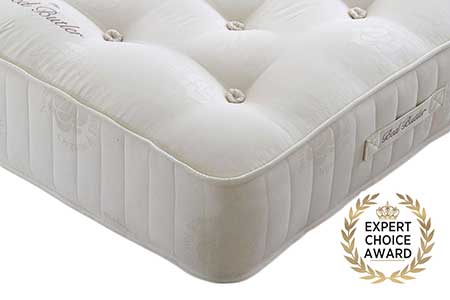 Brand: Bed Butler
Material: Pocket Sprung
Air Vents To Control Temperature
1000 Spring Count
Lower Back Support
5-year Guarantee
Use the Code SAVE10 For 10% off at Mattress Next Day
3000 Pocket Springs is absolutely phenomenal and makes the low price seem even better.
The mattress has been treated to make it hypoallergenic which is good and they're designed it with lower back support in mind which is ideal for a soft mattress.
The mattress is made with air vents on the side which help keep air circulating underneath you. This helps keep it fresh and keeps you cool through the night so you can sleep comfortably.
Overall, the spring count makes this an absolute bargain and the 5-year guarantee shows it'll stand the test of time and see you through many a night.
4. Best Luxury Soft Memory Foam mattress – SUPERSOFT 270 MATTRESS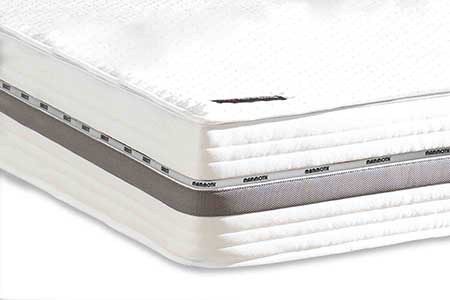 Brand: Mammoth
Material: Memory Foam
Medical Grade Foam
5-Year Guarantee
0% Finance Available
Tencel Cover
Use the Code SAVE10 For 10% off at Mattress Next Day
Mammoth have produced an extraordinary mattress, originally designed to help injured athletes recover it is now available to everyone.
The medical grade foam is specially designed to give maximum support and comfort as soon as you lie on it.
The cover is made with Tencel which is a material designed to naturally cool the body and wick away any moisture, ideal for night sweats, and it's hypoallergenic.
Although it's more expensive it comes with a 5-year guarantee so you can be sure you'll get your monies worth from it.
Overall one of the best soft mattresses on the list, great support lovely soft feel and a 5-year guarantee.
5.Best Soft Spring Mattress – Reylon Pocket Wool Silk Cashmere Mattress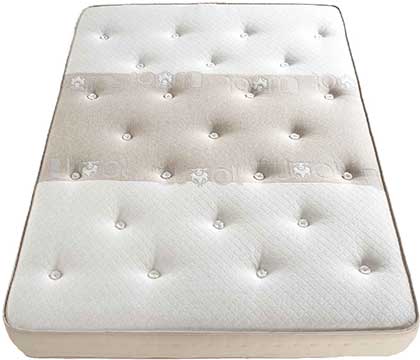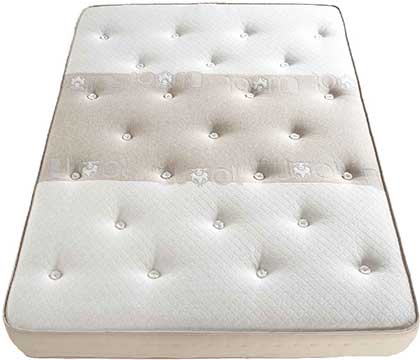 Brand: Reylon
Material: Pocket Spring
26 cm deep
Soft knitted cover
Natural filling
5-year guarantee
Price & Reviews
Use the Code SAVE10 For 10% off at Mattress Next Day
This is a great choice because of it's natural fillings, although it's more of a medium soft feel than a soft, but it's got a soft knitted cover that makes it feel that little bit softer.
This is actually a mattress in a box and gets delivered all rolled up, couple that with a 5-year guarantee and you're onto a winner.
Apart from that you've got edge support and no roll together making it the right mattress for couples while giving plenty of support to anyone who sleeps in it.
A superb choice of a soft spring mattress.
6. HYBRID SIGNATURE MATTRESS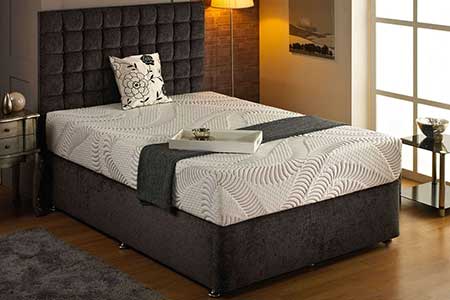 Brand: Kayflex
Material: Hybrid
1500 Pocket Springs
Made in the UK
1-year Guarantee
Use the Code SAVE10 For 10% off at Mattress Next Day
Kayflex have a great hybrid mattress with 75mm of memory foam and a spring count of 1500. Generally, the higher the spring count the more luxurious the feel with 1000 being low, 2000 being high and 3000 being luxury.
So 1500 is the perfect level to give you a nice soft feel with plenty of comforts. It's got a 25 cm depth so will sit fine on any bed and the hybrid combination gives it a really comfortable feel. Extra support from the memory foam keeps it soft but the springs give it a little bit of resistance when you lie on it for maximum comfort.
Again a 1-year guarantee isn't ideal but it does have a 5-year warranty so it'll definitely last.
Overall, a great mattress for those who aren't ready for a full memory but still want a soft feel.
Soft Mattress Type Explained
There are a couple of different materials you want if you're looking for a soft mattress, memory foam or pocket spring.
Soft Memory Foam Mattresses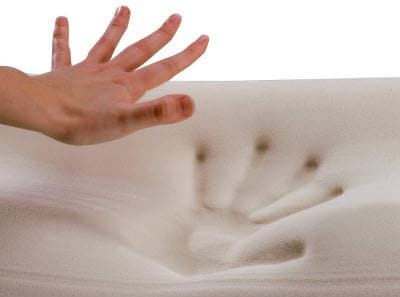 Foam and Memory Foam Mattresses are ideal soft mattress materials because foam can be made to be very soft! It's also completely hypoallergenic and gives you extra support working to ease pressure points and helping with spinal alignment keeping your back and joints happy through the night.
Memory foam moulds with your body heat so as your warm body lies on the mattress it heats up the foam which causes it to soften and hugs to your body. Memory foam is my favourite type of mattress because I'm a light sleeper and it works to lessen motion transfer, so when your partner moves you don't feel it leaving you sleeping soundly through the night.
Not all memory foam mattresses are made the same and the most common firmness level is medium-firm but I've found a soft mattress that you're going to love in the Studio by Silentnight.
More On The Best Memory Foam Mattress
Soft Pocket Spring Mattresses
Pocket springs are individually wrapped springs that all get lined up inside the mattress. Far superior to open coil springs which are all fused together in a big grid, individual pocket springs can move independently of each other.
The softness comes from the spring tension so again not all pocket spring mattresses are soft but the right one will give you a super soft bed to sleep on.
Pocket springs are a great choice if you still want a bit of bounce in your bed and want softness without a sinking feeling.
More On The Best Pocket Sprung Mattress
HYBRID MATTRESSES
Lastly we have hybrid mattresses which are a combination of a comfort layer of memory foam as the top layer and an inner filling of pocket springs giving you the best of both worlds. Extra support from the memory foam and the added familiarity of the pocket springs for extra bounce.
Sleeping Positions And Soft Mattresses
These are just general guidelines, if you have a personal preference then don't let me stop you!
Side Sleepers – As a rule soft mattresses are best suited to side sleepers. They sink in further which is what you need on your side so your shoulders and hips sink down keeping your spine aligned. If you swap between back and side sleeping then I'm sure you'll still get on fine on a soft mattress, just think about what position you tend to wake up or fall asleep in.
Back Sleepers – Back sleepers get on OK with sort mattresses but not the best, they can cause some pressure on your spine from the way you sink in. But if you sleep on your back and know you get on fine with a soft mattress then dive right in.
Stomach sleepers – If you're a stomach sleeper then a soft mattress will be a no go. You need a firmer mattress to keep your head propped up properly so you don't end up with unnecessary pain in your neck. I've got more on Frim mattresses here.
Soft Mattresses And BACK PAIN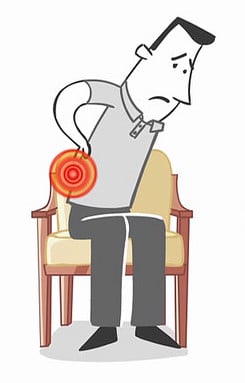 Soft mattresses can be very comfortable to sleep on but they have one major drawback, and that's a lack of back support.
It's not so bad if you sleep on your side because there's not as much pressure on your spine. But if you're a back sleeper, you need to be aware that if you ever wake up with a sore back then it will likely get worse if you buy a soft mattress.
If you're worried but still want to get a soft mattress then go for a memory foam option, memory foam provides extra support along your back and supports your joints where you need it most.
I've got a guide to the best mattress for back pain here, but generally, you're going to want a firm mattress or at least a firmer one in general than soft for the support you need.
But often a new mattress can be all you need to help ease a sore back, because old mattresses tend to sag and lose the support along your spine leaving you without that much-needed pressure relief your mattress should give you.
But if you do want a soft mattress still then make sure you go for a memory foam one, that'll give you the best support possible while still being a soft feel and giving you a good night's sleep.
Problems of A Soft Mattress
Every mattress firmness comes with its own problems, it's just about finding the right one for you, and the main problem of a soft mattress is that it tends to be hot.
Hot Sleepers Beware – Becuase you sink deeper into a soft mattress it can wrap around you leaving you feeling hot and uncomfortable. It's not always the case but if you're prone to overheating then you might want to consider a firmer mattress or consider getting a cooling mattress topper to put on top to help you stay cool and comfortable all night long.
Heavier People May Be Too Heavy – Soft mattresses are just that, soft, so if you're on the heavier side you might just sink through and end up with extra pressure on your joints. Generally soft mattresses are ideal for people about 10 stone or under, but it's personal preference again, if you weigh more than 10 stone and want a soft mattress then go right ahead!
Higher Price – Soft mattresses are actually one of the hardest types to make, they have a lot of materials inside them and usually a few foam layers at least which drives up the price. You can still get some affordable soft mattresses but they're more uncommon.
F.A.Q ON THE BEST SOFT MATTRESS
WHAT SIZES ARE AVAILABLE?
Most of the mattresses recommended are available as small single, single, small double, double and king size. But click through to Mattress Next Day to see what they have available.
WHAT CAN I DO WITH MY OLD MATTRESS?
I've linked through to Mattress Next Day where you can buy your mattress and for an extra fee they can take your old bed and mattress away with them which is by far the easiest way to deal with it!
Conclusion
I hope these soft mattress reviews helped and you can now find a comfortable plush mattress to help you get a great night's sleep, whether it's got a memory foam layer on top, pocket springs in the middle or comes as a bed-in-a-box I hope you've found something for you.
Happy sleeping!