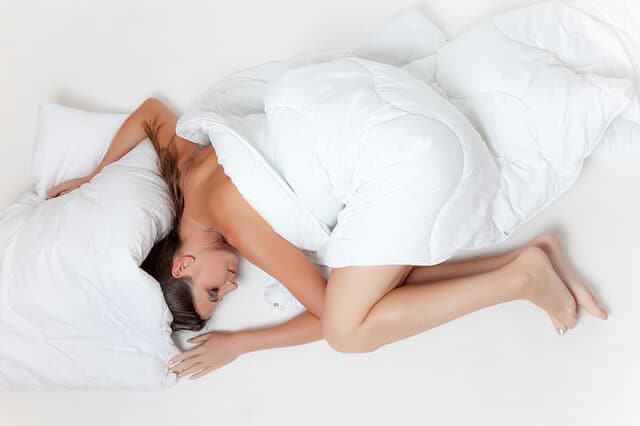 Need a comfortable sleep but can't afford a fancy mattress?
No problem!
I've got you covered and gathered together the best cheap mattresses available right here in the UK. I go into what you need to know before you buy yours and then review my favourites.
If you have any questions just leave them at the bottom and I'll get to them as soon as I can.
Check out the table below for a quick rundown on the 5 best cheap mattresses in the UK. Just click the name and go order yours today!
It's What's Inside That Counts
The mattress filling is the heart and soul, it is the most important factor and defines what kind of feel and comfort it has. Luckily there are only a couple of different fillings that come up here so let's have a look at what they are.
Memory Foam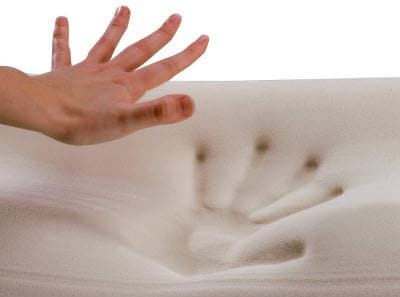 Memory foam is known for its support and comfort allowing you to sleep like your lying on a cloud. Memory foam itself is what's known as a viscoelastic material, this just means it gets softer when it's touched by something hot. So when you lie on a memory foam mattress it gets softer and moulds around your body. This keeps your spine aligned as it should be stopping morning aches and pains and letting you sleep comfortably.
The problems are they tend to be very hot unless they are split up into different layers that allow for airflow and proper cooling. Another problem is when you roll over you can tend to leave behind a big groove that takes some time to bounce back. So for people who move around a lot you can get woken up by lying on the bumps you made, it doesn't take long for them to go away but it can be long enough to wake you up.
Even on a budget you can pick up a semi-decent memory foam mattress, but the problems that memory foam has to tend to be quite prominent. So if you're a hot sleeper who's prone to night sweats then I'd recommend a spring or hybrid. But if you tend to wake up with a sore back then memory foam will be perfect for you.
Spring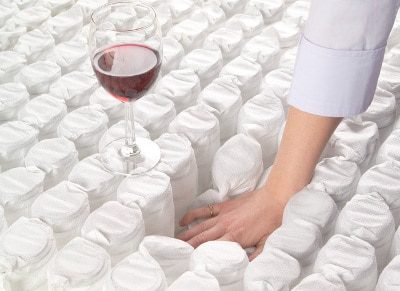 Spring mattresses are the kind most people are familiar with, bouncy, firm, tried and true. A lot of people can't get used to memory foam so nothing is comfier than a spring mattress, great for hot sleepers and people who move around a lot. There are actually two types of spring mattress, pocket spring, and spring bed. Pocket spring is the far superior of the two with individual springs that are wrapped in pockets of fabric, this gives a greater range of movement as each spring can move independently.
Next we have open coil which is where all the springs are attached together, this is cheaper as it's easier to make than individually sewing up and placing springs but they become much less responsive and generally not as comfortable.
Some cheap mattresses have pocket springs and if comfort is the game then they're definitely the better choice.
Hybrid
Finally we have hybrid mattresses which are a combination of both spring and memory foam. These aren't as cheap but offer a great balance of support and comfort. More support for those who need it but aren't prepared to go full memory foam.
Cover Material
The cover material might not seem important if you're going to put a bed sheet on the mattress anyway but it's the final touches that make the difference.
Ideally you want a bamboo cover as these are breathable and help wick away moisture to stop you getting too hot at night. But any sort of cotton or polyester blend will do you just fine.
Is It Hypoallergenic
A danger of a cheap mattress is that it's not been properly treated to become hypoallergenic. If you suffer from asthma or allergies, or even if you don't a mattress full of dust mites is the last thing you want.
Best Cheap Mattress Reviews
Let's take a look and find out the best cheap mattress you can get in the UK, I've linked through to Amazon so you can read some other opinions and order yours today.
Silentnight 3-Zone Support Memory Foam Mattress Review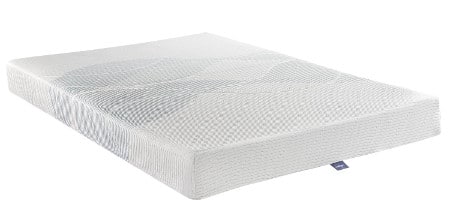 Pros
Treated With Purotex to be Hypoallergenic
3 Zones of Support
Awarded Which Best Buy 2015
Cons
Quite Thin so not suitable for heavy people
Silentnight have been keeping Britain sleeping happily for over 70 years. Now they've brought us a superb memory foam mattress at budget prices. The 3 Zone Support offers firmer support in the middle where you need it across your back, hips and shoulders and then softer support at your head and feet. This gives you a great overall feel.
Because this mattress is only around 17cm thick it's not the best for people who are heavier. It can get squashed down and after a few years of continuous use, you might find it doesn't spring back as well as it once did. That's the danger of going for cheap memory foam, though, so it's great for a single person, a small couple or if you need it for the same, room. A great cheap memory foam mattress for a child. Comparatively, if you buy a more expensive memory foam mattress it will come with a 10-year guarantee.
It's still very good quality for a cheap mattress and it comes rolled up so you can easily move it around your house and get it onto the bed. Memory foam does come with a bit of a funny smell so I strongly suggest you air it out by unrolling it and leaving the windows open before you put your sheets on it.
Silentnight Salerno Miracoil Mattress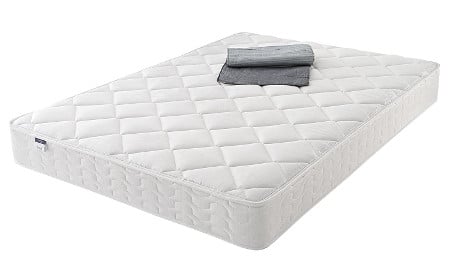 Pros
Hypoallergenic
Medium-Firm Feel
20cm Depth
5 Year Guarantee
Cons
The Silenightnight Miracoil mattress is a great cheap alternative. Unfortunately, the spring system is open spring as opposed to pocket springs. But the good news is it's a miracoil spring bed which is specially designed to incorporate twice as many springs as a normal spring bed. This gives greater support where you need it and an even feel across the whole thing.
What impresses is me is the 5-year guarantee, that is almost unheard of for a cheap mattress. So it'll definitely stand the test of time for the next while. And the 20 cm depth makes it great for couples over the memory foam mattress which is a little too thin and likely to go flat. You might find you feel a lot of movement in the bed but that's normal.
Overall, a bargain price and 5-year guarantee make it a great cheap mattress.
Happy Beds Orthopaedic Mattress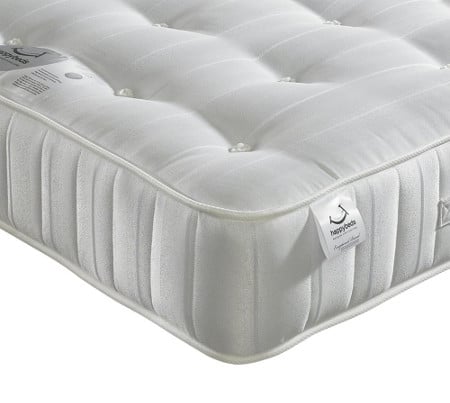 Pros
Firm
Great For Back Problema
25cm Depth
Airvents stitched along the side
Cons
Quite Heavy To Flip
Open Coil Springs
Again there aren't many cheap mattresses that have orthopaedic qualities but Happy Beds have managed. This firm mattress is perfect for those who suffer from back pain and wake up with aches and pains. The problem could come in having to flip a 27kg mattress if you have a bad back!
I really like the air vents along the sides of this mattress, really good for hot sleepers being able to take some of the heat out from underneath you while you sleep. It's a lot easier to warm up then it is to cool down after all.
The mattress features an open coil system not pocket spring but if the firm feel is what you want you won't notice the difference much anyway.
Overall it's a must have if you need a cheap firm mattress.
Silentnight 1000 pocket Spring Mattress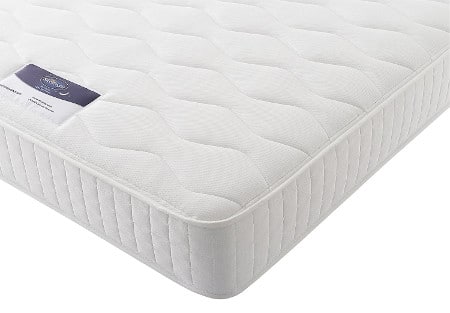 Pros
1000 Pocket Sprung Count
No Need to Flip
Medium Firm
Quilted Cover
Cons
Let's start with the cons, there is no sort of ventilation in the Silentnight pocket spring mattress, so you might find it gets hot compared to other spring mattresses. This is still a lot less than a memory foam mattress and pocket springs allow for some heat dissipation.
That said a 1000 spring count for this price is fantastic value, having pocket springs at all is pretty crazy for a mattress this cheap but here we are! It's got a medium-firm feel and lets you get a comfortable nights sleep. The pocket springs help keep movement to a minimum and stops you disturbing your partner if you move around. You also don't need to flip this mattress which makes life a lot easier you just have to turn it 180 degrees, which can still be a challenge still but is a lot easier than flipping the damn thing.
The pocket springs help support you more as well by pressing in more where you're heavier and less where you're lighter. This helps take the pressure off your joints and keep your spine aligned similar to memory foam.
Overall a great cheap mattress offering greater comfort over its open spring counterparts.
Happy Beds Hybrid 2000 Spring Mattress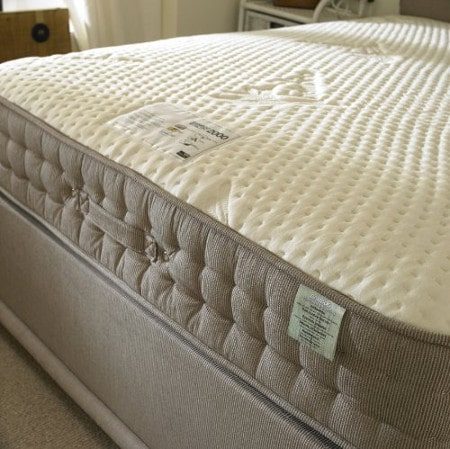 Pros
Hybrid of memory foam and pocket Spring
Bamboo Treated Cover
Medium to medium-firm feel
Hypoallergenic
Great For Bad Back
Cons
Too deep for Some Sheets at 28 cm
We're straying into the world of luxury now with this memory foam hybrid mattress. 2000 Pocket springs offer supreme comfort while the top memory foam layers moulds around you giving you all the support you could need on your back and joints.
The bamboo treated cover helps wick away moisture keeping you cool at night and warm in winter. This sort of climate control material is a must with memory foam. The only problem is the 28cm depth, that's thick by most mattress standards so you might find if you have older fitted sheets they won't quite fit over. A small price to pay for such a comfortable mattress, though.
I put the feel as a medium/medium-firm because it's always a personal thing how memory foam feels, some people say it's soft while others describe it as firm. I'd say this isn't as firm as a full spring mattress but more bounce than a memory foam mattress. Overall a fantastic cheap mattress.
Final Thoughts on the Best Cheap Mattress
I hope you enjoyed this guide to the best cheap mattresses if you have any questions leave them in the comments below and I'll be sure to get back to you there.
Related reading
Best Memory Foam Mattress
Best Mattress Topper
Best Bed Sheets