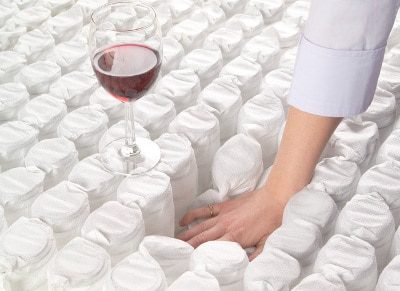 So you're thinking about buying a pocket spring mattress?
Good choice! Becuase Pocket spring mattresses offer superior comfort over their open spring counterparts aswell as great support along your back.
But finding the right one is hard, that's why I put together this guide, to teach you everything you need to know about buying a pocket spring mattress and to share my favourites.
Simba is my current pick of the best pocket spring mattress just click on Simba Mattress in the table below and you'll be taken to their website so you can buy yours today.
What Is A Pocket Sprung Mattress
Let's start at the beginning and find out exactly what a pocket sprung mattress is. Basically, it is a mattress where every spring is in its own individual pocket of fabric. This means each spring can move independently of its neighbour allowing for a much more responsive feel that sinks in where you need it to giving you maximum support.
This is of course in comparison to an open spring mattress, that's what old mattresses are made out of. Open spring is when all the springs are attached together on a big grid, this means they all sort of move as one, so you might jump into bed on one side and bounce your partner off the other side!
Advantages of a Pocket Sprung Mattress
Good For All Sleeper Types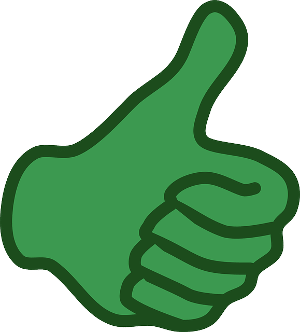 As I said above pocket sprung mattresses offer great response to your body so they're great for back, side and front sleepers alike.
Greater back Support
If you normally wake up with a sore back then a pocket sprung mattress will definitely be able to help you out. It allows your hips and shoulders to sink deeper keeping your spine straight and your back happy.
Far Comfier than open spring mattresses
They are by far comfier than any open spring or branded spring system there is. You just can't beat the responsive feel with any other type of spring.
Bouncier than Memory Foam
Some people don't like memory foam and that's ok, pocket springs won't hold you in place like memory foam does and won't trap heat either. So if you like to move around in your sleep you absolutely can.
What You Need to Know When Buying A Pocket Sprung Mattress
There are a few different points you want to look at when you're buying a pocket sprung mattress:
Spring Count
The most common difference between pocket sprung mattresses is the spring count. The spring count is how many springs are present in a king size mattress, so a smaller mattress will have less and a bigger will have more. The actual number between sizes of bed doesn't really matter since it'll still be the same spring density.
What's important is the number of springs in a king size to compare to other mattresses. Generally, the lower end of the scale is 1000 springs, anything under that is no good. 1000-2000 is really good while over 2000 is straying into the realms of premium mattresses.
More springs are better because it means they have to be smaller to fit in the same space. And the smaller the springs the less you can feel any given one and so the comfier the bed is because your weight gets evenly distributed over all of them.
Would You Be Better With A Hybrid
A hybrid mattress is a combination of pocket springs and memory foam or sometimes pocket springs and latex. If you suffer from any sort of aches and pains in your joints or your back then this is probably going to be the better choice for you.
Hybrid Mattresses are much bouncier than memory foam mattresses making them feel a lot different to pure foam. You have much more freedom to move but the extra layer of foam helps give you a lot of extra support. They are also super comfortable and that extra foam layer combined with a high spring count can make you feel like you're sleeping on a cloud. The problem is hybrid mattresses tend to be more expensive but the extra cost is worth it.
The Best Pocket Sprung Mattresses in the UK Reviewed
And here we are at the main event! After a lot of research, I've managed to find the best pocket sprung mattress available in the UK. I've provided a short review of each and linked through to where you can buy them so you can check out the price and read some other reviews. Just remember that you spend a third of your life lying on a mattress and it can last you for 10 years so it's an investment in you and your health.
1. Simba Sleep Pocket Sprung Mattress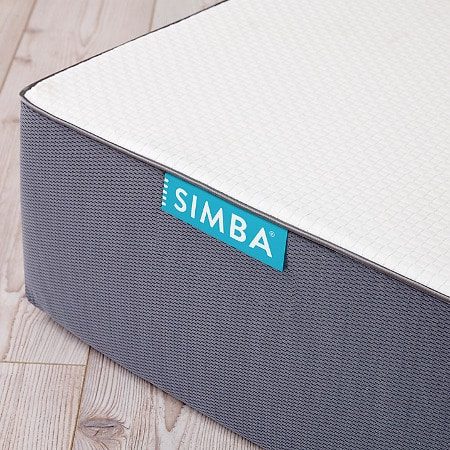 Pros
2500 Spring Count
Hybrid Mattress
Extensively Tested at The Sleep To Live Foundation
10 Year Guarantee
100 Night Sleep Trial
Interest Free Credit
Cons
Firmness: Medium-Firm
Simba have quite a cool story, they were originally supplied mattress makers the world over with the thread needed to hold the mattress together before deciding to delve into the world of mattress making themselves.
From there they spent a great deal of time researching and developing the best spring system, memory foam and "sympatex" a sort of latex which all combine to give a damn comfy mattress. They teamed up with the Sleep to Live institution who have looked at the sleeping profiles of over 10 million people to find out exactly what the perfect mattress needs.
This is also the only mattress offered by Simba because they believe it is "perfect" suitable for every type of sleeper and available in a huge range of sizes. No games or up selling just one awesome mattress. And it is awesome! Hugely comfortable and supportive allowing for a great night's sleep.
The only problem some people have is the smell. When it first arrives it might have a bit of a chemically smell which is from the memory foam. All memory foam mattresses have this, but as long as you leave it uncovered with the windows open the smell will go away in no time.
They are also an online mattress retailer so offer you a 100-night trial and again the massive 10-year guarantee so you can enjoy your mattress for over a decade.
Overall you won't be disappointed with the superb comfort offered by the Simba mattress, the 2500 spring count is massive and the combination of foams used with it offer up a blissful night's sleep.
2. Silentnight Classic 1200 Pocket Sprung Mattress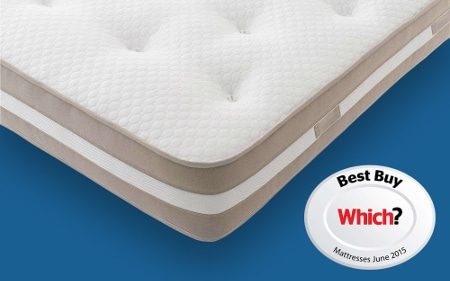 Pros
Good Price
A Which Best Buy 2015
1200 Pocket Springs
Handles to aid flipping
Breathable Cover
Cons
Firmness: Medium to Firm
Price & Reviews
Silentnight have been in the mattress industry for a long time, serving the UK for more than 70 years in fact. And in that time they've definitely learned a thing or two. There 1200 pocket springs are more than enough to give you a comfortable night's sleep while still keeping the price down.
It comes with a soft knit cover that is designed to be breathable helping to keep you cool at night and to keep the inside of the mattress fresh. The inside has also been treated with Purotex which helps keep the inside free from dust mites and germs and makes the whole thing hypoallergenic.
It was also the winner of a which best buy as an affordable pocket sprung mattress and who am I to argue with Which! The only downside is that it only has a 1-year guarantee and 5-year warranty. Ideally, you want your mattress to last at least a decade so a 1-year guarantee isn't up to much. Not to say it won't last you 10 years of course.
Overall it's a great budget mattress that offers a medium-firm feel with comfort in mind.
3. Sealy Nostromo Posturepedic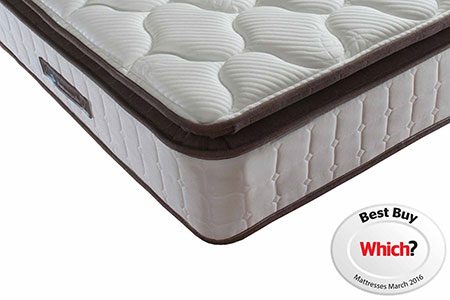 Medium-Soft Feel
1400 Pocket Springs
Which Best Buy 2016
Latex Filling
Pillow Top
Sealy are tried and tested mattress producers and perhaps one of the best known brands in the industry.
So of course their Nostromo mattress is every bit as good as you expect!
It's got a 1400 Pocket spring count which isn't the highest but when you combine it with a pillow top and deep layer of latex that moulds to your body you get a superbly comfortable nights sleep.
The combination of latex and spring helps keep yoru body aligned through the night which is what helps prevent aches and pains in the morning, which is something we all want right? Of course it is!
The cover is made of Tencel which works to keep you a comfortable temperature all night long. So it cools you when your hot and heats you up when you're cold.
The latex also works to absorb movement so if your partner rolls you won't feel it (unless they steal the duvet too of course!)
Overall Sealy have done it again with a fantatsic mattress.
4. Bed Butler Supreme 3000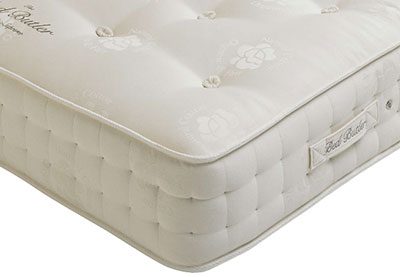 Firm Support
3000 Pocket Springs
28 cm deep
Natural Materials
Wool, cotton, cashmere, horse hair
3000 pocket springs…. Just wow…
All that luxury then made with only top quality parts to keep the whole thing together.
What does that leave you with?
A superbly comfortable pocket sprung mattress!
It's a firm feel so not for everyone but firm mattresses are surpringly hard to come by if you do want one, see my dedicated article on firm mattresses for more.
The natural fillings are breathable so you get kept cool in the summer and warm in the winter. Plus the cover itself has a really soft feel which you can feel through your bed sheets. Altogether a really top quality premium mattress. It should be noted that it's only available in double, king and super king, no single I'm afraid!
5. Sleepezee Wool Supreme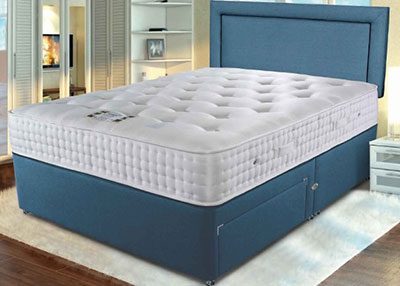 Medium Support
2000 Pocket Springs
Natural Fillings
Air Vents For Cooling
The Sleepeeze wool supreme is a great matress filled with natural wool and silk fillings to accompany the 200 pocket springs.
2000 springs is more than enough so that you get excellent support across your whole back and you won't hugely feel your partner move which is cool.
THe other fillings, apart from pocket springs, are wool and silk which makes it a really luxurious mattress. Also makes it hypoallergenic which is a nice touch.
Overall a fantastic luxury mattress.
F.A.Q
How often should I flip my mattress?
A good rule of thumb is to flip your mattress as the seasons change. Otherwise, every 3-6 months will do just fine. The more often the better really but I know flipping a mattress isn't easy, if you don't have to flip it but do need to rotate it then I'd stick to the same rule of thumb.
What can I do with my old pokcet spring mattress?
You can often arrange with the people delivering your mattress to pick up your old mattress for disposal. In the UK if you have a furniture disposal unit you can drop it off there but for the easy life places like Mattress Next Day offer a mattress collection service which you can see here.
How can I extend the life of my pocket sprung mattress?
The easiest way to help your mattress last longer is to get a mattress protector which I've written a guide on here. Other than that regularly flipping it/turning it will help prolong it's lifespan.
Resources
First Image from Comfortex