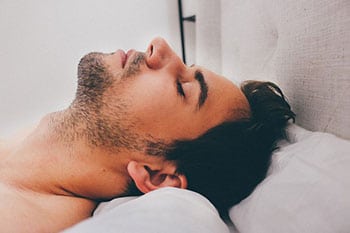 So you're after the Best Firm Mattress?
Well you're in the right place!
I've rounded up and reviewed the 5 best firm mattresses available. Whether you're looking to sort out a bad back or you just can't sleep on the soft bed you've got now we've got you covered.
But before we dive into finding the best firm mattress let's take a look a some of the different things you have to consider.
Best Firm Mattress Material
Getting the right material in your mattress is a great place to start, it's the foundation of the mattress and the base of your sleep. But there are a few different types to choose from and it can get a bit confusing so let's take a look at the differences between the materials.
Memory Foam
Normally I'm a huge fan of memory foam, it's super comfortable and offers great back support. But the problem is, memory foam isn't firm! It's naturally designed to soften and mould around you so will never give you the truly firm feel you've been looking for.
The only time you might find memory foam in a firm mattress is if it's in a hybrid mattress. This is a combination of both memory foam and springs, so if a small layer of memory foam is layered on top it can add some back support while staying firm.Similar to putting a memory foam mattress topper on top.
Spring
Now spring mattresses are much better suited for what we need. But within the world of spring mattresses, we have two types.
Pocket Sprung
Pocket sprung mattresses are the most comfortable, each spring is sewn into its own pocket so they can move independent of each other, that way it sinks where it needs to giving you maximum support and a superbly comfortable bed.
The main difference between one pocket sprung mattress and another is the spring count. That's how many springs are in a king size of the mattress. More springs is generally better because it means your weight is more evenly distributed and the bed can form to your shape better. The ideal number of springs is usually from 1000-2000, Less than that and you'll be uncomfortable while more won't cause a problem, it's just a lot more money for how much comfier the bed will actually feel.
Open-Coil Springs
Open-coil springs are a big grid of springs, they aren't as comfortable as their pocket spring counterparts but they have the advantage of being much cheaper. So a great budget alternative but be aware it's not luxury comfort. Just because the mattress is firm doesn't mean it can't be comfortable!
Of the two, pocket sprung is definitely the way to go.
Latex
Last but not least, you have latex mattresses! Latex mattresses have a similar feel to memory foam but they have a lot more bounce in them. This resistance gives them a great firm feel.
Latex is an excellent choice if you're looking for a firm mattress to help with back problems.
So for most people the best material will either be latex or pocket sprung.
Always Check Any Guarantees
A good mattress will last you 10-years before it needs to be replaced so ideally, you want to get a mattress with a guarantee as close to that as possible. Because a mattress is an investment in yourself and your sleep, so you want a good one that's going to last.
The 5 Best Firm Mattresses Reviewed
We've made it to the main event! Time to find the best firm mattress! I've reviewed the top 5 available and linked them through so you can buy yours today and be sleeping soundly before you know it!
1500 Spring Hybrid Mattress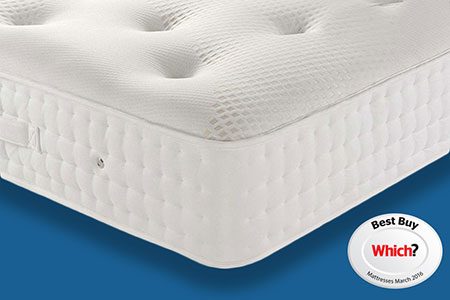 Brand: Relyon
Filling: Pocket Spring and Memory Foam
Firmness: Firm
8 -Year Guarantee
1500 Spring Count
27 Cm Deep
Which Recommended
Use the Code SAVE10 For 10% off at Mattress Next Day
The Relyon Hybrid is an excellent choice of firm mattress, the memory foam layer is only 5cm thick so it is more like a mattress topper keeping the whole thing firm and comfortable.
This memory foam layer also means you don't have to flip the mattress instead you just have to turn it maybe once a year to stop it sagging.
The 27 cm depth is quite deep but it's what's necessary to keep the mattress firm. It's not the deepest mattress I've seen so your bed sheets should still fit!
Lastly, it comes with a whopping 8-year guarantee! That is a long time to have your sleep guaranteed, and it takes you close to the 10-year mattress life expectancy.
Overall, A great mattress for a bad back with the extra support the memory foam will provide.
Ultimate Backcare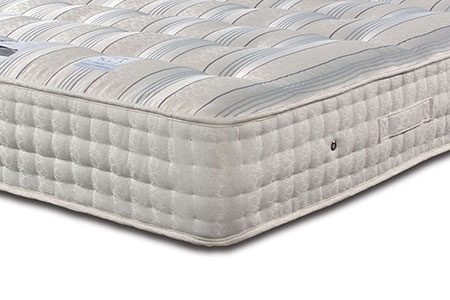 Brand: Sleepeezee
Filling: Pocket Spring
Firmness: Firm
2000 Pocket Springs
5-Year Guarantee
Orthopedic Support
26cm Depth
Use the Code SAVE10 For 10% off at Mattress Next Day
This is a great mattress is you have lower back pain, the 2000 pocket springs make it ideal for giving your back the support it needs in every sleeping position. Specially designed to support the spine and lower back it'll have you waking up comfortably every morning.
It being all pocket sprung makes it very firm and the 5-year guarantee will have you sleeping for many nights to come.
Again this is a no-flip mattress you just have to turn it periodically. Which is just what you want if you have a bad back!
Overall, this is a great mattress if you have back problems and are looking for the best firm mattress to sort it out.
Firm Support Mattress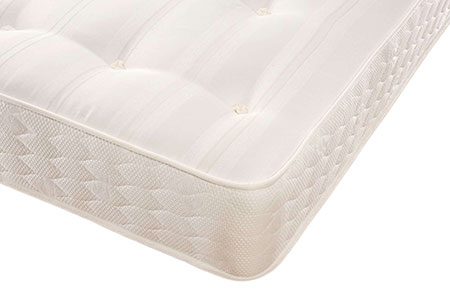 Brand: Sealy
Filling: Open Coil
Firmness: Firm
Great Price
25cm Depth
1-Year Guarantee
Use the Code SAVE10 For 10% off at Mattress Next Day
Sometimes you simply can't afford the best but you still need a great product. That's where the Sealy Firm Support mattress comes in! It's a great budget price offering superb firm support along your back without breaking the bank.
It is open coil as opposed to pocket sprung so it doesn't quite have the comfort of some of the others in this guide to the best firm mattress. But it's cheap, cheerful and gets the job done.
It comes with a guarantee but it's only 1-year which isn't the best. Again it comes with the budget territory.
Overall,If you need to get a half decent firm mattress in a hurry you can buy this one with next day delivery. A great budget model.
Orchid Mattress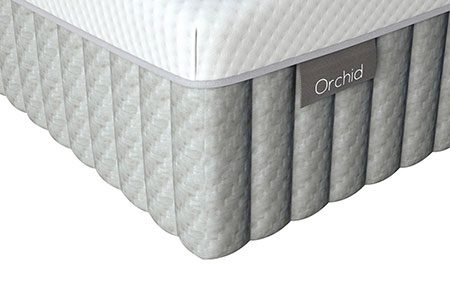 Brand: Dunlopillo
Filling: Latex
Firmness: Firm
8-year Guarantee
Hypoallergenic
Premium Latex Filling
Use the Code SAVE10 For 10% off at Mattress Next Day
Latex is an excellent choice of filling for a mattress. It contours to the body giving you great support and comfort while still being firm to lie on.
It is a premium product but well worth the price, the knitted cover is breathable keeping you cool at night while latex is naturally hypoallergenic so your kept dust mite and allergen free every night.
The latex is then split into seven zones of varying firmness giving you more support in your shoulders and hips then less in your head and feet for a balanced feel across your whole body.
And it has an 8-year guarantee so a worthy investment that will easily last you a decade.
Overall, a fantastic firm mattress that will have you sleeping comfortably for many years to come.
Venice Ortho Mattress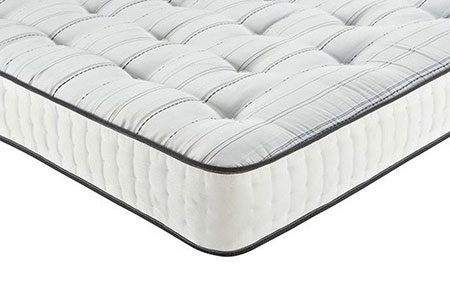 Brand: Rest Assured
Filling: Pocket Sprung
Firmness: Firm
1400 Pocket Springs
5-Year Guarantee
23Cm Depth
Use the Code SAVE10 For 10% off at Mattress Next Day
The Rest Assured mattress is another great budget mattress, but this time with pocket springs for added luxury comfort.
It has a spring count of 1400 which is very respectable and more than enough for a comfy night's sleep. The only problem is it's only 23 cm deep so (in the nicest way possible) if you are especially heavy then this mattress might not be right for you.
But if you aren't then you can get yourself a superbly comfortable firm mattress at a great price! The mattress has also been treated to make it hypoallergenic which is great because generally, it's just memory foam and latex mattresses that have that great quality.
Overall, a superb budget model that provides firm comfort every night and a nice guarantee so you can be sure you get your money's worth.
Final Thoughts On The Best Firm Mattress
And there we have it! I hope you found something useful in this article and more importantly I hope you found the product you were looking for! If you have any questions about a firm mattress then ask them below in the comments.
F.A.Q
Is A Firm Mattress Better For Your Back
Yes and no, there is no scientific studies that have shown a firm mattress is better for your back. But a lot of orthopedic mattresses, which are designed to help a bad back, are also firm.
If you have back problems talk to your doctor but if you have and they recommended a firm mattress then I hope this guide helped.
Related Reading