Want a mattress that is not only insanely comfy but also takes care of your aches and pains?
What am I saying?
Of course you do!
Then you need a memory foam mattress.
It's the best thing for getting a great sleep but the problem with getting one is the amount of information that's out there. So many pros and cons. Choosing one can be really hard work!
So I've put together this guide. This will be your one-stop-shop for choosing a memory foam mattress! I've included some great recommendations, as well as links to where you can buy them online.
The Nectar mattress is my current favourite and if you click through my link in the table below you get £100 off!
Best Memory Foam Mattress UK
Contents
It's quite a long artice so here's a contents table of what's included, just click the title of the section you want to jump to it or keep on reading!
The Six Best Memory Foam Mattresses
Here we have it: the six best memory foam mattresses. With each one, you'll find a short review and a link to where you can buy them online.
Buying a mattress online is the way to go, you can get it delivered for free, some of them have free returns if you don't like it and it actually helps keep the cost down because they don't have to pay for show rooms givingyo uthe best value for money.
With that in mind let's start with the Nectar, my top choice, and get to the memory foam mattress reviews!
Nectar Sleep Memory Foam Mattress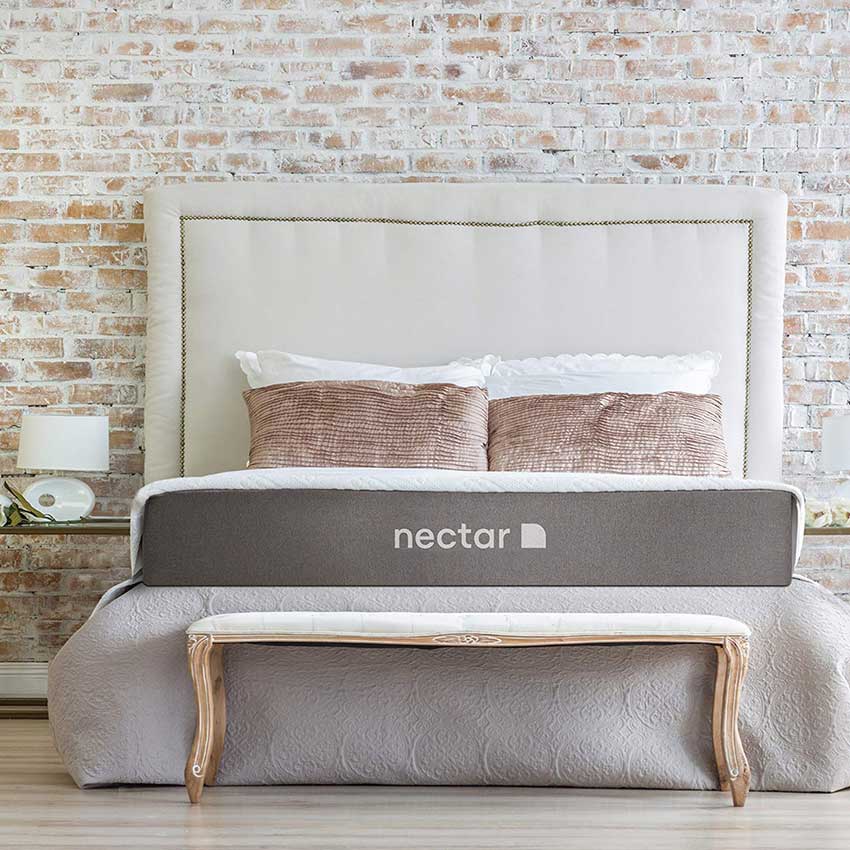 365-Night Trial
Medium-Firm Feel
Cooling Layers
7 Zone Support
Nectar sleep raised the game for memory foam mattresses, they offer a 365-night trial, A WHOLE YEAR!
You can test this for a whole year before fully commiting to it, luckily you'll try it out and absolutely love it.
7-Zone support offers nice medium support under your shoulders and knees where you need it then softer around your knees and middle, and firm at your head to give you all the support you need up and down to stop you getting any aches or pains through the night. But more to that, it actually stops you being so restless by allowing you to lie more comfortably so that you don't toss and turn and actually get a deeper sleep.
And when you're getting a deeper sleep you don't wake up so tired and can start really enjoying your mornings waking up afer a restful night of sleep.
The cooling layers work to maintain your body temperature so you don't wake up shivering or sweating only refreshed and relaxed.
My top choice for the best memory foam mattress because it provides excellent vaulue will allow you to start sleeping better
Here is my full review of the nectar mattress, alternatively, click here to visit Nectar sleeps website and get £100 off!
Emma Original Mattress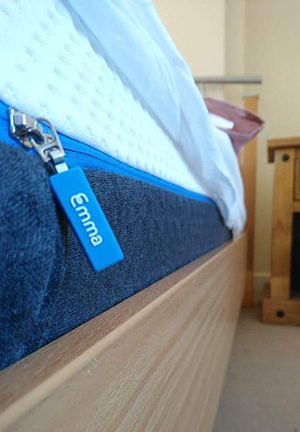 100-night Trial
10-Year Guarantee
Medium-Firm Feel
Great Back Support
Breathable Cooling Layers
Click To Visit Emma And Order Yours
The Emma mattress has a nice medium firm feel to it with layers of memory foam, cooling aerogel foam and supportive cool foam. The result? A highly supportive mattress that bounces back quickly and doesn't trap you in place.
It has free delivery and if you don't like it you have a free return as well within the 100-nights you get to test it for.
The cover is soft and breathable so you're kept comfortable all night long, I'm personally a very hot sleeper so need the cooling features, and they've been great! I tried it through the hot weather of summer and didn't overheat once.
I also tried it on the floor and a slatted bedframe and it worked perfectly on both.
An excellent investment in your sleep and one of the best memory foam mattresses.
Read the full review of the Emma mattress here.
Silentnight 7-Zone Memory Foam Mattress Review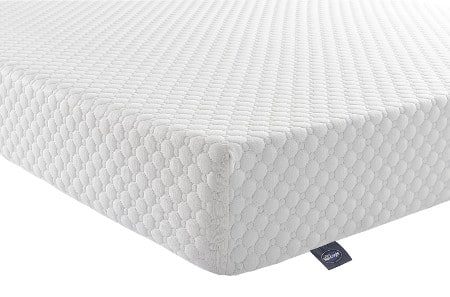 3 Layers
5 Year Guarantee
Good Budget Mattress
Varied Firmness
The seven zones in this mattress mean that it's firmer in the middle and softer at the ends, which gives you the right support in the right places.
While this mattress is an absolute bargain, I should say now that it won't be suitable for everybody.
For people who are around 100kg, the 20cm thickness may be a problem because you might be able to feel the bottom of the bed beneath you. However, most people shouldn't experience this.
This mattress is really squishy and comfortable and has a plush cover.
The guarantee that comes with this mattress is a bit strange, here's how it works:
Year One:Standard warranty, including labour and transportation cost included.
Year Two:Almost the same as after one year but if you get a replacement mattress, you have to cover the transportation cost.
Year Two-Three:This is the beginning of a sliding scale of charges. If you claim, then you pay 40% of the current retail price.
Year Three-Four:You pay 60% of the current retail price.
Year Four-Five:You pay 80% of the current retail price.
With this in mind, if your mattress has a defect you'll know about it straight away. You shouldn't need to use the warranty anyway.
This mattress comes rolled up in a vacuum-packed bag, so when it arrives, leave it unrolled so it will regain its shape. There will be a smell for the first little while but that will disappear.
Read the full Silentnight 7 Zone review here
Dormeo Octaspring Hybrid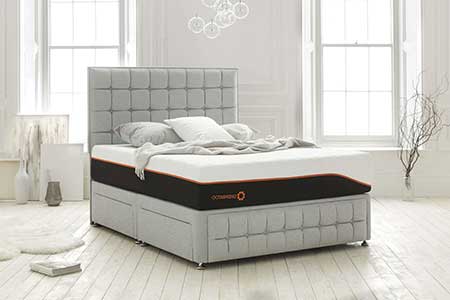 Medium-Firm Support
Foam Octasprings
No Turn
Hybrid SPring And Memory Foam
Best Mattress Protectors UK – A 2019 Expert Buyer's Guide
Price & Reviews
The Dormeo Octaspring mattress is quite a unique memory foam mattress because it has these foam "Octasprings" in it.
These are octagonal springs made out of foam that provide mroe firmness that normal foam while still being softer and more malleable than a traditional metal spring.
They're also much more breathable than foam allowing air to pass through the whole thing to stop you overheating through the night.
And these octasprings are on top of a layer of traditional metal springs giving you, even more, bounce and feel than traditional memory foam making this the ideal choice for someone who's not quite ready for a full memory foam experience.
Read more Dormeo Octaspring reviews here.
Studio By Silentnight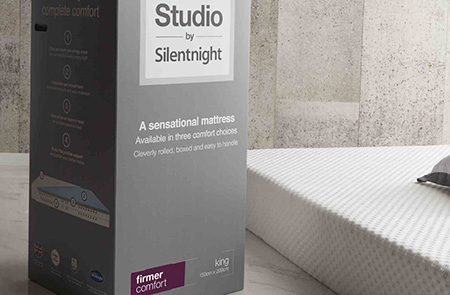 Firm Feel
Comes Vacuum Pakcd And Rolled
Trusted Brand
5 Year Guarantee
Once again Silentnight are doing it right, their Studio mattress is a perfect mattress for anyone wanting a firmer feel. It comes rolled up in a box similar to the Emma mattress so you can easily maneuver it into the right room and set it up.
This mattress comes in three different firmnesses, a soft a medium and a firm, I've linked to the firm one as we've got a lot of great memory foam mattress for medium feel so thought a firm one was due!
But if you don't want the firm one then just click through and there are links to the other ones there.
A nice feel across this whole mattress with plenty of support for back and front sleepers.
Kayflex Plus 5000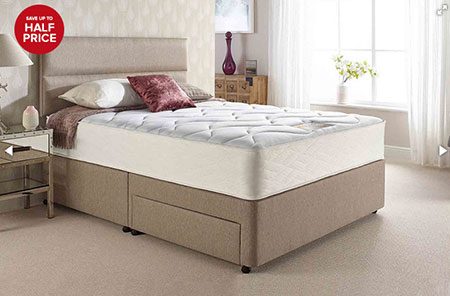 Great Price
Hybrid Pocket Spring And Memory Foam
Comes Vac Packed
Medium Feel
Kayflex have nailed the budget memory foam mattress.
This Hybrid mattress combines memory foam and pocket springs to give you a nice responsive mattress. It's a medium feel so great for side sleepers and a really great price to boot!
The meory foam stops roll together and is of course hypoallergenic so you can't go wrong.
What actually is memory foam?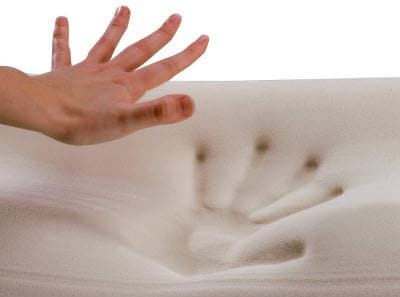 A good place to start.
Memory foam is a viscoelastic material (say that five times faster).
This basically means that memory foam will get softer when it's exposed to heat. What this means for you, is that when you lie on a memory foam mattress, it will soften and mould to the shape of your body.
Maximum comfort!
A memory foam mattress is usually made up of a thin layer of memory foam on top, with a firmer foam underneath it. This is great because it means you won't sink too far into your mattress and you'll get the support you need.
Who is memory foam good for?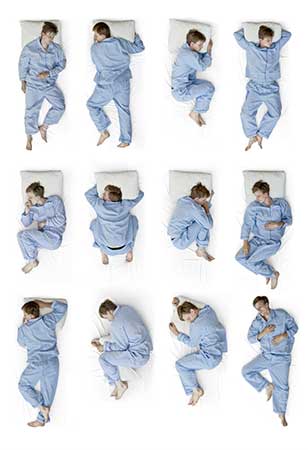 It's particularly good if you sleep on your back or your side.
This is because the foam allows your hips and shoulders to sink into the mattress, which keeps your back nice and straight.
If you tend to sleep on your tummy, a memory foam mattress might not be for you. You might be better with a pocket sprung mattress.
Sleeping on your stomach on one of these mattresses means that while your body sinks, your head gets pushed up by your pillow and this might give you neck pain. However, if you're heart-set on getting a memory foam mattress, you can compensate for this by getting a thinner pillow.
What are the drawbacks of a memory foam mattress?
These problems usually happen if you go for a cheaper memory foam mattress, so it's good to be aware of them.
1. Trapped Heat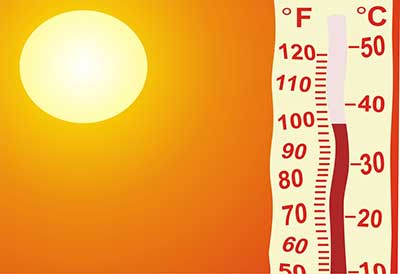 Old memory foam mattresses were really bad for keeping heat in. You'd wake up way too hot and really sweaty. Not ideal.
Memory foam mattresses are now designed with multiple layers, which solves this problem, since the air can flow. If you add a breathable mattress cover, then you have a winning combo.
2. Getting Stuck!
If you had an older memory foam mattress, then you probably know exactly what I'm talking about already.
Older memory foam wasn't as responsive as it is now, so after getting comfy to fall asleep, you might have found yourself being stuck in the spot all night.
Fortunately, if you roll over on a memory foam mattress now, you aren't going to feel like you're rolling uphill!
3. The Smell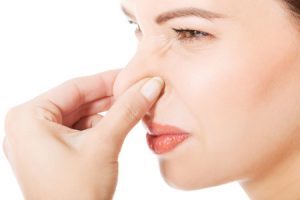 Unfortunately, all brand new memory foam mattresses have a weird smell when you unpack them.
However, the good news is that this is easily fixed! All you need to do is air it out for a few hours and the smell will go away.
What are the benefits of memory foam mattresses?
1. It's great for joint and back pain
I mentioned it briefly already, but memory foam is brilliant if you suffer from joint or back pain.
It's designed to mould around your body while you sleep, which means you'll sink deeper around your shoulders and hips but not your middle. This means your back will be completely aligned and stop pressure building up there.
2. It's so comfortable!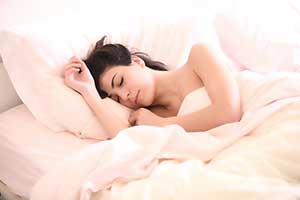 Memory foam hugs your body and makes you feel almost weightless.
It takes the pressure off your joints which will keep you super comfy all night long.
3. It's hypoallergenic!
If you're an asthma sufferer or troubled by allergies, then this is for you.
Memory foam is naturally resistant to dust mites and germs so keeps much fresher and cleaner than other mattresses.
4. You don't have to turn them!
I'm a huge fan of convenience, so this is a big positive for me.
Because memory foam mattresses are usually made up of lots of layers, you don't need to flip them. No one needs the memory foam to be on the bottom.
What Should I Look for in a Memory Foam Mattress?
Now that you know everything you could need to know, here's what you should be looking for in your perfect memory foam mattress.
1. Layers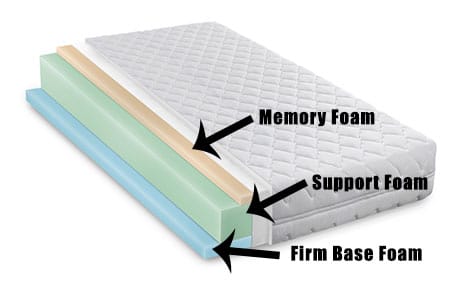 This is arguably the most important feature of a memory foam mattress.
Proper layers are what make sure you don't sink too far into your mattress and are what stop you from getting stuck in the same spot all night. They also let air flow through the mattress, which'll keep you cool.
The layers are usually made of memory foam, regular foam or latex.
You could even opt for a hybrid memory foam mattress, which is a mix of foam and springs. I think these are great, since you get the support from the foam and the bounce from the springs.
2. Cooling Features
Make sure you find out if your mattress has some kind of cooling feature, since without it it's likely you'll overheat though there are ways to cool a memory foam mattress.
The most common features are usually related to the layers or sometimes the cover that has been designed for the mattress.
3. A Guarantee
Some of the best mattress companies in the UK will offer you a 10-year guarantee. Does your mattress do that?
You should also check the trial period that your mattress comes with. Some online retailers will give you a whopping 100-night trial, so you have just under three months to test out your mattress before committing to it.
4. Financing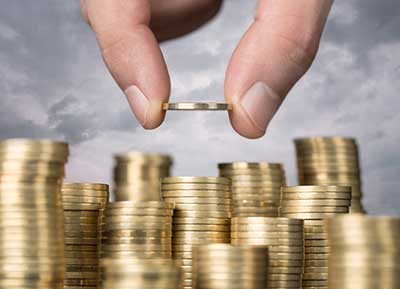 Although a worthy investment, mattresses can still be a big spend, fortunately, many of the UK online mattress companies have easy 0% financing options so you can order and pay it off in smaller monthly instalments. And 0% interest means you're not paying any more than if you'd bought it all at once.
5. Is it 100% foam
Like I said before, quite often memory foam mattresses are a combination of springs and foam, normally called a hybrid mattress. These are great offering a firmer and more traditional feel for those who are perhaps worried about going for 100% foam.
Should I buy my mattress online?
This is something that I know trips a lot of people up, since many are wary of buying big things online.
However, the online mattress business is booming, with some companies dealing exclusively online. Doing this and offering large trial periods means that these companies can keep their prices low.
On top of all that, mattresses bought online are super convenient because they can be shipped to your door, vacuum-packed.
A really great budget choice.
FAQs on the Best Memory Foam Mattreses
How do I clean my memory foam mattress?
Prevention is definitely easier than trying to clean a mattress!
If you want to look after your mattress, I would consider getting a mattress protector to keep it clean and fresh.
However, if the worst has happened and the end is nigh, use a damp cloth (no wetter than a baby wipe) to clean the area.
Different manufacturers have different recommendations though, so make sure you check what they say. And check out our article for how often you shoud change your mattress in acse you actually need a new one not a clean one.
Can I get my child a memory foam mattress?
Sure!
You can even get memory foam mattresses for cribs, so memory foam mattresses are totally fine for kids.
They might even sleep better!
I'm really confused about this! What should I do?
Like I said before: buying a mattress is a big deal. If you aren't sure or want some more advice, please leave your questions in the comment box below. I'll be able to get back to you and help you out!
Happy Sleeping!
Related Reading
Best Mattress For A Bad Back
Best Soft Mattresses
Best Medium Mattresses
I have an affiliate relationship with some companies where we get a percentage of sales if you click over from our site. This is at no extra cost to you and how I pay the costs of running this site.
Reader Interactions