Getting a new mattress is a big investment, so getting a free trial is always a big plus.
Mattresses tend to vary a lot in their price, depending on their size and the materials used, but even a lower end mattress can still cost quite a bit. This being the case, it's much better if you can get a mattress with a free trial so you can be sure you're happy with it before being committed financially.
I've compiled 5 of the best mattresses that come with a free trial, looking at their key features so you're able to make the best and most informed decision possible.
If you want to order any of the mattresses on the list, then simply click the link next to their name in the table below. You can also click on the 'check price' button next to each mattress.
Top 5 Best Mattresses With a Free Trial
1. Top Choice – Dreamcloud Hybrid Mattress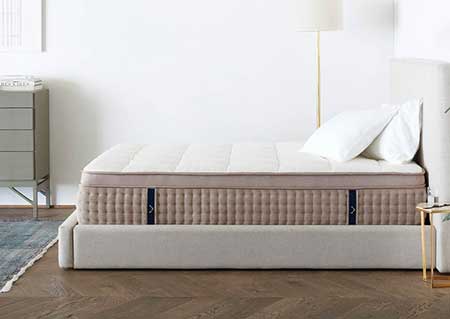 Hybrid mattress
Free delivery and returns
Forever warranty
0% finance available
365-night trial
Firmness: Luxury firm
The Dreamcloud Hybrid Mattress is my top choice for mattresses that come with a free trial. It combines luxurious support with soft, breathable materials to provide a superior sleeping experience.
It is a king-size, hybrid mattress that has a 5 layer design that combines individual pocket springs with a layer of supportive foam. It also has a quilted cover that's soft and breathable. The "Dream Plush" memory foam is also breathable and helps to regulate the temperature of your body while also being incredibly comfortable to sleep on.
This mattress comes with a lifetime warranty, meaning you'll be covered if it develops any defects for the entire time that you own and use the mattress. It also comes with free premium delivery and returns.
£300 Off Mattress,
Up to £708 Off Bundles,
Up to 30% off Bedding.
Click the above "get discount" link to enjoy TheDozyOwl reader deal.
Overall, this would make a superb choice of mattress and it has a soft and luxurious feel while still providing excellent support.
Price & Reviews
FIRMNESS: Medium-firm
2 premium pillows included
365 night home trial
Nonstop airflow
Free timed delivery
Sizes: Twin, Twin XL, Full, Queen, King Size, Cal King
NECTAR'S READER OFFER
£125 off Mattresses
Two Free Pillows.
Up to £450 off Bundles and
Up to 30% off Bedding
The Nectar Sleep Memory Foam Mattress is a close second to the Dreamcloud Hybrid and has some excellent features that ensure you get an incredibly comfortable experience.
Firstly, the smart memory foam that's part of the padding helps to regulate your temperature and dissipate heat, while the layer of pressure-relieving memory foam provides full support for your body. On top of the mattress is an adaptive cooling cover that circulates fresh air and keeps you cool.
In addition to the cooling cover and layers of memory foam, there's also a 7 layer supportive base as well as a position base material that ensures the mattress won't move around on your bed frame. You can use this mattress on pretty much any type of bed frame or divan, providing they're big enough to accommodate it.
You can purchase this mattress in a range of sizes, starting at single and going all the way up to super king. The retailer offers a 365 night home trial so you get an entire year to test it as well as free timed delivery and free returns.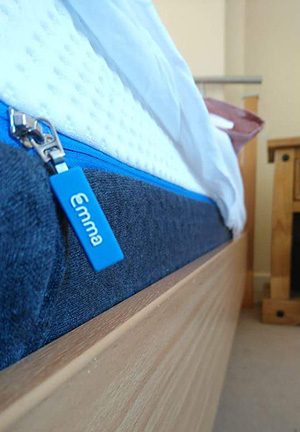 Breathable and pressure relieving
200-night trial
Free delivery
10-year guarantee
Firmness: Medium
The Emma Sleep Memory Foam Mattress prioritises comfort by combining materials that are soft, supportive and cooling. It provides you with an incredibly comfortable and relaxing sleeping experience.
The main components that make up the padding of this mattress are breathable Airgocell foam, visco-elastic memory foam, temperature-regulating top cover, supportive HRX foam and finally the breathable bottom cover. These materials work together superbly and give you a pressure-relieving and supportive experience.
You can purchase this mattress in all standard sizes, from single to super king. It is made in the UK and has a depth of 25cm and medium firmness.
You get a 200 night trial with this mattress as well as a 10-year guarantee. You also get free delivery and returns included and can add removal of your old mattress when you checkout.
4. Best For Back Pain – Leesa Mattress 100-night trial
Pressure relief
Cooling top layer
100-night sleep trial
10-year warranty
The Lessa Original Mattress is a premium foam mattress that's ideal if you suffer from back pain and are looking for an incredibly soft and comfortable sleeping experience that still provides a good level of support.
This is a pure foam mattress, which means there aren't any springs to speak of. However, this isn't a bad thing since there are 3 different layers of foam that all work together to provide excellent comfort and support.
The top layer is a 5cm thick Avena cooling foam layer. This helps with cooling and also gives the mattress a springy feel. Beneath this is the pressure-relieving memory foam, which helps to relieve pressure on your body by moulding to your form. Lastly, is the 15cm thick dense core support layer of foam. This helps to support the two layers on top of it and provides durability and strength to the mattress.
You can get the Lessa Mattress in a range of sizes –
UK single
EU single
UK double/UK small double
EU double
UK king
EU king
UK super king
You get a 100 night risk-free trial with this mattress as well as a 10-year warranty. You can also spread the cost by paying with finance, which Lessa offers with 0% APR.
5. Best Pocket Spring Choice – Sleepeezee Cool Sensations 1400 Pocket Mattress
1400 individual pocket springs
Responsive memory foam
Lowest price promise
0% APR finance
Firmness: Medium
The Sleepeezee Cool Sensations 1400 Pocket Mattress is a great choice if you want the excellent support that individual pocket springs provide combined with the comfort of memory foam.
It has 1400 individual pocket springs, which move independently and provide your body with full support. The memory foam layer that sits on top of the pocket springs also helps to support your body while being incredibly comfortable to sleep on.
It has a depth of 25cm and is medium firmness. It also comes with a soft knitted cover, which is very comfortable and helps to regulate your temperature during the night. On the sides are air vents, which help to circulate the air inside the mattress, and turning handles, making it easier to turn and flip the mattress so you can keep it in the best condition possible.
This mattress is made in the UK, is fire resistant and comes with a 5-year guarantee included. You can have it delivered within 12 weeks and get the option to add room of choice delivery and mattress disposal to your order.
What Else To Look For In A Mattress With A Free Trial
Guarantee – Although a free trial is good for determining if you're happy with the feel of a mattress, you still want to know that you're covered if anything went wrong with it. You should always get a guarantee of at least 12 months when you buy a new mattress.
Finance – Finance can be a great way to spread the cost of a mattress, particularly if you can get it with zero interest. Most mattress retailers will give the option of paying by finance.
Free Delivery – A lot of retailers will offer free delivery with their mattresses, especially higher-end models. Also, look for extras like nominated day delivery and room of choice delivery.
Old Mattress Disposal – Mattresses are big, bulky things and can be a headache to get rid of yourself. Thankfully, a lot of mattress retailers give you the option to add mattress removal and disposal to your order.
Room of choice delivery – Room of choice delivery is extremely useful, especially if you're ordering a very large mattress such as a super king or emperor. Sometimes room of choice delivery is included for free but there's a chance you might have to pay extra for it depending on who you buy from.
Free Returns – If you need to return a mattress, you want to know that it will be free. Depending on the size of a mattress, it can take 2 or more people to move it, so delivery can be quite costly if you have to pay for it yourself.
Types Of Mattress
Pocket Spring – Pocket spring mattresses are very popular thanks to the superior level of support they provide. Pocket springs are contained in their own sleeves of material and move independently of each other, providing excellent support for your body.
Memory Foam – Memory foam mattresses are a great choice when you value comfort the most. Memory foam moulds to the shape of your body and provides an incredibly comfortable sleeping experience.
Latex – Latex mattresses are also very comfortable but they're more springy than memory foam and won't mould to your body in the same way. It mostly comes down to preference when choosing between the two.
Hybrid – A hybrid mattress combines a spring system with a layer of padding, often latex or memory foam. A hybrid mattress will allow you to get the benefit of great support while still being very comfortable to sleep on.
F.A.Q
Who do I contact about a return?
If you need to return your mattress for any reason, then you should contact the retailer you bought it from. Generally, mattresses will come with a manufacturers guarantee as well as a retailer guarantee. If it's still within the retailer's guarantee it's usually better to contact them first.
Are the bed-in-a-box trial periods genuine?
Providing you go with a reputable provider, then bed-in-a-box trials are usually genuine. It's a good idea to know the details of the trial though, such as how long it's for and what would happen if the mattress were to become damaged.
Do you have to package the mattress for returning?
This will depend but if it's not practical for you to package the mattress then most retailers will be understanding and accept it back as it is.
Do you get a full refund if you don't like these mattresses?
Most retailers who offer free trials of their mattress will give you a full refund if you decide you don't like it within the trial period. This can vary, however, so make sure you read the fine print before accepting an offer.
What are the most important features to look for in a mattress?
Some of the most important things to consider when buying a mattress are –
Size – Size will always be an important thing to consider when buying a mattress. Single is the smallest size you can get and is generally only suitable for one person. If the mattress is for two people and you want the most space, then a super king or emperor mattress would be a good choice.
Materials – The materials used for a mattress are another important thing to consider. The materials used for the filling as well as the top cover will have a big impact on how comfortable the mattress is.
Firmness – Firmness is important too. Mattresses range from soft to firm, with soft mattresses being the best choice if comfort is most important to you and firm being better if you want better support, for example, if you have a bad back.
Other Mattresses With A Free Trial
Sleepeezee Backcare Ultimate 2000 Pocket Mattress
Soft cashmere
2000 individual pocket springs
Pure new wool
Lowest price promise
Firmness: Extra firm
The Sleepeezee Backcare Ultimate 2000 Pocket Mattress is an excellent choice if you suffer from back pain. It has 2000 individual pocket springs and is extra firm, meaning you get superior support for your back and the rest of your body.
This mattress provides fantastic support but it's also very comfortable to sleep on. In addition to the individual pocket springs, there is a filling that's a mixture of pure new cool and soft cashmere, making the mattress soft and breathable. There is also a breathable woven Damask cover.
There are air vents on the sides of the mattress, helping to keep the air inside it fresh and cool. There are also turning handles stitched onto the sides. Because this is a single-sided mattress, you don't need to flip it, but it is recommended that you turn it head to toe to keep it in good condition.
You can get this in all standard sizes, starting at single and going all the way up to super king. You can also get a super king zip and link version of this mattress – ideal if you want to separate the mattress into two single beds.
This mattress is made in the UK and has a depth of 26cm. You can get it delivered free within 12 weeks and you can either get the mattress on its own or with a divan base included for an additional cost. You also have room of choice delivery and old mattress removal as extra options.
Eve Memory Foam Mattress
Three layers of foam
All sizes available
100 night home trial
10-year warranty
Firmness: Medium-firm
The Eve Memory Foam Mattress provides superb comfort thanks to its 3 layers of supportive foam and also has a very distinctive look, with its bright yellow borders.
The top layer is made from a breathable, moisture-wicking material that helps you to keep cool and dry during the night. The layer beneath this is made from a special type of memory foam, that provides superior support to traditional memory foam and is also much more breathable. Beneath this are the memory layer and the base layer, which together help to provide support and create zones to relieve pressure on key parts of your body. Lastly is the anti-slip base that keeps everything in place.
It comes in all standard sizes, from single to super king, and even has an emperor size model, measuring 215cm x 215cm. UK single to UK double sizes all come with free delivery for Prime members, with UK king to large emperor having free delivery for everyone.
This mattress comes with a 100-night free trial and a 10-year warranty, so you can purchase with full peace of mind. The mattress comes rolled and delivered in a box. You simply unroll it and place it on your bed and it will be ready to use in a few hours.
Conclusion
Free trials are a great option to have when you're buying a mattress. You get to try out the bed for a good amount of time to be sure you're happy with it without the stress of knowing you're fully committed to buying it, you'll just have to get in touch with the customer service team.
Free trials are especially important if you're buying a type of mattress you've never slept on before. For example, if you've only ever had pocket spring mattresses and you want to try out a latex or memory foam model, you have no real way of knowing if it's right for you without trying it first.
Hopefully, you feel confident about choosing a free trial mattress now and will find the one that's perfect for you! Look forward to the est night's sleep of your life. And if not? That's why you've got the mattress trial, you can just send it back from the comfort of your own home.
Related Reading