The perfect mattress type should fall somewhere in the Goldilocks Zone. That's an area where it isn't too firm and it isn't too soft.
It's just right.
A medium firm mattress is just the ticket for those that are looking for that ideal firmness.
Too soft and you don't get the support you need and it ends up causing back pain. Too firm and your pressure points don't settle in.
The best mattress type provides support for proper spine alignment and just enough cushioning for your hips and shoulders to settle.
I picked the top five mattress brands of medium firm support that offer the best night's sleep.
Top 5 Best medium Firm Mattresses UK
FIRMNESS: Medium-firm
Best for: Back and side sleepers
365-night trial period
Cooling, breathable cover
Low motion transfer
Forever warranty
Sizes: Single, small double, double, king size, super king size
NECTAR'S READER OFFER
£125 off Mattresses
Two Free Pillows.
Up to £450 off Bundles and
Up to 30% off Bedding
Not all pressure points in your body are created equal. That's why Nectar has 7-Zone support. Shoulders tend to sink deeper so that zone is slightly firmer than the area where your knees and hips are.
Those pressure points need a little softness to settle into the comfort layers of foam. Everybody gets a good night's sleep when their mattress offers more personalized pressure relief.
Add a low amount of motion transfer and both sleepers get an equally good night's sleep even though their needs are different.
It wasn't just designed with support in mind. Comfort also comes in the form of breathability. The plush top layers allows your body heat to pass through and then is dispersed into the layers of foam. This breathability increases coolness to keep you from overheating as you sleep.
It ranks as one of the top mattresses for side sleepers since you settle into position. If you usually toss and turn, then you will be pleased to instead wake up in the same position in which you fell asleep.
Since I first started writing mattress reviews, there has been an explosion of bed in a box companies to come to market. Nectar is still at the top of the list, especially in the medium firm mattress category. I expect it will remain so for some time.
2. Top Budget Choice – Silentnight Miracoil Pillow Top Limited Edition Mattress

Miracoil spring coil mattress
Made from 100% recyclable fibers
Hypoallergenic
5 year guarantee
Made in the UK
Sizes Available: Single, Small Double, Double, King Size, Super King
Not everybody likes to sleep on memory foam layers. Luckily, there are coil beds like Silentnight Allure that are medium firm and still offer a good night's sleep.
Like many memory foam layer mattresses, the Allure Miracoil has individual comfort zones. It provides support in all the right areas making it the best mattress for active sleepers.
It isn't a pocket spring style mattress, but the coils are ergonomically designed for comfort and for low motion transfer. Moving about won't disturb your partner. Though, you likely won't be tossing and turning much as you feel hugged by the mattress. Very similar to how a memory foam conforms to your body. And the mattress is designed with edge to edge stability so the side of the bed is just as comfortable as the middle.
A plush top knitted surface is luxurious to the touch and offers just the right amount of softness while the coils are there to support your pressure points.
One of the biggest benefits to a coil spring mattress is that they don't reflect your body heat like memory foam. The Allure takes it a step further with Eco Comfort Fibres that will transfer your body heat throughout the mattress for a cooling effect while you sleep. The fibres are 100% recyclable for sustainability while also being hypoallergenic. Dust mites find no quarter in this bed!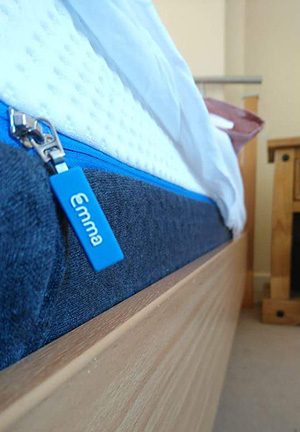 100 night trial with 10 year guarantee
Zoned support
Breathable Airgocell foam
Hypoallergenic
Made in the UK
Sizes Available: Single, Small Double, Double, King Size, Super King
Enjoy all the benefits of memory foam layers but with the features of a coil mattress at the same time with the Emma original. Don't shy away from memory foam. The technology has finally caught up with the potential.
The mattress bounces right back when you move so you don't have that sinking, trapped feeling that older memory foam used to do.
And the Emma is cooling since it uses a proprietary blend of gel foam for the top layer. Your body heat is pulled away instead of reflected thanks to the Airgocell foam.
Then there are layers below that give support. The middle layer of foam cushions and conforms to your contours while the base layer keeps you from sinking and springs back. The support is ideal for body size and weight that wouldn't find much comfort in soft mattresses.
The cover of the mattress is woven in such a way to be breathable and regulate humidity from your body temperature keeping moisture away. It can be washed at temperatures up to 60°C.
Emma solves a common conundrum for back pain sufferers. Too soft beds cause more pain since there is no support and too firm doesn't align the spine. The medium firm support keeps the spine in perfect alignment making it the best mattress for back pain.
Side sleepers, back sleepers and even stomach sleepers all find the perfect position for them on this mattress.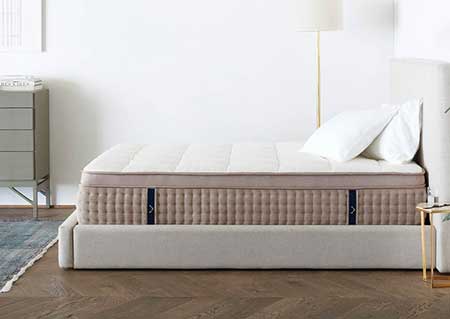 365 night trial period
Pocket springs and memory foam hybrid mattress
Works on any bed frame
Forever warranty
Cashmere blend cover
Sizes Available: Twin, Twin XL, Full, Queen, King Size, Cal King
Like laying on a cloud is how many buyers describe the DreamCloud Hybrid. It is a pocket sprung mattress with a layer of memory foam for the best of both worlds.
Any type of sleeper from side to back sleepers will love the individually wrapped coils that support the body and spring right back. Don't worry, though. Unlike many spring coil mattresses, you won't have any motion transfer. Your partner will not be disturbed if you toss and turn at night.
The coils go right to the side of the bed so you have support no matter where you lay in bed. And when you sit on the edge to get out you still won't transfer any of that motion to your partner.
The coil layer features five zones of varying firmness to add support where it is needed most. Shoulders are usually the most difficult part of the body to please so there is extra firmness there.
The best part may just be the top layer. It is covered in an incredibly luxurious feeling cashmere blend material. Under that is a layer of gel infused memory foam for breathability. And two more layers below with the bottom layer being made of natural latex for added bounce back.
Even the bottom cover serves a purpose. It is designed to stay put so you don't have the mattress sliding around if you use a box spring or platform as your frame.
Though it is suited for any type of sleeper, I think it is the best mattress for side sleepers in the pocket spring mattress category.
£300 Off Mattress,
Up to £708 Off Bundles,
Up to 30% off Bedding.
Click the above "get discount" link to enjoy TheDozyOwl reader deal.
5. Best Medium Firm Latex Mattress – Dormeo Octaspring 6500 Mattress
5-year guarantee plus 15-year warranty
Octasprings made of memory foam
Hypoallergenic latex
Removable and washable cover
Natural probiotic Ecofresh treatment
Sizes Available: Single, Double, King, Super King
Want a memory foam mattress but wonder if you will miss having pocket springs? Try the Dormeo Octaspring 6500 that has coils made out of memory foam themselves.
These unique springs can move three dimensionally unlike many other types of spring coils that only go up or down.
Another benefit of these types of coils is that they are eight times more breathable than other memory foam mattresses to regulate your body temperature. The Dormeo 6500 is easily the best mattress for hot sleepers with regards to memory foam. It can also be classed as the best mattress for low motion transfer due to the design of the coils.
The solid layer of memory foam is made of Ecocell foam that also dissipates body heat to prevent moisture from building up.
There are only three zones for varying support of shoulders legs and hips unlike some of its peers that offer up to seven. The mattress can be rotated so you can still find the right level of support and comfort.
One might rightly be suspicious of the stability of a mattress that uses foam coils. Dormeo engineered the sides of the mattress to provide strength to the mattress. Sitting on the edge won't end up cratering the side of the bed as you get up.
This is not the cheapest mattress reviewed on this list, but it is definitely one that is worth every penny. If you have it in your budget it is definitely recommended as a superb latex mattress. You have a 60 might trial to decide if it is money well spent or not.
F.A.Q
What is a medium firm mattress?
There is a level of comfort and support between being soft or firm called medium. A medium firm adds a touch of firmness for those that still feel that medium is not going to be firm enough. The extra firmness can come from an extra layer of foam or just extra density in one of the layers to provide more structure.
What's the difference between firm and medium firm mattress?
Firm mattresses have very limited "sink" where you more or less stay flat. A medium firm mattress has more give so you do sink into the layers. Yet, there is still enough resistance to support pressure points. Sleepers who weigh between 130 and 230 pounds will want a medium firm mattress. Sleepers over 230 pounds will likely feel more comfortable on a firm mattress.
Is a medium firm mattress good for side sleepers?
Side sleepers generally prefer medium mattresses as their shoulders and hips are able to sink into the layers. With modern improvements in memory foam technology side sleepers can now enjoy medium firm mattresses. With varying firmness zones, you end up getting the support where it is needed so you don't end up with a too soft mattress if you sleep on your side.
What mattress is best firm or medium firm?
Best in the case of firmness is very subjective. It may be the case that a dense latex mattress is the best material for firm since it bounces back much faster than regular memory foam. For medium firm, I think hybrids with a blend of pocket spring and memory foam are the best mattresses.
Other Medium Firm Mattresses
Here is a list of mattress reviews for the runners up. The following mattresses are also very good and deserve consideration.
Individually wrapped pocket springs
Hypoallergenic
Made in UK
5 year warranty
25cm deep
Sizes Available: Single, Small Double, Double, King, Super King
Another hybrid that features both memory foam and pocket sprung mattress is the Contour 2000. You get the best of both worlds by layers of responsive memory foam over individually wrapped pocket spring coils. Each coil is able to respond individually for perfect support that follows your body's contours.
The top layer of memory foam conforms to your pressure points with the coils below doing their part to resist just enough. That resistance is important to maintain a perfectly aligned spine to prevent or reduce back pain.
Stability goes all the way to the edge of the bed with a 100% cotton interlinked border. All the layers of the bed are made with hypoallergenic material.
If you are on a budget, or simply are not sold on strictly memory foam mattresses then this is a great new mattress for you.
1000 coil pocket sprung mattress
Hypoallergenic material like polyester and Sanitized sleep surface
Belgian Damask cover
Chrome air vents
60 night sleep trial
Sizes Available: Double, King, Super King
Every bed on this list so far has either been a memory foam or hybrid mattress. For the purist we also have the SleepEezee that is strictly coil. But, not the old fashioned creeky coils. This is a 1,000 pocket spring mattress in which the coils act individually from each other for extra comfort and support.
Out of any on the list, this is the best mattress for allergy sufferers. Whether you have hay fever, are allergic to dust mites or have an easily triggered asthma. The construction of this mattress is designed to alleviate allergies. The filling is 100% polyester which are hypoallergenic. And the surface of the bed is treated with Sanitized® Sleep Surface which is an antibacterial.
The cover is soft and luxurious. Stability extends to the edge of the mattress to reduce motion transfer.
Since it isn't a bed in a box, there is no off gassing and waiting for it to take shape for a couple of days. As soon as it arrives, it is ready to be slept upon.
1200 pocket spring mattress
Natural fillings
Belgian damask cover
5 year warranty
Double sided
Sizes Available: Single, Double, King, Super King
This is a good, thick mattress at 25 centimetres deep. Just as most people are looking for in a pocket sprung mattress. In this case, there are 1200 of them to provide an added level of support and comfort.
Natural fillings of cotton even more comfort and softness throughout the mattress. And air vents on the side allow for air to pass through which keeps you cool and prevents a build-up of moisture inside the mattress.
You may not ever need to turn the mattress over as rotating it is usually enough if you start to feel the coils sag. But, the option is there since it is a two-sided mattress.
It is a pillowy feeling mattress that is deep and so satisfying to sleep on. Yet, it is not so soft that you don't have proper support. And, there is no need for a mattress topper as the pillow is definitely deep enough.
A Belgian damask cover and tufting makes the mattress feel very well crafted with a high level of construction.
Overall, this is a fantastic new mattress for those that like a traditional coil mattress.
Which? Best Buy Winner
1500 pocket springs
5cm top layer of memory foam
Hypoallergenic
27 centimeters deep
Sizes Available: Single, Small Double, Double, King, Super King
This mattress almost made the cut for the top five since it has so many individually pocketed spring coils and a comfort layer of dense memory foam. It gives great support while also feeling luxurious.
It feels like a pillow mattress but with the hugging quality of memory foam without the need for a mattress topper. The top layer is 5 cm deep for orthopaedic mattress support. It is very responsive and disperses your body weight to relieve pressure points.
Under that layer are the 1,500 coils that also help disperse body weight. They provide just the right amount of resistance to give support where it is needed while spreading your weight away from your body.
The knitting and the tufting of the cover adds a bit of luxury for comfort in addition to the relief of back pain.
The firmness is slightly higher than other medium firm mattresses putting it slightly closer to firm territory.
2,000 individual pocket springs
2 layers of memory foam
Pillow topped
Hydrophilic Fibres
5 year guarantee
Sizes Available: Single, Double, King Size, Super King
Now we are really talking about luxury and support. There are 2,000 coils this time for the ultimate in conforming to your contours. Added to that are two comfort layers of responsive memory foam. These two layers are made out of soft, yet dense foam to bounce quickly back when you move. You won't feel like you've sunk into the layers and then become trapped.
Under those layers are the springs. Each one moves individually to disperse your weight evenly. They are designed with two stages. The upper section of the coils compresses to conform to your shape. Then the lower section of the springs helps to distribute the weight.
Both of these factors working together makes you feel like you are being gently hugged and then releases every time you move. Though you likely won't be moving around much as you can find your perfect position as soon as you lie down.
Just to make sure you are happy, you can sleep on the mattress from 30 to 60 nights and send it back within that time frame if it isn't the best mattress for you.
Conclusion
Pocket springs or memory foam. Hybrid or traditional. It isn't easy to decide when mattresses can be so comfortable and also an orthopaedic mattress these days.
There didn't used to be as much to choose from.
The one benefit is that there is the best mattress for every budget. Any of these on the list of medium firm mattress reviews will surely not disappoint. Evaluate your needs, budget and size.
If you do need help, then leave a message in the box below and I will get back to you as soon as possible!