Sleeping in summer can be a challenge. With some of the sticky, hot summer nights we've experienced in the UK the last few years, fan sales I am sure have skyrocketed.
What happens, however when your fan may bring some relief from the heat, but keeps you lying awake at night due to the noise?
Luckily for me, I am a white noise lover so I can stay cool and let the sound lull me to sleep.
Other poor souls like my wife, don't have that luxury and require a quiet space.
For those people, there are some quiet fans that will keep you cool and not distract you from that ever important sleep.
In this article I will point out a few of the best quiet fans you can buy in the UK plus a handy buying guide to help you pick the right one for you.
Best Silent Tower Fan
Honeywell HY254E QuietSet Tower Fan

Whisper quiet technology
90° rotation
Includes remote control
Timer can be set for 1, 2, 4 or 8 hours
I won't leave you in suspense and get right to the most obvious question. How quiet is it?
It can be running in a room and you wouldn't even know it was on essentially.
Since it doesn't have propeller blades, the oscillating ones can stay very quiet while still providing good airflow.
With 5 different settings you can have it set low and be whisper quiet. The highest setting will have it at its coolest and will make a bit more noise, but hardly anything that would be considered loud.
What really makes this a great purchase are the creature comforts it provides. First, it comes with a remote. Keep it by your bedside and you won't need to interrupt your sleep or your partner's by getting up from bed to change the settings.
There is also a timer to set it to power off automatically, and a handy thermometer to show the temperature of the room.
What are the negatives?
The air flow can only come straight out and can't be adjusted. In other words, you cannot angle the flow up or down. This may not matter to some but if your bed is high off the ground you may not get enough air flow.
Another potential negative is the center of gravity makes this slightly unstable. If you place this on a carpet, it may tip over.
Aside from those two things that may not affect many people, it does what it needs to do. Provides cool air, is very quiet and has some modern conveniences.
Best Quiet Bladeless Fan
EODO Air Multiplier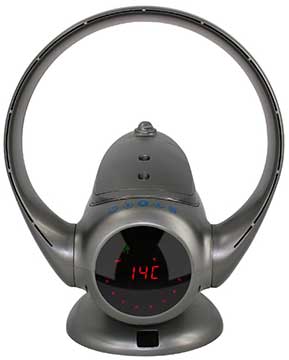 No blades makes for quiet operation
Sleep timer from 30 minutes to 2 hours
Remote control included
Can be used with essential oil aromatherapy
Works also as a humidifier
When you want a fan that does it all and you don't want to pay Dyson prices, then I suggest the Eodo.
It features the same air multiplier technology that a Dyson does so it can move air efficiently and quietly. With eight different speed settings, you can be very precise with just how much of a breeze you need to feel comfortable.
This fan has so many bells and whistles that it almost feels gimmicky. I will say, though that a lot of the features will come in handy sooner or later.
First, you have the option to use the fan as a humidifier. Combined with the silent operation the humidifier function will be ideal for those with newborns or infants. No blades makes this a very safe option in a nursery.
Using the oil for aromatherapy or to freshen up some stale air in a bedroom will be used more than you probably think it will.
At 50db, this is about the equivalent of a hushed conversation. Imagine a gentle hum around the same level as a quiet office.
You'll get incredible coverage with a 180° up and down motion and a 90° oscillating swivel. This will create air flow to every corner of the room. Though it is not a tower style fan, it can be mounted to a wall if you need it higher. The humidifier and oil effect won't work though as the reservoir will be tilted.
I highly recommend this over the Dyson version as it offers the same quiet operation and air flow with additional features.
Best Silent Pedestal Fan
Klarstein Infinity Storm Cool Edition

Stands up to 140cm high
85° rotation range
Includes remote control
6-speed level
When you need some height to reach up to a lifted bed, then having a pedestal stand fan works wonders.
You end up with a lot more freedom then with some of the other fans I listed here as you aren't relegated to keeping it on a table in a fixed location.
A 15° tilt and 85° radius when oscillating can give you wide coverage around your bedroom.
What makes this fan stand out from any other that you can get just about anywhere is that it doesn't act like your typical fan. The air flow is much more natural and feels like a slight breeze blowing instead of air being forced around the room. It is much more relaxing.
In fact, this fan has three different modes to fit your mood or how hot it may be. Normal, Nature and Sleep. On Sleep, the breeze is very gentle and incredibly quiet. On Normal mode, it is what you would expect, a slightly more aggressive air flow that will cool you down fast. And Nature is the air flow I already mentioned.
Then there are 6 different speeds and the highest one is still a very quiet 59db.
With an included remote, you get a nice modern feature to keep you in bed longer.
I struggle a bit to think of anything negative about this fan. And, really, there isn't much to gripe about. Maybe the only thing is that the base doesn't feel very sturdy and it is slightly tippy.
Best Mini Tower Silent Fan
Igenix DF0020 Mini Tower Fan

Compact size ideal for bedside tables
Oscillates 60°
Easy carry handle
12 inches tall
If all you need is a very basic, small and silent fan to place beside your bed, then you could do worse than this neat little fan. It looks like your typical tower fan, yet is only 12 inches high.
It uses the same concept as its larger peers, so it doesn't use propeller blades making it very quiet. Even when it is placed close to your head, it won't be so loud to distract you.
It does not have a lot of frills and modern features, but that is not its purpose. Just two speeds, high and low and the controls are strictly manual. No remote. No timer.
Just a quiet operation with a convenient size. If you need it while you're watching telly, then take it with you. The noise won't compete with the sound of the television.
If you have a bed partner that doesn't like to have the fan on them and is sensitive to noise, then this acts like a personal fan to keep everybody happy.
Types of quiet fans
Buying a quiet fan. How hard can it be?
Quite easy, but there are some features and factors of each different kind that may impact your purchasing decision.
Let's dive in to see what kinds of fans are available for those that need a silent night.
Table Fans
When you need a small fan that doesn't need to cool an entire bedroom, then these compact fans can cool you down very well.
If you have a partner that runs cool and doesn't like to have air blowing on them then the size can concentrate the flow to a small area where only you will enjoy.
You may be surprised with the amount of air discharged from a small fan as they can be centrifugal style with deep-pitched blades that can throw out some serious current.
Oscillating Tower Fan
You get considerable variability with a tower fan as they can cool an entire bedroom, or you can concentrate the fan in one area. Usually, these are very quiet as they don't have propeller blades and are very solid in structure.
Some have filters so they are a great choice for allergy sufferers in addition to being silent.
Box Fans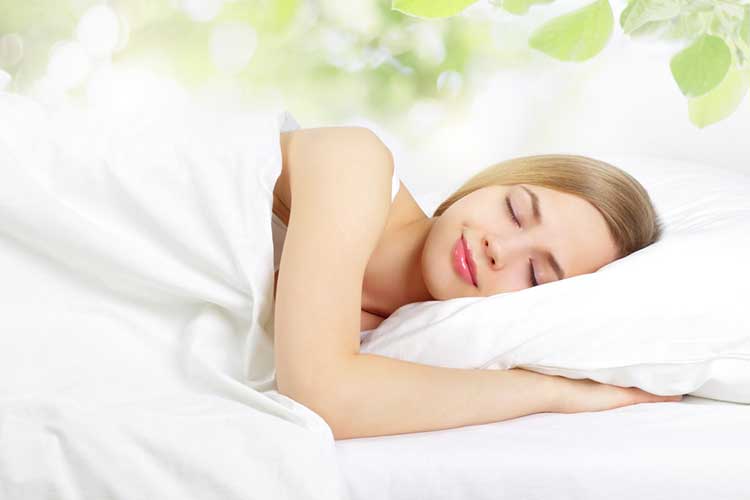 An ideal choice for cooling an entire room if the air temperature outside is cooler. They are very powerful and as a result can also be very loud. There are some quiet ones on the market but many make you wonder what their definition of quiet is. They are not exactly silent, but some models are more peaceful than others.
Bladeless Fans
Innovated by Dyson, this is a fan that has no moving parts but uses air multiplier technology to draw in air and then force it out the other side. They look futuristic and are the most silent tower fan that you can get these days.
They are not cheap, however, there are some other manufacturers that have taken the idea and created less expensive versions than Dyson.
What to look for in a quiet bedroom fan
Since all of the fan reviews in this list are the quiet kind, it is a given that that is what you would be looking for.
The rest all boils down to how many frills are you looking for and what you want the fan to do.
Here are a few things to look for to determine what will be the right one for you.
Controls/Remote
Are you old school and just want to turn a dial to turn it on and set the speed? There is definitely something to be said for not needing to learn how to operate a remote.
However, the more speed and mode options you have, the more complex you will want the controls to be so you can take advantage of all the variations. Having a remote may seem like overkill, but when you can adjust the settings without lifting your head from the pillow, you will be glad you have it.
Oscillation
You may only need to focus your air flow in one small area, in which case oscillation is not very important. But, when you need to cover a wider area then it becomes an important consideration.
The minimum you would need is around a 60° radius. If you can imagine lying in bed, then this would cover you from head to knee roughly, depending on how tall you are.
The max would be somewhere around 90° to cool down an entire room.
Height
Sleeping on a high bed will require either a nightstand or table nearby if you have a small fan. If your fan would then be too far from the bed, then you'll need either a tower or pedestal fan to get the breeze right to you.
Some fans like the Vornado may not reach the height of the bed but do such a good job of circulating the air that it doesn't matter how high it is.
Add Ons
When luxury matters then you can find a fan that also acts as a humidifier. This proves great for those hot dry nights in a baby's nursery, for example.
Timers are also a nice to have feature so it can shut itself off while you are sleeping.
I have even reviewed a fan that allows you to use it for aromatherapy by adding some essential oils to a reservoir.
Final Thoughts
You probably didn't think too much about what kind of fan you needed before you decided to purchase a quiet bedroom fan.
It turns out, as you are now aware, that quiet was not the only criteria that you were looking for. It was the most important, but with the variety of silent fans for sleeping, it probably became clear that you needed a helping hand.
I hope this list of fan reviews proves helpful for you to finally get some cool and peaceful sleep!