Wool mattresses are great, they're naturally hypoallergenic and they have great breathability to help keep you cool if you're a hot sleeper.
They're a natural material and are normally found as a filling alongside other natural materials and offer a more traditional feel from pocket springs inside the mattress as memory foam mattresses tend not to use wool in them.
I've got the top 5 wool mattresses reviewed first followed by a buyer's guide and then 5 more wool mattress reviews so you can be sure to find something you like.
Top 5 Wool Mattresses
1. Top Choice – Sleepeezee Wool Supreme Pocket Mattress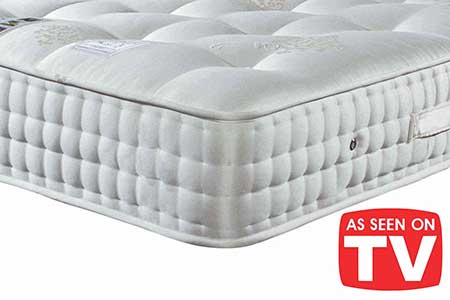 2 Free pillows
60-night sleep trial
2000 pocket springs
Wool and silk fillings
5-year guarantee
Firmness: Medium
Sizes: Single, double, king size and super king size
2 free pillows are always a nice addition, especially when they're luxury cotton pillows and are a nice upgrade for your bed.
The 2000 pocket springs is nice and high for plenty of support and comfort across the bed while the silk is hypoallergenic to keep the bed fresh and the wool has its moisture-wicking properties which help to maintain body temperature keeping you warm in winter and cool in summer while improving durability.
Plus there are air vents in the side for even more ventilation which makes it an excellent choice for hot sleepers.
The medium firmness is fine for back sleepers and side sleepers but not so good for stomach sleepers. It's also a good choice for couples because pocket sprung mattresses prevent roll together so you can move without moving your partner too much.
You don't need to flip this mattress but if you turn it regularly from head to toe you'll increase the life span and keep getting a good night's sleep for years to come.
2. Budget Choice – Millbrook Wool Sublime 1000 Pocket Mattress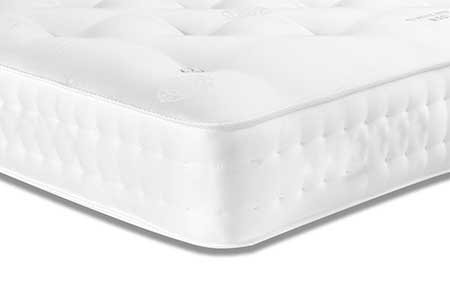 Wool and cotton fillings
60-night sleep trial
22 cm deep
10-year warranty
Firmness: Medium
Sizes: single, small double, double, king and super king size
Temperature regulating to keep you warm in winter and cool in summer, this mattress works to keep you comfortable all night long.
1000 pocket springs which keeps the price down and Good quality wool, and cotton – which are normally in more expensive mattresses – give it thermoregulating properties that keep you cool in summer and warm in winter. Plus it's only 22 cm deep so it will fit on almost any frame.
A 10-year warranty which is a sign of great craftsmanship and the fact that this mattress was built to last. Plus a 60-night sleep trial so you can try it before you buy it!
3. Best Wool Mattress For Back & Side Sleepers – Sleepeezee Wool Superb 2800 Pocket Mattress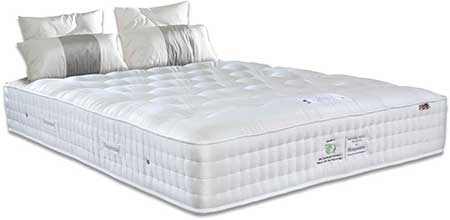 British Wool
Wool and cotton filling
Luxury supportive feel
7-year guarantee
Firmness: Medium
Sizes: single, small double, double, king and super king size
A lovely and plush feel that works to contour to your body, ideal for side and back sleepers. 2800 pocket springs work hard to support you where you need it, easing back pain and allowing you to sink into a restful sleep.
The two layers of British wool work to make it a great choice of natural mattress and improve breathability and comfort through the night. The other main filling is cotton which is comfortable and the two are great for allergy sufferers because of their hypoallergenic properties.
One of the more luxurious choices on the list it will work to keep you sleeping soundly for year after year with the 7-year guarantee and high quality of build that you get with this wool bed.
4. Best Firm Wool Mattress – Bed Butler Emperor Supreme 3000 Pocket Mattress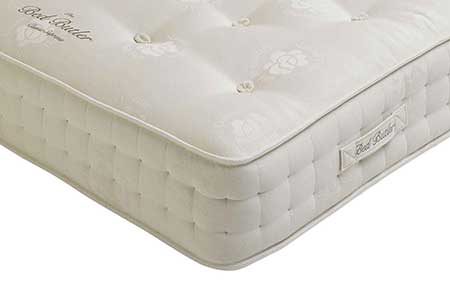 Silk, cotton, cashmere and horsehair fillings
Pure lamb's wool
28 cm deep
5-year guarantee
Firmness: Firm
Sizes, Double, King and Superking size
Horsehair might sound a bit strange but it's a great sign of a truly luxurious mattress. It's strong for durability and bounces back after compression to give you a bed that springs back into shape time after time.
Combine that with cashmere which is softer than the pure wool inside and acts to add a soft comfortable feel, then, of course, you have the cotton and wool which help regulate body temperature keeping you comfortable.
Next, the 3000 pocket springs work to provide unmatched support and comfort even with the firm feel. It's made up of two layers of springs so you get the exact support you need where you need it, if your hips need to sink deeper they can, if your shoulders need to sink they can. Any sleeping position and your back will be happy.
Great for side, back and stomach sleepers and a fine choice of natural wool mattress.
5. Best Soft Wool Mattress – Wool Luxury Soft 2000 Mattress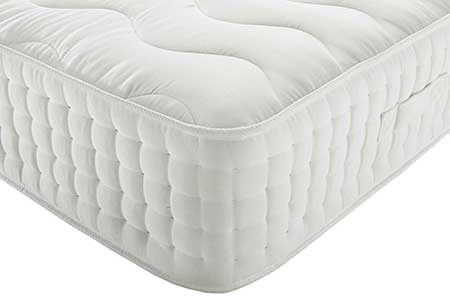 Pure new wool
Quilted Cover
28 cm deep
5-year warranty
Firmness: Soft
Sizes: single, small double, double, king and super king size
I'm not a fan but I know some people love a soft mattress, sinking in and getting a nice cuddle from your bed is no bad thing.
This mattress offers support with the 2000 pocket springs which is starting to get a nice luxury feel and stops any dips from happening in the mattress while supporting your pressure points.
The border is side stitched to ensure you're supported up to the edge of the bed and you don't need to flip it although you will need to turn it periodically.
The cover is quilted for an extra comfort layer and the all-round cushioning of the mattress provides an excellent sleeping surface. Easily of the best mattresses if you want a soft wool feel.
What Firmness To Choose
In my mind, you've got 6 firmness levels, soft, medium-soft, medium, medium-firm, firm, and extra firm. Wool mattresses tend to be around the medium firmness level but they do vary depending on the types of springs are inside.
No one firmness is better than another so if there's one you like then go for it, don't let me stop you!
Soft – Soft mattresses are only good for people who like soft mattresses… A bit obvious but they're not especially good for one thing or another compared to the other firmness levels.
One thing I will say is that they're not good for stomach sleepers but side and back sleepers will get on fine.
Medium – Medium and medium-firm mattresses are good all-rounders, most people like them and they're better for back and side sleepers but they're OK for stomach sleepers too, although if you're a stomach sleeper you'll do better on a firmer feel.
Firm – Good for people with a bad back and dealing with back pain. Great for stomach and back sleepers and OK for side sleepers if you're got the right pillows to support your head.
But again, it's up to you and what you like, but if in doubt, medium and medium-firm will be a good choice.
Advantages of a Wool Mattress
Breathable – Wool is naturally breathable allowing air to circulate but it also has moisture-wicking properties that help remove moisture which can cause heat build-up and cools you down while also allowing your mattress to last longer.
Temperature Regulating – Wool works to wick moisture away allowing your body to stay at a consistent temperature so you sleep more soundly. You can be kept cool in the hot summer months and keep warm through the cold winter nights.
Natural – Wool is, of course, a natural material, it just gets sheared straight off of sheep! It's not chemically treated and it's not made in a laboratory, it is a natural material, alongside natural latex and materials like silk, cotton, horsehair, all come together to leave you with an all-natural mattress.
Great for allergy sufferers – Wool is naturally hypoallergenic, it's resistant to dust mites, it keeps out allergens and works to keep your mattress fresh. So if you're asthmatic or suffer from allergies it's a great choice. But even if you don't, having a nice fresh bed is no bad thing. Though I always recommend having a washable mattress protector to keep it as fresh as possible, a machine washable one so if anything happens you don't just have to get a new one. You've already got a new mattress after all, you don't just want to keep clearing everything!
Disadvantages of a Wool Mattress
There aren't really any disadvantages specific to a wool mattress. The material by itself can compress but if it's part of a larger mixture of materials and layers in a mattress then it's not really a problem. If anyone has the experience they want to share in the comments I'm open to hearing them but as far as I'm aware there are no disadvantages.
Other Wool Mattresses Reviewed
Relyon Woolsack 1750 Pocket Mattress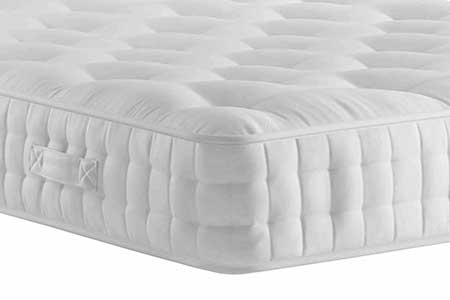 Cashmere and silk fillings
Hypoallergenic
32 cm deep
8-year guarantee
Firmness: Medium or Firm
Sizes: single, small double, double, king and super king size
They Relyon Woolsack is made with a hypoallergenic cover and a hypoallergenic layer on the inside which makes it a very fresh mattress to sleep on.
It's got a choice of either a medium feel or a firm feel which I like, gives you the choice to get the feel you want. The differences come from the springs that are inside, they will be either firm or medium feel to adjust the mattress.
There is a layer of cashmere which provides a nice soft sleeping surface even with the firmer feel and the wool and silk work together to regulate body temperature and keep you comfortable.
It's got 1750 pocket springs inside that work to keep you supported a comfortable, It's not the highest, I usually like towards 2000 inside a mattress but it's close enough and combined with other high-quality materials to keep the bed super comfortable so it gets a pass.
Savile Organic Cashmere Superb 5000 Pocket Mattress

Wool, cashmere and horsehair fillings
Egyptian cotton cover
Organic certified
5-year warranty
Firmness: Medium-soft
Sizes: single, double, king and super king size
Speaking of expensive mattresses, this is one of them but is also the height of quality and luxury. Horsehair is only found in the highest class of mattress and works to be springy and durable for a long-lasting mattress and comfortable sleep night after night.
The Egyptian cotton cover is soft and feels nice underneath your sheets and the mattress has been organic-certified to prove it's got only the highest quality and natural fillings inside.
5000 springs are amongst the highest you can get and will give you nothing but comfort from the moment your head hits the pillow.
Classy, sophisticated, and an executive feel.
Gainsborough Eminence 7000 Pocket Mattress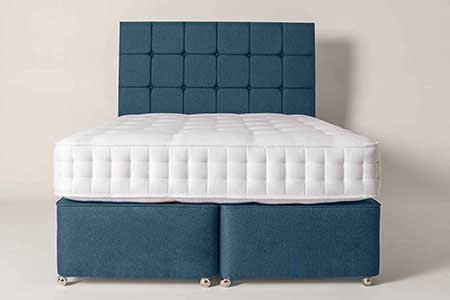 Breathable cover
Cotton and wool fillings
27 cm deep
10-year guarantee
Firmness: Medium
Sizes: single, double, king and super king size
You say 5000 pocket springs is high then a 7000 pocket spring mattress comes along. 7000 is unbelievably high, I think it must be made in 3 layers of springs, the result is, of course, a truly luxurious sleep, maximum support and comfort to keep you sleeping soundly through the night.
Apart from that you've got the wool filling, of course, and cotton which both work to keep your temperature steady letting you sleep deeper. Combine those with a Damask cover that's breathable and you've got a really nice mattress.
Edge to edge support keeps you comfortable right up to the sides of the mattress which are hand-stitched for durability. Made in the UK and you've got a 10-year guarantee as a sign of quality and trust that this mattress will serve you well.
Tuft & Springs Chantilly 3000 Pocket Natural Pillow Top Mattress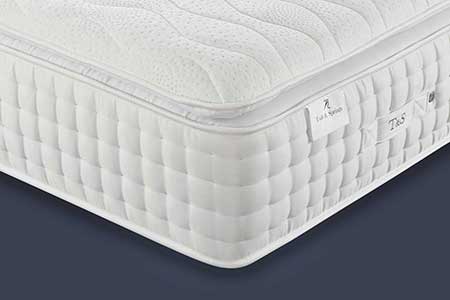 Wool and cotton fillings
Damask cover for breathability
35 cm deep
5-year guarantee
Firmness: Medium
Sizes: single, small double, double, king and super king size
A pillow top works sort of like a built-in mattress topper, in this case, a wool topper rather than a memory foam topper. A combination of high-quality fillings and a high spring count make this an excellent choice of mattress.
35 cm's deep is on the larger side but not so large your sheets stop fitting. In case they do you'll want to get some deep fitted sheets, they'll cover the mattress nicely.
Minimal movement transfer from the large number of springs so you can move without disturbing your partner. The result of that is that you sleep deeper for longer and actually get more rest and wake up fresher.
A Damask cover and air vents in the side work alongside the wool to keep you cool and maintain your body temperature through the night.
A fine choice of wool mattress.
Conclusion
There we have it, you now know more about wool mattresses than you ever thought you would. I hope you found it useful and found the mattress you want.
If you did, consider combining it with a wool duvet to complete your collection and top off your natural sleep experience.
If you're still undecided then have a closer look at the top choice of the Sleepeezee Wool Supreme Pocket Mattress, it's got everything you'll need from your wool mattress.
Related Reading
The Best UK Mattresses reviewed
Pocket Spring mattresses Reviewed
Best Mattress Protectors
Best Memory Foam Mattresses