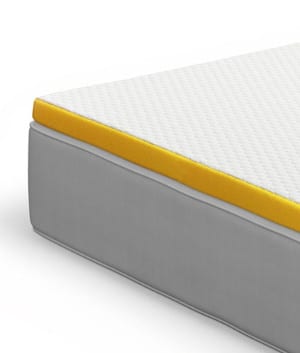 The Eve mattress topper is the perfect upgrade if you can't afford to replace your mattress. Replacing your mattress can be costly and some of us need a bank balance friendly alternative that still provides a great sleep upgrade.
That's where the Eve memory foam mattress topper comes in. For a quick overview, It's 5cm thickness give you a whole heap of comfort while providing extra support to a bad back and a 2cm cooling layer keeps you climate controlled all night long.
Click here to check it out on Eve's Website
(P.S. Use the Voucher Code DOZY5OFF for 5% Off The Eve Mattress Topper)
Why Memory Foam
Memory foam was brought to us by some very clever people over at NASA while they were trying to develop a seat material to withstand the pressures of take off. They eventually made the technology open to everyone and from there memory foam mattresses were developed and loved for their supreme comfort and support.
Memory foam mattress toppers offer up great support helping keep your spine aligned and back free from aches so you can wake up refreshed and I'm happy to say the eve mattress topper is no exception.
Memory foam itself is a Viscoelastic material which basically means it gets softer when body heat is applied. So the heat from your body causes it to soften and mould around you for maximum hug and cloud-like feelings.
What's in the Eve Mattress Topper
The Eve Mattress topper is made up of three parts, a 3 cm base that provides great support along your back and joints helping get rid of morning aches and pains. On top of that is the 2 cm cooling layer I mentioned which is 30x more breathable than regular memory foam and it wick away moisture so you can wake up cool and refreshed not clammy.
Those are then wrapped up in a really cool cover that is actually non-slip so it stays exactly where it needs to on your bed no matter how much you toss and turn. It's also completely hypoallergenic so great for allergy and asthma sufferers alike.
The final wee bonus is that it absorbs movement so if you have a restless partner you'll be much less disturbed by them and can sleep soundly.
Eve Mattress Topper Guarantees and Trial Period
One thing I really like is that you actually get a 30 day trial period and if you're not happy with it, you can send it back for a full refund. After that, you have a nice 3-year guarantee so no worries there. Oh, and it's free delivery!
Something to Watch
There is a good chance that when your first open your topper up you're going to get a really weird chemically smell. That's TOTALLY NORMAL, just an unfortunate side effect of memory foam. You simply need to leave it unwrapped and out from under the sheets for a while with the windows open and the smell'll go away.
Verdict On The Eve Mattress Topper
The Eve Mattress topper is a really great way to upgrade your bed whether you're looking for comfort, support or cooling. An ideal way to improve any mattress.
Click here to check it out on Eve's Website
Related Reading
Eve Mattress Review
Best Memory Foam Mattress Topper
Eve Pillow Review