If you need to upgrade your mattress to something comfier but don't have the money for a new mattress you're in luck.
The Eve mattress topper provides a comfortable nights sleep on top of a topper that doesn't overheat you, keeps you still through the night and lets you wake up in the morning well rested and refreshed.
All that without breaking the bank.
Sound good? You bet it does, so let's dive into this review of the Eve mattress topper and see if it's right for you.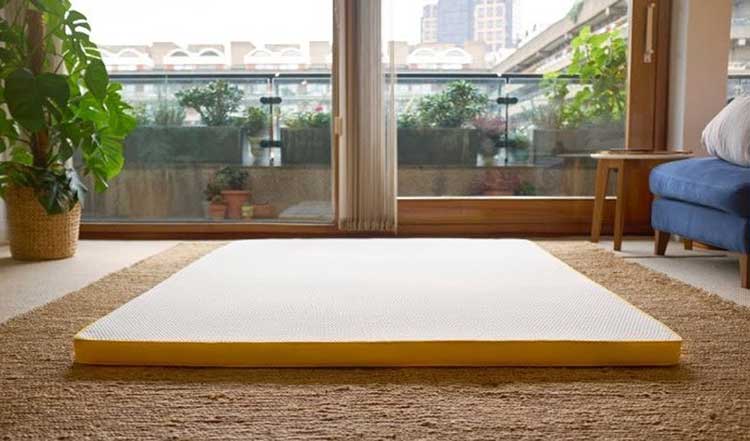 WHY MEMORY FOAM
Memory foam has a lot going for it, it's one of the most popular types of mattress and has been keeping people across the UK sleeping soundly for decades.
Keeps Your Spine Supported
If you're prone to back problems or tend to wake up in the morning stiff and even in pain then you're in luck, the Eve topper moulds to your body while you sleep which gives you the support you need where you need it.
Stops You Moving Around
The way memory foam hugs you stops you from getting so restless through the night as well, it stops you from rolling around and disturbing your sleep letting wake up rested.
This has the double bonus of absorbing movement so that when your partner moves around you won't feel it and will stay asleep.
Convinced? Click here to go to Eve's website and order yours
WHAT'S IN THE EVE MATTRESS TOPPER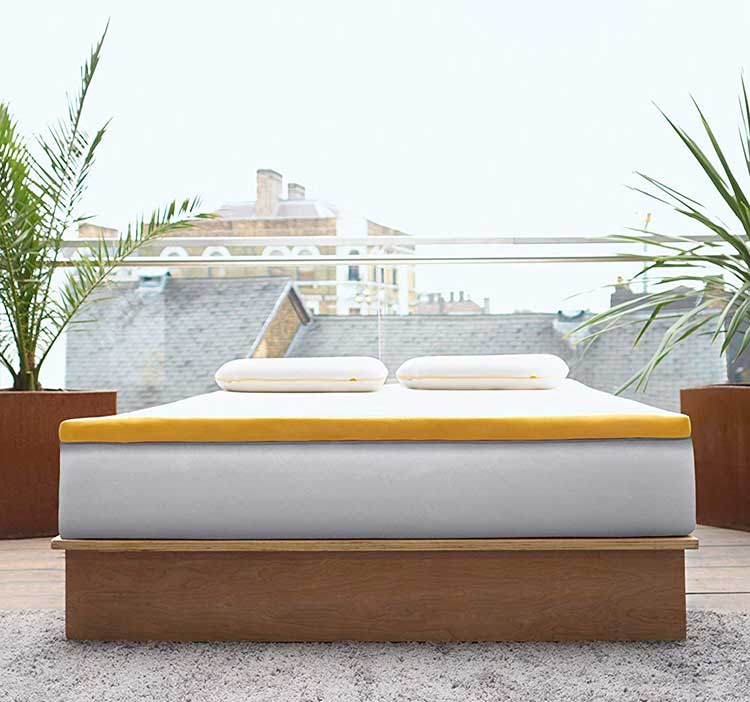 I like how much thought has gone into the Eve mattress topper, they've carefully constructed it in 3 different parts that each work to give you the best sleep possible.
The Base
Let's start at the bottom with the 3 cm of ultra-resilient reflex base foam, this works to cover up and lumps or sags your old mattress might have had while also giving a firmer base for the supportive foam that goes on top. The whole thing has a medium-firm feel so can be a great way to firm up a soft mattress.
Evecomfort Foam
This is the special ingredient that's inside it which gives it it's breathability and support. The support comes from it being memory foam but what's clever is they made this foam to be 30x more breathable than traditional memory foam which could over heat you.
This means the Eve mattress topper can help breathe out all the heat that you generate when you sleep keeping you comfortable without making you cold. If you're prone to really bad overheating then you'll want a more natural mattress topper but most people will get on great with this one.
The Cover
The Cover is hypoallergenic so if like me your an asthma sufferer this is a big plus but even if you're not it helps to keep germs and dust mites out of your bed which can make you sick.
It's 100% polyester and the top part can be machine washed at 40 c which is handy in case anything gets spilled on it.
Underneath that is a non-slip base layer that alongside some corner straps keep it in place nicely. I hate when the mattress topper slips down the bed because it's a nightmare to pull back up again so this is a really big plus for me.
GUARANTEES,TRIAL PERIOD & Sizes
One thing I really like is that you actually get a 30-day trial period and if you're not happy with it, you can send it back for a full refund.
Plus it's an actual refund, you don't have to pay for return shipping, just phone up they collect it and you get your money back, so you might as well try it since if it doesn't work out you can get your money back. After that, you have a nice 3-year guarantee so no worries there.
Oh, and it's free delivery!
The sizes you can get are all the standard bed sizes, what's good is they've got UK and EU sizes so if you have an ikea mattress you can still get the right size.
UK single – 90 x 190 cm
EU single – 90 x 200 cm
Small double – 120 x 190 cm
UK double 135 x 190 cm
EU double – 140 x 200 cm
UK king – 150 x 200 cm
EU king – 160 x 200 cm
Super King -180 x 200 cm
SOMETHING TO WATCH
There is a good chance that when your first open your topper up you're going to get a really weird chemically smell. That's TOTALLY NORMAL, just an unfortunate side effect of memory foam. You simply need to leave it unwrapped and out from under the sheets for a while with the windows open and the smell will go away.
VERDICT ON THE EVE MATTRESS TOPPER
The Eve Mattress topper is a really great way to upgrade your bed whether you're looking for comfort, support or cooling. An ideal way to improve any mattress.
Click here to order yours on Eve's Website
(P.S. Use the Voucher Code DOZY5OFF for 5% Off The Eve Mattress Topper)
Related Reading
Eve Mattress Review
Best Memory Foam Mattress Topper
Eve Pillow Review