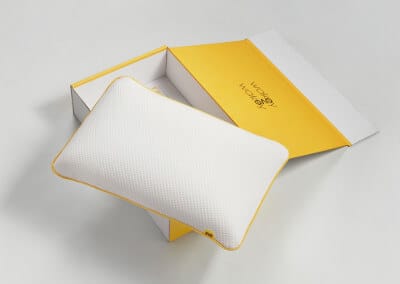 The Eve pillow comes to you straight from one of the best memory mattress makers in the world. For a quick overview, you just need to know it's suitable for every type of sleeper and comes in at a medium-firm rating. But let's get into the details or:
Click Here to Order The Eve Pillow on Amazon
Why Memory Foam
Memory foam was brought to us by some very clever people over at NASA while they were trying to develop a seat material to withstand the pressures of take off. They eventually made the technology open to everyone and from there memory foam mattresses were developed and loved for their supreme comfort and support. But we're here to talk about pillows!
Memory foam pillows offer up great support along the neck and shoulders helping keep your spine aligned and neck free from aches so you can wake up refreshed and the Eve is no exception.
Memory foam itself is a Viscoelastic material which basically means it gets softer when body heat is applied. So the heat from your head causes it to soften and mould around your head for maximum support and comfort.
The Eve Pillow
Now that we know what memory foam is, what's the pillow like!
Well the eve pillow comes vacuum-packed and in a little box so it's best to leave it to air and "inflate" before you give it a try. This gets rid of any smell that might be there (totally normal for any new memory foam) and get's it just right for sleeping on.
It's perfectly suitable for any type of sleeper back, front or side. I'd say the feel of it is definitely a medium-firm feel with it feeling a little firmer than the Tempur memory foam pillows if any of you have tried that for a comparison.
The pillow covering is removable and washable making it nice and easy to keep clean if anything gets through your pillow case. It's knitted jersey making it extra snug and elasticity.
Eve Pillow Returns & Guarantee
You actually get a 30 day trial of the pillow so if you don't like it you can just send it on back free for a full refund! But if you do like it, and I think you will, you've got a rest easy 3-year guarantee to keep you slumbering soundly all the night long.
Eve Pillow Case
The Eve pillow measures up at about 42cm x 66cm so it'll fit perfectly into a standard pillowcase or Eve have their own pillow set on their website for those interested. All the eve sheets are pretty cool actually they use a percale weave which keeps the material tighter and so keeps the sheets feeling soft and fresh while promoting breathability.
Verdict
All in all, I'd say the eve pillow is fantastic! The memory foam offers great support, the cover is breathable avoiding overheating and it's got a trial period and a 3-year guarantee. Lovely! Click here to head over to Eve's website for more information.
Related Reading