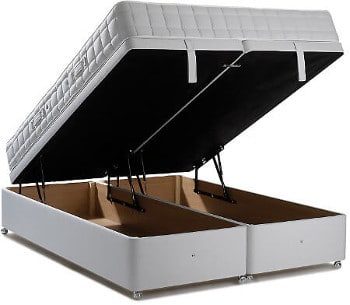 Divan beds are great.
The practical storage underneath makes them ideal for tidying away bed linen, towels, shoes or anything else. Way better than putting all your stuff under the bed on the floor and letting it slowly become one with the dust!
In this guide I'm going to talk you through a bit about the different types of divans before getting down to telling you which ones are best!
Types of Divan Bed
Drawer
These are the most common having drawers built into the base for additional storage. Usually, it's either two or four drawers, four drawers with two on each side or two which can either be two very big drawers or a drawer on each side of one-half of the divan itself.
Lift Up
These completely lift up giving you full access to storage in the divan itself. The mattress lifts up and you have a huge area for storage. This is definitely the best is storage is what you need as it easily gives you the most room of all of them.
Non-Storage
Finally, you have divans without any storage, this help to add additional comfort or support but aren't what I'm going to be focussing on in this guide.
Benefits of a Divan Bed
There are two main benefits to using a divan bed, they are:
Storage
The most obvious are that you get a whole lot more storage room. Of course, you can keep stuff under a normal bed, but that's always a whole lot messier than if you have dedicated storage to work with. Besides, no one wants to keep clothes or bed linen on the floor!
Firmness
Divan beds tend to make mattresses firmer than if they were on a slatted bed. The extra support under the mattress translates through so it's often a good choice for those who tend to wake up with back pain.
The Best Divan Beds Reviewed
And without further adieu, we have the best divan beds available in the UK today! I've linked through to where you can buy them from so you can order yours today.
Best Cheap Divan Beds
Silentnight Ortho Miracoil Mattress and Divan Storage Bed and Mattress Set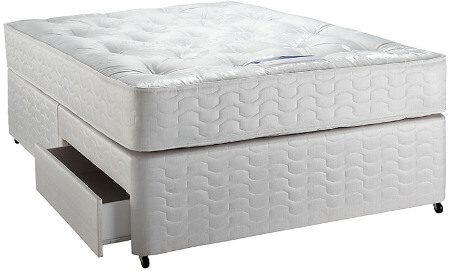 Base & Mattress
Two Drawers
Orthopedic levels of Support
Knitted Quilt Top For added Comfort
Firm Feel
5 Year Guarantee
This combination divan base and mattress is great value. The open coil spring system in the mattress give it really responsive support. The filling is a combination of polyester and springs, which is why this is the price it is. Polyester isn't the best material but is still plenty comfortable for a good night's sleep.
The two drawers in the base are either side of an end and give you ample storage for spare clothes, bedding, towels and the like but I wouldn't put anything too heavy in it.
You get a 5-year guarantee which is a testament to the quality of products Silentnight always produce. Alongside that this bed has an EU eco-label which means all the materials and manufacturing process have met strict standards of being eco-friendly.
Comes available in a single, double or king size.
Bottom line – You get what you pay for and that is a comfortable firm mattress and divan base with two good sized drawers for storage.
John Lewis The Basics Collection Divan Storage Bed and Mattress Set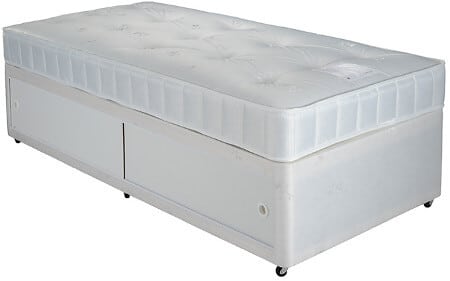 Base & Mattress Included
2 Year Guarantee
Budget Friendly
Medium Firm Feel
Slide Storage
This is really the most budget-friendly divan bed you can buy, I wouldn't recommend it for an adult as the mattress quality isn't very high (due to the price) but a child will get on just great.
There is a sliding door which lets you access the storage underneath perfect for linen and the likes. Where it really excels is if you have children occasionally staying with you if you have grandchildren, nieces, nephews of anyone else they will be quite happy in the spare room on this bed and when their not there you still have the handy storage underneath.
Comes as a single but a double is available if you search through John Lewis
Bottom line – A great occasional use kids bed.
Best Divan Base
John Lewis Non-Sprung Ortho Divan Bed Base

Base Only
7-year Guarantee
4 Drawers
Wheel Base
Firms up Any Mattress
This Divan base is excellent at making any mattress firmer. The non-sprung makes it sturdy for any mattress that sits on top of it, giving you a firmer feel while you sleep and more support for aching backs and joints.
The four drawers is a great touch as well, doubling the storage room of the other divans talked about so far. This base is designed for an orthopaedic mattress but will work just as well with any other type of mattress.
Be aware that if you have a wooden or laminate floor that the divan does have wheels on the bottom, this makes it great for rolling out the way and hovering underneath but does mean that it can roll away if you move around a lot in your sleep. If you have a look at the FAQ at the end I've given a recommendation for some casters.
The Non-Sprung Ortho Divan comes as a single, small double, or king size.
Bottom line – Great Storage with the four drawers and 7-year guarantee shows the quality of the build.
Best Storage Divan Bed
John Lewis Maxi Store Divan Bed (Mattress Not Included)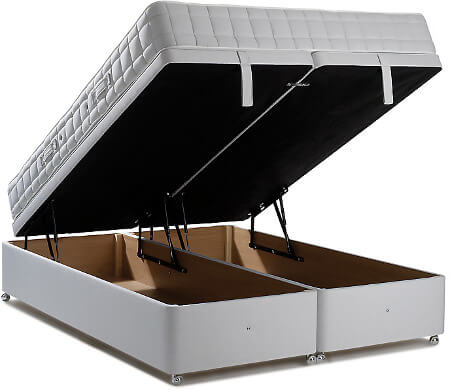 Base Only
Maximum Storage
7-Year Guarantee
Wheel Base
Although the mattress is not included this bed has the absolute best storage available of any divan bed. The way it lifts up even with a mattress on top gives you access to ample storage within. The storage inside is sturdy and you could even get some individual boxes to help organise things once they're in there.
The base itself is quite firm with not much padding sitting on top of the "lid" giving great support for any mattress. Again it has a wheelbase so be aware that it can roll about if you don't get coasters of some kind for the wheels.
The Maxi Store bed comes as a single double or King Size
Bottom line – If storage is the priority this bed is the way to go.
F.A.Q
Do These Divans Come With Headboards?
No, none of the divan beds here come with a headboard but you can buy them separately from John Lewis while ordering your bed.
What Can I Do To Stop My Bed Rolling Away?
You can get castors that the wheels sit in to stop them rolling. Make sure you get ones with rubber on the bottom otherwise you could end up scratching the floor if the bed. Click here for Rubber castors you can buy from Amazon that will do the trick nicely.
What's The Shipping Like?
John Lewis always provide great customer service and their shipping department is no different. You should find the delivery drivers both friendly and courteous. There have even been reports of them putting special shoe covers so as not to damage new carpet customers have had put in!
Where Should I Go If There's A Problem With My Order?
John Lewis will help you out with that, I'm here to review and recommend the divans but have no part in the purchasing or shipping of the product itself.
What if I None of The Above Divans Suit My Needs?
Leave me a comment below with what you're looking for and I will do my very best to help you out.