We spend ⅓ of our life in bed. At least eight hours per day.
If you are conscious about what goes into your body and want to live as naturally as possible, then that should start where we spend so much of our time.
Natural and sustainably sourced materials are everywhere now and your bed should be no exception.
In this article, we will take a look at some of the best organic and natural mattresses. Buying any mattress is something that takes some thought to make sure you settle on the right one. Adding another dimension by looking for beds made with natural materials does complicate things a bit.
I hope to guide you through the process so you get exactly the right bed to not only help you sleep guilt-free, but also comfortably.
Let's dive right into things with a lineup of my top rated organic mattress reviews.
Top 5 Best Organic and Natural Mattresses
Tufted with natural wool and silk, the feel of this mattress is luxurious. With an added bonus that those materials are able to resist dust mites making your new mattress hypoallergenic.
The silk damask cover is breathable to help dissipate your body heat away from your body. Then the wool filling is there to keep you cool. Unless it is winter and you want to stay warm. In this case the wool will work with your body temperature to keep you warm. This is a great all season mattress for this neat feature.
Since wool also naturally wicks away moisture to prevent the mattress interior from going musty.
Since silk and wool are both renewable resources, they are very eco friendly. They aren't vegan, however since they are sourced from animals, but at least wool continues to grow back providing a never ending supply of natural material.
That's all well and good, but how does it sleep?
In a word, delightful. The individually wrapped pocket springs help distribute your body weight to keep your spine aligned to prevent back pain. It also absorbs movements to avoid any motion transfer.
The stitching goes all the way to the mattress edge for stability across the entire mattress. Mattress walls won't collapse as you sit on the edge that would disturb your partner when you are getting out of bed.
Not only are these innerspring mattresses made of natural materials, but they are covered with a fire retardant to ensure safety.
Getting a truly natural mattress when you're on a budget can be tough, but I've found a great choice with this Happy Beds mattress. It's got lambswool and silk fillings and a cotton cover that's been hand-tufted with wool. All-natural and all breathable for a cool and comfortable sleep.
It's medium support so you can sleep on it in any position, although side sleepers and back sleepers will get on the best and you can use it on any bed frame.
It's also rated as having orthopaedic support which is perfect for dealing with any aches and pains, but it's not too firm so that it's still comfortable to lie on which I like. Because while an Extra-firm mattress is good for a bad back they can be uncomfortable to lie on so it's nice to have the balance.
Perfect for all ages and a fine choice of budget organic mattress. Oh, and if you order through Happy Beds who I liked to with the "Price & Reviews" button you'll get free UK delivery and a 5-year guarantee so you can know you'll be sleeping soundly for years to come.
When you need a firm mattress, the only choice should be latex. The difference between a firm mattress made of latex and one with springs is the difference between being firm and being hard.
The Dunlopillo Firmrest does have some give so your joints don't end up aching the next day as opposed to the hard, flat mattresses of old. And latex always bounces right back so you never feel like you are sinking into it and trapped when it contours to your body.
People with lower back pain get excellent lumbar support when sleeping on the back.
Using Dunlop latex in this mattress is all-natural and much better for the environment than natural Talalay latex. These are eco-friendly materials that are grown in sustainable plantations.
In addition to using natural raw materials, this latex mattress is very breathable. It is designed with open cells to allow for air circulation throughout the mattress. When you move, it increases breathability. This circulation keeps the mattress as just the right temperature. You'll feel warmth when you need it and cool down if your body temperature is high.
Latex is naturally hypoallergenic, but to gild the lily, the top cover uses Actipro technology to prevent any mold, mildew or dust mites from forming.
Made with natural raw materials like silk, pure wool and cashmere, this mattress brand is an excellent choice for comfort and support. Silk is lightweight and gives such a luxurious feel, but it also helps to wick body heat and moisture away from your body.
Then the tufted filling of wool and cashmere combine to make a warm and cosy layer to have you rest in luxury with a handmade feel to it. It isn't just about comfort though. As in the case with the silk, they have practical features, too. Wool is great at regulating body temperature by cooling your body when you're hot and reflecting heat back to you when you're cold. And cashmere provides softness while also acting as a hypoallergenic layer.
Underneath this cushioning are 2,000 cotton wrapped pocket springs. They don't roll over so you can move around without causing a disturbance to other parts of the bed.
Pressure relief comes from the fact that there are so many coils. They allow your pressure points to sink into them while also supporting them. You don't feel like you are sinking into the bed, rather, you feel as though you are floating on the softness of cashmere and wool.
Sleeping on this high-quality new mattress will feel like it was tailor-made for your exact body. It responds so well to all of your curves, joints and weight that you can pretend it was made to your order.
If you are a back sleeper or side sleeper then this medium-firm eco-friendly mattress is ideal. The individually wrapped coils give pressure relief right where it is needed. Stomach sleepers, unfortunately, will likely not be happy since it will be too soft for any kind of support.
Sleepeezee is made from wool filling for the ideal amount of breathability and temperature regulation. Natural wool is an excellent filler since it is soft enough for comfort but also wicks heat and moisture away from the body. It allows air to pass through which is then circulated through the air vents in the side of the mattress.
Many people are turning back towards innerspring mattresses since it is easier to find ones made from natural products. With no off-gassing, this Hotel Supreme is a logical choice. No motion transfer or rolling over like you get from caged coil innersprings and the same comfort you get from a memory foam mattress without the sinking feeling combine for a wonderful eco-friendly mattress.
The cotton and wool keep dust mites from finding a home which keeps your allergies at bay. And wool is also very good at resisting mildew and mold for a fresh mattress for years to come.
F.A.Q
Are mattresses really toxic?
Many mattresses release volatile organic compounds which are toxic. They come mainly from the polyurethane foam used in many modern mattresses and ones coated in flame retardants.
The amount of these compounds is usually much lower than necessary to cause any illnesses. Over time, much of the VOCs will dissipate completely as it is exposed to the air. With the exception of infants who may be sensitive to these compounds, the amounts don't pose a threat.
However, if you find yourself having severe headaches, and eye, nose and throat irritation shortly after purchasing your mattress, you may be sensitive to the gases like benzene, acetaldehyde and formaldehyde which are commonly discharged.
Sticking with natural products in a mattress when possible is the best way to avoid exposure to VOCs. Organic wool is becoming a common filler for mattresses once again and organic cotton or silk covers are perfectly safe.
How long does mattress off-gassing last?
Off-gassing takes up to four weeks from the time the box or bag is opened. It is usually not detected any longer after a couple of days in most cases, but traces of the gases will continue to discharge for some time afterwards.
For most people, off-gassing from a mattress is usually a mere annoyance as the smell is unpleasant.
Others react differently if they are sensitive to the gases. Eye, nose and throat irritation is common for people with sensitivities and in some cases even severe headaches can occur.
Natural and organic materials are a way to avoid the toxic gases from polyurethane foam. Look for Global Organic Textile Standard (GOTS) to ensure that the mattress is actually made with non-toxic materials.
Can your bed make you sick?
Fumes from materials like polyurethane foam and PBDES, which are chemicals used as a fire barrier on mattresses can indeed make you sick.
Irritation to your eyes, nose, throat and even skin can cause you to feel ill. Headaches and allergic reactions are rare, but do also occur when the off-gassing from the memory foam in a mattress is too much to bear.
Buying a new mattress made with the best natural materials like organic latex and wool is the best way to avoid getting sick from a mattress.
Are old mattresses unhealthy?
A mattress that is past its prime is unhealthy in a few ways. When sagging occurs in an old mattress then you are not getting the support you need. Lack of support for your pressure points leads to bad backs and achy joints.
That can lead to chronic pain and even weight gain if you become less active as a result.
Old mattresses are also breeding grounds for dust mites, mold and mildew. Allergies become much worse with old mattresses for this reason. Some breathing problems can crop up if people with mold allergies or a general sensitivity to mold and mildew.
What is the most environmentally friendly way to get rid of an old mattress?
The most eco-friendly way to dispose of a mattress is also the most time consuming and labour intensive. You could take the mattress apart and recycle each of the parts.
If you want to take it a step further, you can use the parts of the mattress to repurpose into other things. The upholstery can become pillows or tote bags. The wood can be used to make a magazine rack and the coils can be turned into light fixtures. You're only limited by your creativity.
Otherwise, put all of the parts into their specific recycle bins. Coils can usually be salvaged so contact your local salvage yard and ask them how to take care of that.
Also, your city may have a program where they make sure that mattresses don't end up in a landfill so contact your city hall.
Other Natural Mattresses
There are so many excellent natural and organic mattresses that a list of five doesn't seem to be enough. Here are five more that are worthy of some attention.
1,000 pocket spring coils
Filled with natural wool and cotton
30 cm deep
5-year guarantee
Made in UK
Firmness: Medium
Sizes Available: Single, Small Double, Double, King Size, Super King Size
This mattress by Tuft and Springs would ordinarily have made my list of the top rated natural mattresses except for one thing. It does contain some polyester white fibre as a filler in addition to the cotton and wool.
So, it isn't entirely natural. With that being said, it is still an excellent mattress that is comfortable, supportive and hypoallergenic all at once.
The polyester fibre filler is actually nice to have as it gives the filler some responsiveness. Though cotton and wool are wonderful natural materials, they don't bounce back as well as polyester or latex foam.
Under the cozy pillow top are 1,000 pocket spring coils to support you without any rolling over effects. They are quite soft as the firmness is a medium for this mattress. People that love soft mattresses but hate the aches after sleeping on one will love this.
Cotton wrapped pocket springs
Silk top comfort layer
Pure wool filling
8-year guarantee
Made in the UK
Firmness: Medium
Sizes Available: Single, Small Double, Double, King, Super King
Hand-tufted wool filling under a smooth, silk comfort layer sits over 1,190 cotton wrapped coils. These pocket springs all move independently of each other and prevent motion transfer.
Support and comfort go hand in hand with this medium mattress. It is soft enough to feel like you're sinking into it, but then the coils spring into action. They provide support to all of your pressure points without you sinking too deeply. If you are a back sleeper you still get proper lumbar support.
Wool has a feature that you can't find on ordinary memory foam. It regulates body temperature by heating you up and reflecting your body heat when it is cold. When it is warm it draws away your heat and dissipates it into the mattress. It also wicks moisture away but doesn't get any mold or mildew due to its hypoallergenic properties. It does contain lanolin, but since your skin doesn't touch it then people who are sensitive to that should be fine.
1400 pocketed springs
60-night sleep trial
Woven damask cover with silk
Pure wool filling
5-year guarantee
Firmness: Medium Firm
Sizes Available: Single, Double, King, Super King
When looking for luxury mattresses at a good cost, Sleepeezee comes up quite often in the "Best Of" lists. It is no wonder that they come up highly for natural mattresses that blend comfort with support as well as being eco-friendly.
Topped with silk in a woven damask cover, the pure wool and pocketed springs feel divine to sleep on.
Those springs all work individually so when you move there is no rolling over with one partner being drawn into the middle of the bed. And it goes all the way to the mattress edge with stability coming from the three rows of side stitching.
There is a bit of firmness to the mattress so it is perfect for back sleepers that need support and improved circulation. Lumbar support is high from the layer of wool and the sturdiness of the coils beneath.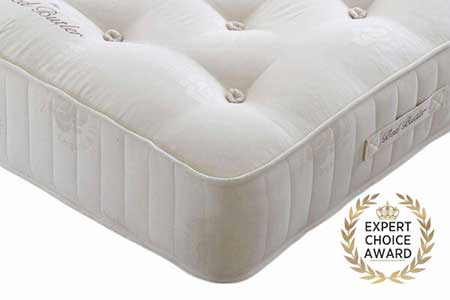 3,000 individual pocket springs
Silk cover with pure wool and cashmere filling
5-year guarantee
Made in UK
Firmness: Various – Soft, Medium, Firm
Sizes Available: Single, Small Double, Double, King, Super King
3,000 individually wrapped spring coils provide the ultimate in support and comfort. The density of coils means that they adapt and conform to all of your contours for perfect support.
For added comfort, the top comfort layer is filled with pure wool and cashmere. Both provide excellent softness while also wicking away heat and moisture from you. The air vents in the side of the mattress allows air to escape with every move.
You can choose from three different firmnesses. Soft for people without any back or joint issues that love to sink into a bed. Medium for those that need spine alignment when sleeping on their side. And firm for back sleepers that need good circulation and lumbar support.
1400 pocket springs
Pure wool filling
10-year guarantee
Woven damask cover
60-night sleep trial
Firmness: Firm
Sizes Available: Single, Small Double, Double, King, Super King
One of the best ways to increase your circulation and reduce your back pain is with a firm mattress. Back sleepers will love this firm mattress with a woven damask cover and pure wool filling. It gives the lumbar area lots of support while also being very comfortable.
The number of springs helps distribute your weight evenly across your whole body. If you are heavier than 230 pounds then this is the ideal bed for you.
It is chemical-free and natural. Great news for those sensitive to off-gassing from new mattresses. Wool is a traditional, natural filling for beds for good reason. It wicks away moisture and regulates your body temperature.
Spring King Pocket Tuscany 2000 Natural Mattress
Covered in silk and filled with cashmere, it is hard to think of ways it could feel more luxurious.
These natural materials are not just for comfort. The non-toxic mattress is as hypoallergenic as it is comfortable. Silk naturally repels dust mites as they find the environment inhospitable. And cashmere is very much like wool, except better. It has the same warming properties as wool but it isn't itchy and doesn't contain lanolin.
The Spring King Tuscany is the best mattress for those that want to avoid harmful chemicals while simultaneously enjoying comfort and support. A layer of memory foam adds to the ability to keep your spine aligned while providing support.
The 2,000 pocket springs move independently of each other so your pressure points can sink into the mattress and other areas propped up. Motion transfer is low since there are so many springs. Your partner remains undisturbed even when you are getting out of the bed due to the stability to the edge of the mattress.
Body heat is dissipated also thanks to the unique nature of natural materials like silk and cashmere. And like wool, cashmere will keep you warm when it is cool.
If you are a hot sleeper or suffer from aches and pains then this is the new mattress that should be at the top of your list.
Conclusion
We are lucky to be living in these times with the choices we have. Years ago, mattresses started getting made with lots of dodgy materials. Now, they are going back to the tried and true material to build a natural mattress.
Any of the natural and organic mattresses on this list will help you get a good night's sleep you crave. They are all quite different, so if you have any questions about any of them then drop a line below and I will get right back to you!
Related Reading
Best latex Mattress
Best Wool Mattress
Best Matresses Overall