What could be better than falling into bed after a long day?
Why falling into a king size bed of course!
Even better, falling into bed on the best king size mattress you can find, that's where I come in. I've found and reviewed all the best king size mattresses that the UK has to offer. I've started with the top 5 below and then moved on to an F.A.Q and some other great choices you could check out.
Just click the name in the table below or the Price & Reviews buttons further down and you'll get taken to the website where you can order yours.
Top 5 Best King Size Mattresses UK
1. Top Choice – Dreamcloud Sleep Hybrid Mattress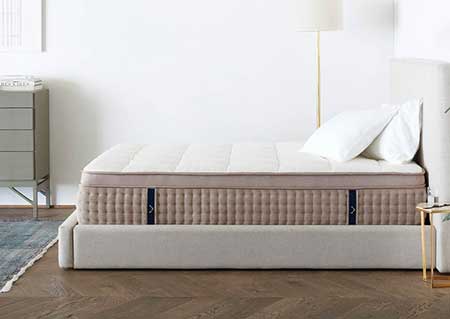 365 night trial period
Forever warranty
Free delivery and returns
Works on any bed frame
Firmness: Medium-firm
Discount: £300 off any mattress
This is one of the best mattresses you can buy for any need let alone for a king size bed.
No matter if you're a side sleeper, front sleeper, back sleeper or whether or not you're trying to ease your back pain this mattress has you covered.
It's got 5 layers that work together to give you a good nights sleep, starting with the premium quilted top that provides max breathability to stop you overheating through the night.
That's made better by the breathable memory foam that's underneath it that contours to your body providing the maximum support you can get in your back alongside a layer of support foam that gives you the sturdy medium-firm feel.
Under that, you've got the pocket springs which are individually sewn so they can move independently cradling your body and minimising the motion transfer felt by your partner moving around.
All those layers work together and allow the mattress to work perfectly on any bed frame, even a slat bed will be fine although you should turn the mattress more regularly on a slat bed frame, say every 3 months.
£300 Off Mattress,
Up to £708 Off Bundles,
Up to 30% off Bedding.
Click the above "get discount" link to enjoy TheDozyOwl reader deal.
Then you've got all the good stuff, a whole year to test it out thoroughly, a forever warranty so you know you've bought absolute quality and a £300 discount to make it that much more affordable, especially useful if you're buying a king size!
Price & Reviews
FIRMNESS: Medium-firm
365-night trial
Forever warranty
Cooler than a lot of memory foam mattresses
Ideal for couples
Great for back pain
Sizes: Twin, Twin XL, Full, Queen, King Size, Cal King
NECTAR'S READER OFFER
£125 off Mattresses
Two Free Pillows.
Up to £450 off Bundles and
Up to 30% off Bedding
The Nectar mattress is very similar to the DreamCloud above, it's got a lot of the same features including a cooing cover that draws heat away from a body but the big difference this is an entire memory foam mattress, not a hybrid foam and spring mattress.
Layers of foam all work together to give you minimal motion transfer making it a great choice for couples and an excellent choice if you're looking for help with a bad back because of the pressure relief that you get from the memory foam.
The base layer, in particular, is a zoned support foam that is split into 7 slightly different firmness zones giving you the exact support where you need it but still leaving the mattress overall as a medium-firm feel.
It's got edge-to-edge support so you can lie right up to the very edge of the bed and it's a bed-in-a-box so it's easily delivered and set up in the correct room.
You can get this right up to a super king if you've got a bed that's a little bigger yet but the most important thing is this mattress is a sure-fire way to get yourself a good night's sleep.
And finally, once again you can use this mattress on any bed frame, even without a bed frame so you'll get on absolutely fine with whatever frame you've already got or planned to get.
3. Best Firm Choice for Back Pain – Relyon Memory Superior Ortho Support 1500 Pocket Mattress
Edge-to-edge support
Hybrid foam and spring filling
No need to turn
Made in the UK
8-year guarantee
Firmness: Firm
I've talked about the Relyon a lot when I've talked about mattresses for back pain. It's firm feel and hybrid nature give it the most back support you can get while still being extremely comfortable.
It's a superb choice for back and front sleepers but not as good for side sleepers. But if you're a side sleeper and know you love a firm mattress don't let me stop you!
The spring layer is 1500 pocket springs which is nice and high for added comfort and the pocket springs mean they can move independently for extra support where you need it most be that your back, shoulders or hips.
Apart from that, you don't need to flip it which makes life easier and turning it is a doddle with the handles stitched into the side. And the side is also lined with air vents to improve airflow and stop you overheating through the night.
An excellent choice of king size mattress if you enjoy a firmer feel.
4. Best Affordable King Size Mattress – Silentnight Essentials Mirapocket 1000 Mattress
22 cm deep
Eco-friendly
edge-to-edge support
Made in the UK
5-year guarantee
Firmness: Medium
A king size is more expensive than a double but that doesn't mean it has to break the bank when you buy one.
The Silentnight Essentials fits that spot nicely, it's pocket spring filling gives it that little bit of luxury while the Eco Comfort fibres are made from recycled plastics and extra breathable for a cool feel and peace of mind that your bed is eco-friendly.
Apart from that, you've got free next day delivery if you order through Mattress Next Day who I've linked to above and Silentnight offer a 5-year guarantee which is pretty good going considering the lower price.
The only thing I will say is a medium feel and 22 cm depth doesn't lend itself well to heavy people, so if you are on the larger side you'll want a slightly firmer feel and a thicker depth. But I've got a whole article on mattresses that would be perfect for you here if you need it.
5. Best Pocket Spring Choice – Silentnight Sofa 1200 Pocket Mattress
28 cm deep
Eco-friendly filling
Edge-to-edge support
Great for allergy sufferers
5-year guarantee
Firmness: Medium-Firm
Sick of memory foam and everyone's obsession with it? Not a problem this mattress is completely foam-free and more or less the upgraded version of the Silentnight mattress above.
1200 pocket springs is more than enough to get your body completely aligned and sleeping comfortably. And the Eco fibres inside provide breathability to stop overheating and are made from recycled fibres so you can know you're doing some good.
Plus, this mattress has been treated with Purotex which works to reduce moisture, dust mites and allergens to keep the bed fresher and ideal for allergy sufferers or people with Asthma.
Made in the UK by one of the most trusted sleep brands, a fantastic choice of spring mattress if you want to stay away from foam.
What Type Of Mattress is Best
There are three main types of mattress, you've got memory foam mattresses, spring mattresses and hybrid mattresses which are made of spring and foam.
No one is necessarily better than the others but they all have good points so I'll talk a little bit about each one here and you can decide for yourself.
Memory Foam – Foam mattresses are a great choice if you're dealing with any sort of pain, be that back pain, shoulder pain or even hip pain. Maximum support to your joints and superbly comfortable even if you aren't dealing with any pain issues.
Spring – You want to look for pocket springs inside the mattress, these are individually sewn springs that can move independently working to cradle your body for relaxation and deep sleep. The alternative is a big bed of springs that are all joined together so if you sat on one side your partner would be bounced off the other side.
Hybrid – Some say this is the holy grail combining the bounce of a spring mattress with the support of a memory foam mattress. Others say they'd prefer a spring mattress and a memory foam mattress topper, either way, this a great best of both worlds if you don't like the slight sinking feeling memory foam mattresses can have but you need the back support it offers. I'm obviously a fan which is why the DreamCloud is the top king size mattress!
F.A.Q
What is a good price for a king-size mattress?
£300 is probably about the lowest you want to go for a king size mattress, any lower and the quality just won't be up to scratch. Then the top end is about £1000, you can go much higher than that but you get a great mattress for £1000, especially if you get a mattress in a box that doesn't have costs of showrooms and salesman built-in.
Prices go away up and beyond that, and you can get some great mattresses, like the Hypnos, but £1000 will get you a superb mattress so it's up to you if you want to go above that.
How big is a king size mattress
King size mattresses are 200cm long and 150cm wide. Or they're 6 foot 6 long and 5 foot wide, so if you've heard of people talking about a 5 ft mattress, that's a king size.
Is a king size mattress too big?
The only time a king size is too big is when it doesn't fit in the room properly. Generally, you should get as big a bed as the room can handle, so you don't want to be stuck with no space for storage but if you can get a king size then do.
Are King Size Mattresses better?
They are better if you share your bed. Couples get on a better in a king-size because you've got more space to sleep and you can move around without disturbing each other allowing for a deeper sleep.
Is a king size mattress better for a bad back?
No, it's the type of mattress and quality of mattress that will help your back. But, king sizes are 200 cm long compared to 190 cm long in a double and smaller, so if you're tall and can't lie stretched out on a 190 cm bed then you'll likely be better off with the king size.
Other King size mattresses
Memory Foam King Size Mattress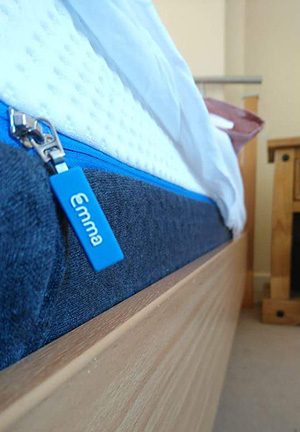 100-night trial
10-year guarantee
Breathable
Free Delivery and Returns
Firmness: Medium-Firm
The Emma Original Mattress is a superb choice of memory foam mattress, the king size gives you get pressure relieving support for a comfortable nights sleep. It's hypoallergenic for added freshness and the top layer of breathable Airgocell foam maintains your body temperature so you don't overheat through the night.
This king mattress is also ideal for couples because the foam layers minimise motion transfer so you feel very little of your partner's movements when they get in and out of bed.
The second layer is the supportive memory foam layer that gives good support keeping your pressure points happy. And then you've got the supportive HRX foam that gives the mattress it's medium-firm feel.
All that is wrapped up in a soft breathable cover that you can remove and wash, although you're still better getting a mattress protector for the added longevity of the mattress. The cover also has a grippy bottom to help it stay put on the bed base which is good if you move around in your sleep a lot. A fine choice of new mattress.
Mattress In A Box
26 cm deep
Allergy UK Seal Of Approval
5-year guarantee
Firmness: Medium-Firm
Want a memory foam mattress but not sure about all these new brands? Well, the Studio is Silentnight's addition to the bed-in-a-box mattress world offering a firmer mattress that's ideal for back and front sleeping positions.
Although the Super-king size is delivered flat if you're looking to go even bigger than a king!
It's a combination of foam layers including memory foam and state of the art geltex which works as a more breathable cooling layer to keep you comfortable all night long.
Memory foam is naturally hypoallergenic but for that extra peace of mind, this has been given the Allergy Seal of Approval to ensure you're getting the freshest bed possible.
A fine choice of king size memory foam mattress.
Orthopaedic support
Natural latex
Hypoallergenic
Made in the UK
8-year guarantee
Firmness: Firm
Latex is completely organic being harvested from rubber trees that can be replanted. Plus it's got more bounce than memory foam while being just as supportive.
So why aren't latex mattresses as popular? Well, they're more expensive. They still aren't the most expensive mattresses out there but they are on the pricier side so that's something to be aware of.
But if you are interested you're going to get a superbly high-quality mattress that will keep your back supported and you sleeping deeply for night after night. An 8-year guarantee and it's naturally hypoallergenic. What's not to love?
Plus it keeps you supported right up to the side of the bed. A luxury mattress that is an excellent choice if you can afford it.
Spring King Size Mattresses
22 cm deep
Orthopaedic support
Edge-to-edge support
Low price
Firmness: Firm
First off, this is not a pocket sprung mattress, it's got an open coil system so it's not the best choice for couples who toss around a lot but there is plenty of bounce and it's very reasonably priced.
Though the Silentnight I recommended as the best affordable choice isn't much more expensive and is much higher quality.
So why am I talking about this mattress? Well, I still like it, and if you like a traditional feel of mattress then this will be the one for you. Combine that with the firm feel and you'll have a mattress exactly like the ones you're used sleeping on at your Granny's house
25 cm deep
Cool touch cover
Orthopaedic support
Air vents in the side
Firmness: Firm
Worried about overheating? This mattress is a perfect choice for hot sleeper, other recommendations here, because of the specially designed cover which works together with the air vents in the side to keep air circulating underneath you.
The springs inside are made to be thicker so you've got a firmer feeling in the bed and orthopaedic support so your back stays happy too.
It's hand-tufted which adds both a touch of class and a touch more firmness. The right mattress for people looking for a firmer feel in their king size mattress.
Features natural ingredients like silk, organic cotton and cashmere
4000 pocket spring coils
25 cm deep
Made in the UK
5-year guarantee
Firmness: Medium Firm
Sizes Available: Single, Double, King Size, Super King Size
This king size pocket spring mattress is the height of natural luxury. The cotton cover is made of Organic Egyptian cotton that is soft to the touch and provides nice warmth. Under that is a thick layer of natural filling made of cashmere. Just like wool, cashmere is a natural body temperature regulator. When it is cold it will reflect your body heat. When it is hot out, it will draw away excess heat and moisture for a fresh and cool night's sleep.
4,000 individually wrapped pocket springs provide incredible support instantly all over your body. Every pressure point gets the right amount of resistance for a feeling of floating on a cloud.
Filled with pure new wool and natural cotton
2000 pocketed spring coils
Hypoallergenic
Two-sided and turnable
8-year guarantee
Firmness: Various – Soft, Medium and Firm
Sizes Available: Single, Small Double, Double, King, Super King
Regardless of which firmness you choose for your new mattress, you'll receive a very stable one with the Relyon Balmoral 2000. It is stitched throughout from the top to the sides for low motion transfer. Even sitting on the edge of the bed will not cause sagging anywhere other than where you sit.
Support is also very high. There are 2,000 nested pocket springs which provide instant support to your pressure points. Above them is where comfort lies.
The soft, tufted cover is filled with natural cotton and pure new wool. It is soft and comforting which has you enveloped in natural materials. Those materials are breathable and also hypoallergenic. Wool is an excellent body temperature regulator which warms when it's cool and cools when it's warm.
Air vents on the side allow moisture to pass through the springs when you move to let it escape. This will keep your mattress fresh for many years.
Hybrid King Size Mattress
These mattresses feature a combination of memory foam and coils. You get the comfort of foam and then the support of springs to relieve pressure and prevent aches and pains.
Staycool gel memory foam keeps you cool
2,000 individual pocket spring coils
24cm deep
Micro Quilted cover
5-year guarantee
Firmness: Firm
Sizes Available: Single, Double, King Size, Super King
Which? Magazine voted for the Sleepeezee as its Best Buy for 2019. It is clear why when you look at the specifications.
The cover is made of a soft knitted topper so you can feel the comfort as soon as you touch the mattress.
Under that are various layers of high tech memory foam. First, there is a 400gram polyester that is very responsive. Under that is a 15gm spunbond and then the Staycool gel memory foam to help regulate your temperature.
Then there is a layer of short, pocketed spring coils to instantly provide support. Under that is another foam layer for added comfort and finally another layer of spring coils. All individually wrapped, of course.
They went to great lengths to make sure that this mattress was engineered for maximum comfort and support. And the good news is that heavy users can get the proper support and good blood circulation since it is a firm mattress.
24 cm deep
Responsive memory foam
Made in the UK
Hypoallergenic
5-year warranty
Firmness: Medium
Sizes Available: Single, Small Single, Double, Small Double, King, Super King
The combination of memory foam and individual pocketed spring coils in this mattress keeps the motion transference to a minimum. Your partner will not feel you moving or getting out of bed. Even if you sit on the edge of the bed as it won't cause sagging.
As far as comfort goes, it is quite pleasant. The cover is soft and smooth and the memory foam underneath gives way just enough to feel soft.
Then the spring coils move independently of each other for exactly the right support to relieve your pressure points.
One thing to make note of, however, is that the 2000 in the name of the mattress but does not indicate that there are 2,000 coils. There are 1,000, which is still a good amount, especially for the price.
25 cm deep
Stretch knitted panelling
Hypoallergenic
5-year warranty
Firmness: Medium Firm
Sizes Available: Single, Small Double, Double, King, Super King
You get a lot of value for the money from this very comfortable King size pocket spring mattress. It has 200 pocketed spring coils to give you pressure relief and good spine alignment. And the memory foam is responsive so you won't feel like you are getting swallowed up by it.
There is fantastic stability throughout due to the stitching running along the sides of the mattress. Sitting on the edge of the bed won't result in any sagging in the middle to disturb your partner.
The firmness is ideal for side sleepers who need to prevent or reduce any aches and pains on the joints. And back sleepers will get good lumbar support.
Though there is very little name recognition of this brand, I think it deserves some attention for the value it provides as well as being a well-crafted mattress.
Related Reading
Best zip and link mattress UK
Best European King size mattress