I honestly don't know how mattress and bedding stores with showrooms are staying in business. The fact that a bed in a box is so affordable and comes right to your door makes those shops obsolete.
Sorry mattress salesman, but the best mattress in a box has many traditional mattresses beat.
The 365 night trial period many brands offer makes it risk free. There is little reason to go to a showroom and lie on a bed for five minutes when deciding to shell out a couple of thousand pounds now.
There is a lot to love about a bed-in-a-box mattresses. In this article, I will go over the top brands and what sets them apart so you can find a new mattress that is perfect for your needs. Read on for the mattress reviews so you can find the right match for your sleep needs!
Top 5 Best Mattress In A Box UK
Price & Reviews
FIRMNESS: Medium Firm
Free shipping and return
365 night trial period
Forever warranty
Can be used on any bed frame
Sizes: Twin, Twin XL, Full, Queen, King Size, Cal King
NECTAR'S READER OFFER
£125 off Mattresses
Two Free Pillows.
Up to £450 off Bundles and
Up to 30% off Bedding
Nectar is our top choice for best mattress in a box as it is as comfortable as it is an orthopaedic mattress. It ticks a lot of boxes.
The very top layer is like a pillow top but is actually memory foam. It is soft and quilted like a pillow but the tufts are actually a soft memory foam that any body type sinks right into.
Under the foam top are memory foam layers of varying density. Any sleeping positions are comfortable due to the firmness and the design. The top layer allows you to sink in for comfort, but then the memory foam layer underneath resists enough to support you.
At the same time it allows your pressure points to sink in. Shoulders and hips settle in comfortably while your legs float lightly.
This memory foam layer is very smart. It cools you when you're overheating and will also help trap your body heat when it's cold.
A base layer is there for stability and not so much for cushioning. In between the memory foam layers are areas where air can circulate for breathability and to avoid moisture build up from your body heat.
Medical grade memory foam is excellent at preventing motion transfer so your partner can sleep undisturbed. Edge to edge stability will also keep the bed from moving if you sit on the edge or are trying to get.
If you suffer from back pain or have many different sleep positions then this should be at the top of your list for a new mattress.
2. Budget Choice – Silentnight 7 Zone Support
7 zoned support system
European and Ikea sizes available
Hypoallergenic probiotic treatment
5 year guarantee (Not a full refund)
Quiltedtop layer
Firmness: Medium firm
Sizes Available: Single, Euro Single, Double, Euro Double, King Size, Euro King Size
Your shoulders have different support needs than your legs do. And your hips settle a bit when you are a side sleeper. That's why it's important to have different support zones in your new mattress.
You get a little bit softer areas where you have pressure points from your joints. Then there is firmer cushioning where you don't need as much pressure relief. If you have back pain, you can get pain relief in any sleep position you prefer. Side sleepers get a perfectly aligned spine for pressure relief. Back sleepers find their lumbar getting good support since the memory foam layers are firmer in that area. And stomach sleepers won't find their stomach sinking too low and causing a concave spine.
The entire mattress is breathable so you won't accumulate moisture in the memory foam. And it is treated with a probiotic coating called Purotex to prevent any dust mites from causing any breathing or allergy problems. It works by placing friendly bacteria into the layers of foam to fight off the bad bacteria. Just like how yoghurt works in your gut function. Interestingly, the bacteria are spurred into action by your body pressure.
If you look at the price and think there must be some fatal flaw that is being withheld, then don't worry.
This is a high quality mattress in a box. If you are over 230 pounds, it might not be best for you though as you'll need a firmer support mattress. That isn't an indictment on the quality, however as it is a reality for any medium firm mattress type.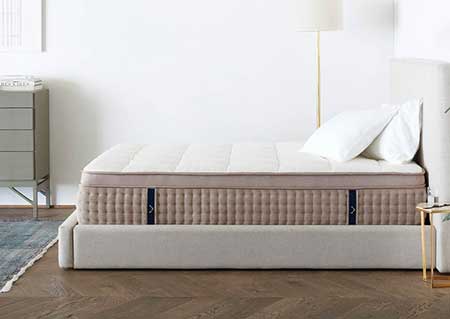 365 night trial period
Free shipping and returns
Forever warranty
Pocket spring coils with memory foam layers
Firmness: Medium firm
Sizes Available: Twin, Twin XL, Full, Queen, King Size, Cal King
If you worry about an innerspring mattress sagging after a while like the ones of old, then worry not. These days pocket sprung mattresses are built to last. And the top layers of memory foam are responsive and supportive to help those pocket springs do their job. Together, they are pressure-relieving for back pain for all sleep positions.
With that said, I think this mattress is ideal for side sleepers as it conforms to all of your pressure points to align your spine when you sleep on your side.
It's unusual for a bed in a box in that they offer a 365 night sleep trial period even though it is a sort of innerspring mattress and not your typical memory foam mattress brand.
The quilted top layer is pure bliss as it is soft and pillowy. Then there is a comfort layer below with gel infused memory foam to conform to your body's contours and allow your pressure points to sink down to the next layer. Your body temperature is regulated by the gel infusion to allow breathability and reduce overheating.
The last memory foam layer provides some resistance so your shoulders and hips don't sink in too far. It provides a light layer of resistance.
The base layer is where all the individually wrapped pocket springs are. Moving independently of each other allows contouring so your body weight is evenly distributed.
Then the bottom mattress cover provides stability and gives you edge support without sagging when you get out of bed.
£300 Off Mattress,
Up to £708 Off Bundles,
Up to 30% off Bedding.
Click the above "get discount" link to enjoy TheDozyOwl reader deal.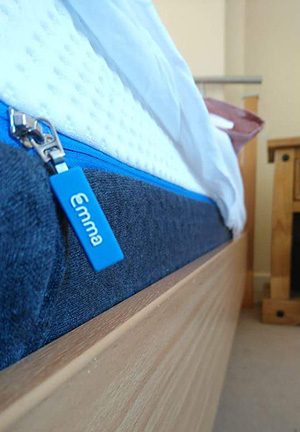 Which? Best Buy
100-night trial period
10 year guarantee
Free delivery and returns
Removable and washabletop layer
Firmness: Medium Firm
Sizes Available: Single, Small Double, Double, King, Super King
One of the best of the new mattress companies making bed in a box is Emma. Their three layer foam beds are ideal for those with back pain as the lower back gets the support it needs. If you are a back or stomach sleeper then you'll love this mattress. It's great for all sleep positions, but I think it is tailor made for those two.
The top layer is made out of a cooling gel memory foam called Airgocell that allows for maximum breathability. Your body temperature is regulated since it draws away the heat and dissipates it away. At the same time, if it is cold out, then you will feel it warmer so it works great for all seasons.
The middle polyfoam layer is made with visco elastic which gently envelops you as your pressure points sink in, but it bounces right back when you move. This prevents you from feeling like you are trapped in quicksand and without any eventual sagging.
These layers are firm, but never bouncy. There is no motion transfer so your partner will not be disturbed. Even when you are sitting on the side of the mattress, you have plenty of edge support so it isn't felt by your sleep partner.
A base layer of dense foam is the firmest which is what keeps you from having that sinking feeling. It is what provides most of the structure of the mattress.
Overall, the quality and the price makes the Emma one of the best mattress deals out there.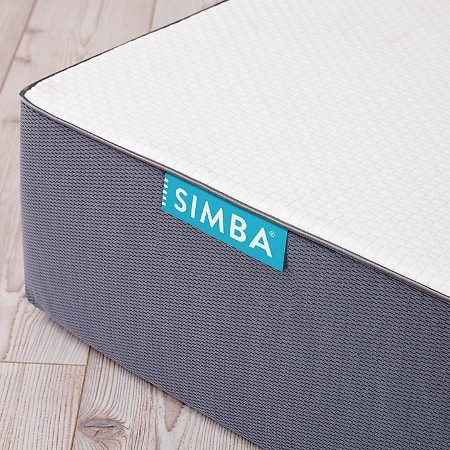 2,000 pocket springs
7 zone support
Temperature control mattress topper
100-night trial
10 year guarantee
Firmness: Medium Firm
Sizes Available: Single, Small Double, Double, King, Super King
2,000 pocket sprung coils set this hybrid mattress apart from the competition. With 7 zone support the layers of memory foam and base of coils combine to give you as much comfort as you get support.
There are five distinct layers with each doing its own job. The top layer, called Simbatex is sort of like a mattress topper in that it provides soft comfort. It also has some cooling properties so it dissipates your body heat to prevent moisture from accumulating.
The second layer is where the coils are. These coils are not your typical springs. They are small and shaped like cones for ergonomic support. They all move individually to spread your bodyweight evenly.
Then there are more layers of polyfoam underneath. The visco layer is contouring to your exact body shape to allow you to sink yet, it resists slightly. This resistance keeps it from wrapping around you to reduce the feeling like you are trapped.
Under that layer is the foundation of the 7 zones. It has varying density and is firmest in the areas where you need it most.
A base layer is where the stability comes from. It keeps the mattress from sliding around on your bed frame. At the same time, it provides the air circulation needed to keep the entire mattress cool and moisture free.
BLACK FRIDAY (2020) SALE: 35% OFF on orders over £300
Bed-In-A-Box Filling Types
There are two main mattress types when talking about bed-in-a-box mattresses. I'll go into details here about them so you know what to look for when reading the mattress reviews.
Memory Foam – The most common type of mattress in a box is made with memory foam. In fact we could actually call these mattresses bed in a bag since many of them are compressed due to the nature of the polyfoam used to create them.
These days the type of foam is some type of visco based polyfoam like latex or gel infused. This type of foam expands when it is opened from the bag or box.
Recent engineering of these foams has them such that they provide great temperature control. Some are so advanced that they will warm you when it is cold and cool you when it is hot so you can be assured of a comfortable night's sleep in any season.
They have varying density for different firmness. Lately the medium firm density is the most popular for its comfort and support.
Hybrid – Some people love the idea of a bed in a box but still want their innerspring mattress. Innovations with pocket springs allows for a hybrid mattress to take the place of traditional coil innersprings. In many cases, these beds can still be rolled up and expanded when opened.
Some people still don't like the sensation of sinking into foam. These hybrids have an excellent balance between softness from the foam and gentle resistance from the coils.
Coils help to distribute your body weight while the foam allows your pressure points to sink in enough for proper comfort in those areas.
Rather than feeling like you are sinking into layers of foam, you feel like you are being cradled or floating on a cloud. More hybrid mattresses.
F.A.Q
How long do bed in a box mattresses last?
The range is from 5 years to 15 years.There are a number of different factors that affect how long a bed in a box mattress can last, however.
Keeping the lifespan in the lower range are things like body weight and activity. Obviously, the heavier the sleeper, the lower the lifespan as eventually the foam or springs will begin sagging and fail to bounce back.
If there is a lot of sex being had on that bed in addition to sleeping, then that also lowers the length of time it can last. Obviously, it is worth sacrificing a few years from your mattress!
Does mattress in a box need a box spring?
No, they don't need springs. In fact, many of the earlier versions when the bed-in-a-box mattress first began, they were all made from memory foam.
Lately, a number of hybrids have made the scene which have a combination of memory foam and pocket springs as you can see from the above mattress reviews.
Can you sleep on a mattress in a box right away?
The short answer is yes, you can sleep on one right away if you want. The better answer is that it is recommended that you wait for a reason.
Until it has had the proper time to expand to its fullest, you won't get many of the benefits of a memory foam or hybrid mattress. They will feel very firm and not allow your pressure points to get much relief.
Waiting for 24 hours will ensure that your first night's sleep is as glorious as had imagined it.
Are mattresses in a box good for side sleepers?
The answer to this relies more on the firmness of the mattress than how it is delivered to you. Any mattress that has the proper support for your pressure points is going to be great for side sleepers. It doesn't matter if you buy a bed in a box or mattress from a showroom.
Many mattresses in a box have different support zones which make them ideal for side sleepers.
Other Mattresses In A Box
Here are some other bed-in-a-box mattresses that deserve some love. The fact that they didn't make the cut of the top rated ones doesn't mean they are not as good. Check out these mattress reviews as well to see if one better fits your needs.
26 centimeters deep
Which? Best Buy
Hypoallergenic
5 year guarantee
Geltex gel-infused foam
Firmness: Medium Firm
Sizes Available: Single, Double, King size, Super king size
Ideal for the hot sleeper is the SilentNight Studio. It features a new type of polyfoam called Geltex which is a gel infusion. This gel infused foam is excellent for breathability to dissipate your body heat and prevent moisture accumulating.
It also provides support and comfort so it takes care of three things at once.
Under that layer are two other memory foam layers that provide varying density for a combination of softness and support.
Any kind of sleeper will love the support to their pressure points, but side sleepers especially benefit from the design.
Individual pocket springs
Hypoallergenic
5 year warranty
24 cm deep
Firmness: Medium
Sizes Available: Small Single, Single, Small Double, Double, King Size, Super King Size
Much like a traditional innerspring mattress, it is pocket sprung. Yet, it can still be rolled for easy delivery. Moving it to the room of your choice is so easy since it isn't awkward to handle like a regular mattress is.
How does it sleep?
Well, the individual pocket springs distribute your body weight evenly for excellent support that has you feeling as though you are flowing on the mattress. On top of the coils is a layer of orthopaedic supporting memory foam.
Those with bad backs that need pressure relief will find it here. If you're a back sleeper then enjoy the lumbar support from the combination of the coils with the memory foam layer.
Topping it all off is a soft top layer.
For peace of mind, you'll get a generous 5 year warranty in case a manufacturing defect causes you to fall out of love with this mattress.
Pure wool natural filling
Silk top comfort layer
1190 pocket springs
8 year guarantee
Firmness: Medium
Sizes Available: Single, Small Double, King, Super King
Luxury without the price tag. This handmade and natural mattress is made with silk and pure wool. Silk tops the comfort layer on top of the mattress for that feeling of spoiling yourself.
Inside are 1190 individually wrapped coils reinforced by natural wool filling. The wool provides cushion in addition to the support from the coils. Plus it is a natural way to regulate body temperature. It keeps you warm in the winter and cool in the summer. A natural material that also keeps dust mites away and is antibacterial. The same goes for the layer of silk. You won't have dust mites causing you allergies with these two materials.
For those that want a traditional mattress but with the convenience of a bed in a box, then this is the ideal solution.
2,000 coil pocket sprung mattress
Soft knitted mattress topper
10-year warranty
Very durable for long lifespan
Firmness: Medium Firm
Sizes Available: Single, Double, King, Super King
This is one of the most appropriately named mattresses as you will find Bliss easy to come by. The soft quilted cover feels great to lie on. While the inner workings of the mattress provide a high level of comfort with support.
It is almost an orthopaedic mattress due to the support you get from both the reflexive memory foam and the 2,000 pocket springs underneath.
It is hypoallergenic since it is made with materials that resist dust, allergens and bacteria. Air flow is very good between the layers to keep any moisture from building up within the mattress.
Any shape, size or weight up to 230 pounds will find loads of relief for pressure points like shoulders and hips.
Luxury combined with support makes this an easy choice for bed-in-a-box mattresses.
Read my Dormeo Octaspring mattress review here
4,000 foam covered coils
Supportive reflex foam
Hypoallergenic
Micro quilted Egyptian damask border
1 year guarantee
Firmness: Medium Firm
Sizes Available: Small Single, Single, Small Double, Double, King Size, Super King Size
One of the most supportive mattresses in a box is the Coolflex Prestige. It has 4,000 pocket spring coils to distribute your body weight in a way that other coil mattresses fail to do.
Unlike many coil innerspring mattresses, the Prestige has very low motion transfer. You can toss about and they'll never even feel it. Not that you should expect to be tossing about. Any sleeping position is accommodated in comfort so you can find your perfect position.
Reflex foam gives some orthopaedic support to relieve aches and pains. At the same time, it bounces right back so you don't feel like you are in quicksand.
Conclusion
As you can see from these mattress reviews, there is a bed-in-a-box mattress for everybody. Not confined to only memory foam, there is a multitude of choice for every taste.
I hope these reviews were thorough enough to help you decide. In the chance that you still have questions, don't hesitate to ask. Drop a line below and I will get back to you as soon as possible!
Related Reading
Best Pocket Spring mattresses
Best memory foam mattressesbest cheap mattresses
Best mattresses for bad back
Best mattress for slat beds
best mattress for couples