Finding a mattress as a couple can be hard, especially if you have different sleep habits such as different sleep positions or one of you that tosses and turns while the other is kept up all night.
No use.
But fear not, because you can find a mattress that you'll both love, and one that fits both of your needs perfectly. And I can help you do just that with the reviews I've shared below.
So here are the best mattresses for couples in the UK.
Top 5 Best Mattress For Couples
The Nectar Sleep is a great choice for couples because when your partner moves you don't feel a thing thanks to the motion isolation of the memory foam.
And, it doesn't matter if you have different sleep positions because the medium-firm feel keeps you comfortable on your front, back or side.
The mattress itself is made up of several layers starting with a top layer that's a cooling cover that dissipates heat for a cooler sleep. This is followed by a smart memory foam that regulates body temperature and moulds to your body shape. Then you've got the all-important pressure relief memory foam that eases any aching joints and lets you get a really deep sleep.
Finally, you've got the base layer that is split into 7-zones that give you exactly the support where you need it. Softer support in your middle and feet with more support under your back, shoulders and hips.
Now a mattress is a big purchase and you don't want to fight over the cost which is why I like that this is reasonably priced for the quality and you have a 365-night trial period to test it out and see if it's worth it.
Don't like it? You can just send it back free for a full refund.
And it's got a 10-year guarantee which is a sign you're investing in a high-quality mattress that will have you sleeping soundly night after night. Read our full review on the Nectar Sleep mattress.
BEST FOR COUPLES: The Nectar Sleep is our editor's choice and by far the best mattresses for couples. Get it now with up to £385 off and 5 gifts included for any mattress purchase.
This is a traditional mattress, no foam in sight just springs and recycled Eco comfort fibres. This means it's got good bounce which I know some couples will love *ahem* but it's also just a nice traditional comfortable mattress.
And, this has pocket springs in it which minimise motion transfer so you don't feel your partners movements. Pocket springs are individually wrapped steel coils that can move independently of each other for maximum support and comfort.
1200 isn't the highest spring count but it does allow the price to be kept reasonable and is plenty enough to keep you comfortable.
You've got to turn this mattress a few times a year but luckily it's got turning handles to makes this easier.
Finally, it's made so that you can lie right up to the side of the bed and still be supported so you've got use of the whole mattress if you need some space from your partner to sleep.
Just like the Nectar, the Emma Original memory foam mattress provides you with minimal motion transfer so you can move freely and get in and out of bed without waking your partner.
It's also good for all sleeping positions but side sleepers, in particular, will be especially comfortable because your body heat moulds the memory foam so it starts contouring around your shoulder for maximum support.
The top layer is a breathable Airgocell memory foam that wicks away moisture and keeps air flowing for a more comfortable nights sleep.
This is combined with the other layers of pressure-relieving memory foam that's great for back pain and high-density foam base that gives you the medium-firm feel which is a good middle ground that almost everyone finds comfortable.
Again you've got the 10-year guarantee and this time a 100-night trial which is still more than long enough to decide if you really like it.
This has everything a couple could need in a mattress, it's medium firmness so you'll be comfortable in any sleeping position and it'll work on any bed frame.
But what's good is the combo of pocket springs and memory foam ensure that when your partner moves in the night or the morning you'll be barely aware of it. Plus you've got a cashmere filling inside to keep you both cosy through the night.
As far as budgets go this is very budget-friendly for all the features you get, all the important layers for couples and you get Free delivery in the UK and a 5-year guarantee so you know you're getting quality.
It's also hand-tufted for sturdiness so it lasts and lasts and it's got air vents built into the side to keep you cosy without overheating you.
You couldn't ask for better in a cheap mattress for couples.
The Dormeo Octaspring has a 3 layer combo of pocket springs, memory foam and octasprings which work together to give you a uniquely luxurious experience. Octasprings are octagonal springs made of foam that offer superior breathability while still having all the support of foam, which is the perfect combination for comfort in my opinion!
The result of the 3 layers is better temperature regulation so you can sleep the night at a comfortable temperature, wake up less and feel more rested in the morning. Plus you've got minimal motion transfer which is ideal for couples and you've got a little bounce for a more traditional feel than a whole memory foam mattress.
But again the Medium feel is no use for stomach sleepers but back and side sleepers will get on just fine.
The 15-year warranty is a testament to how long-lasting this mattress is, an effective long-term buy that will have you sleeping soundly night after night.
The right mattress for couples who love luxury comfort in the bedroom and truly value their sleep.
Best Mattress Type For Couples
Couples will benefit from having either a memory foam mattress or a pocket spring mattress. These have the best motion isolation so you don't get woken up by your partners' movements and get a deeper sleep.
Memory Foam – I love memory foam mattresses, they provide great comfort, support your back well and allow you a deeper more restful sleep. I'm a very light sleeper but on our memory foam mattress, my wife can come in and out of bed without waking me, something which had never happened before!
Pocket Springs – These don't quite have as much motion isolation but offer a more bouncy traditional feel for those who don't want memory foam. Plus they are far superior to open coil spring mattresses which are a big sheet of springs all joined together, if you sit on one side your partner will get bounced out the other. Open coils are found in cheaper or older mattress and aren't any use when there are much better alternatives that are affordable now. No, Pocket springs are the way to go.
What Firmness Is Best For Couples
As a rule, I recommend a medium-firm mattress to pretty much everyone, it's the most common firmness and of all the different firmness levels it's the most universally accepted as comfortable. Plus it's a good firmness option for any sleeping position.
But, if you know you like a soft mattress then don't let me stop you! I've got more soft mattressed, medium mattresses, or firm mattresses reviewed at those links.
F.A.Q
What Mattress is Best For Couples With Different Sleep Positions?
It depends what sleep positions, back and side sleepers will get on fine on any mattress type and any mattress firmness. But if a stomach sleeper is in the mix then you'll want a medium-firm or firm mattress so the stomach sleeper doesn't get back pain and the back or side sleeper can still be comfortable and supported.
What mattress is best for couples who toss and turn?
You'll want memory foam, minimal motion transfer so when your partner moves you're much less likely to be disturbed by it. Unless they end up hitting you with a flailing limb of course! Then twin beds might be the answer.
What Mattress Is Best For Overweight Couples?
If you're both overweight, or even one of you, then you'll want a firmer mattress and preferably one that states it can support higher weight limits, I have a separate article looking at mattresses for heavy people that I'd recommend reading in this instance.
What is the best size mattress for couples?
As a rule, you should buy as big a bed as your room will allow, so if you've got the space go for a king-size mattress, plenty of room for you both to move independently and it'll mean you can get a nice big duvet to snuggle up in.
Other Mattresses For Couples
Hybrid mattresses
Orthopaedic support
Good for overweight couples
Hypoallergenic
Edge-to-edge support
8-year guarantee
Firmness: Firm
Sizes: Single, double, king and super king size
This is a great choice for overweight couples because of the firmer feel that will give enough support underneath you.
It's also a good choice if either of you suffer from back pain, because the firm springs and memory foam layer provide the maximum support up and down your spine to relieve tension and ease any back pain you might be dealing with.
The firm support won't be for everyone but it's ideal for back sleepers and stomach sleepers but side sleepers will be comfortable too, so it's a win all round! And who's it not for? Well as obvious as it is, it's not for people who don't like a firm mattress, so if that's you, don't buy this one!
But, I know some people prefer a firm mattress so I wanted to include one.
More side sleeper mattresses here.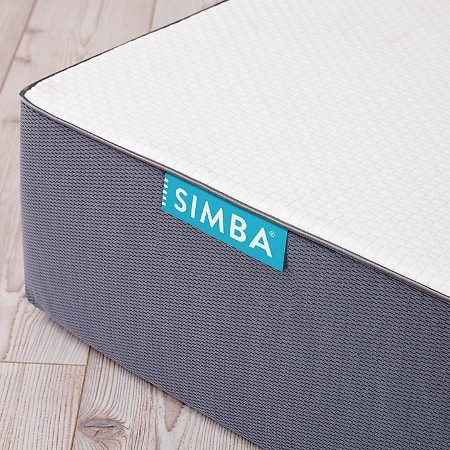 Luxurious 2500 spring count
Regulate body temperature
edge-to-edge support
10-year guarantee
100-night trial period
Firmness: Medium-firm
Mattress size: Single, small double, double, king and super king size plus EU sizes
BLACK FRIDAY (2020) SALE: 35% OFF on orders over £300
This is an ideal mattress for couples because Simba studied 10 million sleepers to create the mattress that's perfect for everyone. A hard task to accomplish! But a worthy cause for couples who have different preferences.
It's a hybrid mattress so you've got foam as a comfort layer and springs inside for a little bounce both of which work together to give you a cloud-like sleep.
It's also been designed to promote a steady airflow around the body so your body temperature keeps steady and you keep on sleeping peacefully for a deeper more refreshing sleep.
Apart from that, you've got the good stuff you can expect from a bed-in-a-box mattress, a 10-year guarantee and a 100-night trial period so if you don't like it you can send it back for free!
Free pillows
Made in the UK
5-year guarantee
60-night trial
Firmness: Medium-firm
Sizes: Single, small double, double, king size, super king size
This mattress is the perfect balance between affordability and luxury. Under £400 for a king-size and 1200 pocket springs make for a great feel when you lie on it.
It's non-flip which makes life a little easier and easily one of the top picks for couples because of the pocket spring and memory foam combo that limit motion transfer.
Plus it's got air vents in the side for improved air circulation and a nice and soft cover for that little extra snuggliness underneath your sheets.
Finally, it's got a 5-year guarantee which is excellent for the price tag and provides a little more peace of mind when your head hits the pillow that you've made an excellent choice.
Memory Foam Mattresses
Allergy seal of approval
Bed-in-a-box
Gel memory foam
Made in the UK
5-year guarantee
Firmness: Medium-firm
Sizes: Single, double, king size and super king size
This is Silentnight's entry into the world of Mattress-in-a-box and they've done a great job! It's available as a soft and medium mattress too but I thought this was the best choice for couples because medum-firm is the happy place for most sleepers on the firmness scale.
It's a combo of memory foam and Geltex which is a gel memory foam that has greater breathability while still offering maximum support to your pressure points for a relaxing sleep experience.
No springs at all so you've got the most motion isolation possible allowing for freedom of movement across the bed without disturbing your partner.
And it's got Silentnight's standard 5-year guarantee which is a nice bonus.
The perfect mattress for couples who toss and turn.
Edge-to-edge support
Hypoallergenic
Made in the UK
5-year guarantee
Firmness: Medium-Firm
Sizes: Single, double, king, super king
This is a solid choice mattress for a couple, 25 cm deep is plenty deep enough to support even a large body type and the memory foam has the important factor I keep harping on about that is motion isolation to keep you still and supported.
It is missing a cooling element of some kind, no cooling gel or air vents in the side, so if either of you are hot sleepers you won't want to go for this one.
But if you don't tend to overheat you'll get on fine.
The edge-to-edge support gives you room to use the whole mattress, which means if you get a super king-size you might spend the whole night and not even come in to contact! Plus it's Medium-firm so good for all sleeping styles.
Kayflex Pocket Plush 2000 Series Mattress
A combo of 2000 pocket spring and memory foam results in a high-quality mattress with good motion isolation. But what's more surprising is the price!
At under £250 for a new king-size mattress you really can't go wrong, it won't last you a decade like the more expensive mattresses but you know what? It's still a great mattress for couples, a good bit of bounce from the springs and plenty of motion isolation from the layer of foam.
The innersprings give it a more traditional feel so a great choice if you don't want to fully commit to memory foam. The medium firmness isn't so great for stomach sleepers but it is still a great mattress for side sleepers and back sleepers.
This mattress is also single-sided so you don't need to flip it which makes life a lot easier, because not many people flip their mattress even when they're supposed to!
A fine new mattress for couples who are on a budget.
Conclusion
Still, stuck for which one to choose? I highly recommend you take a look at the Nectar Sleep Memory Foam Mattress it's really everything you could ask for in a mattress for couples. No motion transfer, good for all sleeping styles and the ideal firmness for pretty much everyone.
But if it's not for you then make sure you get one that's either memory foam, pocket springs or a combination of both. But, and I didn't touch on them here, latex may be a good choice for you too.
Related Reading
More on memory foam mattresses
More on pocket spring mattresses