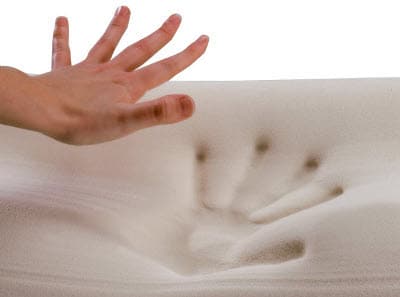 Memory foam mattresses are held as being some of the best at helping to stop aches and pains. Aside from that, they're damn comfy!
The problem is there's a lot of information out there about the pros and cons of buying a memory foam mattress so actually choosing one is hard work.
Well, I've put this guide together to help cut through the noise and help you make an informed decision about whether a memory foam mattress is right for you. I've included some recommendations of the best memory foam mattresses at the end which you can check out, check out the table below for a run down.
What is memory foam?
Let's start off at the beginning. Memory foam itself is what's known as a visco-elastic material, once the jargons stripped away this just means that it becomes softer when it's exposed to heat.
So when you lie on a memory foam mattress the heat from your body causes it to soften and mould around you. It was first developed in the 70s by Nasa as a seat material that could withstand trips to outer space! From there it became usable by the public and several scientists pioneered to get the comfortable memory foam mattresses we know today.
The memory foam is normally a thinner layer at the top of the mattresses with firmer foam underneath. That way you don't sink too deep and get the exact support you need along your body.
This is particularly good for back and side sleepers because it allows your hips and shoulders to sink in keeping your back nice and straight. There's nothing worse than waking up with a sore shoulder.
If you tend to sleep on your stomach a lot then you might be better off with a pocket sprung mattress. If your body sinks into the bed but your head stays on the pillow this could put extra pressure on your neck. You can of course just get a thinner pillow to compensate.
Where a Memory Foam Mattress Can Go Wrong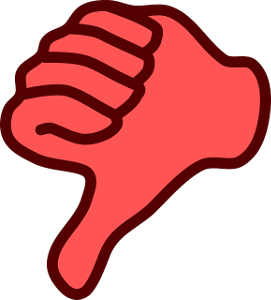 Traditional memory foam does have its problems, nothing's perfect after all! But companies continue to develop the material to get the best possible results. So I'm going to talk about some of the problems that you can face in memory foam, usually if you go to the low end and don't spend enough. Remember, you spend a third of your life in bed and a mattress can last you 10 years so it is a worthy investment.
Trapped Heat
It used to be that memory foam was really bad at trapping heat. You'd wake up far too hot and often quite sweaty, not what you need for a good night's sleep.
This is generally solved by adding in multiple layers to the mattress. The layers are separated using techniques that let the air flow through. If this is combined with a breathable cover your onto a winner.
Getting stuck in your "groove"
Another problem was after you'd got comfy and sank in you'd roll over and find you were stuck! Or you'd roll over and the mattress won't have sprung back so you'd be sitting on various lumps and bumps waiting for it to remould. It didn't take that long to remould but it was always long enough to wake up! A lot of changes have been made to formulas and such that stop this happening. At least in the memory foam mattresses recommended here.
The Smell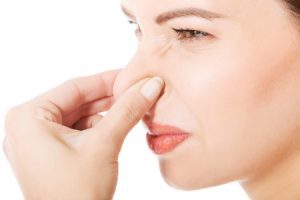 Unfortunately, all memory foam mattresses come with a bit of a weird smell when they're first unpackaged. Not a lot can be done about it but air it out for a few hours and it does go away so it's nothing to worry about. Often the smell comes from the plastic packaging that that mattress is rolled into.
What Memory Foam Does Right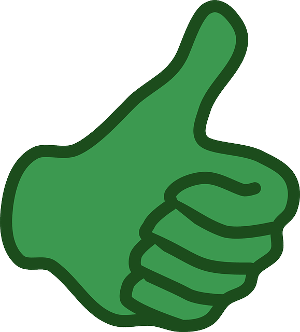 Memory foam really excels in a few different areas:
Joint and back pain
Memory foam is designed to mould around you while you sleep, sinking in deeper at the heavier parts, shoulders, and hips, and less so in the middle. This keeps your back completely aligned while you sleep stopping the pressure building up and keeping your back pain free.
Supreme comfort
This body hugging also gives you a really comfortable sleep, similar to a feeling of weightlessness the memory foam takes all the pressure off your joints and allows you to float in supreme comfort while you drift off to sleep.
Hypoallergenic
Memory foam is naturally resistant to dust mites and germs so stays much fresher and cleaner than it's traditional counterparts.
Non-Turn
Nearly all memory foam mattresses are non-turn due to the layer system. If you turn it upside down the memory foam would be on the bottom which is no use to anyone! Handy because turning your mattress can be an absolute nightmare if you've got a double or a king size bed.
What to look for
So now we know what memory foam is and some of the problems you can experience with it, it's time to find out what features you should be looking for in your memory foam mattress.
Layers
Layers may well be the most important feature of any good memory foam mattress. It's having proper layers that stop you sinking into deep and getting stuck, but it's often the layers that allow air flow through the middle of the mattress keeping it cool.
What the layers are made of is usually memory foam, regular foam or latex.
Cooling
Does the mattress have some sort of cooling feature be it in the layers or a breathable cover? Without it you're quite likely to overheat, after all, it's way easier to warm up than it is to cool down. The most common cooling is in between the layers but often special cover materials are used which allow it to be more breathable, letting hot air out and cool air in.
Guarantee
What sort of guarantee is offered with the mattress? The top dogs in the UK offer a 10-year guarantee which is just awesome. Also, you can check to see what sort of trial period they have, most online mattress retailers offer a 100-night trial so you can order one and try it out for three months before fully committing to your choice.
Financing
Although a worthy investment mattresses can still be a big spend, fortunately, many of the UK online mattress companies have easy 0% financing options so you can order and pay it off in smaller monthly installments. And 0% interest means you're not paying any more than if you'd bought it all at once.
Is it 100% foam
Quite often memory foam mattresses are a combination of springs and foam, normally called a hybrid mattress. These are still great offering a firmer and more traditional feel for those who are perhaps worried about going for 100% foam.
Hybrid mattress have their own merits but this article is on 100% memory foam mattresses.
Is it worth ordering a mattress online?
I'm sure you might be wondering if it's worth ordering a mattress online, I mean you're always told to go into big stuffy showrooms and lie before you buy so it seems counter intuitive to order online.
Well 10 years ago you would have been absolutely correct but now the online mattress industry is a booming business with mattresses being sold exclusively online. By selling online and offering a large trial period companies are able to keep costs down by not renting enormous showrooms at extortionate prices.
Combine this with the several mattresses that are a "one size fits all", so they are suitable for every type of sleeper it is absolutely worth ordering a mattress online. And they can ship them to you vac-packed into a box so you can actually get it to your house without having to tie it to the roof of your car in an accident waiting to happen.
Best UK Memory Foam Mattresses
Without further adieu here are some of the best memory foam mattresses you can buy in the UK. I've provided a shorter review of each and linked through to longer reviews where I've written them. I hope you enjoy!
Eve Memory Foam Mattress Review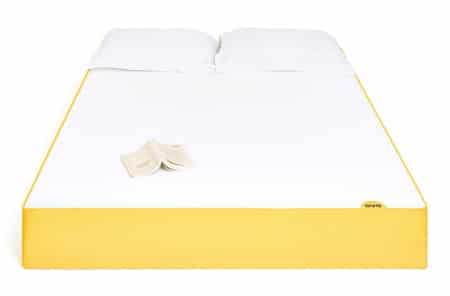 3 layers including a cooling layer
0% financing
100-night trial
10-year guarantee
Medium-Firm Feel
The Eve memory foam mattress is loved across the UK, with over 2000 5 star reviews the public speak the truth! A thoroughly tested mattress and comfortable for every type of sleeper the eve really does hit a home run.
3 Layers give it maximum comfort with the first layer of state fo the art responsive memory foam gets you started on the right foot. Designed to spring back much faster than its traditional counterparts it stops you sinking in and getting stuck in your own grooves.
Its second layer checks another box by being 3cm of delightful cooling core which is 30% more breathable than other memory foams. All this on top of a firm base to ensure you get the support you need.
Eve are an online mattress retailer who ship their mattress to you in a neat little box. There's free shipping and the return policy also includes shipping so if you're not happy you don't pay a penny.
You can order it on 0% finance and get a 100-night trial to fully try it out and get to know it. Then you have the 10-year guarantee to have you sleeping soundly for over a decade. Check out our full review here.
Verdict – State of the art memory foam for maximum response and comfort. A great choice for those who haven't tried a memory foam mattress before.
Brighter Memory Foam Mattress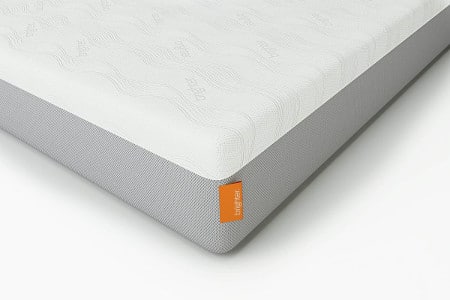 3 layers including a cooling layer and 7 zone support top
0% financing
100-night trial
10-year guarantee
Varied Fitness across body
The Brighter Mattress company have really gone above and beyond in developing the ideal mattress top. The top of the mattress has a 7 zone support system that provides ideal support all along the length of your body. Meaning, a firmer feel under your hips and bum, medium under your thighs and shoulder and light under your head and feet. The ideally designed comfortable mattress.
Another tick with the three layers of foam including a cooling middle layer and firm support base. The brighter mattress is also a perfect fit for any type of bed frame that you might already have.
Combine all this with the 10-year guarantee and 100-night trial and again you've got a winner. But a final nice touch from brighter is that their mattress is combined with purotex which is a probiotic designed to keep germs and dust mites completely away and provide an element of self-cleaning into the mattress. Perfect for those who worry about germs and cleanliness. Check out the full review here
Verdict – Self-cleaning and the 7 support zones, you can't go wrong with the Brighter Memory Foam Mattress.
Hyde & Sleep Memory Foam Mattress Review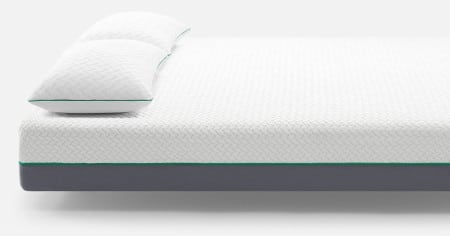 3 layers including a cooling layer
0% financing
100-night trial
10-year guarantee
Medium – Firm Feel
I really like the three layer system of the Hyde and Sleep mattress with the cooling layer on top. This combined with the latex/memory foam combo gives it a really great firm feel with some bounce back. Then the base has specially made grooves in it to allow proper air flow through keeping you cool and fresh all night long.
Once again you have the awesome 100-night trial, 10-year guarantee and it all comes wrapped up in a neat little box. What is cool is that it was voted product of the year in a vote of over 11,000 people. So I think it's safe to say they can't all be wrong!
A great choice if you have a partner as there is a lot of movement absorption through the foam so you don't notice your partner moving about. Compared to a getting bounced around the bed on an old creaky mattress.
Hyde & Sleep also offer a pocket spring edition of their mattress for those not so tempted by memory foam. Check out the full review here.
Verdict – A great choice for sufferers of night sweats who need a memory foam mattress that keeps them cool.
Silentnight 7-Zone Memory Foam Mattress Review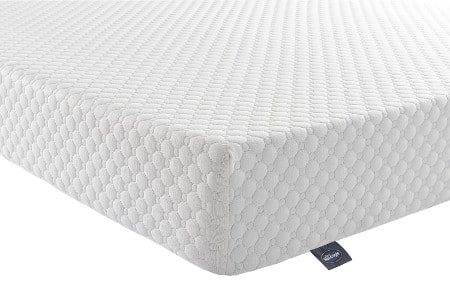 3 Layers
5 Year Guarantee
Good Budget Mattress
Varied Firmness
Similar to the brighter mattress this Silentnight memory foam mattress has 7 zone support across it being firmer in the middle and softer at the ends. An absolute bargain price compared to some of the others listed here but it definitely won't be suitable for everyone.
For people on the larger side (about 100kg+ maybe less), the 20 cm thickness could be a problem as you might be able to feel the bottom of the bed underneath you which is entirely the opposite of what you want. That said most people of average size will find this a delightful mattress to sleep on. Soft plush cover and the memory foam layer make it super squishy and comfortable and great if you have minor aches and pains.
The Guarantee on this mattress is a bit iffy with the longer you have it the less money you get back as follows:
Year 1: Standard warranty, including labour and transportation cost included
Year 2: Same as year one, but if there's replacement of the mattress, you'll incur the transportation cost
Year 2-3: Beginning of a sliding scale of charges. In case of claim, you pay 40% of current retail price
Year 3-4: You pay 60% of the current retail price
Year 4-5: You pay 80% of the current retail price
But still, if your mattress has a defect in it, it will become noticeable almost immediately so you won't need to use the warranty anyway. As an easy bonus, you can buy this alongside a duvet or two pillows at the click of a button. It arrives all rolled up in a vacuum-packed bag you just need to open it up and leave it unrolled while it regains its shape. There is the usual smell but that goes away as you leave it to air.
Verdict – Best memory foam mattress for a younger person in need of a comfier night's sleep.
Best Orthopaedic Memory Foam Mattress
It wouldn't be a complete list if we didn't talk about Tempur now would it! The original and the best orthopedic mattress.
Tempur Original Deluxe Memory Foam Mattress Review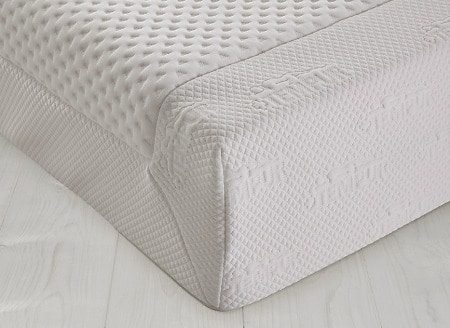 3 Layers
10 Year Guarantee
Ultimate Back Support
Firm Feel
The Tempur original is the best suited for back pain of all their mattresses. It has the firmest feel and the thickest support layer giving you the maximum support needed for a comfortable night's sleep.
Tempur were the original pioneers of the memory foam mattress so you can rest assured they know what they're doing. The support of the memory foam takes the pressure off of all the trouble areas in your body, hips, shoulders and back, and leaves you with a feeling of weightlessness. This feeling has a tendency to stop excessive moving around while you sleep as well which is a bonus for you or your partner. Then even if you do move around the memory foam absorbs the movement so you can lie undisturbed by your partner.
There are 3 different thicknesses of this memory foam mattress but I think 22cm deep is the sweet spot, the 21cm doesn't have a quilted cover so it isn't as soft to lie on while the 27cm, although it has a thicker base, has quite a jump in price. I've linked through to the 22cm mattress but search through John Lewis and you can compare the different thicknesses.
Verdict – The best memory foam mattress you can get for a bad back
F.A.Q
How Do I clean my Memory Foam Mattress?
Well, prevention is the easiest way so you definitely want to look into a mattress protector to keep it clean and fresh. But if the worst has already happened then a damp cloth no wetter than a baby wipe to spot clean the area. But different manufacturers have different recommendations so have a look at the website of your mattress brand.
Will a Non Memory Foam Mattress Ease my Bad Back?
Every memory foam mattress is designed with support in mind so even if it's not advertised as orthopedic depending on the severity a memory foam mattress will certainly help a sore back.
Is A Memory Foam Mattress Suitable For Children?
Of course! You get memory foam mattress for a crib so it's cause no problems for children.