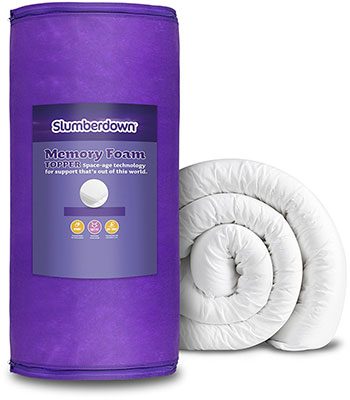 The Slumberdown memory foam mattress topper is a great budget-friendly topper.
It won't break the bank but gives you a nice memory foam layer to seriously upgrade your bed.
It's perfect if you suffer any back or neck pain while you sleep because it gives you just that little bit more support.
What it's lacking is some sort of cooling element, so if you're prone to getting night sweats or overly warm then this might not be the topper for you.
But if that's not a problem then you can do a lot worse than the Slumberdown memory foam topper. Just roll it out the box, leave it for a couple of hours and it'll puff up nicely giving you an easy comfort upgrade. And it can be rolled up and put back in the box if you need to store it again.
Memory foam always has a bit of a smell when you first open it but air it out for a day and it will mostly go away then within a week the smell will be fully gone.
It's available in single, double, or king size.
Overall, a nice topper, great if you're on a tight budget but still want a comfortable bed.
Click here to view the price on Amazon
Or click here to see my top picks for the best mattress toppers.