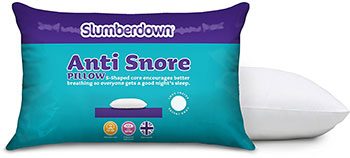 Slumberdown are a great brand if you're looking for practical bedding at a great price. And their Anti-Snore pillow is no different!
I've got a quick summary of the good and bad of this pillow so read on and enjoy.
Will It Stop Snoring
I'll have to go with a maybe for this one.
It's actually advertised as "relieving the symptoms" of snoring rather than stopping it all together which is a bit misleading.
If you just snore a little then it definitely could stop it all together, but for most people, I think it's much more likely to lessen snoring.
But less snoring is still definitely a step in the right direction, and much nicer than getting surgery!
Besides, for the low price it is you're definitely as well trying and finding out if it works for you.
Other Good Points
The Slumberdown anti-snore pillow definitely has other stuff going for it.
It's suitable for back and side sleepers, definitely recommend trying to sleep on your side if you snore, and is nice and firm for loads of great support of the neck.
It's got an S-shaped piece of foam in it that cradles the head while you sleep which is nice and comfortable. And what helps stop snoring!
But unlike other contour pillows the S-shaped foam is inside a regular pillow for extra sponginess and it makes it much easier to put inside a pillowcase.
Manufacturers Description
Snoring can not only have a big impact on your sleep but your partners too. That's why Slumberdown, has created the Anti-snore pillow, specifically to help relieve the symptoms of snoring. The soft, hollow fibre pillow has been specially designed with a 'S' shaped inner foam core which helps encourage better breathing by supporting the head and neck and can, therefore, help to reduce snoring and improve sleep.
Snuggly hollow fibre filling is soft and comfortable. It gently supports your head and neck so you can move freely through the night. The cotton cover is 100% natural, it's soft and cool to touch, plus it's good at naturally regulating your temperature through the night.