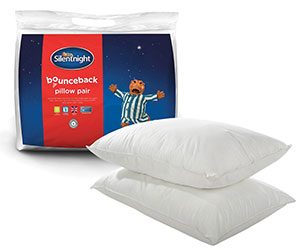 Silentnight Bouncebackpillows are surprisingly decent for the price, when you're getting 2 pillows for just over a tenner you have to be sceptical.
But if you're looking for a small soft pillow then this is the way to go.
Not much use if you're a side sleeper but not bad at all if you're a front or a backs sleeper.
You definitely need 2 per person but not bad at all. The filling is hollow fibre which is normal for the price point, it means they won't stand the test of time but you should get a year or two out of them before you have to think about replacing them.
Overall, If you're able to I'd definitely get a better quality more expensive, check out my pillow recommendations for ideas, but if you're on a budget you could definitely do a lot worse.
Manufacturers Description
A pack of two Silentnight Bounceback Pillows, which are filled with spring-like hollow fibre to ensure that they bounce back into shape time after time. They also offer smooth polycotton covers and generous support that's suitable for front or back sleepers. The hollow fibre filling and poly cotton cover mean that these pillows are also hypo-allergenic and fully machine washable.