I wrote this guide to save you time in all the research that comes from duvet shopping and tell you exactly what you need to know. The I give a round up of the best duvets available in the UK so you can find the one that's right for you! Check out the table below for a run down and if you want to go straight to the duvet you like the look of. Otherwise keep reading!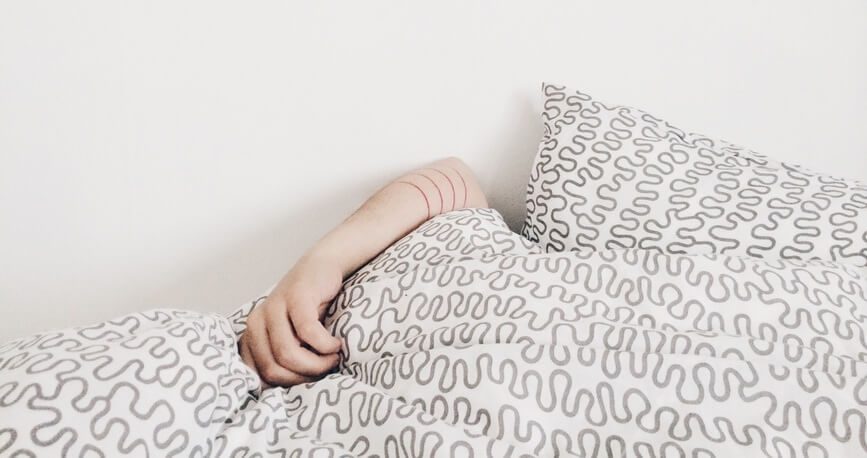 This guide is quite thorough so take your time reading it through or consider bookmarking it for later when you have more time. But if you read it start to finish you too will be an expert!
I've put together a table of contents so you know exactly what to expect and if there's a section you want to jump to just click the link and it'll jump you down to the right section.
If you find this guide useful then please consider sharing it with your friends!
Contents
1. Tog Explained
2. Duvet Filling Explained
3. The Best UK Duvets
4. F.A.Q
Tog Explained
Let's start off with the basics. What is Tog?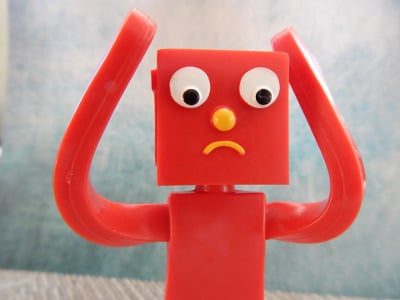 Don't panic we've got your covered!
Tog is actually a unit used to measure how well insulated a material is against heat. So it helps you understand how much heat your duvet will hold in the bed.
All you need to know is the higher the Tog the warmer the duvet. Easy!
The actual value of Tog can vary quite a lot. A nice summer duvet is around 4.5 Tog whereas a super cosy winter one can be 15 Tog. And here in the UK Tog goes up in steps of 1.5.
For spring and autumn a tog around 10.5 -13.5 is ideal but nobody wants to have 3 different duvets to rotate through! So most people get either one to last the year or two and have a thinner one to hand for hot summer nights.
But then I know some people who could sleep outside under a tea towel and sweat the night away so it just uses that as a guide.
If you really have no idea about what kind of Tog you need then buy yourself a summer duvet and some blankets in the winter so you can add on more heat as you need it.
Duvet Filling
The filling is as important as the Tog. The filling affects everything from how heavy it is to how plump it feels so it's important to get the right one. The wrong one and your entire duvet experience will be ruined!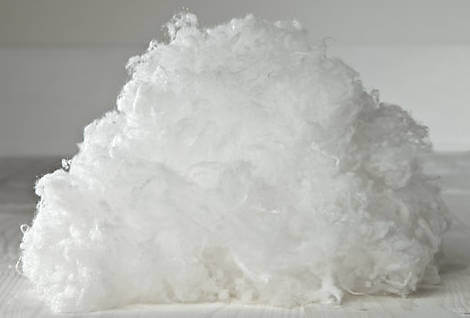 Synthetics
Synthetic duvets are the most common. They are cheap, comfortable and get the job done. That also means there is nothing special about them but you still get some good ones.
Besides I know some people don't like feather or down which are the second most common duvet so I've tried to include a synthetic option in every category.
Hollowfibre is the most common synthetic filling being made up of tiny strands of polyester that have a hole through the center. This holds the heat really well and gives you a nice plump duvet.
Microfibre is the second kind of synthetic though it is usually used on the cover of the duvet it is sometimes used as the filling. Strands of micro fibre are actually thinner than even silk making it super comfortable, it tends to be on the thinner side though as there is less to hold air with.
Most synthetic duvets are treated to be anti-allergy but if you want a more natural hypoallergenic option then read on!
Feather and Down
Feather and Down duvets normally come as a blend of the two. More down is lighter and fluffier whereas more feather will be heavier and wrap you up. So again it's down to personal preference.
Down itself is a little cluster which makes it great at trapping heat so although a down duvet is lighter it definitely isn't colder!
The other side of lots of feathers is that if you get something to cheap then the feathers are likely to poke through the material and start stabbing you!
I've made sure to include only duvets whose feathers have been acquired through cruelty-free methods. Most of the feathers are taken as by-products of the food industry in china where duck and goose are popular dishes.
Wool
Wool might well be my favourite material. They are naturally hypoallergenic, they have a built-in climate control getting rid of excess moisture while retaining heat and dust mites hate it!
It is completely natural but does everything and more compared to your usual feather or synthetic duvets.
Wool duvets are most recognisable for the crimped pattern on them usually diamonds or squares. This is to keep the wool in place and stop it bunching up to one side. It also holds the air better so more heat is retained. Awesome
Silk
Last but definitely not least we have silk.
Silk duvets are the absolute height of luxury normally used in fancy hotels they are warm breathable and hypoallergenic. They are also super soft and wrap you up in a cloud of warmth while you fall asleep.
Silk is also naturally climate controlled making them a great duvet to have all year round.
Duvet Size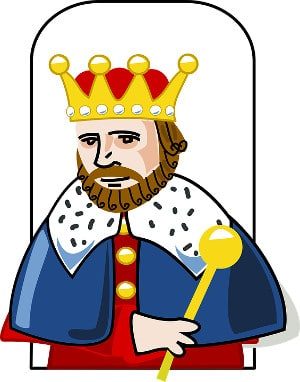 Pretty self-explanatory, duvets come in the same sizes that beds do, Single, Double, Queen (Large double), King, and Super King.
For added snuggle points consider getting the size of duvet bigger than your bed. I grew up on a single bed with a double duvet and it was the absolute comfiest night sleep.
Best UK Duvets
You've made it!
Now we can get to the good part and decide what the best duvet is for you.
I've broken them down into different categories so we can find exactly what you need. I've linked to where you can buy each one on Amazon so you can read some other reviews and pick yours up today!
Best all Season
Now maybe you don't want to switch out your duvet at the different times of year. Fair enough, you might not have the storage space or maybe you simply can't be bothered. Either way that is fine because we've got some all season duvets that'll see you through the entire year.
These tend to come in two different styles so I'll tell you about each before we go on:
First you get the multiple style where you actually get 2 duvets that you can put together and into the same cover. They're normally a 4.5 tog and a 9 tog so you have a different combination for every season. If you have storage problems then this is no use so you want the second type.
And the second is a climate controlled duvet that normally has a Tog around 12. They are specifically designed to regulate your temperature so you don't get too hot in summer or too cold in winter.
Climate Control Pure Wool Duvet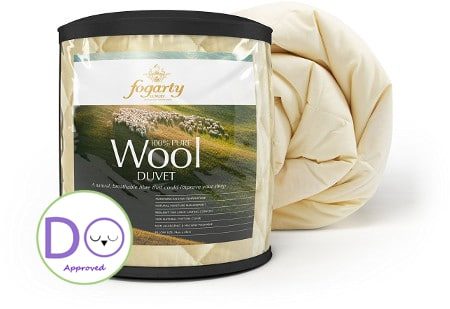 Brand:Fogarty
Filling:Wool
Tog:N/A
Naturally Hypoallergenic
Climate Controlled
Known to promote a Deeper Sleep
Dozy Owl Approved
The Fogarty is just perfect. The wool has natural anti-allergy properties and is climate controlled being able to take away moisture from the body and store heat keeping you comfortable in all weathers.
This is actually my favourite on the list and so it gets The Dozy Owl Seal of Approval as the best duvet.
It is available in Single, Double, King, and Super King.
This is also the best wool duvet you can get so if it's wool you wanted then this is the place to go!
Feather and down All Seasons Two Duvet Set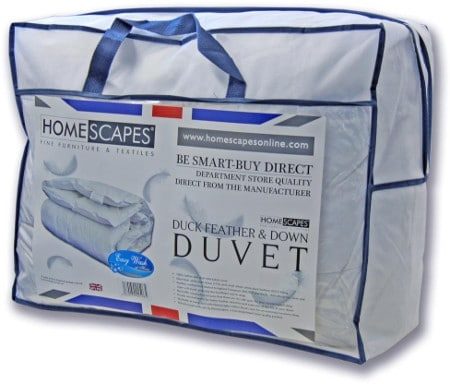 Brand:Homescapes
Filling:Feather and Down
Tog: 9 + 4.5
15% down and 85% feather
Weighty so it falls around you
Pocketed to keep filling evenly distributed
Machine Washable
Zip case for Storage
Hypoallergenic
Homescapes have done it again with this two duvet set, featuring a 4.5 tog and a 9 tog. They also come with a zip case which is exactly what you need if you're only going to be using one of these at any point. You can simply zip the other one up and put it in the cupboard. Easy!
Although two duvets can be a little annoying to deal with it is by far the most versatile setup you can have on your bed. It is available in double or king size.
There is also a microfiber version of this duvet available for those who don't want feathers. Just click here to view it on Amazon.
Best Duvet For Summer
No one likes waking up in the night covered in sweat and gasping for water. That's why it's important to get yourself a summer duvet so you can sleep soundly all year round.
Summer duvets have a lower Tog to help keep you cool. For those who really overheat then you want to avoid down as well because that traps the heat better than a synthetic material.
Easy Storage Egyptian Cotton Duvet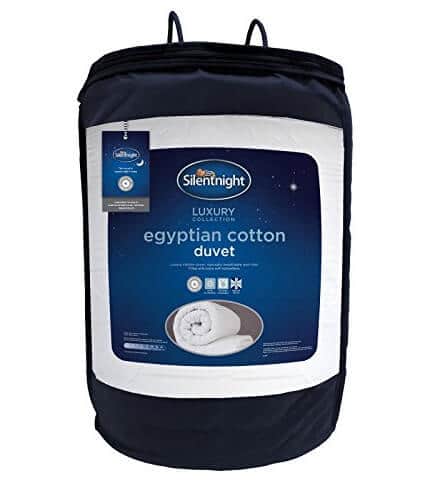 Brand:Silent Night
Filling:Hollowfibre
Tog:4.5
Easy Storage Case
Egyptian Cotton Cover
Machine Washable
5 Year Guarantee
This Silentnight duvet comes with a handy zip up storage case, so once summer is done you can easily pack it away into the cupboard for next year. Then as a bonus you have a spare for just in case!
The hollowfibre gives you a plump comfortable duvet and the 4.5 tog is perfect for the summer heat. As an added bonus it is an absolute bargain! It's available in Single, Double, or King size, just click through to Amazon and select the size you need.
Spring Summer Lightweight Duvet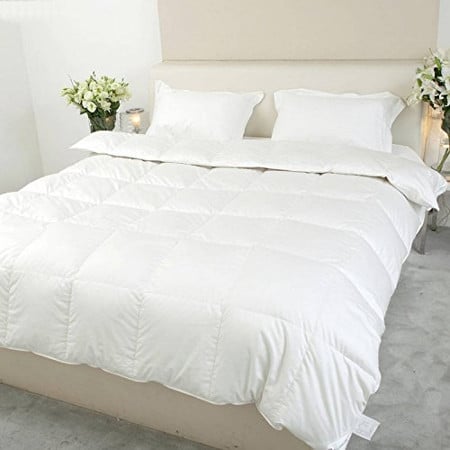 Brand:Jing San Xian
Filling:100%Down
Tog4.5
100% down, no feathers
Warmer than the synthetic duvet above
Available in a wide variety of Sizes
Crimped to stop bunching
Although it's not a household brand this down duvet from china is fantastic value. It'll keep you a little warmer than its synthetic counterpart but the 4.5 Tog means it is still nice and cool for those warm summer months.
The crimped pattern is great as well because this means the filling will always be even and won't bunch up to one side. And it means no cold spots!
It's available in Single, Large single, Double, King and Super King.
Warmest Duvet
From summer to winter we're going to follow up with the best duvets for winter! Be prepared to get your snug on because some of these will make you never want to get out of bed again.
You've been warned!
Hi-Therm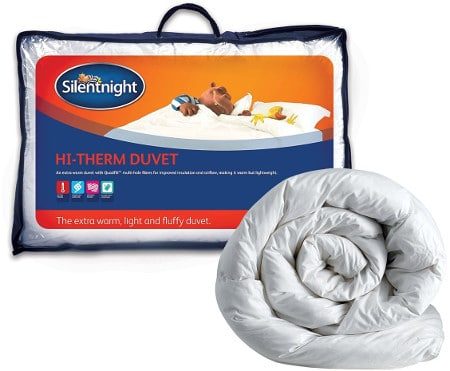 Brand:Silentnight
Filling:Hollowfibre
Tog:15
Ultra Cosy 15 Tog
Specially designed quad core hollowfibre for extra warmth
Machine Washable
Zip Case for Storage
Hypoallergenic
The Hi-Therm from Silentnight is everything the chilly sleeper needs. It has specially designed quad core hollow fibre filling to trap in even more heat and the huge 15 Tog makes it an absolute den of cosiness.
The synthetic filling is also hypoallergenic and machine washable making it great for kids who get cold at night! I know that was a real problem for me when I was little.
It is available in Single, Double or King size.
Ultra Warm Luxury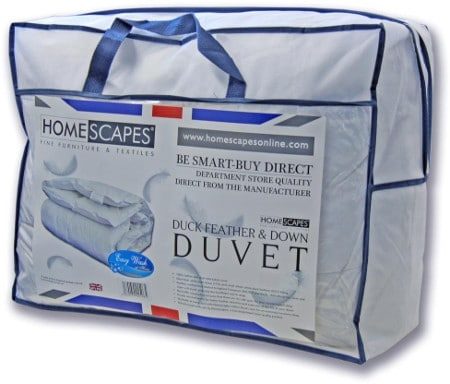 Brand:Homescapes
Filling:Down and Feather
Tog:15
15% down and 85% feather
Weighty so it falls around you
Pocketed to keep filling evenly distributed
Machine Washable
Zip case for Storage
Hypoallergenic
This is easily one of the best duvets on the list. The high feather to down ratio keeps it weighty so it falls down around you, giving you a warm hug at night. It's also pocketed so the filling can bunch up to one side and you don't get any cold spots.
It is also completely hypoallergenic and simply perfect for getting through the cold winters.
Best Budget Duvet
All these more luxury are very well and good but what about you people who are looking for a cheap and cheerful option? Well don't worry we've got you covered!
I've gone for the middle ground in Tog so it will be generally suitable for most of the year and I've included a synthetic and a down choice.
Please bear in mind these are the budget options so they are not the best quality, spending more will result in a higher quality duvet that could last 10-20 years so it is something to consider.
If you really can't afford it don't worry I've picked out the best ones available. They're cheap cheerful and will do you proud.
Ultrabounce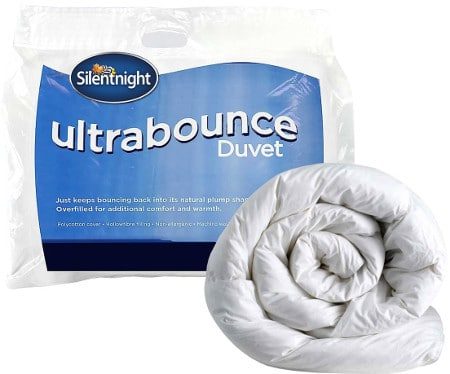 Brand:Silentnight
Filling:Hollowfibre
Tog:10.5
Machine Washable
5 Year Guarantee
Extra Filling
Hypoallergenic
The Silentnight Ultrabounce is a great budget duvet. The 10.5 tog is suitable for all year round (though you might want a blanket in winter!) it has extra filling for added comfort and comes with a 5-year guarantee.
Everything you need! Available in Single, Double or King
Just Like Down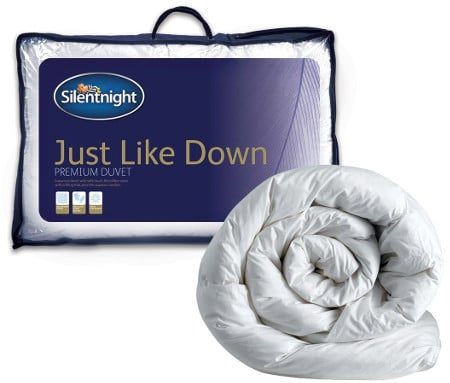 Brand:Silentnight
Filling:Hollowfibre
Tog:13.5
Machine Washable
5 Year Guarantee
Hypoallergenic
OK so it's not actually a down duvet but you don't really get a budget version that's still cruelty-free so I'm sticking with it!
The Just Like Down offers a plump feeling similar to down that is equally cosy thanks to the 13.5 tog rating. Another great budget choice available in Single, Double or King size.
Best Hypoallergenic duvet
Many of the recommendations above are all hypoallergenic so I'm going to keep this section short.
For those looking for the natural solution have a look at the all wool duvet mentioned in the all seasons section. Wool is naturally hypoallergenic, no nasty chemicals involved what so ever, you can view it here on Amazon!
Best Silk Duvet
Silk duvets didn't really get much of a look in throughout the other sections so I've dedicated a piece at the end just them. Like I said earlier silk is absolute luxury which means it comes as a premium but it is simply so comfortable you can understand why!
All Season Mulberry Silk
Brand:Jasmine Silk
Filling:Silk
Tog:9
All season 9 Tog
Hypoallergenic
Rarely needs cleaning
Breathable and Comfortable
The all season Jasmine Silk duvet is incredible. It falls around you giving you a nice warm hug while still being breathable to help keep your body temperature just right.
If you're looking for luxury look no further. Silk duvets are commonly used in 5-star hotels because of the superior comfort and exceptional warmth. It may appear thin but lie under it and let the cloud of warmth wrap you up and drift you off to sleep. You already have enough worries being cold in bed shouldn't be another one.
It is available in Double or King Size.
F.A.Q
How can I wash my Duvet
If you check the label it will give you more instructions on how you can safely wash it. But generally, most synthetic duvets are suitable for a washing machine whereas everything else needs to be hand washed with a sponge and then hung up to dry outside.
If in doubt take it to a laundrette, no point letting your washing machine eat it!
How often should you buy a new duvet
A good quality one should last you 10-20 years so not very often!
However sometimes if you are moving house it's nice to have a fresh start with a fresh duvet. Or if you need something warmer/colder then it's time to get shopping and see what you can find.
Aside from that it is only if it is burst or starting to smell that it will need replacing!
How do I stop my duvet bunching at the bottom
Every morning when you get out of bed, turn around and pick up the duvet where it normally bunches and give it a really good shake. Like your trying to flick something of the other side of it
That is the most effective way to sort it out. Alternatively, you can get yourself one that has had squares crimped on to it like the wool duvet featured further up the article.
If you found this article useful then please share it!
Related Reading
Best Pillow for A Great SleepHow to choose the best mattress
Best Mattress toppers