Winter is a dark time, a cold time, a time full of unpleasant early mornings.
Do you know what can make it all a little bit better?
A great winter duvet.
Bring some toasty cosiness to your bedroom so you can look forward to snuggling in and sleeping tight.
But what's the best winter duvet?
That's where I come in, I've found and reviewed all the best duvets for winter you can get here in the UK starting with the top 5 I've got below.
The scooms is my absolute top choice, a 60-night sleep trial to test it, very high-quality materials and extremely cosy, I love sleeping under mine and I'm sure you will too!
Top 5 Best Winter Duvets UK
1. Top Choice – Scooms All Seasons Goose Down Duvet, 13.5 tog
90% Hungarian goose down
10% selected Hungarian goose feathers
Two 9 and 4.5 tog duvets with corner clips
All season duvet
60-night trial
Sizes: Single, double, king and super king size
The Scooms duvet is everything you could want in a winter duvet. It's made up of two duvets, one 9.5 tog and the other 4.5 tog that are fastened together with buttons on the corners so it doesn't get muddled in the covers.
This means when it gets back around to summer you don't need a different duvet, just unclip them and choose which one you need as your summer duvet and store the other in the storage bag that comes with it, a nice touch I must say.
It's got Hungarian goose feathers and down in it which are amongst the highest luxury filling offering superb warmth and comfort, and the filling is sewn into individual pockets s it doesn't bunch up at all.
And while it is more expensive you get a trial period so you can order it get free delivery and test it out to see if it's worth it yourself before you commit to it. Don't like it? You can send it back for free and get your money back.
A 3-year guarantee, though it will last longer than that I'm sure, for value for money and it's hypoallergenic for the freshest night sleep possible.
Easily the best winter duvet you can buy in the UK.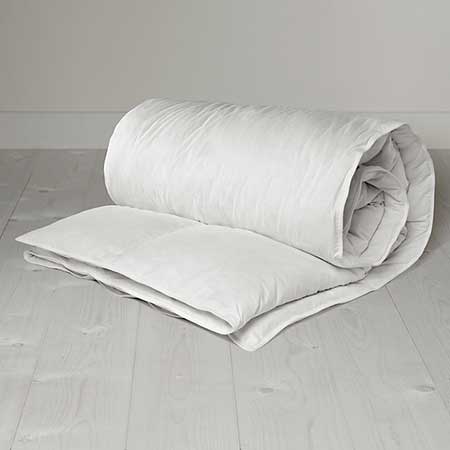 100% down
Dust mite protected
Lightweight but plump
Very warm
Sizes: Single, double, king and super king size
What's more comforting than wrapping yourself up in a big king size duvet? Doing it with a hot chocolate in hand! Anyway…
This might not have the highest tog but it's definitely one of the warmest duvets available because of the high-quality Siberian goose down inside. Because if it can keep an animal warm in the depths of Siberian winter I'm sure it can keep us warm here in the UK during the occasional snow of winter!
It's all down which keeps it lightweight but is lovely and plump and the filling has been treated to be protected from dust mites.
It's expensive but the luxury filling makes up for the price. Plus it's got a 460 thread count cotton cover on the outside for a soft feel even through your duvet cover. the cover is also sewn into pickets so the filling stays even across you
The filling is also guaranteed to have come from ethical sources which is something you often don't get with cheaper duvets.
The perfect duvet for Autumn and Winter and for anyone who gets cold while they sleep.
Temperature regulating modal inside
Tow duvets that clip together
All season duvet
Lightweight duvet
Machine washable
Sizes: Double, King, Super king
Modal is an interesting material, made from wood pulp it is very breathable, allows for excellent body temperature regulation and wicks away moisture for a more balanced sleep, an excellent choice of synthetic filling.
It's also light and airy to allow plenty of space inside that traps air and keeps your warm making it a perfect choice for winter but also a good choice for the summer months too.
Especially because you can take these duvets apart and have either the 4.5 or 9 tog duvet during summer, or spring and autumn.
the rest of the filling is microfibre which is tried and tested and a great choice of synthetic fibre for a duvet keeping the price down while being warm and comfortable.
The modal is also in the cover alongside cotton which puts the breathability properties through the whole thing.
4. Best Lightweight Winter Duvet – The Cloud Bamboo Duvet,10.5 tog
Bamboo and nanofibre filling
Antibacterial
Suitable for vegans
Free delivery
5-year guarantee
Sizes: single, double, king and super king
I like Panda, the company who make this, they've been bringing some really great bamboo sleep products for many years now and the duvet is no different.
Bamboo is sustainable, environmentally friendly while also being soft and breathable. This duvet is only a10.5 tog rating, so it's not the warmest but it is still good for winter, though I personally like to throw a blanket on top when it gets really cold for a good night's sleep.
It's naturally anti-allergy and the combo of bamboo and nanofibre give a really lightweight filling that's also warm and soft.
Plus you get 5-year guarantee and free delivery yso you can't argue with the value. A great new duvet for winter if you don't want feather fillings.
80% feather and 20% down
Sustainably sourced cotton
Ethically sourced duck down and feathers
Hypoallergenic
Sizes: Single, double, king and super king
The price is kept down on this by having duck as the filling and having a higher feather content, which results in a heavier feel.
But, duck down and feathers are still lovely and warm just not as warm or high quality as goose feathers, but if you're on a budget you have to compromise and to still get a feather duvet for this price is really good going.
A fine choice of anti-allergy duvet because it's been treated to resist dust mites while also having Micro-Fresh technology which reduces bacteria growth through the life of the duvet for a fresher bed that will keep you warm without breaking the bank.
F.A.Q
What's The Best Tog Duvet For Winter?
In general, you want about 13.5 tog for a winter duvet, but it can depend on what material, the right material at 10.5 tog can be absolutely fine for winter, especially if you're towards the south of England where it's a bit warmer. the 13.5 tog can be made up of two duvets or it can be a single duvet, it doesn't matter too much, although a two-layer duvet will be warmer because it has that gap to trap heat in, in the middle of the duvet.
15 tog is also great but a lot less common, since you'd experience really bad overheating the rest of the year, it's not quite cold enough consistently here in the UK for 15 tog to be common. You're better off throwing on a blanket when it gets that cold and then removing it as it starts to warm up again.
What Is The Best Duvet Filling For Winter?
I really like a down and feather duvet for winter, they're warm and lightweight and give you a really plump cosy bed to sleep in. But, you can get some great synthetic fillings if down isn't for you that are nice and cosy and don't use animal products if that's what you'd prefer. But overall I think that down makes the best choice of duvet filling for winter.
What Is The Best Duvet Cover Material For Winter?
If you're looking for warmth you're going to want a flannel duvet cover, soft snuggly and warm. But if you want warmth from a duvet but need a little bit of breathability to help you stop overheating then a cotton cover is going to be the answer, a little more breathable and cooling to help keep your temperature steady through the night.
Do Duvets Lose There Warmth?
Why yes they do! After many years of use they start to go flat, they don't stay as plump and the air pockets inside collapse, and it's the air pockets inside that trap heat! Which brings me to the next question…
How Often Should A Duvet Be Replaced?
You can get about 5 great years out of a duvet before you should really start thinking about replacing it. it's up to you after that, if it still feels plump and keeps you warm then you can keep on using it but if it feels a little lacking and you're finding it a little cold then it's time for a new duvet.
Other Duvets For Winter Reviewed
Synthetic Duvets
2-year guarantee
280 thread count cover
Sustainably sourced cotton
Feels like down
Feels like down but is vegan-friendly and made with polyester fillings. it's 13.5 tog which is ideal for autumn and winter and the duvet is sewn into individual pockets.
It's a blown-fibre filling which are clusters that are puffy and trap air to give you plenty of warmth and plenty of fluffiness that you can snuggle into.
A fine choice of synthetic duvet for winter warmth.
Anti-allergy
Temperature regulating
Free delivery
2-year warranty
Allergy sufferers will love this duvet because of the hypoallergenic properties inside, experience the freshest and cleanest sleep possible with the Tencel filling that works alongside the microfiber to give you dustmite resistance that keeps out allergens.
Plus the Tencel is temperature regulating keeping you as warm as you need to be without overheating you.
Aside from that, it comes as either a two-part duvet for all seasons you can get the winter duvet version which is a single 13.5 tog quilt.
Highest tog on the list
Machine washable
5-year guarantee
Trusted brand
An ideal cheap winter duvet for those who need something more affordable or who are on a budget. It's nice and high tog at 15 for extra warmth and snuggliness while being machine washable for easy care.
The hollowfibre filling is packed in for a plump feel and plenty of warmth.
Besides, it's made by Silentnight, one of the most trusted sleep brands in the UK (Aside from The Dozy Owl right?) so you know you're going to be in good hands and get a really great duvet.
Hypoallergenic
Machine washable
Hollow fibre filling
single double or king available
Want a cosy and comfortable night sleep reminiscent of a hotel? Then this is the duvet for you. Warm, cosy, snuggly, and packed into an embossed microfibre cover that gives it a luxurious look that doesn't break the bank.
13.5 tog is just right for the winter months, hollow fibre duvets are always a great choice of synthetic filling.
Down & Feather Duvets
Treated for freshness
Ethically sourced
Soft luxurious and light feel
cotton cover
Looking to be extremely cold this winter? Then you should head over to Hungary one of the coldest places in Europe.
Want to stay warm this winter? get a duvet filling with the feathers that keep geese warm in Hungary.
This duvet hangs nicely over the body to prevent cold spots and drafts ensuring a really warm and night's sleep.
Cotton cover
Storage bag included
No cold spots
Machine Washable
Homescapes have a great warm duvet perfect for the winter months, 15 tog and packed full of duck down and duck feathers to keep you cosy.
If you plan on having a different duvet for winter this will be ideal because it's got its own zippable storage bag so you can easily pack it away for summer.
Box stitched for plumpness
arrives in a gift box
Climate controlled
The big selling point for this one is actually the gift box it comes in, it makes a nice practical Christmas present, a fine choice for a student or any elderly relatives you might have.
Apart from that it's good quality fillings that are box stitched so they don't clump together anywhere allowing for an even heat and no cold spots. It's only 10.5 tog so not the warmest on the list but still a good winter duvet.
natural fillings of duck feather and down
Additional feather pillows available
High 13.5 tog for warmth
Part of the Scandinavian collection you'll be wrapped up and kept warm in this duvet, 85% feather for a heavier feel that wraps you up and soothes you off to sleep.
The 13.5 tog is great for the colder months as I'm sure you know by now and it's also machine washable so you can clean it at home and keep your bed as fresh as it can be.
Wool Winter Duvets
5-year guarantee
Made with British wool
Sustainably sourced Cotton
Natural filling
Natural duvets are an excellent choice for winter because they tend to have temperature regulating properties just like wool does. Made in the UK using British wool for an eco-friendly choice of winter duvet.
I should point out that although the tog seems low it doesn't work as normal with wool, wool keeps you much warmer than feathers or synthetic fillings do so 8-10 is ideal for winter and amongst the highest tog you get for a wool duvet.
Great all year round really and a good choice of winter duvet and all seasons duvet.
Conclusion
And that concludes it! You made it to the end! I hope you found this buying guide helpful and have managed to find a winter duvet you like.
If you're still unsure then you should definitely look into the Scooms duvet through this link, it's my top choice of the best duvet and offers a wonderfully comfortable sleep experience.
Related Reading
The best weighted blankets
The best pillows
the best duvet protectors
The best mattress topperss