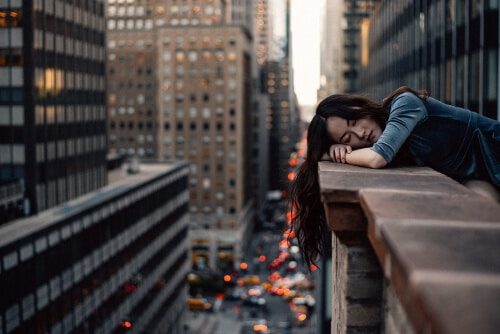 Living somewhere noisy sucks.
Constantly woken up by traffic noise, parties going on downstairs, your partner rumbling away snoring beside you.
Or there's nothing worse than checking into a hotel only to find out it's got paper thin walls so you can hear the neighbors talking let alone everything else!
That's where the white noise machine comes in.
They are specifically designed to give off a gentle background noise that covers up unwanted sounds from the environment while not disturbing you so you can finally get the peace and quiet you deserve.
In this buyer's guide I'm going to talk you through the different aspects of a sound machine before getting down to reviewing the best white noise machines available today! Check out the table below for a run down.
How Do White Noise Machines Work
Basically they produce sound one of two ways:
The first is using a fan, a fan spins pushing air through a small gap creating a rush of air that masks other sounds. I can confirm this is really effective, I lived in Australia a while back where a ceiling fan was an absolute necessity and it was great. The guy I lived with set off for work at 4.30 every morning and I didn't hear him move or his car leave even once.
The Second is a recording. Often this is a direct recording of white noise but sometimes it is of natural sounds such as running water. The white noise recordings are great at masking noise while nature sounds are less effective but more calming which can help you fall asleep.
Now, while you're sleeping if you get woken up by a noise it's not necessarily the noise itself but the sudden change that startles you awake. Your body hears the change in environment and then wakes you up as a sort of safety precaution to check everything is alright.
White noise produces a sound at every frequency on the human hearing, so it's playing a little bit of every type of sound imaginable which is how it masks everything so well. Then when the bin lorry trundles past it's not a new sound being introduced to the room because it is already there in the white noise just much quieter. That's how it takes away noise and helps you sleep better.
Pink Noise
White noise machines are often compared and also have settings for pink noise. The only difference being that pink noise has quite high pitched sounds. The actual sound difference is minimal since it has to blend into the background anyway, both are equally effective at blocking outside noise but some people prefer pink noise to white noise finding it more pleasing.
Pink Noise is also thought to relieve the symptoms of tinnitus better than white noise but both are very effective.
Who can Benefit From a White Noise Machine.
Everyone! But let's go into a little more detail.
People who suffer from tinnitus. That annoying yet constant ringing in your ears could be a problem of the past with a white noise machine. Tinnitus is normally only noticeable in silence so the white noise machine takes the silence away and can relieve the symptoms.
Shift Workers. Sleeping through the day can be hard because of all the noise you get coming in from the outside world. Well a white noise machine and some blackout blinds will have you right as rain.
Babies. White noise machines can help babies sleep at night and even in the pram while you're walking around.
Office Workers. Having a ton of noise coming through your door in an office can make concentrating really hard. A white noise machine takes that away and lets you sink into the task at hand distraction free.
People who sleep with a snorer. If you sleep with a snoring partner then a white noise machine can take away some of the worst of the noise. Even more so if it's coming from another room.
Will It Help You Sleep?
Yes! Apart from the obvious of letting you get some quiet to fall asleep in the constant sound actually gives your brain something to focus on. This stops your mind from racing off to all the worries that seem to crop up last thing at night and so helps you get a good night's sleep.
Meanwhile without distracting noises pulling you back to the conscious world you can sleep deeper and wake up feeling less tired.
Best White Noise Machines Reviewed
So let's get to it, I've done a lot of research and managed to conclude what the best white noise machines in the UK are. I've provided a short review of each and linked through to where you can buy them so you can pick up yours today. Any questions please leave a comment at the bottom and I'll be sure to get back to you.
LectroFan White & Pink Noise Machine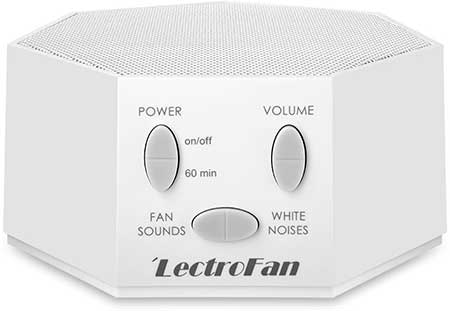 Large Range Of Volumes
60 Minute Timer or On and Off Settings
Can Plug into USB or Mains
Perfect For Travelling
No Sound Repetition
It was a tough call between the LectroFan and the Marpac Dohm but the LectroFan came out on top. I love how much freedom you have with the volume settings, it makes it perfect for every problem from drowning out the noise of a distant flight path to your snoring partner lying beside you.
It has two different sound settings Fan and White Noise. The white noise setting has dynamically generated sounds meaning there are no loops for you to pick up on which happens in cheaper models. The sound itself is soothing and can go very loud! Unnecessarily loud if you ask me but hey it's nice to have the option. At absolute full volume, you do get a slight rattle from the speaker but I don't think anyone uses it that loud.
The plug from the machine itself is a USB but it comes with a UK plug adapter that the USB fits into. The USB makes it great for offices, though, along with how small it is you can easily fit it in a bag take it to work and plug it straight into your computer so you can work uninterrupted.
You could even take it away on holiday no problem at all. Avoid the disaster of a noisy hotel and bring a little bit of home comfort with you. And it's got the option of a 60-minute timer, so you can use it to fall asleep, or being on until turned off so you can leave it on overnight.
I think it's more useful to leave it on overnight to you don't hear the things that go bump in the night but if you find yourself waking up and listening to it so you can't get back to sleep the 60-minute timer is a great option.
Bottom Line: The Best White Noise Machine. It's volume setting mean it can be adjusted for everyone's needs while it's compact size means it can easily be taken anywhere you need it.
Dohm DS Dual Sound Conditioner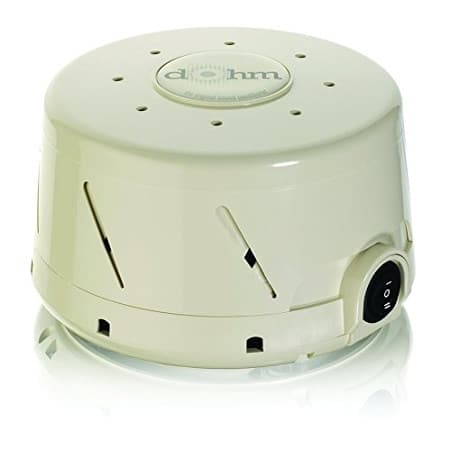 Fan powered white noise
Can adjust the sound made by the fan
National Sleep Foundation Recommended
Loved for Over 50 Years
The Dohm Sound Conditioner is a great piece of kit. Easy to use it works by using a small fan contained within to blow air up and through the holes creating a rushing sound that acts as the white noise. You can then adjust the sound by twisting it round which changes how much the holes are covered.
This makes it great for covering up the average noise you get in the bedroom, traffic noise, people moving about. But if you get anything louder, like a human drill sleeping beside you, you don't have the option to turn it up.
That said the national sleep foundation have given it their seal of approval so it can't be that bad right? And it's not I just don't think it's quite everything it could be, especially with the price tag on it.
But for the general person it will provide you with a great night sleep. The fan noise means there are no recordings and no loops just a steady stream of rushing air.
Bottom Line: Great for the average Joe but no adjustable volume means it can't be adjusted for louder circumstances that might crop up.
Best Natural Sound Machine
Good Ideas Naturecare Sounds Machine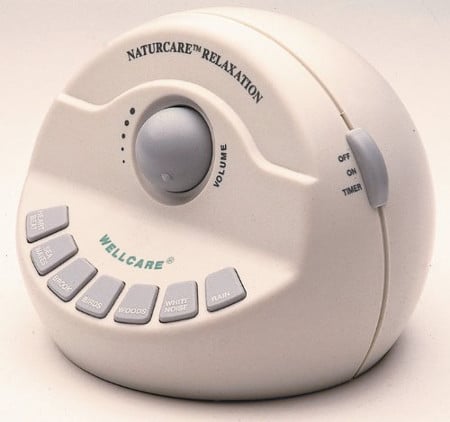 Provides gentle sounds of nature
Battery Operated
7 Sounds Choices
30 Minute Timer
Volume Control
The Good Ideas Sound Machine provides you with the sounds of nature to help cover up unwanted noise with the added bonus of relaxing you while it does it.
As well as a white noise setting this sound machine provides gentle steady sounds of nature which cover up outside noise because of the continuous sound and give you something to focus on so you relax and fall asleep.
The Seven Settings are: Heartbeat, Sea Waves, Rushing Stream, Birds, Woodland (Birds and insects), White Noise, Rain.
I absolute love listening to the rain on the window while I'm sleeping, so I love the rain setting but I come from a small fishing village so the Sea Setting is especially soothing.
The unit doesn't come with a mains cable although you can pick one up easily (Amazon's frequently bought together section had one when I checked) however if you just use it for the recommended thirty minutes batteries should last you a good while.
It does have a setting to leave it on not on a timer for those not wanting to be woken up through the night by startling sounds.
Bottom Line: It's suggested 30-minute timer and relaxing sounds of nature make it ideal to help you fall asleep but the batteries don't make it ideal for keeping on for longer periods of sleep.
Best White Noise Machine For Babies
Ewan The Dream Sheep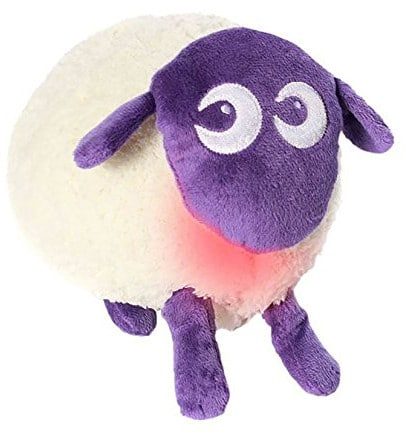 Plays a mix of heartbeat and womb sounds
Doubles as a nightlight
Can be attached to a car seat or buggy
3 Pink Noise Settings
Plays for 20 Minutes
As well as being one of the cutest things in existence Ewan the Dream Sheep is perfect for helping your baby or toddler get off to sleep. The basic setting is a combination of heartbeat and other womb sounds to make your newborn baby feel completely at ease. Then you can add in some different pink noise sounds to help mask outside noise so your baby can use it to sleep peacefully right up until nursery.
There is a light inside his stomach that lights up when the sound is playing and a handy strap so you can attach it to the side of a cot, pram or a car seat and take Ewan with you wherever you need to go.
The battery life isn't the best but is a small trade off to have you baby going to sleep easily!
Bottom Line: A must have for all parents with a young baby.
Best Budget White Noise Machine.
HoMedics Deep Sleep Bedside Sound machine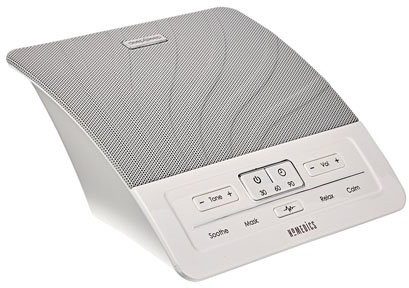 Tone Control
Volume Control
4 Sound Styles: Soothe, Mask, Relax, Calm
Optional Timer of 30,60, or 90 MInutes
Coming in a cheaper than the other recommended models HoMedics have produced a great budget alternative.
The savings come from only having digitally recorded sounds no fan noise option which is a shame. That said the four sound options are pretty cool. Soothe offering the lightest pitch sound to remind you of gentle rain. Mask to cover up outside noise. Relax to Cover up inside noise such as snoring and Calm which is deepest of all tones to calm the mind and body ready for sleep.
You can then adjust each of these tones to get them just how you like them. This may take a few nights of experimentation but well worth it once you've found what works for you.
It also comes with a volume control so you have complete control over the sound coming out meaning you can really personalize your experience.
The sounds are a recording so do run on a loop which can be noticed by those who tend to pick up the small details. Whether this is a problem or not depends on the type of person you are and whether or not little things like that annoy you.
Bottom Line: A great budget alternative for a white noise machine providing a small range of customizable digital recordings.
F.A.Q
Will My neighbours here my white noise machine?
Highly unlikely, and white noise machines provide unnoticeable background noise so even if the volume carried it through the walls they probably wouldn't notice the sound.
Will This Produce absolute Silence in my bedroom?
It will mask most sounds but loud sounds such as a fire alarm will still penetrate through and be heard.
Can I use it every night?
Of course! No harm or dependency is going to come from using this every night it will simply improve your sleep allowing you to wake up more rested.
How will it affect my power bills?
They are only small machines and require very little power so It won't have a big effect on your electricity usage.