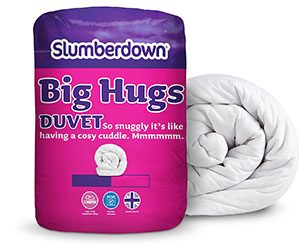 Slumberdown are always producing budget-friendly bedding at top quality. Their big hugs duvet is no exception!
A nice duvet that wraps around your body (like a hug… hmm….) and keeps you comfortable through the night.
Lots of choice of tog so you can find the right one for you.
What I Like About The Slumberdown Big Hugs Duvet
I think my favourite part is the huge range of togs, it has a 4.5, 10.5, 13.5 and 15 tog to choose from.
The higher the tog the warmer the duvet so if you get cold at night go higher and if you are a warm sleeper go lower! Easy.
For children about a 10.5 should be fine because kids tend to sleep warmer than adults do and if they get too hot they won't sleep properly.
You can always go for two duvets, have a lower tog for the summer and a higher tog for winter but I prefer an all year round, either a 10.5 or 13.5. Then can sling a blanket on top if it's a cold night.
It's also hypoallergenic which is always a plus and machine washable if you need to clean it.
What I Don't Like
If you wash it too often it'll start to clump quite badly which really takes away from the comfort. And it's quite lightweight so doesn't feel heavy when you're under it which I like.
But considering how low the price is it's a great buy if you need it for a kids bed or you're just on a tight budget.
Original Manufacturers Description
Slumberdown Big Hugs Duvets are extremely comfortable, so you can be sure to get a cosy night's sleep. It has a lovely and snuggly hollowfibre filling and is soft and comfortable. It gently wraps around your contours so it stays with you as you move in the night.
At Slumberdown, we think that a good night's sleep is something that every family deserves. That's why all our bedding delivers the perfect mix of quality fabrics, cuddly soft fillings and unique features to meet the needs of all the family.