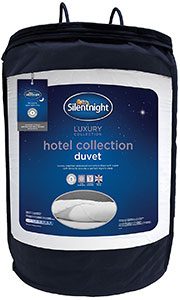 Silentnight have been keeping homes warm, cosy and happy for a very long time, so their hotel collection duvet is no exception!
I've just got a quick review here on the ups and downs of this duvet so you know what you're getting before you buy it.
What I Like About The Silentnight Hotel Collection Duvet
It's soft, warm and though it's 13.5 tog it's nice and light so is pretty comfortable all year round.
In cold weather you might want to put an extra blanket on top, but that's a lot easier than storing a spare duvet just for winter. But if you know you're a hot sleeper you can always opt for the 10.5 tog.
It's got a hollowfibre filling and microfibre cover which is a really nice combination, it makes it that little bit more luxurious and hotel like while still keeping the cost down.
And it's hypoallergenic which is always good, it helps to keep any dust mites out and keeps allergens out as well keeping you sleeping soundly all night long.
What I Don't Like
The filling isn't secured in place so can bunch up to the side, so it needs semi-regular plumping to keep it in shape.
But that's about it, it's a really well-made quality budget friendly duvet.
Technical Info
The Silentnight Hotel Collection duvet comes in three sizes, single, double and king.
Single: 135 x 200 cm
Double: 200 x 200 cm
King: 225 x 220 cm
For extra snugness get a size up of duvet than you do your bed. So if you have a double bed try a king size duvet.
And it comes as a 10.5 tog and 13.5 tog, both are reasonably fine all year round but you'll be the best judge, if you know you're a warm sleeper then go for the lower tog, but if you get cold at night go for the thicker!
Original Manufacturers Description
The Silentnight Hotel Collection 13.5 Tog Kingsize Duvet is a high-quality duvet with a super soft hollow fibre filling and a soft-touch microfibre cover. Providing the luxurious feel of sleeping in a fine hotel, it promises all the warmth you need for cold winter nights. It is also fully machine washable.