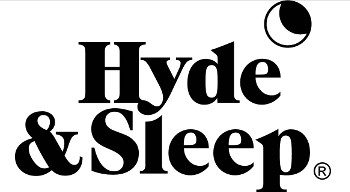 ">Hyde & Sleep had the vision to help Britain improve the way it sleeps.
Their solution was to design the ultimate luxury mattress at an affordable price.
But as they delved into their research they found that people tend to fall into one of two camps, some like foam while others like traditional springs.
So they created both!
They have a hybrid mattress, featuring a combination of 2000 tiny springs and memory foam, and a pure memory foam mattress containing, you guessed it, memory foam!
They actually approached the company Dreams when they knew exactly what they needed to do and with their 30 years of bed expertise onside Hyde & Sleep came to market. They now sell exclusively online which helps keep the cost down and offer a 100-night sleep trial.
Something I don't really like about Hyde and Sleep is that their advertising is very sexual, and I don't know why. Sure that is an activity that happens in bed but compared to how often and long you spend sleeping in it shouldn't be priority number one!
That said it doesn't actually affect whether or not the mattress is any good, so let's stick to the technical side for now.
First I'm going to review the Memory foam mattress and then the Pocket Spring. After that, I'm going to go into some specifics about guarantees and shipping so you can get all the information you need.
Hyde & Sleep Memory Foam Mattress Review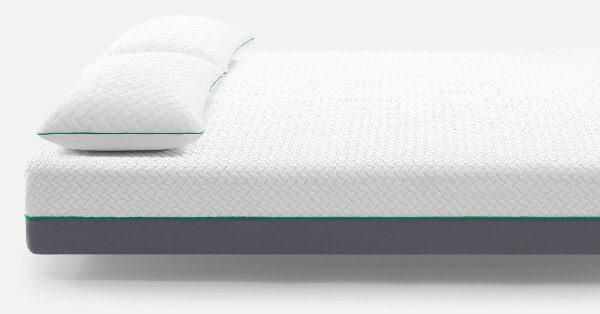 What's it made of
Hyde and sleep developed their memory foam mattress using three very distinct layers of foam which are:
Layer 1. Cool foam
The first layer is the all important comfort layer. Traditionally memory foam trapped in heat which caused you to wake up too often from overheating and never quite get comfortable. Hyde and Sleep decided this wasn't good enough so developed their own memory foam which has a cooling balm inside allowing you stay comfortable all night long.
Layer 2. Latex and Memory Foam
This is the real support of the mattress, it is a combination of memory foam and latex. The latex helps give it a little more bounce but it's the memory foam that gives it the support. It moulds around you while you sleep, without trapping you, giving you extra support in your back and joints so you don't wake up stiff in the morning.
Layer 3. High Density Foam Base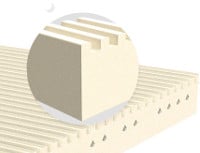 This helps firm up the mattress and ensures you don't sink too deep. It's castellated (which means it has little ridges like in the photo on the right) and has 7 different support zones which allow air to flow through the mattress and help it sink in all the right places to mould to your body.
Cover
The cover has a plush feel and is made primarily of polyester. It's both breathable and soft which is everything you want in a mattress!
How It Feels
Always an important question, in terms of firmness it is definitely a medium-firm feel with quite a lot of sinkage happening across the board from the three layers of foam. The all foam feel means it doesn't have much bounce (compared to a spring mattress) which could take some getting used to if you haven't slept on memory foam before. But the latex combination layer gives it a lot more bounce than traditional memory foam.
Where memory foam does excel is if you sleep with a partner who has a tendency to move around and wake you up. It absorbs movement so if your partner is moving you will hardly feel a thing, this includes them getting up in the morning and coming to bed, you'll hardly know they're there!
Who's It For
Couples – The movement absorption makes it great for couples who tend to run on different schedules.
Those looking for a softer feel – The medium feel and memory foam give it a much softer feel than a spring mattress.
Hot Sleepers – The cool layer helps take excess heat away while you sleep so you can stay relaxed and sleep the night through without being rudely awoken by night sweats!
Price
The Price of the Hyde and Sleep Memory Foam Mattress is very competitive amongst the online mattress retailers coming in at one of the cheapest.
Click here to See Price at Hyde & Sleep.
Verdict
The memory foam mattress comes in at one of the cheapest available online and is great for hot sleepers and couples alike.
Hyde & Sleep Pocket Sprung Mattress Review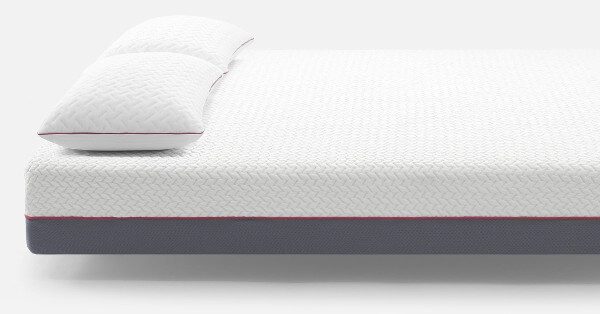 What's it made of
The Hyde and Sleep pocket sprung mattress has two of the same layers as the memory foam, they both feature the cooling layer and the base layer but the all important difference is in the middle.
Pocket Spring Layer
Pocket spring mattresses are the only way to go if you don't want foam or latex. Each spring is individually sewn into its own pocket so that it can move independently of all the others. This allows for maximum support of the body by cradling the parts that sink the deepest while gently pushing against you holding you in place and letting you completely relax.
How It Feels
The Pocket sprung mattress has a definite firmer feel over its memory foam counterpart thanks to the spring layer. This puts it at a medium-firm, it's definitely not firm but is more than a medium. The springs give it a little more bounce putting a spring in your step as you get up in the morning.
It still contains two layers of foam so it is softer than a full spring mattress keeping you warm but comfortable all night long.
Who's it for
Those needing something firmer – If you need something a little firmer than memory foam then this is the way to go.
Hot Sleepers – The cooling layer and breathable cover make it a great choice for those who tend to get on the warm side while they sleep.
Price
The Price of the Hyde and Sleep Pocket Spring Mattress is very competitive, I've linked through to the Hyde & Sleep Website below so you can chek out the prices of the different sizes.
Click here to See Price at Hyde & Sleep.
Verdict
The springs definitely improve matters by firming up the mattress and making it have a great balance of comfort and support.
Guarantees
Now that we've had a look at each mattress let's see what else Hyde and Sleep have to offer.
Well for a start they have a 100 night trial period where you can buy the mattress then have over three months of sleeping time before you have to fully commit. If you decide you don't like it you can arrange for a free collection and get a full refund. This is a great compromise to only selling the mattress online, the price gets kept down and you can still try it out.
On top of that each mattress comes with a 10-year guarantee. They researched and found that a mattress should last around 8 years so they wanted to one up that and show the quality of the product they're selling.
Shipping
Each mattress is rolled up and vacuum-packed into a handy box which gets delivered by UPS easy as pie. You just have to set the mattress on the bed open up the plastic and let it unroll. Far easier than having to cart a mattress home folded into the car!
They also offer free shipping which is a definite bonus, I know I'm always a sucker for free shipping but what can I say it's free?
Customer Service
I spoke to one of the representatives on the instant messaging service they have on the Hyde and Sleep website. The person I spoke to responded very quickly and was both polite and helpful so that's definite browny points there.
Final Thoughts
Hyde & Sleep really tried to keep everyone happy by providing both types of mattress. The memory foam mattress, is great for couples and the pocket sprung mattress offers good support and comfort for a great price.Click to visit the Hyde&Sleep Website
Related Articles