Every time I mention that I have a latex pillow on my bed to a friend I get a very strange look.
But the Dunlopillo super comfort latex is so comfortable!
It's got a quite a strange bounce to it that makes it totally unique, softer and more responsive than memory foam while being much more supportive than a hollow fibre or a feather pillow.
It's definitely on the pricey side but when you feel it you know it's going to last, it has a 5-year guarantee but I can see it lasting far longer than that. It just doesn't feel like it'll ever go flat!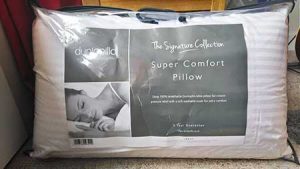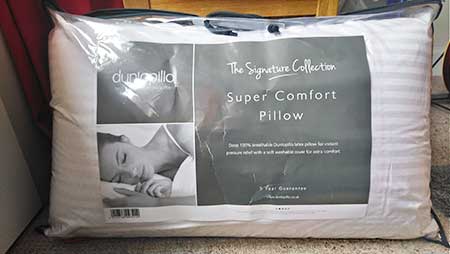 So while a regular pillow should last 1-3 years I reckon you could get a decade out of this pillow and still be completely comfortable. Excellent value.
Latex is also a completely natural pillow, it's made from the sap of a rubber tree which then goes through a chemical-free treatment leaving you with a firm bouncy pillow.
It's also completely hypoallergenic!
Great for side sleepers and back sleepers but might be a little tall for front sleepers.
Overall, If you struggle to find a good comfortable pillow then this is definitely the pillow for you. If you want more pillow recommendations then check out this article.
Manufacturers Description
The Dunlopillo Super comfort latex pillow is a luxurious full block Dunlopillo Talalay latex pillow giving comfort and instant pressure relief to your head and neck.
This Dunlopillo pillow is firmer than the Serenity deluxe and offers medium/firm support. This Dunlopillo latex pillow is covered in a luxury removable knitted cover, which makes the pillow easy to clean.