Welcome to another Black Friday!
I've gathered together all the best Black Friday and Cyber Mondal mattress deals here in the UK, check out the list below for the specific deals or read on and I've got a short review of each of the mattresses so you can make the best decision this Black Friday and grab yourself a deal!
If you're here early you can get £450 off the Nectar Mattress by clicking here otherwise check back on Black Friday to find out the deals.
Best Black Friday Mattresses and Deals UK
FIRMNESS: Medium – Firm
Best For Back And Side Sleepers
Great For Back Pain
Medium-Firm Feel
Cooling Layers for Hot Sleepers
365-night trial period
Sizes: Single, small double, double, king size, super king size
NECTAR'S READER OFFER
£125 off Mattresses
Two Free Pillows.
Up to £450 off Bundles and
Up to 30% off Bedding
A Black Friday winner, if you're looking for a new mattress then this will be it. The Nectar memory foam mattress appears again and again across my mattress reviews. It's my top choice for side sleepers, back sleepers, memory foam mattresses and for back pain because of the excellent value for money and the support it gives you allowing you to get a great night's sleep.
The memory foam provides pressure relief up and down your back while helping keep you settled so you move around less and sleep deeper through the night waking up more rested in the morning.
It's hypoallergenic and the top layer is a smart foam that works to dissipate body heat and stops you overheating so you are comfortable all year round even if you're a hot sleeper. Underneath that, you have a layer of the all-important memory foam and the base which is a clever 7-zone support system.
The 7-zone base layer offers different support across the mattress where you need it most, medium support under your shoulders so they can sink down making it ideal for side sleepers, then you've got firmer support under your hips to help keep your spine aligned and back happy.
It's a bed-in-a-box so arrives rolled up, you just get it on to your bed and it unfolds, which if you have stairs is a godsend. It then unrolls and you get a strange smell at first which is normal, it's just what happens with memory foam and goes away after a few days.
A superb mattress that will give you the best night's sleep possible, the only person it won't be great for is stomach sleepers, you'll have to read on.
Click here to visit Nectar sleeps website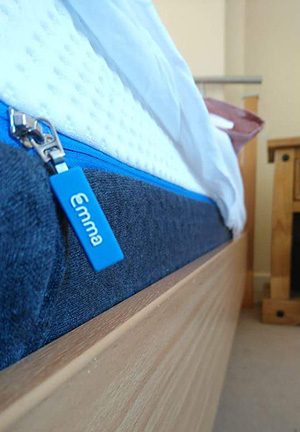 100-night Trial
10-Year Guarantee
Medium-Firm Feel
Great Back Support
Breathable Cooling Layers
>Black Friday Deal: N/A
Click To Visit Emma And Order Yours
The Emma mattress has a nice medium firm feel to it with layers of memory foam, cooling aerogel foam and supportive cool foam. The result? A highly supportive mattress that bounces back quickly and doesn't trap you in place.
It has free delivery and if you don't like it you have a free return as well within the 100-nights you get to test it for.
The cover is soft, breathable, and washable so you're kept comfortable all night long I'm personally a very hot sleeper so need the cooling features, and I can say they've been great! I got a king size Emma mattress and tried it through the hot weather of summer and didn't overheat once.
I also tried it on the floor and a slatted bedframe and it worked perfectly on both.
An excellent investment in your sleep and one of the best memory foam mattresses plus a superb black friday mattress deal.
Read the full review of the Emma mattress here.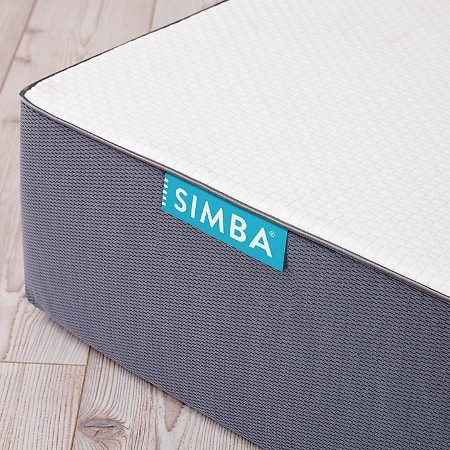 Pros
2500 Spring Count
Free Delivery
10 Year Guarantee
100 Night Sleep Trial Period
Good for back pain
Cons
Firmness: Medium-Firm
Sizes: Small single, single, small double, double, king size, super king size, EU small single, EU single, EU double, EU queen size
BLACK FRIDAY (2020) SALE: 35% OFF on orders over £300
Simba started out supplying thread to mattress companies the world over, before delving into making their own superb mattresses.
Their research has led to great developments in spring systems, memory foam and 'sympatex' – a kind of latex. Simba combine all of these to create an incredibly comfy mattress.
They've even gone so far as to partner with the Sleep to Live Institution. They've looked at the sleeping profiles of over ten million people, to find out exactly what people need from their mattress.
This is Simba's only mattress since they're confident this is the only mattress anyone would ever need and it's available in a range of sizes.
When this mattress arrives it might have an odd smell because of the memory foam. That's totally normal, it'll dissipate after a day or so, just air it out before sleeping on it.
The Simba hybrid mattress is a bed-in-a-box that comes vacuum packed for easy positioning in the house. Just cut through the plastic and it unrolls on to your bed and sort of inflates.
You'll get a 100-night trial with this one and it also comes with a ten-year guarantee – exactly what you want.
The 2500 spring count is really impressive which'll give you a blissful night's sleep.
Plus it offers great support for anyone suffering from back pain and it's a fine choice for side sleepers, back sleepers, and front sleepers. Anoether great black friday bed deal.
4. Leesa Memory Foam Mattress
100-night sleep trial period
10-year guarantee
1 mattress donated for every 10 sold
Good for all sleeping position
Firmness: Medium-Firm
Sizes: single, double, small double, king, super king, single, EU single, EU double, EU King
>Black Friday Deal: N/A
This type of mattress is a great choice for back sleepers because memory foam provides an excellent support system that works to keep you comfortable. I have nothing against innerspring mattresses but I prefer memory foam.
And while you can choose a different firmness in your mattress if you prefer, medium-firm is always a safe bet that suits 95% of people.
The Leesa mattress company are really cool because they actually donate 1 mattress for every 10 they sell and have donated 30,000 mattresses to charities all over the UK and all over the world.
So not only do you get a high-quality mattress that works on any bed frame, you get to do a little good too.
And while it's great for back sleepers it's actually good for any sleep position so you're free to move around if you want too. A supportive mattress that's great for back sleeping.
5. Best Medium-Firm Mattress – EVE MEMORY FOAM
3 layers including a cooling layer
100-night trial
10-year guarantee
Medium-Firm Feel
>Black Friday Deal: N/A
A very popular choice! It has over 2000 five-star reviews, so you know it's been thoroughly tested.
It has three layers. The first: state of the art, responsive memory foam. It bounces back much fast than traditional memory foam, so you don't get 'stuck'.
The second: a 3cm cooling core that is 30% more breathable than other memory foam.
The third: a firm base, to give you the support that you need.
Eve are an online mattress retailer who ship their mattress to you in a neat little box. There's free shipping and the return policy also includes shipping so if you're not happy you don't pay a penny.
You can order it on 0% finance and get a 100-night trial to fully try it out and get to know it. As well as all that, you also have a ten-year guarantee!
Read the full Eve mattress review here.
Conclusion
That concludes the best Black Firday mattress deals 2019! It's still early and it may change as we approach the big day but I wanted to be ready early. besides if you're heare early you can get £250 off the Nectar Sleep mattress so it's not all bad!