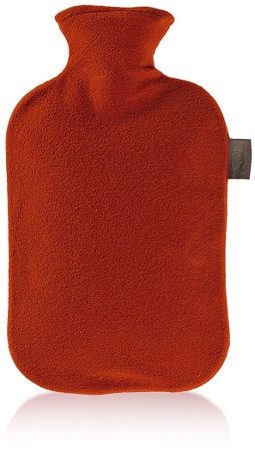 After extensive research I found that the Flashy is the best hot water bottle. It's got a fleece case, well made so it won't leak and has a nice wide top so it's easy to pour into. Check it out further down the article.
Not for you? Not a problem, I've put together this guide to help explain some of the things you need to know when you're buying a hot water bottle. Then I've put some of my favourite recommendations for the best hot water bottles.
Whether it's a cold night or you're looking for some pain relief hot water bottles are just so pleasant. Cosying up at night into a warmed bed is just the dream. I even know someone who has a hot water bottle in their cat's bed for when it's cold out! To each their own…
Safety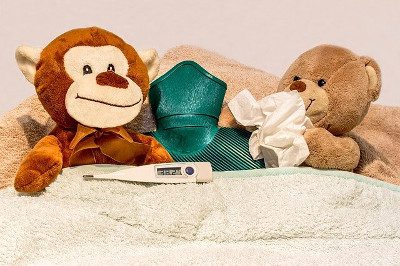 Safety is a very important part of hot water bottles because as the name suggests, the water's very hot!
So you don't want something made of a cheap material that's going to burst over you but there's also a right way to fill a hot water bottle.
First never fill it all the way up, you only ever want to fill it up half to three-quarters full. And you want to try and push the excess air out. This way you can't burst it. They're designed so that they don't burst of course but it's good to be safe.
Second you don't want to boil the kettle completely, turn it off a little before boiling so that the water is very hot but not scalding, so even if you spill you won't seriously burn yourself.
Cover Material
Another hugely important feature is the cover material. You, of course, want something soft that you're happy to cuddle up with, but you don't want anything too thick that's going to hold the heat in so well you don't notice.
I prefer something fleecy but you get some nice hot water bottles that have knitted covers, whatever your preference you just want it to be soft if you're going to share a bed with it!
Size
Size is always a delicate subject to broach. Too big, too small? Well, you get small 1L hot water bottles which are just the thing for small children, then you get long hot water bottles which are great to snuggle with or if you have neck and shoulder pain. Most average hot water bottles come in around 1.5-2L which is more than enough for most people.
Filling
Well it's going to be water right? For most yes, but you also get microwaveable bags that are filled with materials such as wheat and beads and these are equally as good as their water counterparts.
They're really great for children because there is no chance of them bursting
And that about sums it up! There's not much you need to know so let's dive in and have a look at some of the best hot water bottles you can buy today. I've linked each one through to Amazon so you can check the price and read some other reviews.
I've broken it down into different categories so you can find exactly what you need.
Best All Round Hot Water Bottles
Flashy Hot Water Bottle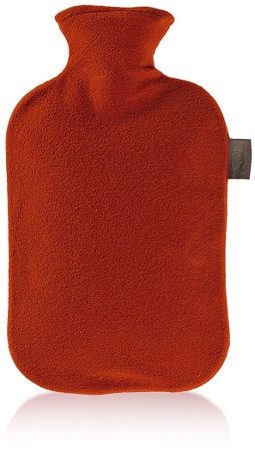 2L Capacity
Fleece Cover
Large Aperture for Pouring in Water
Cover is Removeable and Washable
Great Price
The flashy hot water bottle is everything you need. It's got a generous 2L capacity, a cover that's removable so you can wash it if necessary, and a large space for easy pouring. The plastic is well made and it's all made to the British manufacturing standards so you know it'll last and not burst.
The red cover is nice and fleecy and quite thin so it keeps you extra warm. Nice and soft and a pleasure to cuddle up with all night. There are a few other colours available if you click through to Amazon and search for flashy hot water bottle.
Intelex Extra Long Hot Water Bottle

Knitted Cover
Extra Long at 80cm x 12cm
Perfect For Wrapping Around Neck
3 Designs Available
2L Capacity
I love the extra long hot water bottle! It's such a great idea, you can warm your whole body while your lying in bed, you can lie it along your spine, you can wrap it around your shoulders for neck pain. It's genius! So Kudos to whoever first came up with the idea.
The Intelex Hot water bottle is made with PVC instead of rubber so it's more flexible and really cuddles up beside you. A bit of a novelty and it would even make a great gift. There are three different styles, the polka dot which is pictured, grey snowflake and purple chevron stripe. I like the polka dot the best but clock the button above and check them yourself.
Best Hot Water Bottle For Kids
Boofle Mini Hot Water Bottle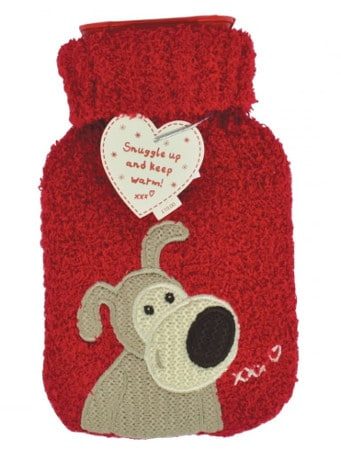 Small Size
Less than 1L capacity
Fluffy Case
Cute Design
The Boofle hot water bottle's small size makes it great for small kids. You can fill it up and it won't be too heavy for them to lift so they can carry it to bed themselves. The fluffy case makes it nice to cuddle with and the Boofle the bear design will make it a winner for sure.
Just make sure you don't fill it all the way up and your sure to squeeze the air out before screwing the cap on!
Aroma Home Hot Hugs Microwave Warmer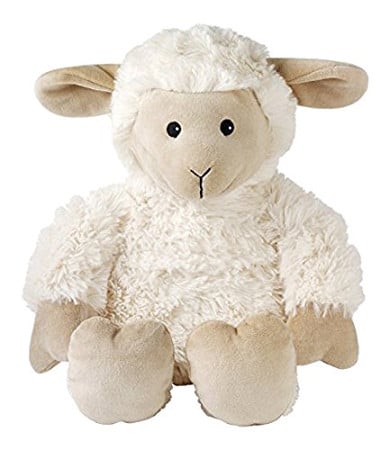 Microwaveable
No chance of bursting
Fun animal Design
10 Different Animal Designs
MIcrowaveable pouch is removeable
This microwave warmer is perfect for kids, you just have to remove a little-scented pouch pop it in the microwave with a cup of water then it's good to go, no chance of bursting and pouring everywhere!
A great alternative to traditional hot water bottles the only problem is that it doesn't hold the heat as well. So its definitely more for soothing than warming. That said it should still help your little one drift off to sleep and they get a nice cuddly toy to go with it. There are 10 different animals in the range but coming from the countryside I went with the sheep for the picture.
Best Microwave Hot Water Bottles
Lambswool Microwave Hot Water Bottle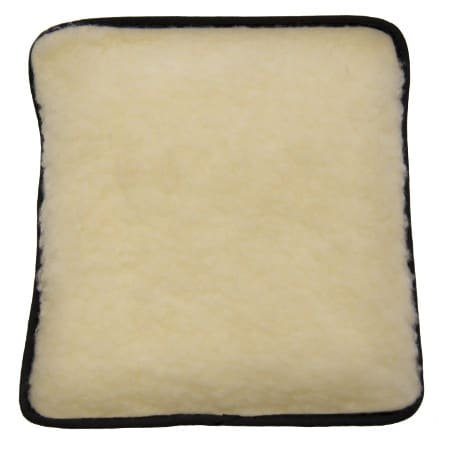 Super Soft Lambswool Cover
Easy Microwave Instructions
Can Be used again and again
Filled with a medical pad soaked in water
The Hotties Microwave hot water bottle is a dream come true, you just pop it in the microwave, then, a minute later you've got a lovely soft hot cuddle buddy. And important note is that it's not suitable for small microwaves, if the pillow can't rotate then it might end up burning so you want to make sure the capacity is at least 17 liters preferably more.
If you do have a big enough microwave then you can be sure to enjoy plenty of pain relief and cosy nights as easy as using a microwave.