While you may not expect, or need, to be as comfortable in a tent as you would be at home, you do expect a certain amount of comfort.
After all, you want the camping experience to be enjoyable.
When you are wet, cold or constricted in a sleeping bag that can take the fun out of it, to say the least!
The best sleeping bag is one that ticks all the boxes you need to have when camping.
Lightweight
Easy to unpack and repack
Warm
Breathable
And, lastly, the right size
Which sleeping bag is best? Well, it all depends. A quick glance at page after page on Amazon has a variety of different styles. The right one for you will depend on what you need it to do.
In this article I will go through each of the best sleeping bags by category to help you narrow it down.
But first, a quick rundown of the top choices before we get to the buyer's guide.
What to look for in a sleeping bag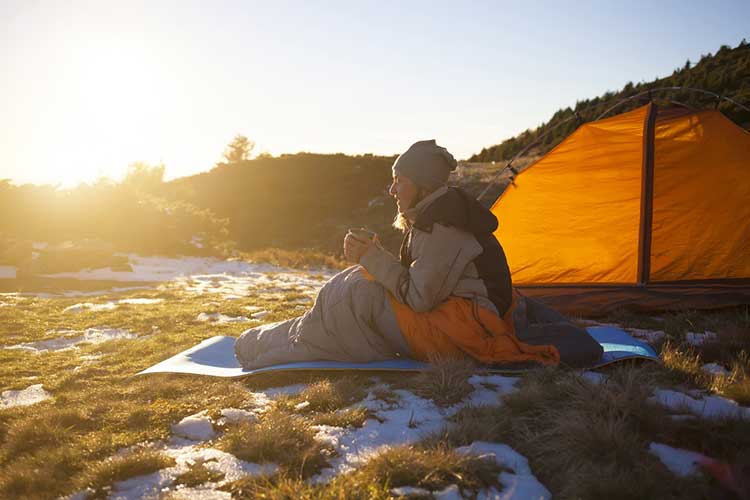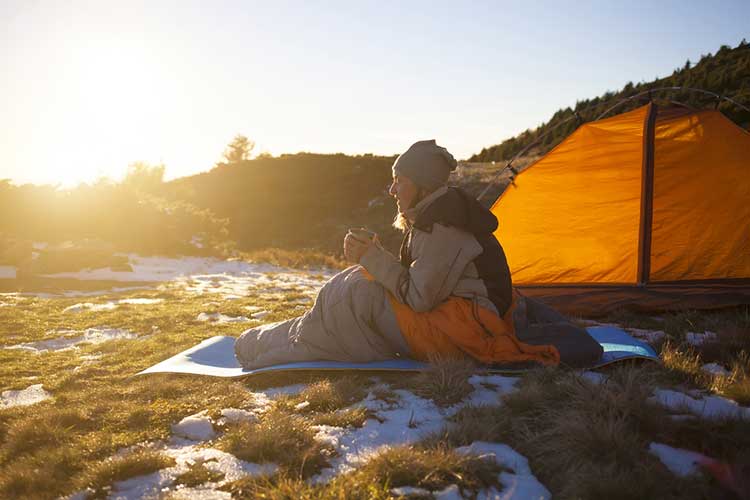 I briefly mentioned in the introduction what a sleeping bag needs to make it worth your while. In this section, I will go more in depth into what you need and how to determine which type it is that you should be looking for.
You could get the most expensive sleeping bag on the market, but if it is not your size, for example, then it is worthless.
Hopefully the following guide will help you avoid the wrong purchase.
Comfort
Admittedly, comfort really is in the eye of the beholder. What may feel snug and cozy for me, may feel like a medieval torture device for somebody else.
With that in mind, there are certain criteria that should be universal when it comes to whether a sleeping bag will be comfortable or not.
There are different types of padding, some will be thin and some much thicker.
Realize that a thicker padding will be comfortable, but you will have to sacrifice portability since they will take up more space.
A thinly padded version will be easy to fold and carry, but will leave you feeling the ground beneath you.
Shape
How the sleeping bag fits you could be categorized under comfort as it is very specific to the camper as to what shape is preferable.
In general, somebody sleeping in a bag wants it to feel spacious enough to have room to move. Others, however, like to feel snug and tight.
Here are the 4 main types of sleeping bag you will be choosing from:
Rectangular – This is the classic type of basic sleeping bag that people are most familiar with that have never camped before. They are simple and roomy with space enough to move your legs around and even curl up if you want. Turning over in the bag is easy to do. In some cases, they can be unzipped completely and used as a standard duvet.
Mummy – Shaped like King Tut's sarcophagus, it is easy to see how the name arose. In this sleeping bag, you will be fitted tightly inside. To roll over, you'll roll with the sleeping bag and not inside of it. It is more like being inside a cocoon that is a part of you. They are ideal for those that won't feel claustrophobic inside one. They are lightweight and easy to carry and stow.
Modified Mummy or Semi-Rectangular – A nice compromise between the large and heavier rectangular and the tight and slim mummy is the modified mummy. You have a smaller space that traps in the heat like a mummy, but still allows for some movement inside.
Double – WHen you really need to stay warm the best way to go is to sleep with somebody else inside the sleeping bag. You'll have ample space for two people and hopefully, still have room to move around inside. For more people or more legroom, you can add more sleeping bags by zipping them together. They usually need to be the same brand to do this, though as the size and zipper type can vary between brands.
Durability
A sleeping bag should be something that can handle the rigors of being packed and unpacked, laid out on rugged ground, face cold, wet and other challenging conditions and still be used year after year.
Look for shells made out of a durable polyester or nylon that can resist tears and snags. Even better are the kind made with a durable water repellent (DWR) finish to resist water getting inside to the padding.
The padding does make a difference in the longevity of the bag, as well. A goose down g will provide warmth or much longer than a synthetic filling.
Insulation Type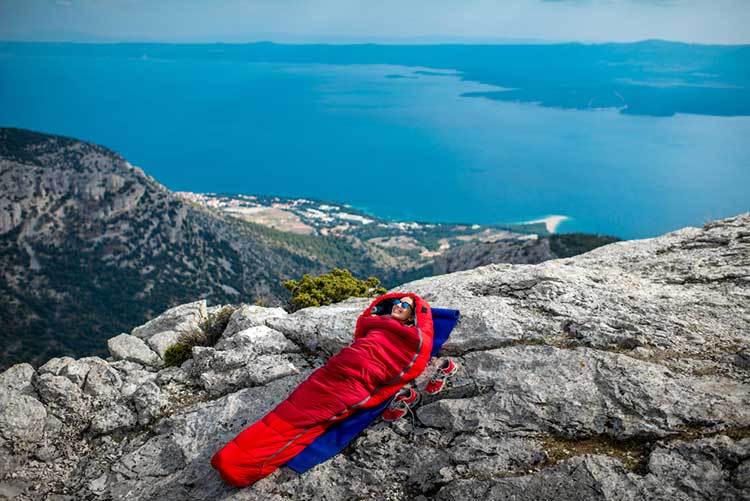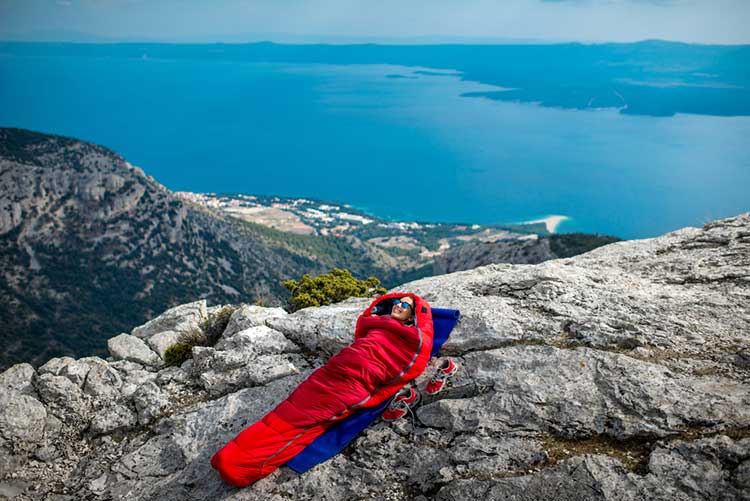 What your bag is filled with is vital to keeping you warm and safe while out in the elements.
Synthetic Insulation – The types vary greatly but generally this padding can be made out of a polyester blend like ThermicMicro or Thermal R Max. With modern advancements, many of these synthetic fibers mimic goose down fairly accurately. The benefits are that they are more affordable than down, they dry fast, are non-allergenic and suitable for vegans.
Goose Down – This is the best kind of filling to have as it is extremely insulating. You will keep more of your body heat inside the sleeping bag to stay safe. It is much more durable than any synthetic material as it retains its loft and warmth for years longer. Since it compresses well, it is ideal for those that are looking to save every centimeter of space as possible. The downside is that it is the more expensive option and many vegans and animal rights advocates have ethical issues with it.
Accessories
Though there are plenty of campers out there that are purists and like to go as minimal as possible, there are those of us that do like some creature comforts.
Stash pockets inside the sleeping bag give more storage options as well as security to stow sensitive items like wallets and personal identification.
Hoods can keep your warmer or block out light and sound for a more restful sleep. And, zipper guards can help prevent snags or damage to the zipper itself.
Safety
I saved this item for last as it is the most important. It may even be overlooked as a sleeping bag may not seem like a safety item.
It is very important to understand warmth ratings and only choose sleeping bags that will provide warmth related to the conditions you are going to face.
In fact, you may need several different sleeping bags depending on the time of year, elevation, precipitation, and other factors. The lightweight and thin sleeping bag you use during the summer would be fatal if you were to try sleeping in it in winter at high elevation, for instance.
Make sure you fully understand the temperature and weather conditions of where you plan to camp so you can buy the best sleeping bag for the right scenario.
Best Sleeping Bags UK Reviewed
And now the part you've all been waiting for, it's the complete review of the best sleeping bags available here in the UK. Each one is available on Amazon so just click the Price & Reviews button and you'll be taken to Amazon where you can order yours today.
Best 4 Seasons Sleeping Bag
Toparchery 100g filling lightweight Mummy Sleeping Bag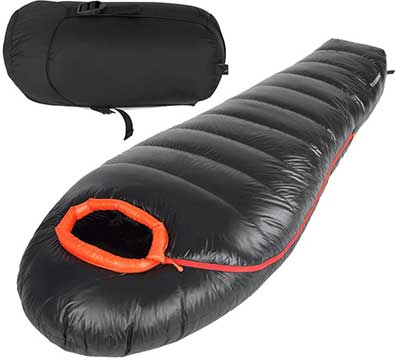 Comfort temperature of +10°C to 0°C. Extreme use down to -10°C
Filling is 80% White Duck down
Lightweight and easy to compress
Breathable and windproof material
Tightly wraps around the body
Being able to comfortably and safely camp outdoors in the winter is possible only when you have the right gear. This 4 season sleeping bag by Toparchery will keep you warm, dry and very cozy even at temperatures hovering around the 0°C mark. If you find yourself in unforeseen colder temperatures, then you can stay safe even at -10°C.
There are are several features that make this so safe to use while providing top-notch comfort.
For one, the 1000gsm duck down filling is luxurious. It warms you quickly and retains that warmth even if you need to get out of the bag for a spell. While inside you are able to keep the heat from escaping due to the fact that the shell covers you from head to toe with a drawstring that also covers your face, leaving only the space needed to breathe.
A saddle at the neck makes an overlap to keep the heat from leaking out of the opening. A wind resistant zipper also helps to keep the wind from entering.
At the same time, it is very breathable. Keeping that heat in is great for staying warm, but it would be quite dangerous if your body heat also makes you wet. Luckily that is not a concern.
Though it may not be exactly comfortable at less than 0°C it is good to know you will stay safe and are limited to only camping during the warmer months.
Best Budget Sleeping Bag
Viking Trek Budget Sleeper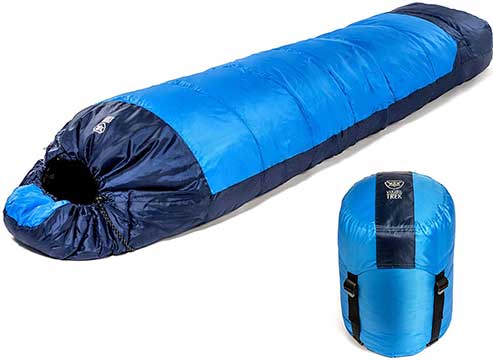 Breathable material
Synthetic 350g filling
Rated for temperatures down to -11°C
100% waterproof carry bag
Drawstring hood plus interior stash pocket and a compression bag
Being on a budget does not necessarily mean lots of compromises. You can get a great budget sleeping bag that still performs well and is a treat to sleep in.
Weighing in at 1.44 kg, this modified mummy sleeping bag is reasonably lightweight. It may not be the lightest sleeping bag on the market, but for the price, it is more than reasonable.
What there is to love about it is that it is 100% waterproof while still being breathable. The breathable part being a big factor. I have slept in some budget sleeping bags and end up wetter from sweating than any rainstorm could have produced. With the Viking Trek, you can keep water from getting in while allowing your vapor to exit.
The internal fabric is a synthetic that does a good job at providing warmth while wicking away moisture. It is made with 100% polyester and is rated at 350g per square meter. It compresses nicely and fits snugly in the included compression bag.
If comfort is important to you then there are a lot of features that make it very cozy.
The padding for one gives some nice cushion if you must sleep on a hard surface. The hood has a drawstring to snugly fit over and around your head. With some padding also inside the hood, it gives you a bit of a pillow for added comfort.
Comfortable, waterproof and warm, it will provide many years of excursions for a great price.
Best Lightweight Sleeping Bag
Highlander Trekker Superlite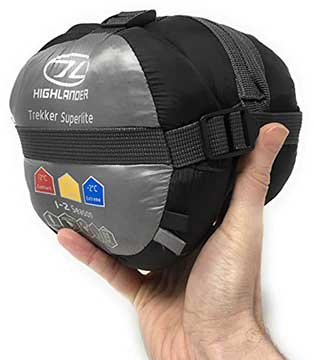 Weighs only 480 grams
Rated as a 1 to 2 season
Breathable nylon material
Comfort rating of 12°C with a limit of 8°C
Machine washable
Lightweight sleeping bags are easy to pack and to carry but the compromise is that they are generally only meant for use in warmer months.
If you plan to be doing some camping in the Spring, Summer or early Autumn then enjoy the comfort of this Highlander Trekker mummy style sleeping bag without getting weighed down when getting to your pitch.
The nylon shell is ultrafine and breathable to prevent you from overheating in those summer months and preventing you from getting wet on the inside.
With a zip baffle and hood, heat leakage is kept to a minimum to keep you warm during those cooler nights.
The ability to compress this bag into such a tight ball is a lifesaver for those doing international travel. If you are a backpacker and plan to spend time in hostels and possibly even sleeping rough, you need to save as much space as possible. Having this lightweight sleeping bag will give you that option while still providing you some comfort.
The mummy shape acts almost like a burrito that wraps you up. When you move, the sleeping bag moves with you. It is very thin, so when you do need to turn over it is easy enough to do. The slim profile will keep you from getting stuck while moving about.
Overall, this is a versatile and comfortable lightweight sleeping bag that should last you a number of years.
Best Double Sleeping Bag
REEHUT Essentials Double Bag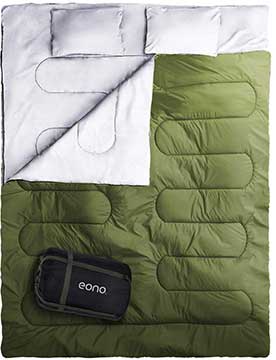 87″×59″ larger than queen size bed
Waterproof and wind resistant 210T polyester shell
Rated for cold down to 0°C
Can be converted into two single bags
300G /M2 3D cotton filling similar to hollow fill
Versatility is the name of the game for the REEHUT double sleeping bag. So wide it is larger than a queen size bed, with ample space for two large adults. With room to spare.
That is in addition to the fact that it also can be converted into two single sleeping bags.
This gives you the option to go for a solo hike and camp without needing to buy another single bag. Even better is that it means nobody needs to draw the short straw and carry the bigger sleeping bag! Just divide them up and share the burden.
Snuggle up with your partner in temperatures that can be as low as 0°C.
You may actually need to snuggle, as the wide size, though being nice for extra room, doesn't lend itself well to creating a very warm environment inside. You may get 3 seasons from this but you may only get two.
What will keep you warm, however, is the breathable and windproof shell. The polyester is sealed well to keep the wind out and heat inside where it belongs.
The filling is a hollow fill with 3D cotton so it expands nicely and creates a very comfy wrap. The inside shell is very silky and so easy to get in and out of.
Easy to roll and compress into a compression bag, it stows easily and is light enough to carry to your pitch.
Best Kids Sleeping Bag
Andres Pichu Kids Camping Sleeping bag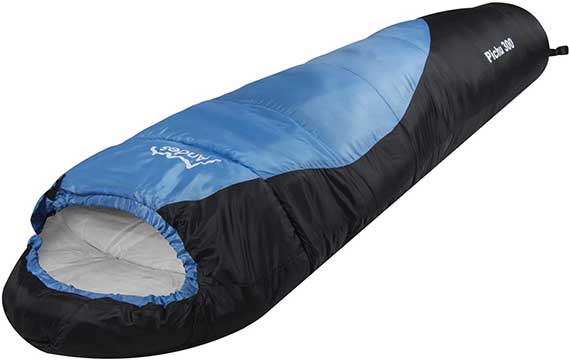 300GSM hollow fibre filling – 2-3 season rating
Neck baffle and hood for extra warmth
Can unzip for use as a duvet
Internal stash pocket
Velcro zipper cover
There is nothing that brings a family closer together than camping. Then again, there is nothing that drives a family apart like cold wet kids on a camping trip.
To avoid the drama, get your children a warm and cozy 2 season sleeping bag from Andes Pichu.
Though it is technically rated at 3 seasons, with a 300gsm filling, I would hesitate to be out at temperatures less than 5°C. It is quite warm and toasty down to those temperatures, though.
It is a mummy style sleeping bag for children that can fit kids up to around 5 feet tall. With a hood that has a drawstring for a tight fit to keep the warmth in the bag, they will literally be happy campers and rested enough for active days out in the wild.
Since it is lightweight and easy to roll into the compression bag, they are able to be self-sufficient since they can carry their own kit with them.
A snag-free zipper is great for adults, but a must have for kids. As a bonus, they also get an internal stash pocket to safely and conveniently store their essentials while they sleep.
All in all, this is a very comfortable and nicely priced sleeping bag that is perfect for the scout in your family.
Final Thoughts
I hope this buyers guide for the best sleeping bags UK version has helped you understand the difference between the styles. And it would be even better to know you found one on the list that is suitable for your needs.
This was hardly a definitive guide, so I do expect some questions. If you are unsure of something or want to ask about a sleeping bag you didn't see on the list then do not hesitate to reach out. I am happy to answer any questions you have!
To everybody else that found the ideal sleeping bag for them, I say Happy Camping!
Related Reading
Complete guide to the best camping beds
Best UK sleeping bag liners