I'm sure you have the same fond memories I do from childhood, getting all the camping gear crammed into the car, get jammed into the back and setting off on a camping holiday.
Then the joy of camping, which you never quite understood at the time, never quite appreciated it, but now you've got memories for a lifetime.
Now it's time to get the kids ready and to head back out with you in the driver seat. Let the kids experience some nature, get them away from their phones for a little while and get them out camping.
But you're going to need the right equipment to do that, and what better place to start than with getting a family-sized tent to get all your campers ready. Of course, getting the best family tent can be tricky, so many to choose from after all, which is where I come in, I've found and reviewed all the best family tents here in the UK.
I've linked them all through to Amazon where you can buy them so you can order yours today.
Check out the table below for a quick rundown of the top choices, just click the name to check it out on Amazon.
Top 5 Best Family Tents UK
1. BEST FAMILY TENT FOR CAMPING -COLEMAN TENT OCTAGON, 6 TO 8 MAN FAMILY TENT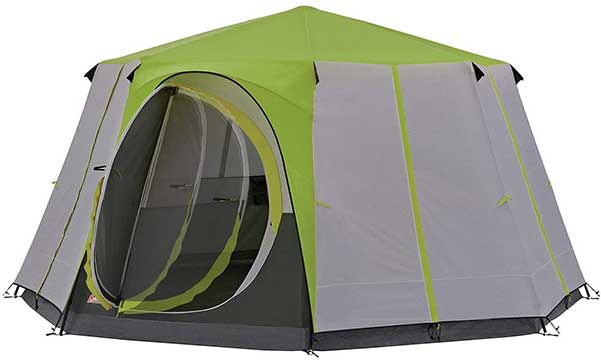 15 Minute Set-Up
Folds Into Wheeled Case
Waterproof & Bug Proof
Can Be uncovered on Every side for Incredible views
This is a cool tent, it's mainly a single area tent so one large room in the centre but it has a divider screen that can split the tent in two with two different doors.
But what I love is that the panels on every side can be opened but the bug screens kept in place to give you a gorgeous 360 view of the surroundings.
The real winner though has to be the setup, it fits into a suitcase, never as easily the second time mind you. There's a video on Amazon of them setting it up and it couldn't be simpler. Possible in 15 minutes with some practice but still quick even without it.
I wouldn't trust a family of 8 in it but for a family of four, you'll get on absolutely great.
2. BEST LARGE FAMILY TENT – SKANDIKA MONTANA SPACIOUS LARGE FAMILY TENT
Sleeps 8 People
3 Separate Rooms
Sturdy Weatherproof construction
This is one of the only family tents that I can happily say will sleep 4-8 people, it has 3 separate cabins, 2 for 2 people and one larger for 4 people so it would sleep 4-6 people easily and 8 people still comfortably, the best suggestion is to throw the 4 youngest into the big room and let them sort it out!
It takes a little longer to set up but it is a luxurious tent capable of comfortably sleeping 8 people so it's worth it.
It's got a max height of 200 cm so tall enough for almost everyone to stand up in and has 3 separate entrances so people can come and go as they like without too much disruption.
A luxurious tent ideal for large families or groups of families.
3. BEST WATERPROOF FAMILY TENT – VANGO FARNHAM 600XL TUNNEL TENT — BLUE
Waterproof
Strong Fiberglass Construction
Very spacious
Completely waterproof, large size and a nice porch to hide under if it rains.
The Vango is a 5-6 man tent that will easily sleep a family of 4-5, I like to leave an extra person as breathing room. The front door is mosquito meshed and so is the side door.
There are three separate rooms with the back one meant to be the main sleeping room but I would spread everyone throughout the tent. It's all got a waterproof groundsheet so you can stay dry.
The windows are nice and bright and the air vents are mosquito meshed to keep bugs out while letting air in to stop it all getting too stuffy. A nice family-sized tent.
4. Best Round Family Tent – GRAND CANYON INDIANA 400 ROUND TENT
Teepee Design
Sleeps up to 8 People
Waterproof
Large living area
The Grand Canyon Indiana 400 is a spacious, reliable, round tent, perfect for families to make the most of a camping trip. It's made with high-quality materials and is suitable even for a long stay. The fabric is 100% waterproof and stands the test of time.
It can sleep 8 people but I wouldn't say it would do that comfortably, 4-6 people, however, will get on absolutely great.
The teepee design will be loved by your kids and by you because it makes it easy to put up and take down again. It weighs about 10kg so for how many it sleeps that isn't bad but it would be a lot to carry by yourself.
Much more like glamping than regular camping, if you set it up in your garden you could put in some nice decorations.
5. BEST BUDGET FAMILY TENT – ADTREK DOUBLE SKIN DOME CAMPING FAMILY TENT
4 Person Tent
Budget-Friendly
Great for Wild Camping
No living area
The Adtrek Double Skin Dome is an ideal tent for family camping trips, festivals, fishing expeditions, etc. It is constructed in a dome style, which offers plenty of ventilation and has a double skin which is good for insulation when you need it. The double skin also ensures the insides of the tent remain cooler on a hot day. This is a modest, comfortable tent for a small family.
THINGS TO CONSIDER BEFORE BUYING A FAMILY TENT
If your tent isn't up to scratch you're going to be in trouble when you get to the campsite, you don't want to get there only to find it's too small, or that you've bought one that's too complicated to put together.
So here are a few things you'll want to consider.
CAPACITY
The most important thing is the capacity. How large is your family? How many people are you looking to accommodate in one tent?
Some tents can sleep 1- people while others can only squeeze 2-3 people inside, so depending on how big your family is (and how comfortable you are with cosying up!) will change what size of tent you need.
But generally, a family will need a medium to a large size, even allowing a spare person or two of space for extra comfort.
BUILD
The tent's durability is the second-most important factor after capacity. Sure, it's large enough to fit your entire family, but say it's a stormy night or it's been raining. If the tent collapses over you in your sleep or flies off in the wind, the size won't matter!
The tent should be 100% waterproof, the seams should be perfectly sewn and there should also be ample ventilation so the interiors are breathable. The fabric of the tent should be breathable, flame-retardant and waterproof. And you'll want to make sure it's got a floor in it! It sounds obvious but an easy mistake to make.
You will also want a mesh mosquito net so the tent remains a bug-free zone. The poles and pegs should be made of durable material that does not give in in bad weather, steel or fibreglass is ideal.
STORAGE SPACE
Apart from the living space, you might also want enough space to keep the luggage, equipment, etc. Additional storage space is always beneficial. Some tents come with a built-in porch where you can leave muddy shoes, place some of the bigger bags and even use it as a kitchen if required.
Of course, if you're cooking with a gas stove make sure it is very well ventilated so you don't end up with carbon monoxide poisoning.
WEIGHT
Whether or not the tent has a large capacity, it should be lightweight. If it is a large family tent, that is all the more reason for it to be light. A camping trip is no fun if you have to lug around a large and heavy tent. The tent should shelter you but should not tie you down. In case you want to move the camping spot, it should be easy to carry around.
At the same time, if a tent is too light, there's a chance it'll collapse under weather duress. So pick something that gives you the best of both worlds.
EASY ASSEMBLY
No one wants a tent that's impossible to put together, or that put together fine in the garden at home and simply won't come together now that you've left the house and made it to the countryside.
A nice easy to put together tent is a must, all of the tents recommended here are just that.
Other Family Camping Tents Reviewed
COLEMAN SMALL BLACKOUT TENT
Sleeps 3-4 people
Blocks Out Light
Water and weatherproof
Another offering from Coleman, The Blackout is exactly what the name suggests. It blocks out 99% of the daylight so you can sleep comfortably. If you've been camping before in the height of summer you know that early morning sun can ruin your sleep while you're away.
This tent is available as a three-person and a four-person so ideal for small families. And the blackout provides a factor 50 protection so if we get some of the sun we had last year you'll be grateful!
The small size and 5kg weight also make it easy to put up and take down so it's a good choice if you're interested in wild camping at all.
This is a small tent so no living room and just a sleeping area that you can all squeeze into, best with some outdoor seating arrangement and hopefully some nice weather to go with it.
FINAL THOUGHTS
With the right tent packed in and ready to be set up, you can look forward to a great trip.
However, be prepared for every possibility — wind, thunder or rain. Make sure you pack medicines for the trip, plenty of food supplies (and provisions to attend to nature's call when you need to).
It would also be smart to test the tent out beforehand. Set it up at home and iron out all the creases instead of being caught off guard once the trip has begun. The practice will also mean that you can set the tent up faster and settle in sooner.
Travelling with kids and the family can be stressful, but if you take all the necessary precautions and plan ahead, it is a very satisfying time to spend with people you love. So spend some time under the open skies, away from television and the internet, or bring it along, nobody's judging here. The only objective is to have fun and enjoy your trip in the perfect tent.
RELATED READING
A review of the best sleeping bags
A complete guide to buying an air bed