Zonesleep were kind enough to send me out a mattress topper and a pillow to try out and review for The Dozy Owl.
And I'm pleased to say it was awesome! Some really great products, a comfortable pillow and an excellent topper.
Who Are Zonesleep
Zonesleep are a UK based company who specialize in making bedding products made from their unique 3D spacer material. It was founded by Tim Stokes who has had over a decade of experience managing a textile company and brought the 3D spacer material to the world of bedding.
What's Inside the Zonesleep Products
Now I'm sure you're wondering what this 3D spacer material is. Well, I was hadn't heard of it either but the best way to describe it is a sturdy 3D mesh. I've got a picture below but it was quite hard to photograph.
This mesh is firm to the touch but when you lie on it it's got some good give making it firmer than memory foam but just as supportive.
How It's Different To Memory Foam
The Zonesleep topper is really great because it has loads of the advantages of memory foam without the disadvantages.
More breathable – The 3d spacing makes it much more breathable than memory foam. Traditional memory foam traps a lot of heat inside of it which can really ruin your sleep if you're already prone to overheating.
Lightweight – The 3d spacer is really lightweight which makes putting it on the bed a lot easier and you feel the lightness when you lie on top of it.
Washable – Not easily because it's quite big so you'll have to take it to a laundry with oversize washing machines but it is washable.
The Zonesleep Topper Reviewed
I've slept on top of the Zonesleep topper for about a week now and I absolutely love it! I'm a very warm sleeper and often get quite sweaty but I've been sleeping comfortably all week now and couldn't be happier.
How does it feel
It feels nice and squishy but there's a definite firmness to it.
Firmer than memory foam and it's about 1.5 inches thick so the firmness works well keeping you supported alongside your mattress. If you were looking for a comfort upgrade on an old mattress this would be great.
It fits nicely on the bed and there's no bumpy edge that you can feel through the sheet which is great. You sometimes get quite a firm edge with mattress toppers so that's really nice.
Who is it good for
A Great Choice For Hot Sleepers, it's really breathable making it the ideal choice for hot sleepers. I'm a hot sleeper and loved it.
People with back problems, if you have a sore back at all you'll find this gives you great support.
People who don't like memory foam, if you're looking for a comfort upgrade but don't like the feel of memory foam you're in luck.
What I liked
I really, really, liked the breathability, that was a huge plus for me and definitely my favourite part. But I also just liked the general feel and comfort it gave the bed.
What I didn't like
It's not the thickest, but it's still plenty thick enough to really upgrade the comfort levels of your bed.
click here to check out the Zonesleep Mattress Topper
The Zonesleep Pillow Reviewed
Well when I manage to steal the pillow back from my wife who's side of the bed it keeps mysteriously migrating too I love it!
Super comfortable, very supportive and you only need one, two pillows would push your neck too high up I think.
How Does It Feel
It feels downright heavenly, super soft and squishy but there's enough push back to give your head the support it needs.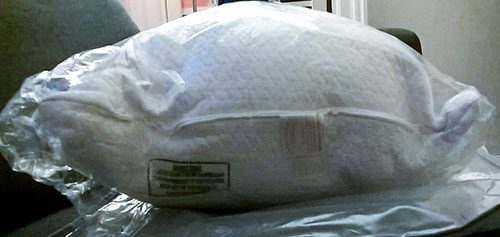 Again it's as breathable as the topper is, so no waking up with a sweaty head. This means it stays quite cool to the touch as well which is nice, it keeps it fresh.
Who Is It Good For
Back & Side Sleepers will love it, front sleepers not so much because it's a little tall for that.
I personally go between back and side sleeping and was comfortable all through the night. No need to wake up and squash it back into sleep.
What I liked
How plump it is! It's just so plump and fluffy feeling that it's hard to take my head off it in the morning.
Also that you only need one on your side of the bed, it's just great.
What I Didn't Like?
Nothing! I can't think of a single thing I didn't like, a really great pillow.
Click here to check out the Zonesleep pillow
More mattress topper reviews
More memory foam mattress topper reviews