Looking to make a great saving on a pillow this Black Friday?
You've come to the right place, I've got all the best Black Friday discounts on pillows right here.
I've published this a little early so if you're here now you can read through for the people I think are going to have great deals
Best Black Friday Pillow Deals
1. Panda Pillow – Best Memory Foam Pillow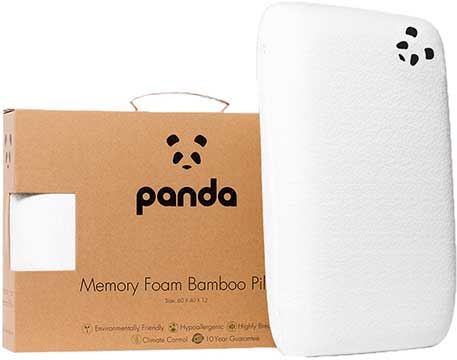 10 year guarantee
30-night Trial
Soft Bamboo Cover
Medium Feel
Black Friday Discount: N/A
I love the Panda pillow, it's made with an eco-friendly bamboo cover that makes it luxuriously soft as well as temperature controlled because bamboo is breathable helping counteract memory foam heat-trapping qualities.
It's made as a single piece with three layers of memory foam gel made using the latest technology which allows the pillow to breathe keeping it cool and helping it last longer. Perfect for side and back sleepers and anyone who was worried about overheating with their pillow.
It's got free delivery in the UK and you can test it out for 30 nights before you have to fully commit to it. Plus a 10-year guarantee so you know it's built to last. Great value for money and easily the best memory foam pillow available.
2. The Side Sleeper – Eve
30-Day Trial
3-yar Guarantee
Medium-Firm
Washable Cover
Superb Comfort
Black Friday Discount: N/A
Eve are the masters of memory foam and this plump pillow perfectly supports your shoulders, head and neck.
It has the height that you need from a pillow if you sleep on your side and is also hypoallergenic. No more snuffy noses!
When you order through the Eve website, you get a 30-day trial period to put this pillow through its paces and if you decide it isn't for you, you get a full refund.
However, the chances of you needing to return it are slim. It even comes with a three-year guarantee, so Eve are happy to put their money where their mouth is for this pillow.
Easily the best side sleeper pillow
3. The Non Memory Foam Side Sleeper – Kally Sleep
Medium Firmness
Hollowfibre filling
14-day Trial
Designed for Side Sleepers
Black Friday Discount: N/A
The Kally Side sleeper pillow is my favourite non memory foam pillow to sleep on. It's box shape gives you plenty of support along shoulder and head making it an ideal choice for side sleepers.
The plump filling gives it a really luxurious feel which will have you sleeping soundly all night long. I know it did for me, I closed my eyes and woke up peacefully the next morning after a great night sleep.
The cover is made from a poly cotton which is nice breathable making it a great cooling choice and mean the whole thing is machine washable. Plus it's a standard size and fits snugly into a regular pillow case.
A wonderful choice and easy addition for the best side sleeper pillow.
4. The Best Front Sleeper Pillow – Simba Sleep
Brand: Simba
Filling: Duck Feather and Down
Firmness: Medium
Adjustable Height
Down, memory foam and microfibre
Extremely soft cover
Black Friday Discount: N/A
The Simba outlast can be adjusted for height by adding or taking out the memory foam nano tubes inside it so you can get the exact feel you want. Plus it's double sided, one side is a luxurious and cooling down with the memory foam underneath and the other is plump and cloud like microfibre for maximum snuggle.
Now I'm not going to miss-lead you here, this pillow is not cheap, it's double the price of the other premium pillows here but it is something special and the absolute height of luxury so I had to include it.
Oh, and the middle of the pillow is ventilated making it a really great cooling pillow for if you suffer hot flushes through the night.
Related Reading