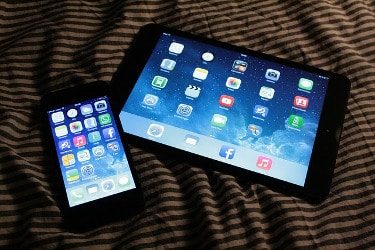 A clock radio may seem a little obsolete these days. But in the age of the mobile phone, they're more valuable than ever!.
I'm avidly against having mobile phones near the bed. Sure having an alarm on your phone is handy but there are so many drawbacks:
Disadvantages of mobile phone alarm
Before Bed Facebook
It is far too tempting to sit and play on your phone before you go to bed. A quick check of facebook and before you know it you've lost an hour which could have spent sleeping.
Mobile light stops melatonin production
When your eyes are exposed to the light that comes out of your mobile phones your body stops the production of melatonin. This is the hormone that goes around your body telling it that it's dark so it's time to go to sleep. Without it falling asleep is all the harder which is why it's much better to go to bed with a book.
Work Emails
Loads of people have a work email address connected to their phone. And what's the harm in checking it before bed? Well, how often do you check work emails and get good news? Not very often I wager. And anything that you can do to sort the problem won't happen until morning. So if you'd waited and found the email in the morning you could still fix it and you won't have wasted the night frustrated and worried about what might happen.
Keep the mobile away from the bed and get yourself an alarm clock instead. Better yet get yourself a radio alarm clock for even brighter mornings.
Advantages of Radio Alarm Clocks
No need to Snooze
The snooze button is another temptation that ruins sleep. With a radio alarm clock, it's much harder to fall back to sleep (depending on the station you've tuned into!). You can wake up listening to music which gives you something to focus on waking you up.
It doesn't play the same thing over and over
Listening to the same sound every morning is what nightmares are made of. You don't want to start dreading the sound of your alarm every morning. So at least if you wake up to the radio you're going to get some variety which again makes allows you to properly wake up.
You can keep your phone away from the bedroom
As I said before mobile phone alarms aren't good to have beside the bed. So this way you can keep it out of the bedroom completely or if you can't commit that far at least you can put it across the room.
What to Look Out For When Buying A Radio Alarm Clock
Does it have DAB?
It would be silly in the modern age not to get a digital radio, clearer sound and a wider range of stations. But some people still flog FM only radios for far more than they're worth. The only recommendation I make that doesn't have DAB is because it has Bluetooth and a docking station which is much more likely to get used than the radio anyway.
What else does it play?
You get radio alarm clocks that also play CDs and some that act as docking stations so it's good to know all the options that you might be able to use.
Can you Dim The Display?
You don't want to be kept up at night by the blinding light of your clock. A lot of cheaper models don't allow you to dim the display and that just ruins them. You'll definitely need the alarm if your going to be kept up all night!
Best Clock Radio
Now on to the good stuff. I've reviewed a few of the best radio alarm clocks available, I've linked them through to where you can buy them so you can read what others thought and get all the details.
1. Roberts Sound 38 Clock Radio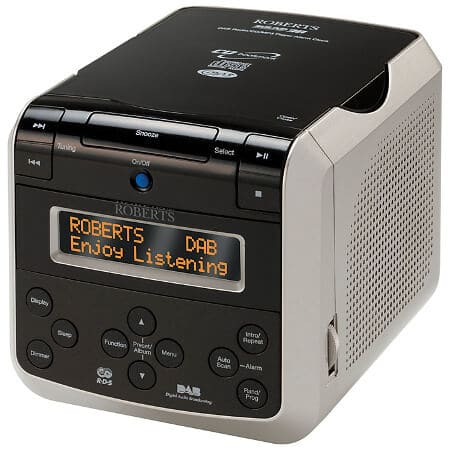 DAB and FM Radio
CD Player
Great Sound Quality
Compact Size
Dimmable Display
Multiple Alarms
The Roberts Sound 38 has a built in CD player making it great for those with a hefty CD collection (I can't be the only one!). But it also has a 3.5mm input for playing music from iPods or mp3 players. The downside is the alarm can't be set to play through the Aux input.
That said you can still choose for the alarm to either play the radio your CD or a simple buzzer. I can't imagine why you would want to use the buzzer but it's nice to have the option. The sound quality is top notch which is what makes it a little more pricey, but the sound quality is everything when you're getting a radio.
Another great feature is you can set up to 4 different alarms and have complete control over when they sound, what they play but also what days. It can be set to once, daily, Mon-Fri, Mon-Sat, and Sat-Sun. So you can set all your alarms for the week once and then leave them to it.
It also comes with the all important dimmable display so you can sleep soundly at night without being blinded. The alarm also has a sleep function so the alarm turns off after a specific length of time. Choose from 10-90 minutes in 10-minute blocks to have the length of time.
And finally you can, of course, use it to play music throughout the day while it is not being an alarm.
Final Verdict – Top notch sound and multiple alarms make this the ideal clock radio. Even more perfect if you still like listening to CDs, not to mention you can play music from your phone through it with an aux cord.
2. Pure Siesta Rise Clock Radio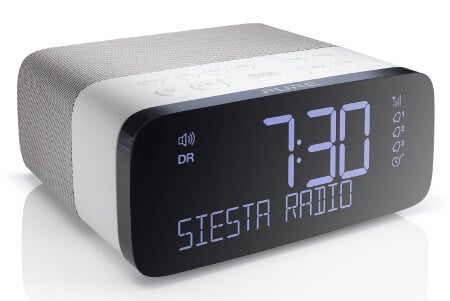 Auto Dimming
DAB & FM Radio
USB Port for charging
20 preset stations
Auto time Adjustments
Can set 3 alarms
The Pure Siesta Rise is a solid radio alarm clock, it's got great sound quality and one of my favourite features, an auto dimmer! So it automatically adjusts its brightness when the lights go out and night and when the sun comes up in the morning.
Aside from that it also has a USB port so you can charge your phone or tablet. This is a bit of a weird one because you're likely using it beside a plug anyway and there is no interface so you can't actually play music through the USB just charge. Still, if you only have two sockets and need to plug in the alarm and a bedside light it's quite handy.
The time auto adjusts for daylight savings which are always a good thing. If you're anything like me I'm sure you'll still have to check and check again when you wake up in the morning but rest assured that the Siesta does have the right time.
As for the radio it has both DAB and FM stations and you can store 20 presets onto it letting you always have the music you want. I tend to stick to the same station but for those who like a lot of different stations this'll be perfect for you.
Finally it looks really nice, I love the sleek modern look it gives off. A great addition to almost any bedroom.
Final Verdict – A great range of stations and top quality sound alongside make this an awesome clock radio. Throw in the dimmer and it's definitely a winner.
3. John Lewis Spectrum Clock Radio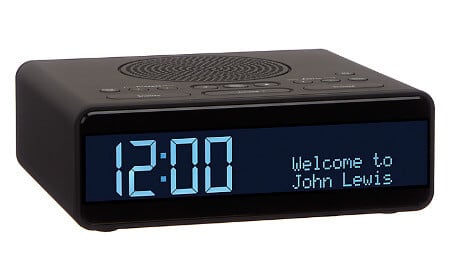 Budget Friendly
Dimmable Display
Available in Multiple Colours
Clear Sound
DAB & FM Radio
This is the budget radio alarm clock, it's sound won't rival the Roberts or the Siesta above but the price reflects that. Still, it's a great little clock radio with 2 different alarms and DAB.
The display is also dimmable and can be turned off completely, music and alarms will still play and to see the display you simply hit a button and it turns off for a short while. Perfect for those who need complete darkness to sleep but still want to wake up with the radio.
It comes with 2 preset stations you can tune to, you can tune through other stations but can only save two of them at a time. Most people tend to stick to a radio station so it's not particularly restricting to only be able to make 2 presets.
I love the simple design of this clock radio, not frills, no fuss and available in four different colours: Black, White, Teal and Slate Grey. It'll fit nicely into almost any decor and isn't too wide to fit nicely onto a bedside table. You'll just need to keep a plug free to have it turned on!
Final Verdict – A great budget choice of clock radio. 2 Preset Stations and full DAB capabilities are all you need.
4. Azatom Home hub Lightning dock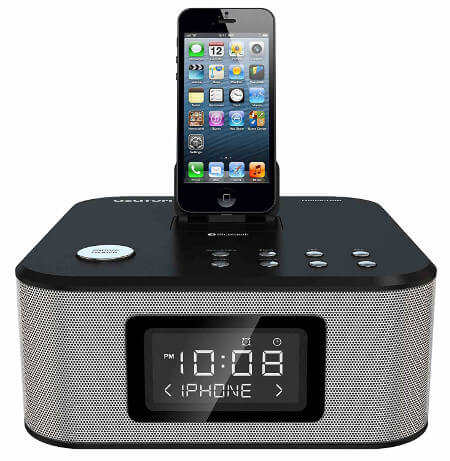 Can play music from Apple Products
Takes time from Iphone when connected
FM Radio only
Great Bass
The Azatom is best suited for apple lovers who want to wake up to their favourite songs with higher quality sound. Compatible with a range of iPhones and iPads it connects with the lightning connector or over Bluetooth so you can charge your device and use it as a full docking station.
The alarm can be set to either play the radio, a buzzer or the music from your iPhone. Unfortunately, it only has FM radio which does restrict it so something to bear in mind.
The sound quality is top notch because it is such a big unit, a lot of room inside to get great bass tones but a nice balance overall. It might be a bit over the top for the bedroom but it is also suitable for anywhere else in the house.
A nice clear display and the all-important dimmer switch. The display can't be turned off completely but does go relatively dim so shouldn't cause any problems while sleeping.
Final Verdict – Ideally suited for iPhone users who want to have their own music as the alarm.