With the number of Brits choosing to holiday at home on the rise, we were interested in where the best outdoor spots are for sleeping under the stars. Whether it's lounging under the stars in Woking or toasting marshmallows in Maidstone, which area in the UK is best for outdoor sleeping?
To find out, we created an index revealing which areas of the UK are best for a good night's sleep under the stars by analysing the following three factors:
Light pollution: Found using data on visible and near-infrared emissions at night.
Climate: Combining findings on average temperature, wind, and rainfall.
Noise pollution: Based on nearby rail and road noise levels.
As the UK is the European country that struggles to sleep the most, would we be better off trying to sleep outside? Let's see which areas you should pay a visit to, to get the best kip and views of the night sky.
The best places in the UK for outdoor sleeping
Taking the top spot is Maldon, located in Essex, with an overall score of 83.01 out of 100. Our analysis found that this spot has low noise pollution levels, which means you'll hear little to no train or traffic noise if you choose to camp out in this area – perfect for a good night's sleep. It also doesn't rain much either, which is why the area received a particularly high score for climate, too.
Just falling short of first place by 4.48 points is Ashford, in Kent, with an overall score of 78.53 out of 100. Ashford could have easily taken the top spot if it wasn't for the weather – although it's not very windy in this area, there's a good chance you'll experience some rain whilst camping which puts a dampener on sleeping outdoors and stargazing.
Despite research showing that only 21.7% of England has night skies that are free from any light pollution, if you sleep outdoors in the Rother District you will, more than likely, have a clear view of the night sky. The area scored an impressive overall score of 77.97 out of 100, owing to high scores due to having low light and noise pollution levels.
Following closely behind with a score of 77.93 out of 100 is South Somerset. The district scores similarly to Rother District across the board, but scores particularly highly for noise pollution levels, with a score of 93.7 out of 100 for this factor.
Also awarded 77 points is the County of Herefordshire and Malvern Hills. Whilst both areas have identical scores for noise pollution across rail and roads, Herefordshire has the least light pollution of all areas studied, leading to an impressive score of 94.9 out of 100 for this factor.
Lastly, Swale and South Cambridgeshire round off the top 10 best UK areas for sleeping outdoors. Whilst Swale is better if you'd prefer a less windy and warmer night, South Cambridgeshire has less light pollution on average which means you're more likely to (literally) sleep under the stars and wake up with the sunrise.
The worst places in the UK for outdoor sleeping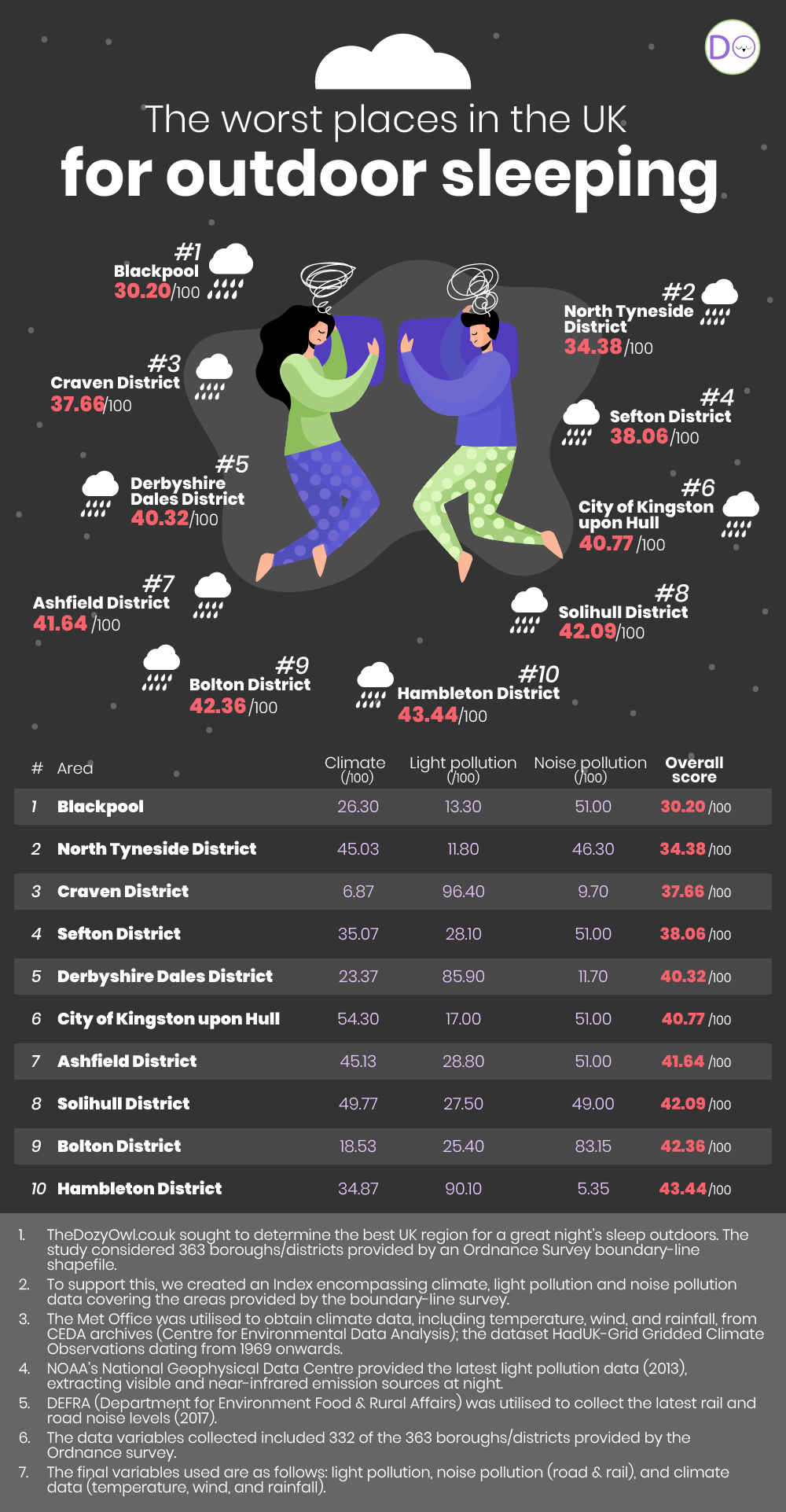 As you may expect, not everywhere in the UK is suited for outdoor sleeping. Blackpool, famous for its illuminations, is the worst area to sleep outdoors according to our analysis of climate, light, and noise pollution levels. Despite being an attraction, unfortunately, the lights make it difficult to see the night sky, which is why the area has a low score for light pollution (13.3). Furthermore, this area also received a low score for wind speed, so if you still choose to camp here you better make sure your tent is firmly secured to the ground.
If you choose to sleep on one of the award-winning beaches in North Tyneside, you may be able to get a peaceful sleep thanks to its low noise pollution levels. However, with a low score of 11.8 out of 100 for light pollution, this area is not the best spot to go if you're trying to catch a glimpse of star constellations.
If you're looking for a dry night, Craven is in North Yorkshire may be one to avoid as our research suggests you're likely have a rainy night if you set up camp in this area. However, the area redeems itself when it comes to light pollution, as Craven is awarded almost full marks for this factor in our index (96.4 out of 100).
Sefton, located in Merseyside in the historic county of Lancashire, is the fourth worst area to sleep under the stars. The area's high light pollution levels means unless you're lucky enough to catch a clear night, you won't be able to see the stars. However, this area achieved its highest score for noise pollution (51 out of 100) thanks to a lack of busy roads or railway stations nearby.
The Derbyshire Dales sounds like a perfect place to stargaze and sleep under the night sky, but our research suggests otherwise. You'll be lucky to get any sleep with the amount of noise pollution, resulting in a score of just 11.7 for this factor in our index.
Rounding off the top 10 areas worst for outdoor sleeping is Hambleton, based in North Yorkshire, after scoring 43.44 overall in our index. The noise pollution levels let down this area in particular, scoring a shocking 5.35 out of 100. However, if you don't mind listening to traffic and railway lines and want to get a glimpse of the starry night sky, you may be in luck in this spot!
Methodology:
TheDozyOwl.co.uk sought to determine the best UK area for a great night's sleep outdoors. The study considered 363 boroughs/districts provided by an Ordnance Survey boundary-line shapefile.
To support this, we created an Index encompassing climate, light pollution and noise pollution data covering the areas provided by the boundary-line survey.
The Met Office was utilised to obtain climate data, including temperature, wind, and rainfall, from CEDA archives (Centre for Environmental Data Analysis); the dataset HadUK-Grid Gridded Climate Observations dating from 1969 onwards.
NOAA's National Geophysical Data Centre provided the latest light pollution data (2013), extracting visible and near-infrared emission sources at night.
DEFRA (Department for Environment Food & Rural Affairs) was utilised to collect the latest rail and road noise levels (2017).
The data variables collected included 332 of the 363 boroughs/districts provided by the Ordnance survey.
The final variables used are as follows: light pollution, noise pollution (road & rail), and climate data (temperature, wind, and rainfall).