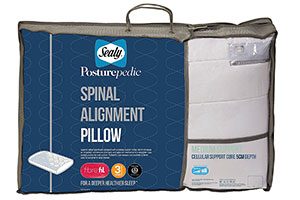 One of the stranger feeling pillows on the market but the Sealy Posturepedic spinal alignment pillow provides incredible relief of neck pain and back pain.
It's a memory foam core but made up of ost of circular pieces of memory foam rather than one single piece.
This is what gives fantastic support for back and front sleepers (not so much for side sleepers) to stop you waking up with a sore neck or a headache.
What I like about the Sealy Posturepedic Pillow
Quite a few things actually.
I like that it's from a very trusted brand, Sealy have been making top quality mattresses for a very long time.
And I like that it actually works, it's not just clever branding to convince you that this will provide any support. A lot of work and thought has been put into the actual creation of this pillow and I like that.
It also comes in two sizes, a 5 cm core and a 7cm core, this is for how big the sleeper is, if you're taller than 7 cm will be better but if you're on the short side you can stick with 5 cm.
What I don't like
There are a couple of things wrong with this pillow but nothing major.
It's quite hard to get into a normal pillowcase. With a lot of stuffing you definitely can get it in but you might be better buying a larger pillow case which can be harder to find.
It also feels very weird.
At least at first, it's not like any other pillow you will have slept on before but you've got to stick with it because it will help.
Original Manufacturers Description
While the Sealy name is long established, the company is renowned for looking forwards rather than backwards, particularly when it comes to the creating advanced pillows on earth.
That's because while many people think that 'a pillow is just a pillow', the truth is that the height, firmness and design of your pillow actually make an enormous difference to the quality of sleep you get, and to how your back and neck will feel in the morning.
So Sealy meets its commitment to making every customer a Deeper Sleeper through constant design innovation and by using the very highest quality materials.