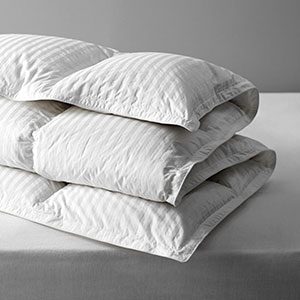 A lot of really great things about the John Lewis Goose Down Duvet.
It's a little pricey but amazing value for money, a comfortable, snug, and all round great duvet.
The Hungarian goose is so great because the geese live in such a cold climate so their down and feathers are extra warm. If it can handle the cold Hungarian nights it can definitely handle it here in the UK!
That's why I prefer the 10.5 tog over the 13.5 tog, it's such a warm duvet that the lower tog is plenty to keep you warm, and it's easier to throw another blanket on top and warm up than it is to cool down.
What I like about the John Lewis Hungarian Goose Down Duvet
Well aside from the fact it's lovely and warm (think I covered that) it has a lot else going for it too.
Namely, that the filling is sewn into place. It seems such a small detail but this stops it bunching up at the bottom and keeps the whole thing really plump and comfortable.
The feathers and down are all sourced ethically, so they're just a by-product of food manufacturers (though I'm not sure who or what eats goose…). And they hold all the supplier's accountable for their treatment of animals which is nice. Always something worth checking if you buy anything with feathers.
It's also hypoallergenic because the feathers are washed then sealed inside a fabric cover. A cheaper way to do it is to wrap them in a plastic which crinkles, not with this duvet though, nothing but luxury comfort.
What I don't like
Not much really, if anything at all, my only comment is that it costs more than some duvets but it is absolutely worth it so definitely isn't expensive. And it's still a lot cheaper than some duvets!
Original Manufacturer's Description
Hungarian geese inhabit one of the coldest parts of Europe and stay warm thanks to their highly insulating down and feathers, which make the ideal duvet filling. Soft, luxurious and light, our down duvet drapes cosily around your body, preventing drafts and cold spots. The Nomite™ mark means this duvet is suitable for people with dust mite allergies.